Being an author and blogger at the same time isn't easy. And I wouldn't be able to do it without Asana.
Asana is one of the best project management tools I've used so far. I use it to track my projects and tasks (as well as my expenses each month). With Asana, I can run my business without being worried that I've forgotten a task.
You can also use it to communicate with your team members. This way, you won't clutter your inbox where emails with customers and business partners are separated from Asana notification emails with team members.
I admit that I'm not an advanced Asana user so I can only share some basic tips. But I hope they're still useful when you first start using Asana 🙂
Disclosure: Some of the links below are affiliate links. I will earn a small commission, at no extra cost to you, if you purchase through these links. Your support encourages me to continue blogging and help with the costs of hosting this site. Thank you!
Asana: Free Project Management Tool
Like I've mentioned, Asana is a project management tool.
As an entrepreneur, you definitely need a tool to manage your tasks. Starting and managing a business requires numerous tasks (and some tasks might be part of a routine hence, they're repetitive).
And we aren't super smart computers that can remember every single task. We're just humans.
Hence, this is when we should rely on these tools (that are designed to make our lives easier).
I highly recommend Asana (which I'm currently using now) due to its various benefits:
Free, up to 15 team members
Unlimited projects, tasks & conversations
Access on the go with Asana mobile apps
No storage limit for the number of files you can upload
Plan Out Task Hierarchy
Before you dive into Asana, you should plan out your tasks (and its hierarchy if possible).
Try to be specific and think of the individual tasks for each project, how you will organize and group them, how you will categorize them into tasks and subtasks.
Take me for example. Here are some projects I might consider creating in Asana:
writing & publishing my books
marketing promotion for my books
creating & publishing my blog posts
Create Project
Project is the overall task. It's the highest level granular task.
Similar to the abovementioned example, I create a new project for each new
When you create a project in Asana, you can choose
list or board layout
private or public project
I prefer the list layout because my tasks are in sequential order (writing, editing then publishing).
You can also choose to invite specific people to be the project members. Based on the project's privacy, the people who can access it will vary too.
Star Your Favorite Projects
After you create your project, you can click on the star icon at the top.
These starred projects will then appear under 'My Favorites' at the left sidebar so can easily access your favorite projects.
Save Time With Project Templates
My starred projects consist of
Projects that I usually use
Project templates
For instance, I have an ROI project where I attach my receipts every month. This is a project that I frequently use.
Project template, on the contrary, is for common workflows. It saves time on future project setup (where you don't have to recreate from scratch again). Plus, it ensures that everyone is following the same processes.
For example, I create a project listing the common tasks (like editing meta description, including tags and featured image). Then, I rename the project as 'blog article project template'. You then click on the 3 dots at the top to Duplicate Project.
In the future, you simply have to duplicate this project template.
Note that the option to 'Save As A Template' is a premium feature.
List Down Tasks
Just brainstorm and list down all the tasks involved.
Then, slowly prioritize and rearrange them according to importance or chronology. Whichever makes more sense for your project.
You also use basic text formatting in the task description.
Bold
Italics
Underline
Bullet or Number list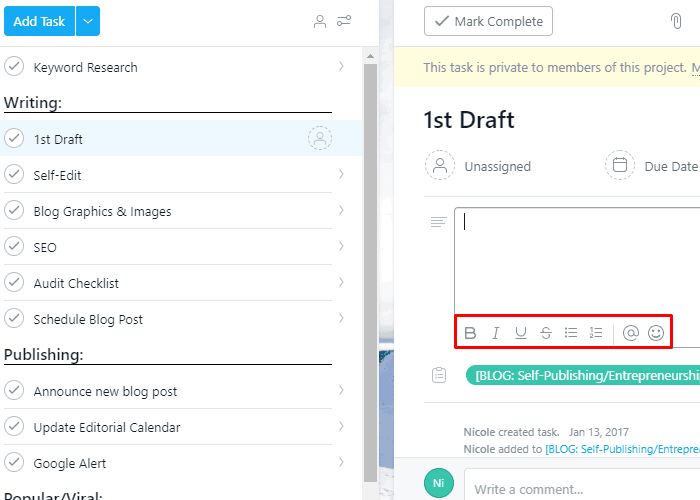 Assign Task
Once you're done creating tasks, you can start assigning them.
If the task is specific to a person (only he or she can complete it), you can assign this task to that person.
Set Deadline
You can also set due dates to your tasks.
Even if there is no hard deadline, it's still good to add due dates. This way, you can see the expected dates that tasks will be completed in the calendar view.
Organize Tasks Into Sections
Consider if your tasks can be grouped together. Whether by categories, workflow stages, priorities etc.
For instance, I divide my blog project into different sections:
Add a new section by
Clicking on the

Add Section

button at the top
Writing a task then ending the statement with a colon (:)
Break Up Tasks Into Smaller Subtasks
You can also add subtasks under each task, where you elaborate further with more detailed descriptions. Just open a task then click on the subtasks icon.
In fact, you can create subtasks within subtasks. But note that 6 levels of subtasks is the maximum.
The level of subtasks really depends on how deep you want to be. Take me for example. My projects only have up to 2 levels of subtasks. I use many subtasks but I try not to add descriptions because they're nested deeply such that they're hard to be found.
If there's a chat bubble icon, this means that the subtask has more details, notes and comments.
Keep Track Of Deadlines & Milestones With Calendar View
At the top navigation menu, you can switch to the calendar view.
This gives you an overview of the important deadlines and milestones for this specific project.
With the end dates you've set earlier, you can easily see if your project is on track. Whether it can finish on time.
Start A Conversation With Project Members
You can start a conversation simply by clicking on conversations at the top bar.
This is where you can discuss and brainstorm with project members. Especially for topics that don't fall under any task.
Thumbs Up Or Like To Acknowledge, Agree & Share Gratitude
Whether it's a task, conversation or comment, you can simply click this icon to acknowledge, agree and share gratitude.
Previously, it was a heart icon (which I still love). But it has now been replaced with a thumbs up icon (just like Facebook).
This icon saves time where it conveys how you feel without the need to write a reply (especially for those noted replies where you can use this thumbs up to replace typing the word 'noted'). Therefore, you can spend your time wisely by focusing on tasks that really matter.
Use @mention To Notify People & Point To Projects, Tasks, Conversations
When commenting in a task or conversation, you can @mention someone to notify them and add them as followers (so they receive updates on that task or conversation).
You can also @mention projects, tasks and conversations in the description or comment so people can click on the link to the mentioned project, task or conversation.
Attach Files & Documents
You can attach a file from your computer, Google Drive and more by clicking on the paper clip icon.
However, note that there is a maximum of 100MB per file limit for attachments from your computer. Hence, do attach larger files via other methods like Google Drive.
Also, there is no storage limit for the number of files you can upload so you can upload as many files as you need. The files do not expire too.
View Your To-Do List
Click on My Tasks at the left sidebar to view your to-do list.
This will list all the tasks assigned to you.
When a task is first assigned to you, it will appear under New Tasks. You can choose to mark these tasks as Today, Upcoming or Later.
You can do this by
Moving the task to another section
Marking the task for Today, Upcoming or Later
See All Updates
Inbox at the left sidebar is like a notification center.
You will receive updates on all projects you're a member of and tasks that you follow or are assigned to.
If you have email notifications turned on, you don't have to keep looking at your inbox. But if your email notifications are turned off, I highly recommend that you always have this inbox opened in a window or tab so you don't miss any updates.
Use The Search Bar To Find Something
Unless you have a photographic memory, we probably have to use the search function to find some deeply nested subtask.
You can easily find a project, conversation or task with the search bar at the top.
Utilize Organizations & Teams For Bigger Groups
If you have many members, you can consider creating an organization with many teams. Just like how there are various departments in an organization.
Bear in mind that the free version of Asana is available for teams of up to 15 people.
Now It's Your Turn
Easily manage your tasks now with Asana!
Or you can try other project management tools like Trello and see which works best for you and your team.
Do get feedback from your team members
Whether the tool has boosted productivity
Whether they're comfortable using this tool
Whether they've encountered any challenges while using this tool