As an entrepreneur, email is likely to be your main communication channel.
You'll use email to communicate with your business partners and employees. Or to troubleshoot the support team of the business tools and software you use. Or even receive newsletters, industry trends and news.
Eventually, your inbox will be filled with numerous emails.
Find out how you can declutter your inbox now with these Gmail productivity hacks!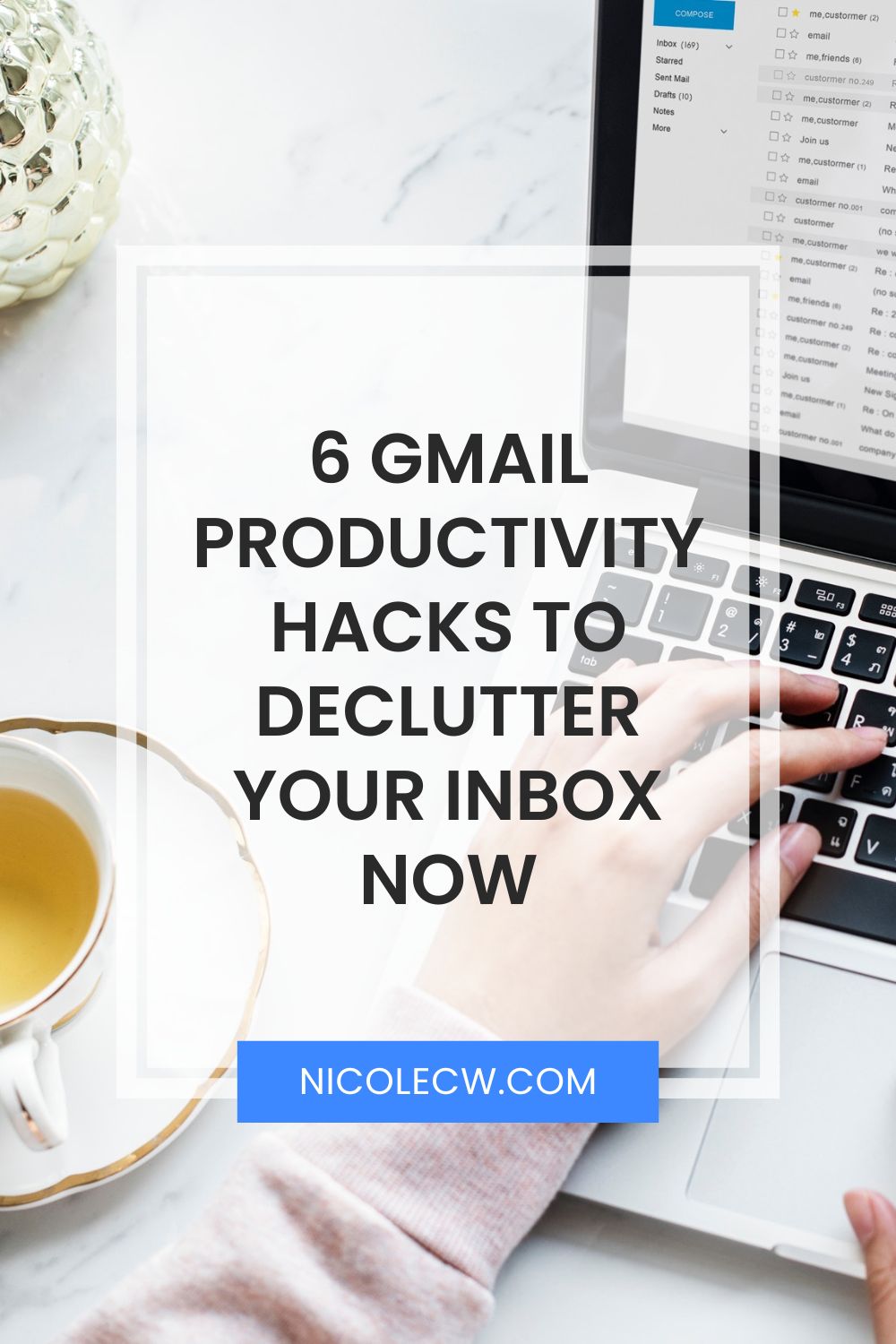 Disclosure: Some of the links below are affiliate links. I will earn a small commission, at no extra cost to you, if you purchase through these links. Your support encourages me to continue blogging and help with the costs of hosting this site. Thank you!
1. Display Density: Comfortable, Cozy, Compact, Touch-enabled
Simply click on the gear icon at the top-right corner of your Gmail inbox and choose your preferred display density.
You can easily adjust how spaced out your emails are. Whether you want to pack many or few messages on the screen.
Comfortable: this is where you see the least number of emails on the screen (emails are far from each other)
Cozy or Default
Compact: this is where you see the most number of emails on the screen (emails are super close to each other)
I use compact on my laptop so I can see more emails at a glance on the small screen. But I use comfortable on my desktop so I don't feel too overwhelmed by the countless messages.
You can also choose touch-enabled so your screen works like a smartphone. But note that this option is only available for touchscreen laptops. I didn't choose this for my laptop because I don't really want to see my fingerprints on the glossy screen (I'm a clean freak~).
Do a hard refresh if there are no changes to the view of your Gmail inbox. This way, you'll load the page's most recent version.
Windows: Ctrl + F5
Mac: ⌘ Cmd + ⇧ Shift + R
2. Inbox Type: Default, Priority etc.
Head over to Gmail Settings by clicking on the gear icon at the top-right corner.
You can then choose the Inbox Type under the Inbox tab.
Here you can decide on the inbox layout, specifically how you want to format your inbox. Whether you want to see unread messages first or have inbox categories etc.
There are a few Gmail inbox layout options:
Default
By default, your inbox is split into tabs like "Primary", "Social" and "Promotions". Gmail will then automatically sort your emails into the right category.
This is quite decent for your personal Gmail because you can easily see the important emails (Primary) and the not-so-important emails (Social and Promotions).
But if this is your professional Gmail or the email you use to communicate with customers and business partners, I wouldn't recommend using the default inbox.
Tabs/Categories are very basic & limited
Clicking & viewing messages in the various tabs/categories horizontally is more unproductive than having all message on one screen sorted by tabs/categories vertically (this is my personal opinion though)
Important/Unread/Starred First
As the name suggests, this is where your important/unread/starred emails appear at the top of your inbox.
This is much better than the default inbox because you only have one tab. You can then view the various tabs/categories vertically on one screen.
But again, it is lacking in customizability. I prefer being able to choose which emails to show first, the order of emails etc.
Priority Inbox
This is my favorite inbox type… Priority Inbox!
With this layout, your inbox will be separated into multiple sections.
You choose which sections
You choose the order of the sections
I mean, just look at the Priority Inbox settings I'm using right now:
This greatly boosts my productivity. Every morning, I can quickly plunge into the important but unread emails then slowly take my time to digest the not-so-important but unread emails. Also, with the important messages always appearing at the top, I can return to them swiftly should they require some reply or action.
3. Filters & Labels
And the greatest Gmail productivity hack… getting your emails organized with filters and labels!
Labels
In Gmail settings, you can create a new label under the Labels tab. You can also choose whether to nest this label under another label.
For example, I nest Amazon KDP News and Amazon KDP Announcements under Amazon KDP as well as SiteGround AutoUpdater and SiteGround Newsletter under SiteGround.
Also, be selective about which labels to
I try not to show many labels because this will result in a cluttered left sidebar. Instead, most of my labels are show if unread so it's not too overwhelming.
Only important labels are show. For instance, Amazon KDP, Namecheap, SiteGround, Elegant Themes and G Suite where I receive notifications about my WordPress site being automatically updated to the latest version and my monthly invoice. These labels will appear on the left sidebar and I can quickly jump to read these important emails.
Filters
Under the Filters and Blocked Addresses tab, you can create a new filter.
I prefer filtering with From in order to filter incoming mail from specific email addresses. I also use Subject or Has the words to filter emails with specific subject lines.
Next, you set up specific rules telling Gmail what it needs to do to such incoming mail. Some actions that I commonly use are skip the inbox (archive it), apply a certain label and delete it.
Remember to apply filter to matching messages so that Gmail can implement the actions to such emails that already exist in your inbox.
4. Labs or Advanced
Labs (old Gmail) and Advanced (new Gmail) actually mean the same thing. They are experimental features that you can enable in your Gmail.
Here are some labs that I find pretty useful:
Canned Responses
This is where you save templated responses and easily insert them into your messages.
Here are some scenarios to use canned responses:
You have a standard answer for a frequently asked question
You use the same sales introduction email when prospecting customers
You always write a follow-up email after every meeting
Google Calendar Gadget
See your schedule of upcoming events at the left column of your Gmail.
Particularly useful if you're in sales or have numerous meetings. Or if you're slightly forgetful and need reminders (just like me).
Unread Message Icon
Quickly know how many unread messages are in your inbox by looking at the Gmail icon.
Super convenient so even when I browse to another tab, I know when a new unread email has arrived.
Multiple Inboxes
View emails of multiple inboxes at once.
Pretty good if you don't like logging into different accounts or using different windows.
5. Free Up Storage Space
The above tricks help organize your inbox and boost your productivity.
But what if you've reached your inbox limit?
Each person is only limited to 15 GB. And this storage space is shared between Gmail, Google Drive and more.
If you receive many emails, you might run out of storage space. But more often than not, it's your Google Drive that consumes the most space. Documents, files, folders, videos, images take up more space than emails.
So to free up your storage space, you'll have to
delete items in your Google Drive
save to another cloud storage like Dropbox
save to a USB drive or external hard drive
6. Get More Storage Space
Another alternative is to use Google Workspace (formerly G Suite).
By just investing $6/month, you get 30 GB storage space plus a professional business email that uses your domain.
I'm using Google Workspace right now for my business email and to store all my daily word count tracker spreadsheets, manuscripts, blogging editorial calendars etc. And I'm definitely getting my value's worth.
Besides, it's very simple to set up your business email with Google Workspace (formerly G Suite).
Just look at how much storage space I have!
Now It's Your Turn
Have these Gmail productivity hacks helped you declutter your inbox? What other tactics have you implemented?
Let's avoid email overload and boost productivity together~
For more business growth tips, join online business classes and marketing and sales classes. Or watch streaming broadcasts of free online classes at CreativeLive! You can also join online courses at Fiverr Learn~