So I recently received my health report. I'm all good, except that I don't exercise often.
And this prompted me to write today's article.
As an entrepreneur, I understand that we spend numerous hours working. Especially if you just started your business. Also because we basically DIY everything. From creating the product or service, accounting to marketing.
As a result, many entrepreneurs might end up neglecting their most valuable asset… their health.
Here are some tips to stay healthy while working from home.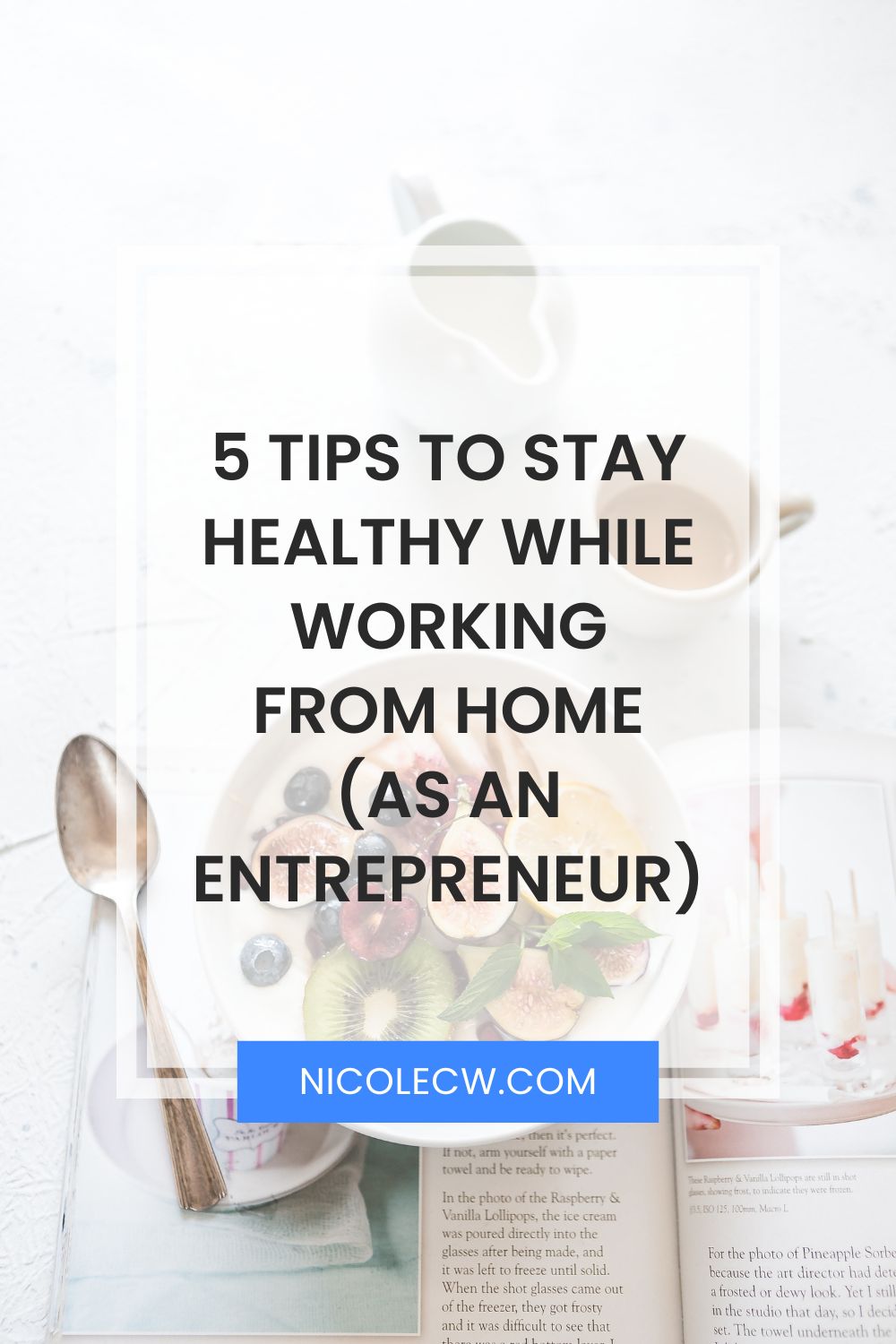 Disclosure: Some of the links below are affiliate links. I will earn a small commission, at no extra cost to you, if you purchase through these links. Your support encourages me to continue blogging and help with the costs of hosting this site. Thank you!
1. Go For Regular Health Screenings
If you still have a full-time job while working on your side business, you can tap into your company's health benefits.
But if you're solely working on your own business (just like a full-time entrepreneur), you will not have any medical benefits.
Hence, it's better to always set aside some savings for these health screenings.
Health screening helps you discover your illness early, rather than regretting later when it's too late. Like being diagnosed with a terminal illness or incurable disease. So better be safe than sorry!
You might need to go for health screenings only once in a few years when you're in your twenties. This is because you're still young.
On the other hand, you'll need more frequent health screenings when you're in your thirties and forties. At this age, you might need to be cautious because you're not young anymore (just look at how many women are using anti-aging beauty products in their late-twenties and thirties!).
2. See The Doctor When You're Unwell
If you're down with a fever, flu or cough that dragged on for a few weeks, you should visit the doctor immediately.
Similarly, visit the doctor if you feel unusual pain.
Don't ignore any pain or illness just because it seems minor. These minor ailments might escalate to something bigger if you neglect them.
You can even get peace of mind by paying this small consultation fee. For one, there will be no more tossing and turning at night where you worry about your sickness.
Therefore, always see the doctor when you're unwell, no matter how trivial the illness is.
3. Eat Healthy & Have A Balanced Diet
What you eat is crucial to staying healthy.
Having a balanced diet means that you're one step closer to leading a healthy life.
Do research about a healthy balanced diet and implement it in your life.
Include More Healthy Food In Your Diet
You can start by eating more
Vegetables
Fruits
Proteins
Dairy
For instance, I love broccoli more than cabbage or lettuce because I heard that dark green leafy vegetables are more nutritious. My family also buys bananas every week (though we sometimes buy apples, grapes, oranges etc.). But banana is still our number 1 fruit because we can easily eat it without cutting into slices.
I also recommend that you eat the fruit itself, rather than drinking fruit juice.
Fruit has lesser calories than fruit juice
When juicing fruits, you lose the fiber in the fruit itself
For proteins, I used to eat more chicken and beef. But most of the time now, I will choose fish or strictly vegetables only.
Dairy is another important part of my meal. My usual late-night snack consists of fresh milk and cereal (I don't really like drinking fresh milk by itself but I enjoy having it together with my cereal~). Plus, I heard from my friend how her grandfather jokingly mentioned that he was perfectly fine after a fall, thanks to his diligence in drinking milk for years (unlike his peers who suffer serious injuries because their bones are more brittle).
Avoid Food Bad For Your Health
Try to cut down on
Snacks
Fast food
Fried oily food
Sugary canned drinks
Or in other words, get rid of junk food in your life!
Despite working long hours, I don't have the habit of eating snacks. But I understand the need to munch on something when you're working. You can try healthier snacks like fruits, low-fat yogurt, cereal etc. Just search the web and I'm sure you can find a healthy snack that you like.
You can try replacing
White rice with brown rice
White bread with wholemeal bread
In an attempt to be more healthy, our family started to eat brown rice and wholemeal bread. I've also slowly replaced my lunch drink, from canned green tea (which is quite sweet) to iced milk tea to just plain water. Nowadays, I'm so used to the blandness of water that I will shun anything too sweet.
4. Exercise
My report mentioned that I should at least exercise 2.5 hours per week.
Hence, I downloaded a home gym exercise app and did exercise for a few days (at the beginning).
But I still think actual sports, like running or swimming, might be better. Which is why I've switched to running during the weekends.
When you're planning to exercise, do consider
If you prefer staying at home or going outside
If you like exercising alone or with friends
Your budget
Your time
For example, I'm an introvert who prefers exercising alone. Plus, I don't really like to waste time commuting. Hence, I might consider buying a treadmill, rather than signing up for a gym membership.
On the other hand, if you like exercising with friends, you can play sports like basketball, soccer and badminton.
Bear in mind that you might need to invest some money, whether it's buying equipment for your home gym or signing up for a gym membership.
You will also need to make time to exercise. In fact, you can even create a schedule or at least plan a weekly sports activity. The key point is to stick to this schedule you've created.
Do take some time to research about various types of sports and their pros and cons. For instance, running burns more calories in a shorter period of time compared to swimming. But swimming doesn't hurt your joints as much as running.
5. Balance Work & Play: Work Hard, Play Hard
So I'm not a full-time entrepreneur… Just a part-time entrepreneur.
There was a period of time in the past where I work in the day then return home to write my manuscript until I sleep. It's almost like working 24/7. As a result, I'm exhausted both physically and mentally because there was no time for my brain to rest.
Hence, no matter how busy you are, you need to include time to unwind and relax.
Fixed Yet Flexible Work Schedule
Start by setting fixed working hours. For example, this could be 9am to 12pm and 1pm to 6pm as a full-time entrepreneur. Or it could be 10pm to 12am if you still have a full-time job like me. During these hours, you will try to get as much work done as possible.
Remember, don't push yourself too hard. If you feel tired, take a break. You can start working again after the 15-minute coffee break.
However, as soon as you're past these working hours, you should put everything down. Turn off that working mode and let your brain get that much deserved break!
Rotate Tasks To Create Breaks In Your Routine
Another alternative would be to rotate your tasks so that there is diversity amid your mundane tasks. For instance, I switch between high energy tasks and low energy tasks.
High energy tasks: writing manuscript, writing blog posts, plotting
Low energy tasks: clearing emails, creating social media graphics, writing meta description for my blog posts
Life Is More Than Just Work
Life isn't solely about career so you shouldn't be working 24/7 without rest. There is more to life. Like your family and friends. All your loved ones. And your health too. Hence, do set aside time to exercise, to travel, to do things together with your loved ones.
Cause every moment you missed is a moment that will be gone forever. I don't think you want to miss that precious moment when your baby finally learns to speak and calls you 'mama' or 'papa'?
Now It's Your Turn
What tips or advice have helped you stay healthy while working from home? Do you have any recommended diet plans or exercises that you want to share with fellow entrepreneurs?
Check out Fiverr Learn and CreativeLive for more entrepreneurship and health tips!