So you want to create your own website? Or maybe start a blog?
Well, let me give you a pat on the shoulder. That's the first step of being an entrepreneur!
But before you dive into this business, you need to decide on your domain name. Here are some questions to ask yourself in order to choose the perfect domain.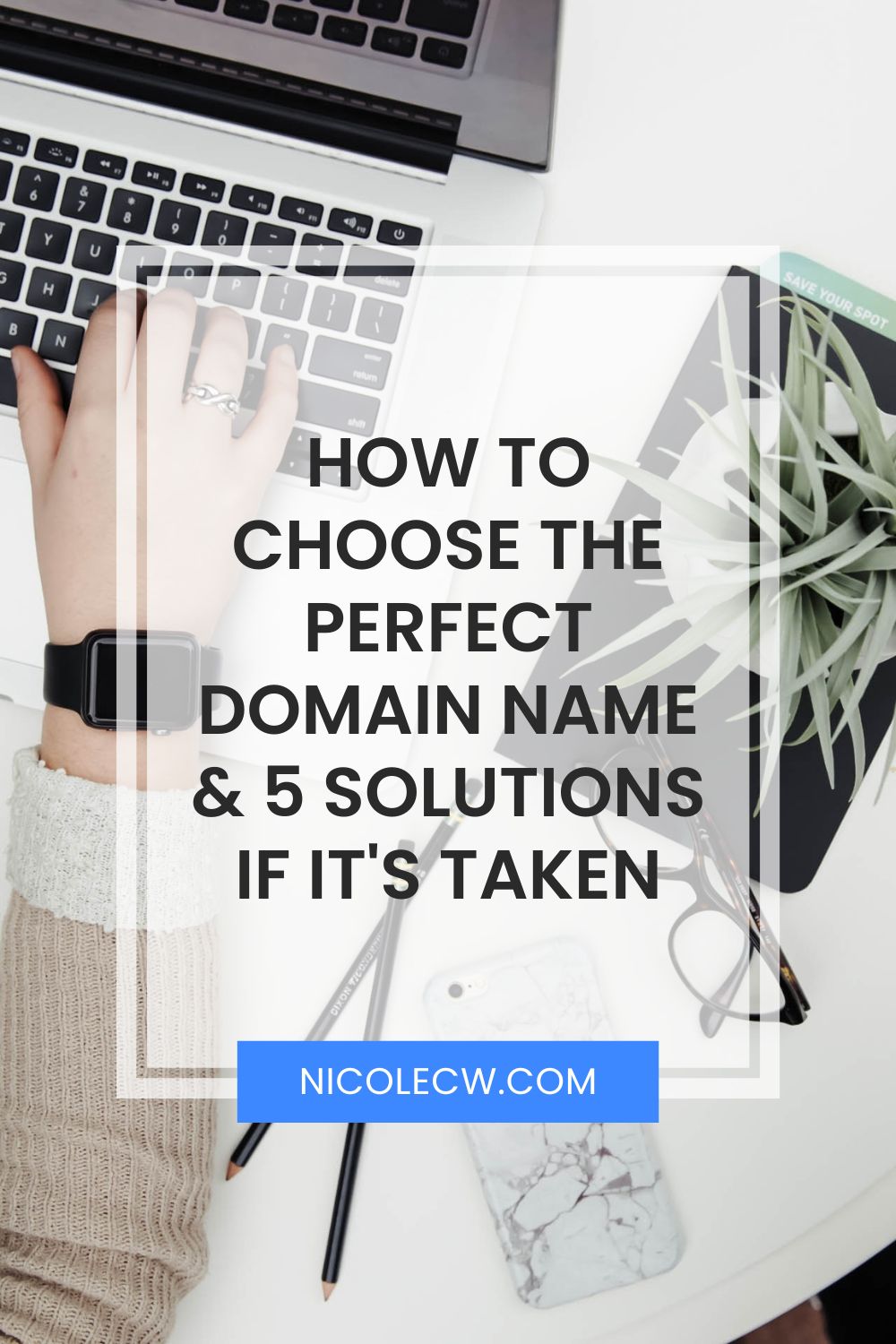 Disclosure: Some of the links below are affiliate links. I will earn a small commission, at no extra cost to you, if you purchase through these links. Your support encourages me to continue blogging and help with the costs of hosting this site. Thank you!
1. What's the purpose of your website or blog?
Branding Yourself
This goes without saying that your name needs to be included somewhere in your domain.
The issue is how you want your name to be.
You can include your first, middle and last name. Or simply use initials if you want some privacy.
But if you want absolute anonymity, you can consider a pseudonym. I don't recommend this though. What's the point of branding if you aren't using your name? Besides, you might encounter some issues when you're creating a Facebook account (due to their strict real-name policy) etc.
Ensure that your name is unique. You don't want to be a copycat of some famous celebrity.
Here are some pros of a personal brand website:
Establish yourself as an authority figure
Create opportunities such as freelance projects & growing your network
Build an online presence
This also comes with some cons:
Difficult at the beginning due to domain not being SEO-friendly
If you've used your name in forums or social media, your website could appear together with them (you might want to start hiding or deleting those embarrassing posts)
Selling Products & Services
For the purpose of search engine optimization, it's best to include your products or services in the domain name.
An SEO-friendly URL is likely to result in a higher site ranking.
For instance, if you blog about social media marketing, you might want to choose a domain name that includes "Social Media Marketing". This domain will then rank higher if it's frequently updated with relevant content related to social media marketing.
Or if you are a florist that sells flowers, just including "Florist" or "Flowers" in your domain name will cause your website to appear when someone searches on Google (though which page your website appears on depends on your domain authority).
Here are some pros of naming your domain based on your products and services:
More SEO-friendly hence, easier to rank compared to personal brand websites
People know at a glance what you sell so you will attract the right customers from the start
And of course, there are some cons:
Cannot easily change to another product or service, making it hard to expand the range & variety (eg. you decide to sell flowers & floral bracelets so a domain with "Flowers" doesn't accurately reflect everything you're selling)
2. Are you starting an international or local business?
.COM
If your products and services can be sold to customers worldwide, consider getting a .com domain.
Why?
Because the most credible top-level domain is .com.
Just look at your bookmarks. How many sites and blogs that you frequently visit has a .com domain?
.US, .UK etc.
If you're starting a local store that only sells and delivers to a specific country, you can consider getting a country code top-level domain.
For example, .us or .uk.
Your website will then rank higher when people from that country searches for your industry's products or services.
However, to buy these country domains, you'll need to
Be a citizen of the country
Have supporting documents that can verify your citizenship
Some will let you buy the domain even if you're not a citizen of the country. So do check if you're eligible to buy your preferred country domain.
3. What type of business are you starting?
Some top-level domains are designed for specific types of businesses.
Choosing the right one can tell people immediately the type of business you're running.
These are just some common top-level domains:
.ORG
Originally intended for use by non-profit organizations, this domain can now be used by any organization.
.EDU
If you intend to run an education-related website or blog, getting .edu domain would be appropriate. This domain is best used for education institutes, schools and universities.
.BIZ
And if you're running a business, .biz would be an obvious choice.
4. Do you prefer www or non-www?
Next, you have to decide whether you want to include www in your domain.
A domain without www is also known as a naked or bare domain.
Note that www is actually a subdomain.
Here is a very detailed and technical explanation of why you should choose www over non-www.
For me, I chose www because most websites have www. Another reason is that CloudFlare CDN only works for www domains.
5. Are you planning to create any subdomains?
As illustrated in the diagram above, subdomain is the part before your root domain.
Some websites will have subdomains like
blog.example.com
shop.example.com
store.example.com
promo.example.com
Do consider whether there are any subdomains you would like to create. Write them down and see whether they're too long or hard to remember. If they are, you might need to consider shortening your domain.
But What If My Preferred Domain Name Is Taken?
You've finally taken the leap to search for your preferred domain at a domain registrar like Namecheap… but you're greeted with "Domain is taken" message!
So what can you do in such a situation?
First, don't panic. Take a deep breath.
There are billions of people and millions of companies in the world. So it's no wonder that your preferred domain is taken. In fact, all the good domains are already taken.
So at times like this, you need to prepare a backup plan. And in this case, that'll be a list of other domains should your 1st most wanted domain is taken.
1. Choose Another Top-Level Domain
I strongly recommend that you get .com domain. This should always be your first choice. It's the most credible and trustworthy domain.
But if .com is already taken, then you can try others like .us or .biz.
For me, I'll rather change the root domain so that it's still .com.
2. Add 's' To Your Root Domain
Let's say entrepreneur.com is taken.
I can simply change it to entrepreneurs.com and the meaning is the same.
Plus, I still get to retain the .com part.
3. Add Numbers To Your Root Domain
Numbers are quite uncommon in a domain name thus, you have a high chance of purchasing a domain with numbers.
You could add numbers like entrepreneurship101.com or easyas123.com.
But of course, you shouldn't be using numbers to replace alphabets. Like entrepreneur5.com. That sounds weird and difficult to comprehend.
4. Break Up Your Root Domain With Hyphens
Note that hyphens are rarely used for domain names. They are mostly used in page URL.
Hence, some people have argued that adding hyphens in your domain is not good for Search Engine Optimization (SEO). But there isn't any solid evidence to prove this. So I feel that adding hyphens in domain names are okay as long as it enhances readability. Plus, the quality of content has a greater impact than your domain name on SEO ranking.
Sometimes, it's better to break up your domain for readability's sake. Adding hyphens would clear this up and avoid situations where people misread your domain name.
Hyphens are especially useful if the words in your root domain either begin or end with a vowel (more so if these words are placed side by side).
Don't you think nicolecw-author.com is much clearer and easier to read than nicolecwauthor.com? (Psst, this is actually my 2nd choice if this domain was taken).
5. Buy Your Desired Domain
This is the last resort.
If you really really want this domain and are not willing to change a single character, you can consider buying it.
Bear in mind that buying a domain will obviously cost more than the usual $10-$11/year like Namecheap offers (the usual price for .com domains without any add-ons).
5a. Check Whether Domain Is Listed For Sale
First, you can visit domain marketplaces like Namecheap.
If your desired domain is listed there, check whether the seller is asking for a fixed price or putting it up for auction. And you can just buy it or bid for it if it's within your budget.
If your desired domain isn't listed for sale, we'll move on to the next step.
5b. Contact The Current Owner & Buy The Domain
Type your desired domain into the address bar.
Website With Contact Details
If a website loads, find the Contact Us page and drop the site owner a message about your interest in purchasing the domain from him or her.
Also, do browse through their website, especially the About Us page. Read up about the background and history. If it's an established business that has been around for a decade, the owner might not be willing to sell their domain to you.
Website Without Contact Details
If you can't find any contact details on the website, you can use who is.
Search for the domain and scroll down to the registrant contact information. You can then call or email the domain owner.
who is also lets you see when the domain was registered and when it will expire.
If the domain expires in 5+ years, this means that the owner is serious about running the site and may not be willing to sell the domain. (10 years is the maximum period a domain can be held)
On the other hand, if the domain will expire in less than a year, there's a chance that the owner is willing to sell.
5c. Negotiating Price
Settling on a price that both you and the domain owner agree on depends on
Whether the amount meets the owner's minimum perceived value
Whether the amount is within your budget (a price that's comfortable for you)
Therefore, do ensure that your offer is an irresistible and yet realistic amount. A price that the owner is happy to sell you the domain for.
Bonus Tip: Grab Expired Domains ASAP
If your desired domain is not listed for sale or the owner is unwilling to sell, you will have to wait until it expires and quickly buy it.
3 Must-Haves In Your Domain Name
1. Human-Readable
Rather than choosing a domain name for SEO purposes, it's more important to choose a domain name that is human-readable.
What's the point of getting a domain name that Google understands but your target audience (humans) don't?
2. Memorable
Your domain needs to be memorable.
People should be able to tell at a glance:
Who you are
What your business is
What your blog is about
What products or services you offer
Your domain name should answer at least one of the above questions. If it doesn't, you will either have to think of another domain or use meta description to clarify this.
Remember, keep it short and simple!
3. You Must Love Your Domain Name (or at least, like it)
Bear in mind that this domain you're buying will be for eternity (until you decide to stop working on this website or blog).
If at some point you decide to change your domain name, you might lose the SEO ranking that you've painstakingly built up from scratch. All the time and effort you've spent to finally get some decent organic traffic will be wasted.
Do not risk it!
So choose your domain name properly from the start. Choose one that you love. Cause this domain will stick with you for the rest of your life.
Now It's Your Turn
And just a warning: be careful when you search for your desired domain.
I've heard rumors that when you search for domain names on unethical domain registrars, they will buy the domain and sell it to you at a higher price.
Hence, DO NOT, I repeat, DO NOT search for your desired domain on any domain registrars until you're 100% absolutely sure that you will buy it.
Personally, I wouldn't search my desired domain on any domain name/username availability tool. Or on Google either. You never know if anyone will note down this information and grab the domain.
Also, if you really do buy your domain, you must enable SSL certificate so that your site is https and not http.
You can check out my step-by-step guide on how to create a business website or self-hosted blog!
For more business growth tips, join online business classes and marketing and sales classes. Or watch streaming broadcasts of free online classes at CreativeLive! You can also join online courses at Fiverr Learn~