Running a business isn't only about how to create new products or services, how to sell products or services or how to increase brand awareness.
Running a business also includes crisis management. This means your ability to identify potential risks, prepare for emergencies and deal with crisis situations. Crisis management is thus crucial for the survival of businesses.
Just look at how the weather isn't sunny all year round. There are days when it rains. And this is the same for your business too.
So let's say your business isn't doing so well one day. Are you going to close your business? Of course not! You've spent years building it.
Instead, you will consider other solutions. And today, we'll discuss one such solution… cutting costs. Here are some ways to cut costs when your business is struggling.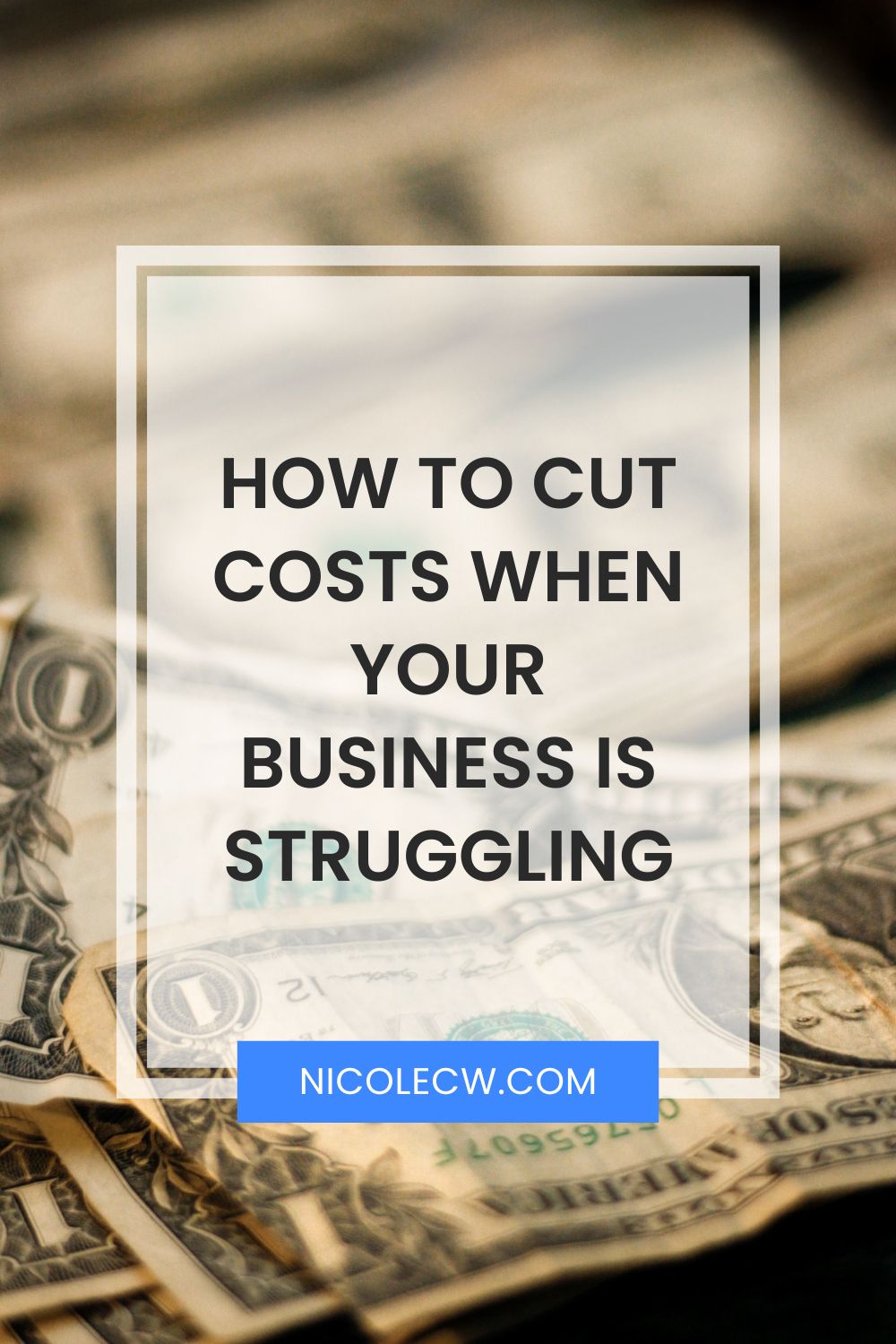 Disclosure: Some of the links below are affiliate links. I will earn a small commission, at no extra cost to you, if you purchase through these links. Your support encourages me to continue blogging and help with the costs of hosting this site. Thank you!
Examine Your Current Costs
You might have monthly subscriptions for certain tools and software or quarterly expenses for purchasing of materials etc.
The first thing you need to do is list down all these current costs in a document. Whether it's a trivial $6 Google Workspace (formerly G Suite) monthly subscription or a one-time $300 website design. Just note down all your current costs for this month and the next few months.
In fact, you should have an expenses document that lists all your expenses since the beginning of your business. It could be a simple Google Doc or Microsoft Excel. Or even better, you could have a business tool like FreshBooks that helps you track expenses, create proposals, send invoices, track payments, track time (especially if you're paid by hour), manage tasks and projects.
If you don't have an expenses document yet, you should start now. Better late than never, right?
Now, examine each item in this expenses document. Try to rate them based on how important they are and whether they're a need or want.
Rethink If You Really Need Each Item
Is there any item that you won't need for these few months?
For example, I use Google Workspace frequently (everything from Gmail to Google Drive). Plus, the cost is super low at only $6/month. Hence, I will still keep Google Workspace.
On the other hand, I might consider pausing the beta reader software and ARC book delivery tool because I don't have any new books currently. I will only subscribe to the software again when I'm launching a new book.
Also, do check if there's any item that you don't use anymore. If you don't use the tool anymore and yet you're still paying for it monthly, you can consider stopping your monthly subscription. This might just be your chance to do some cleaning up!
Besides thinking each item from your perspective, you'll need to consider from your customers' perspective. Some items might be essential for your customers such as LiveChat. Your on-site visitors and customers may rely heavily on the real-time live chat support on your website where they can promptly resolve their questions and concerns with your agents.
Consider Downgrading Your Plan
Now, check your subscription plan for each tool. Can you downgrade any of those plans?
If you really intend to downgrade, do ensure that the lower-tier plan meets your needs and that you're eligible. For instance, if the lower-tier email marketing plan is only up to 10,000 email subscribers but you have 12,378 email subscribers, you will not be able to downgrade.
On the contrary, if you're currently using a plan that has too many features that you don't use, you can downgrade to a more suitable plan. Take me for example. I might downgrade my web hosting from SiteGround's GrowBig to StartUp plan since I only have 1 website and I don't really need so much webspace.
Email Marketing Software: Clean Up Your List
One area that you can save cost is your email marketing software.
Most email marketing software's pricing is based on the number of subscribers you have (eg. MailerLite, MailPoet). Hence, try to cultivate a habit of cleaning up your subscriber lists frequently. By cleaning up your lists, you're saving time, effort and money and ensuring that you're marketing to people that really matter to your business. It also keeps your database healthy.
To clean your list, you simply have to delete inactive subscribers. This could be subscribers who never open your email in the last 6 months or subscribers that have hard bounced (eg. due to invalid address).
In other words, you cut costs by eliminating people, who are no longer interested in your business, from your newsletter.
Check Upcoming Costs
Next, list down all upcoming costs.
Hold Off Purchases
Are you planning to buy a new tool or software? Are you hiring someone for a certain service?
Now rethink those decisions. Do you need them urgently? Can you buy them a few months later? If possible, postpone these buying and hiring decisions.
Explore Alternatives
However, if you really need those items urgently, you can consider searching for alternatives. Find out if there are any cheaper options that provide the same quality.
Prioritize Your Expenses
If you can't compromise, meaning that you're already set on using this specific software or hiring this specific person, then you have to start prioritizing.
You can buy or hire those that are high on your priority list then postpone those low on the list.
Employment Practice
Notice how this is the last point in the article?
Well, that's because this is the last resort. I wouldn't choose to touch people unless there's really no other way to cut costs. Hence, only consider this during a worst-case scenario.
Stop All Recruiting Efforts
One way to cut costs is to freeze your recruiting efforts (also known as hiring freeze).
Stop all your recruitment ads, unless they're free (like the ads you place on your own company website). This way, you still have a few job candidates trickling in. When your company gets betters, you can then hire from this pool of job candidates.
If you're thinking to hire a freelancer (eg. Fiverr, Fiverr Pro) or part-time staff in the next few months (haven't offered anyone a job yet), you can consider letting your current full-time staff absorb the workload. If you already have an employee that is equipped with the knowledge and skills to carry out the task, assign the workload to him or her. Only hire a new employee if you're lacking someone with that specific knowledge or skills.
Downsize Your Company
Some companies will downsize until the economy recovers. However, I'm not very supportive of this.
Downsizing, whether you fire someone or ask someone to leave, will definitely demoralize your team.
Thus, I would consider other solutions instead: new work arrangement and company-wide pay cut.
New Work Arrangement
You could announce to your employees that the company is now open to a flexible work arrangement or work from home arrangement.
For example, there could be a 3-day week, a daily 10am to 3pm work week or a work from home day once a week. This would be attractive to older employees who want to continue working but have difficulty commuting as well as working mothers who might want to spend more time with their family.
Switching to this new arrangement would mean a pay cut but it also means that employees can have more family time.
Company-Wide Pay Cut
Another solution would be letting your staff know that there would be a slight pay cut across all employees due to the economic recession. And that their salary will return to normal as soon as business picks up. You'll need to mention how everyone in the company is in this together and together, we will overcome this small obstacle.
I prefer the pay cut over asking people to leave because
You include everyone rather than only targeting one person hence it's much fairer
Creates a sense of unity during a crisis
Now It's Your Turn
How do you cut costs during a crisis? Do you have any case studies or insights to share about the solutions you've implemented?
Check out Fiverr Learn and CreativeLive for more business and entrepreneurship tips!