So I'm a notes lover, to-do list enthusiast and productivity apps addict. You get my drift, right?
Today, I'll like to share some tips on how to use Google Keep.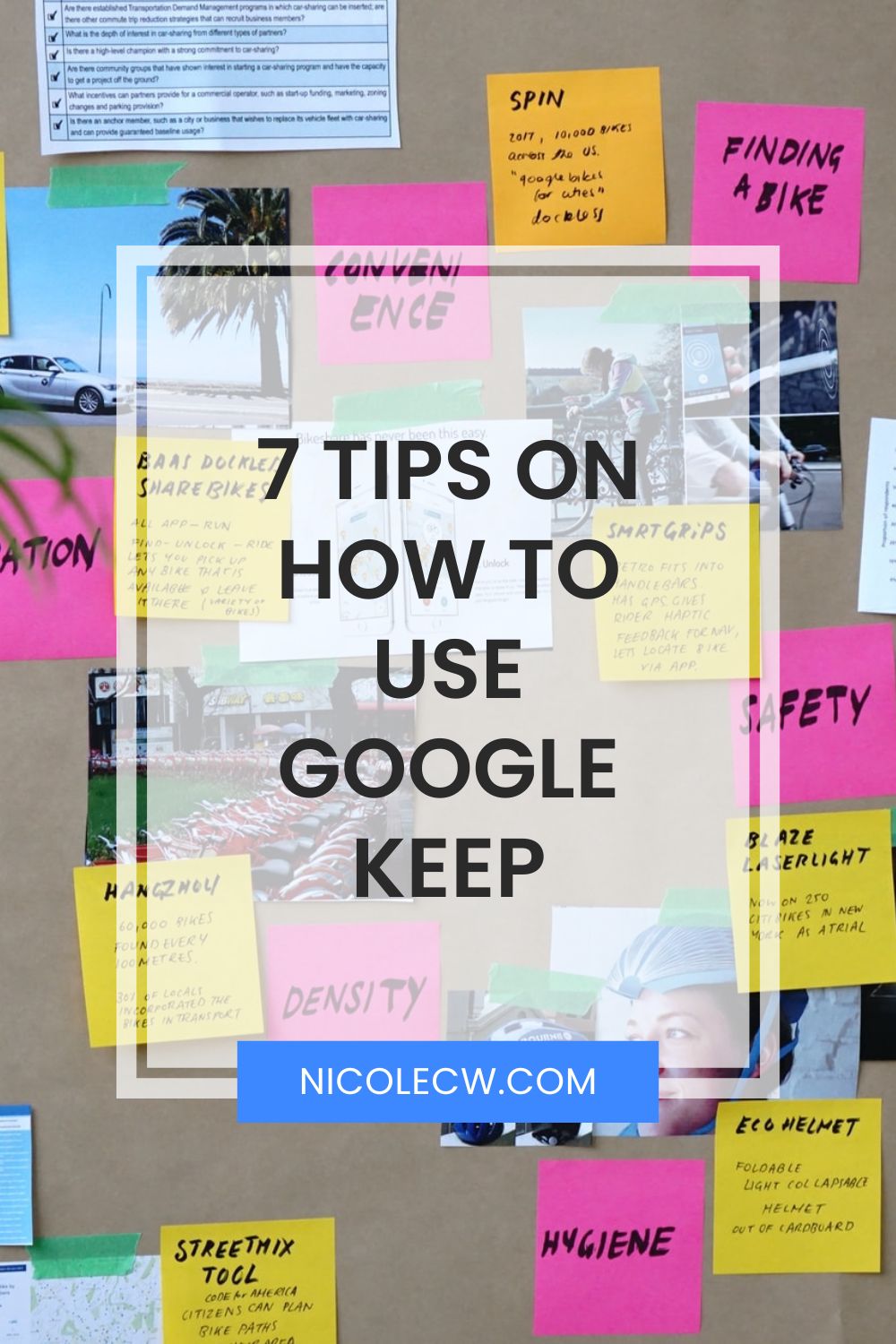 Disclosure: Some of the links below are affiliate links. I will earn a small commission, at no extra cost to you, if you purchase through these links. Your support encourages me to continue blogging and help with the costs of hosting this site. Thank you!
Google Keep
Google Keep is a note-taking app that I use frequently in my everyday life. It's like a simplified version of Evernote. Which makes it perfect for personal use.
Google Keeps lets you quickly capture what's on your mind. You can jot down things, such as plot ideas that you suddenly thought of in the shower.
This is what happens to me usually. I quickly note them down in Google Keep (like the main ideas and keywords) so that I don't forget them. Then, I transfer them over to my detailed plot ideas note in Evernote when I have time (this is also when I elaborate and add on to the brief ideas).
1. Organize Your Notes With Labels
One of the easiest and most common ways to organize your Google Keep notes is by using labels.
For me, I view labels as lists. This is because labels appear in the left menu of the mobile app and I can easily switch between these different labels.
Here are some labels I created in my Google Keep:
author
family
finance
food
friends
personal
shopping
travel
work
Because I use Google Keep for personal notes (not as serious or detailed as the author notes in Evernote), my labels are based on the various areas of my life that I want to focus on.
So do think about the various categories that your notes will fall under. If you have no idea, you can just jot down notes. After a while, you should be able to see a pattern. Like the kind of notes that you usually create and the categories that they belong to. The labels will then come naturally to you.
2. Color Code Your Notes By Priority
When I first started using Google Keep, I color-coded my notes by priority. For instance, red is for high priority, orange is for medium priority and yellow is for low priority. I also use white for notes filled with information.
Likewise, you can do the same. Choose a few colors and rank them by priority.
One secret tip for this is to create a "_ColorCoding" label. Then, create notes with various colors and state what each note means. This way, you can easily view the various colors and understand their priority. Here's mine: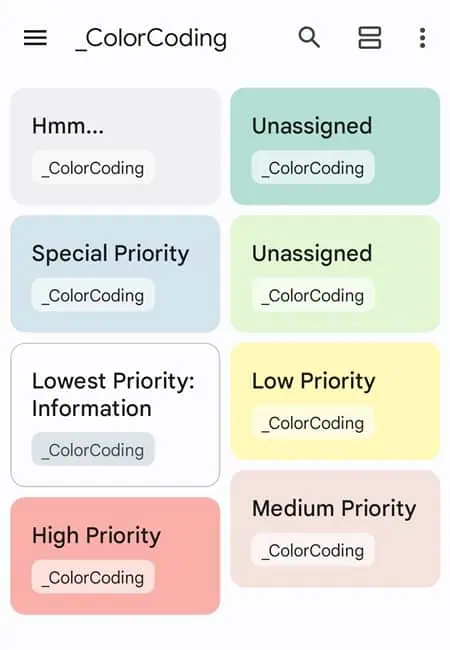 3. Use Background To Categorize Your Notes
In addition to colors, Google Keep has backgrounds that you can add to your notes. You can choose from the default backgrounds or upload an image as background.
Previously, there wasn't this option. Which was why I color-coded my notes. But with this background option, you can categorize your notes.
The default backgrounds can be used to organize your notes
Food: fork & spaghetti background
Recipe: book & ingredients background
Event/Festival: fireworks background
Travel: trees & buildings background
Activities: rollercoaster background
Sports: swimming pool background
Writing: pencil background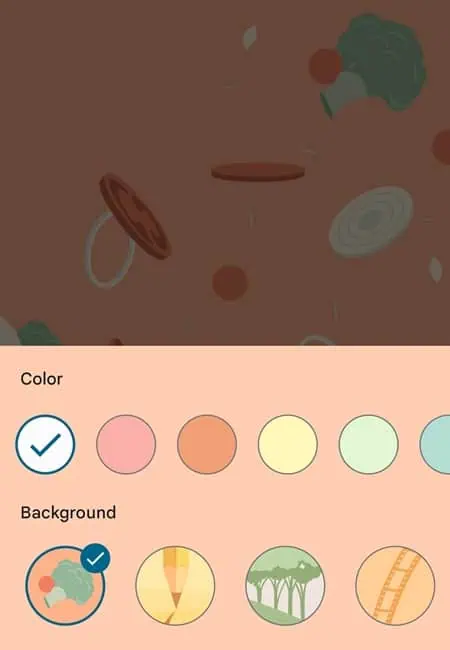 4. Pin Important Notes To The Top
One of the greatest features I love about Google Keep is pinning.
Pinning a note will move it to the top, allowing you to access important notes quickly.
In my case, I pinned my TV Shows and Movies notes so I quickly find what shows or movies to watch next.
If there's a note that you frequently refer to, I strongly suggest that you pin them!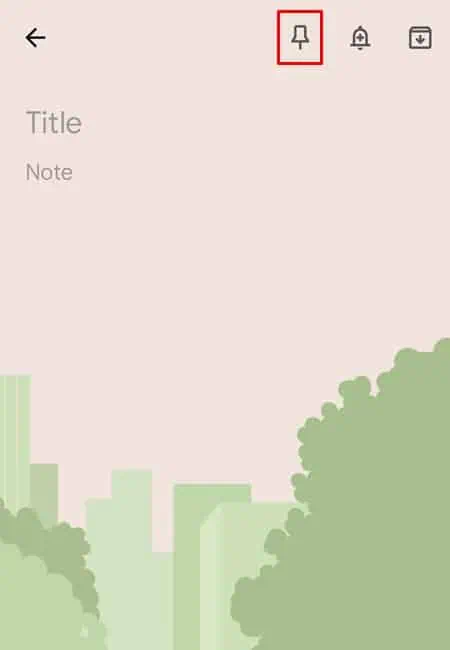 5. Archive Notes To The Bottom
Instead of deleting, I suggest archiving your notes instead. If you will never need the notes in the future, then sure, do go ahead and delete them. But if there's a possibility that you might look at the notes again, archiving will be a better solution.
When you archive your notes, these notes will be pushed to the bottom. You can easily unarchive them when needed. The left menu allows you to access the Archive so you can view all your archived notes.
For me, I archive "Done" notes. When I've completed something from my "To-Do" note, I'll copy it over to the archived "Done" note and remove it from my "To-Do" note.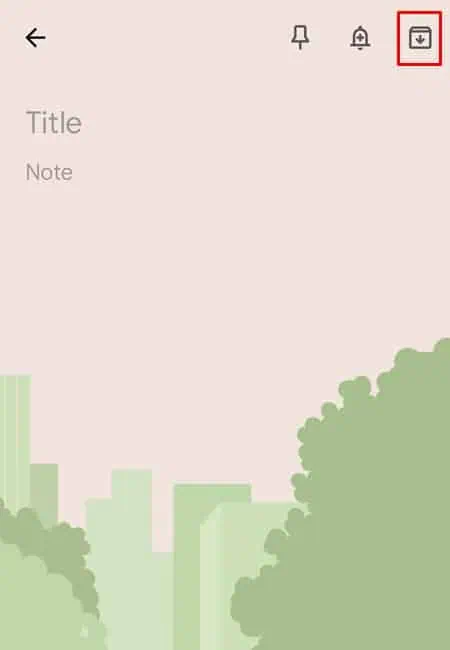 6. Set Up Time & Location Reminders
You can add reminders to your Google Keep notes
Time: Choose the default times or pick a date and time. You can even make the reminder repeat daily, weekly, monthly, yearly & more!
Location: Choose a place so Google Keep can remind you when you reach that place.
I've never created location reminders. But time reminders are useful. They also appear on my Google calendar so you can see both events and reminders.
You can also view upcoming reminders from Reminders on the left menu.
7. Share Notes & Collaborate With Others
If you enable sharing in the settings, you'll be able to share your notes with other people. They will then be able to view and edit the notes.
Personally, I didn't enable sharing because Google Keep includes my personal notes. So I don't really want others to view or edit them.
However, if you have a note that you think is useful for your family or friends, you can share this note so everyone can view and edit it. Do bear in mind that Google Keep is for smaller, lightweight notes.
If you're collaborating with others for a school project or family trip, I strongly suggest that you use Google Docs, Google Sheets or Google Slides. These tools have version history so you can check and revert to earlier file versions. Google Keep has undo and redo but if you close the note, you can't undo it anymore.
Bonus Tip: Think Of Your Goals & Purposes
Why are you using Google Keep? What do you aim to achieve?
If you use other apps like Evernote, Asana and TickTick, how does Google Keep complement your productivity system? Why are you using Google Keep instead of the aforementioned apps?
Bear these questions in mind and you'll get a rough idea of how to organize your Google Keep notes.
Take me for example. I have fixed templates in Asana for my blog and fiction books. This is just a checklist of things to do. TickTick, on the other hand, includes my to-do tasks. Right now, it's filled with habits like watering my plants and tasks like transferring my blog posts from Evernote to WordPress, bringing home my work laptop for work-from-home Fridays, posting on Instagram, backing up my manuscripts in Google Drive and more. Evernote is for serious notes like my blog post drafts, my fiction books character bio, plot ideas and worldbuilding, research about self-publishing etc.
So how does Google Keep come into the mix?
Well, for me, Google Keep includes notes that I want to be able to access on the go. I'm using the free Evernote plan which only allows up to 2 devices—my desktop and my MacBook. Thus, I have my art supplies note in Google Keep so I can easily buy them when I visit the art shop. I also have notes about my fiction books with important to-do so I can have a simplified overview of what needs to be done. I also have future plans notes with reminders in the future so I'll be reminded to do them in the future. I have an empty ad hoc note which I use to quickly jot down things. This is the one that I use to transfer to my Evernote.
Now It's Your Turn
Have you used Google Keep? How was your experience? Do you have any tips on using Google Keep?