As an entrepreneur, there are many tasks to be done in your day-to-day operations. You probably have some kind of to-do software that helps you with this.
Likewise, you'll also need various documents to start your business as well as keep your business running smoothly. Here are some documents that you should have.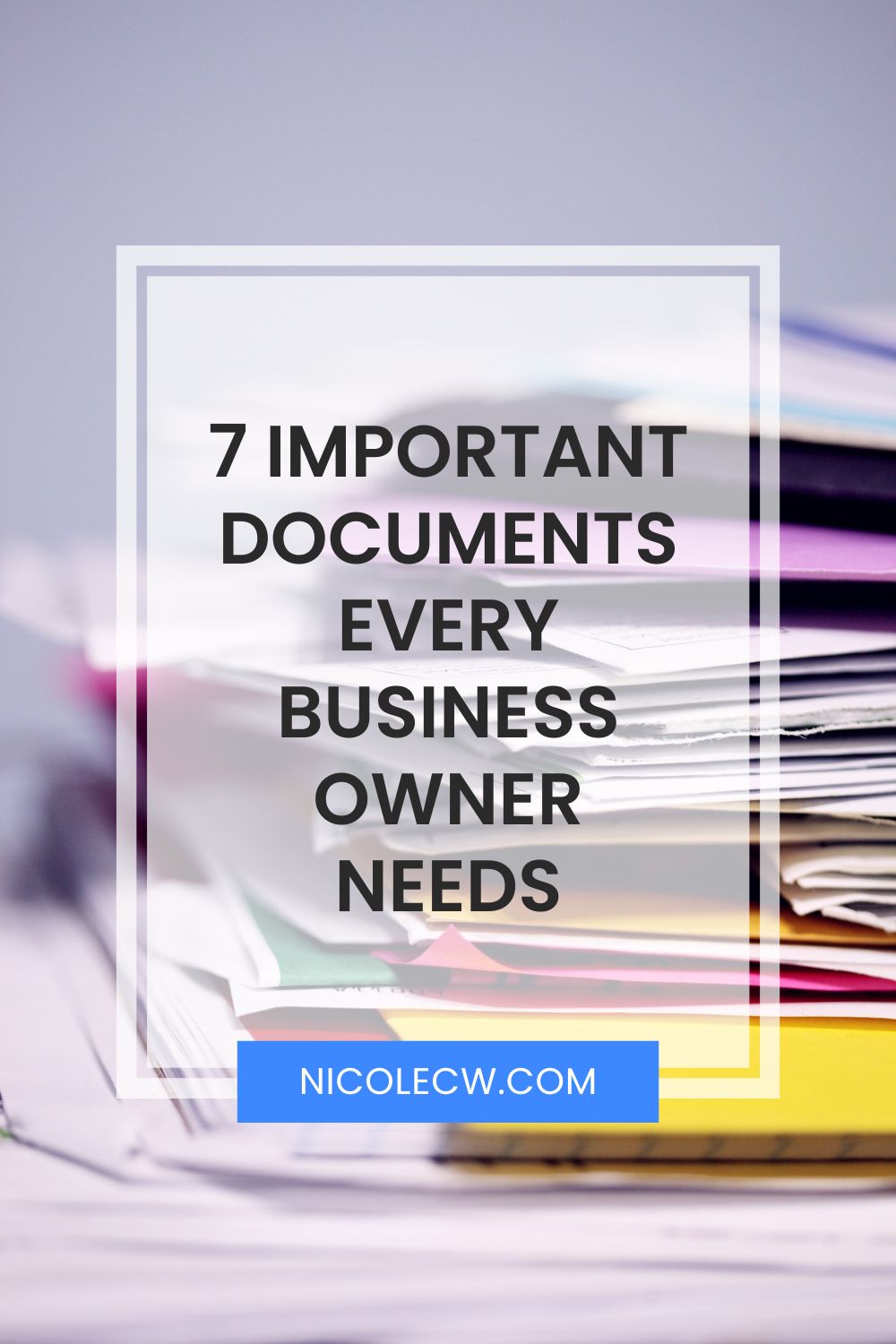 Disclosure: Some of the links below are affiliate links. I will earn a small commission, at no extra cost to you, if you purchase through these links. Your support encourages me to continue blogging and help with the costs of hosting this site. Thank you!
1. Business Plan
A business plan is the most important document when starting a business. It provides the foundation for your business where you describe your strategy, goals, products or services and target market. In addition to determining the feasibility of your business idea, it provides a roadmap going forward (where your business is going and how it will get there). This document will be helpful in securing funding from investors and bank loan officers.
For me, I merge my goals together with my Word Tracker document (which is always open). This way, I can easily go to the Overview tab to view this year's goals.
Do categorize your goals. For example, by the products and services you offer or your various income streams. I have fiction goals like finishing writing/editing [Book Title], blogging goals like no. of blog posts in the pipeline ready to be published and marketing goals like no. of newsletter subscribers.
For the roadmap, I strongly recommend that you break your long-term goals into a series of short-term goals. Also, include an action plan so you can visualize how this strategic plan is executed.
Etsy offers comprehensive business plan printables. You can also create your own documents in Google Workspace or Microsoft.
2. Business Information
This document is where you include all the important business information
Tax ID
Company Address
Company Phone No.
Bank Details
Do add any other information that you deem important.
The key point of this document is to give you all your business information in one sheet so you can easily refer to it when filling up forms. This will greatly save you time and hassle.
3. Inventory: Products & Services
As an author, I have a Books document that includes the following information:
ISBN
Amazon, Kobo & Apple Links
Goodreads Links
I also have a separate document for the blurbs of my various stories as well as a folder for my book covers.
Likewise, you can create a document that lists all your products and services including SKU. You can also use it for stocktaking. Or you can even get inventory management software to keep track.
4. Financial Documents
These must-have documents measure the financial health of your business.
Overview
First, you'll need an overview document that gives a top-level view of your expense, income and profit.
You can make this a yearly document so you measure your financial growth and health annually.
Consider putting in some charts and graphs to better visualize the data.
If you're using accounting software like FreshBooks and business management software like Fiverr Workspace, you'll get a top-level dashboard of your overall business performance.
Expense
This expense document can be more detailed and broken down by month.
Again, you should categorize your expenses. For example, domain, web hosting, email marketing software. For the expenses of my books, I have categories like editing, formatting, book cover design, marketing and author software.
The key is tracking the cash outflow so you know where your money goes and how much.
FreshBooks and Fiverr Workspace have features to help track your business expenses.
FreshBooks: multi-currency expenses, secure receipt storage in the cloud, auto-categorization of expenses, automatically import expenses from your bank
Fiverr Workspace: automatically track expenses, snap receipts, file them, bill them to clients & generate the reports for tax time
Income
The income document can also include more details and be broken down by month.
Product Units on hand or in store
Items Sold
Cost
Profit
Do categorize your income so you can filter and sort them for analysis and insights. For me, I categorize by income streams so affiliate marketing, author books, ad networks (AdSense).
This is key for tracking cash inflow so you know where your money comes from and how much.
On top of income reports, FreshBooks and Fiverr Workspace have additional features like proposals, invoices, contracts and more. Here are just some of them.
Invoicing: send automatic payment reminders for overdue invoices, accept credit cards, get paid upfront with deposits
Payments: set up online payments in a single click, offer clients flexibility with payment schedules & partial payments, payment options include VISA, MasterCard, AMEX & Apple Pay
Invoicing: collect payments directly from your invoices securely, set up recurring invoicing, invoice in milestones, get payment alerts, apply discounts
Payments: get payment alerts, accept payments online (including major credit cards), flexible & secure payments, daily payouts
Recurring Payments: retainer or subscription, charge your client's credit card automatically based on your pre-defined billing schedule & project scope
5. Time Tracker
If you're a freelancer who is paid by the hour, tracking time is an important task as it determines your salary. Having a time tracking sheet will allow you to note down the number of hours you've worked on a project or for a client. You can then double-check that you've been compensated the correct amount.
In my case, I use a word tracker to track how many words I wrote and how much time I spent writing each day.
Bear in mind that this requires menial noting down of time. FreshBooks and Fiverr Workspace, on the other hand, includes time tracking features such as a timer where you can "start" and "pause" anytime.
FreshBooks: built-in, easy-to-use timer on desktop & mobile, automatically create invoices for tracked hours, daily breakdowns of your tracked work hours
Fiverr Workspace: automatically generate invoices based on your tracked time, edit specific time-frames or activities
6. Branding Collateral
Rather than a document, I think a folder is more appropriate here. This is where you gather all your branding collateral.
The branding collateral is a collection of your branding creatives. Here are some examples.
Brand Guidelines or Brand Style Guide
Brand Logo(s)
Brand Templates: eg. business card, email header/footer, PowerPoint, social media graphics, brochure, Zoom backgrounds
With this branding collateral, you can easily refer to your brand guides and find what you need.
Let's say you're planning to run a marketing campaign, specifically Google Display ads to raise awareness of your latest product. You can send the brand guide to your marketing agency so they can incorporate your brand's tone and voice in their ad copy. The agency's designers will also keep your brand's color palette, typography and image guidelines in mind when designing creatives. Also, you can easily pass them your brand logo(s) so the designers can add them to the banners while the marketers can upload these to Google's responsive display ads.
7. Marketing Collateral
In contrast to branding collateral that promotes your brand, marketing collateral promotes your products and services. For instance, I'll place my author logo in the branding collateral folder while my book banners will be filed under marketing collateral.
If you spent money and hired a designer to create banners, you should of course keep these banners for future marketing campaigns. This arsenal of marketing collateral will come in handy when you're running a sale or promotion in the future.
Now It's Your Turn
What other documents do you use when starting or running your business? How have these documents helped you?