Recently, my best friend asked me how do I organize my Evernote. I thought that this was an interesting question.
Hence, I decided to write a blog post about the various ways to organize notes. This isn't limited to Evernote only. You can use this for Google Keep, Microsoft OneNote etc.
I hope that this gives you a better picture of how you can go about organizing your notes~
Disclosure: Some of the links below are affiliate links. I will earn a small commission, at no extra cost to you, if you purchase through these links. Your support encourages me to continue blogging and help with the costs of hosting this site. Thank you!
To-Do List By Date & Completed To-Do List
The easiest way to organize your notes is by creating a to-do list by date. For example, you could list down the tasks to do for that day as well as meetings and tasks to do in the future such as next Tuesday. The names for such notes would simply be the date. For example, 17 Apr 2021.
Do try to include reminder alarms too. This will ensure that you don't miss any important task. I usually add reminders to my notes in Evernote and mark it as done the next day then move it over to the Completed To-Do List notebook.
You could also arrange your tasks. For example, urgent tasks are placed at the top of the note so I can finish them in the morning. On the other hand, less urgent tasks can be placed at the bottom so I only work on them if there's time.
The Completed To-Do List is optional. Some to-do software will automatically archive or delete completed tasks. Also, you might not want to keep these notes since the tasks are already done and you'll never look at them again. I kept it because of sprint retrospectives but it's really up to you~
The benefit of organizing your notes this way is that you can chronologically view your notes. It's easy to focus on what's important like the tasks today.
Okay, let's take a break here. You might be wondering why would I create a to-do note, rather than simply using a to-do software. Honestly, you can use a to-do software if your tasks are brief and can be summed up in a phrase or short sentence. However, I chose to create a to-do note because my tasks are long and detailed. For instance, I have this long list of tasks with detailed descriptions when I launch a pay-per-click (PPC) campaign.
Clients or Projects
Another way to organize your notes is by categorizing them by clients or projects. This is useful because it allows you to easily view notes related to a specific client or project. You can then focus on working for that client or project.
As a marketer, I work on many projects for various clients. Hence, I created an Evernote notebook for each project. However, I recently reached the limit of 250 notebooks for Evernote Basic (free plan). To solve this, I merged projects from the same client. Each notebook is now named after a single client with notes for each project.
For my passion project as an author, I created a notebook stack for each fiction series. The stack then contains notebooks for each individual book in the series. There's also a notebook that contains overall notes like plot, characterization, worldbuilding and more. The benefit of this is that if I'm writing the manuscript for X story today, I can simply view the notes related to X story. Check out my Evernote guide for more details about hierarchy and organization~
Business Aspects or Departments
You can also organize your notes by the business aspect or department. Whether you're an entrepreneur or a company owner, there might be various business aspects or departments that you manage.
As a self-published author, I manage everything from writing stories, publishing novels to marketing my books. Therefore, I have a Self-Publishing notebook stack that includes many notebooks like Marketing, Resources and Checklists. I also have a Blog notebook for my blogging ideas and drafts. My Google Drive has different folders: blogging, self-publishing, overall. Likewise, I have various templates in Asana: blogging, fiction book, marketing.
You can also create notes for various aspects of your business. This could include research, tips and strategies you found as well as your own checklist of doing certain tasks. I moved this over to Asana which I feel is more suitable, including my book release and book marketing checklists. But I kept my characterization and worldbuilding templates in Evernote.
Such organization of notes will allow you to focus on specific areas of your business. For example, you might want to focus on R&D when you're planning to launch a new product. Or you might want to focus on HR when the economy isn't doing well.
Important Notes & Documents
You could also create a notebook or folder to store important notes and documents. This will allow you to easily access the important stuff. However, what's considered important will depend on you.
For example, I have a Work IMPT notebook where I included the template for launching PPC campaigns (the long list of tasks with detailed descriptions that I mentioned previously). This is important to me because I run numerous PPC campaigns for my clients so I usually just duplicate this template and use it for new projects.
Likewise, you might choose to include such notes and documents that you use frequently in this folder. Or you might choose to include overarching notes and documents such as a business plan where you determine future goals and the overall direction of your business.
Categories
In addition to organizing notes by areas of your business, you can also consider grouping them by categories. This is especially so if you extend the use of notes to your personal life.
My Google Keep notes, which I use for my personal life, are grouped by categories like
Work/Career
Personal
Food
Travel
Bonus Tip: Organize Your Notes Further With Tags
Whether you're using Evernote or Google Keep, most note-taking software has this tagging feature where you can add tags to a note.
Consider using tags when a note belongs to more than one category. Tags also allow you to easily find notes by keywords.
Bonus Tip: Standardize Your Naming Conventions
To easily find a specific note rather than digging through numerous notes, it's recommended that you establish a way of naming your notes.
For instance, I always name my work notes with the contract number, client, project and year. For my stories, I'll name the notes with the book title followed by 1, 2 or 3 (series number). For my blog, I include prefix before the blog title.
1): means that this is a blog article that I'm excited to start writing
[DONE]: refers to completed drafts (though I also move them over to my Blog: Done notebook)
Bear in mind that prefixes like _ or 1) will bring your notes to the top if you sort notes by title. This is one trick you can consider using.
For example, I name my blog template as _Blog Template so it's fixed to the top of the notes list and I can simply duplicate this when I have a new blog idea. Similarly, you can prefix your key accounts and clients with _ followed by their name.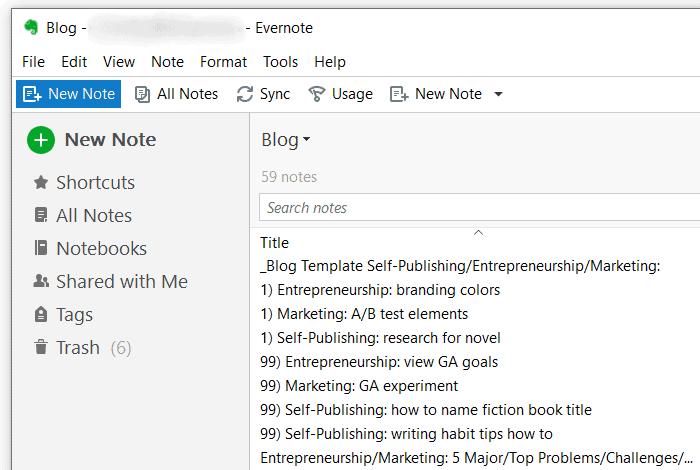 Bonus Tip: Easily Access & Navigate Your Notes
Evernote has this shortcut feature where you can quickly access your most frequent notes. You can create a shortcut to notes, notebooks, notebook stacks, tags or saved searches. For me, I usually pull out the week's to-do into shortcuts so it's easier to navigate. When I work on a new manuscript, I also create shortcuts to that manuscript's plot notes, character profiles etc.
On the other hand, Google Keep has this pinning feature where you can pin important notes to the top of your Google Keep feed to quickly access them. I pinned a note about the TV shows I'm watching (the episode I stopped at) 😅
The key is to explore your note-taking software and ensure that you're leveraging the features so you can easily access important notes.
Now It's Your Turn
How do you organize your notes? Do you have any tips for organizing notes?