One of the biggest headaches I have after owning a website is page load time.
All website owners will aim to improve their website speed.
Every extra millisecond that your website takes to load, you will lose a visitor. And these visitors might just be the ones who would buy your products or services if your website had loaded faster.
One of the ways to speed up your site is optimizing images.
Today, we'll review ShortPixel, an image optimization and compression WordPress plugin. Here are some of its pros and cons.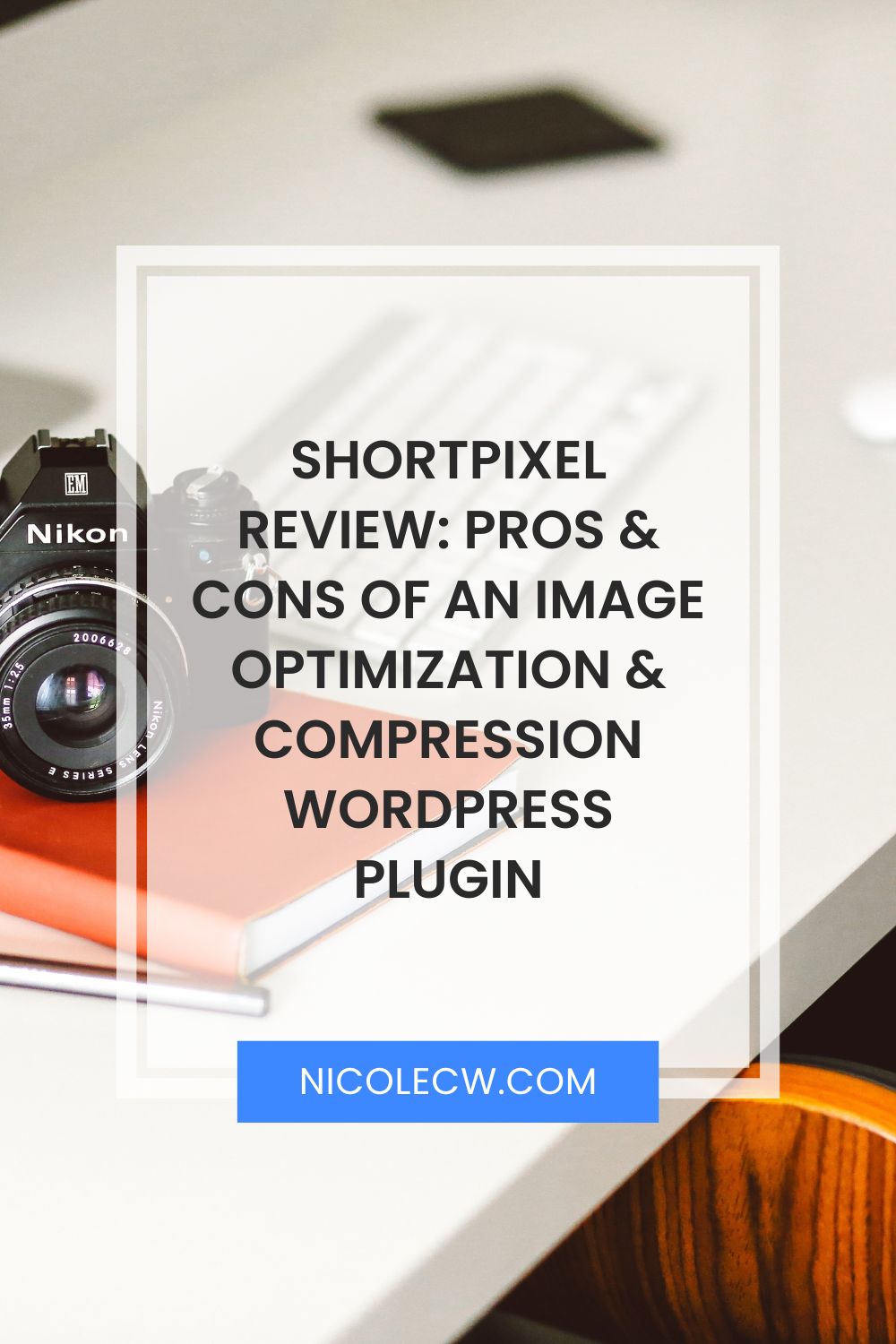 Disclosure: Some of the links below are affiliate links. I will earn a small commission, at no extra cost to you, if you purchase through these links. Your support encourages me to continue blogging and help with the costs of hosting this site. Thank you!
Pro #1: Trustworthy Image Optimizer WordPress Plugin
With up to 90% compression rate, ShortPixel is trusted by 190,000 users worldwide and implemented on 230,000+ websites, saving the web 180,000TB of traffic.
ShortPixel improves website performance and speeds up sites by optimizing images. The compressed and original images are similar in quality. You won't be able to see any discernible differences when you place them side by side.
Pro #2: Optimization For All Files
ShortPixel can optimize all file formats, including
ShortPixel also offers the option to generate the WebP version of the image, upon optimizing it at no extra credit.
In addition, there's no file size limit so you can optimize even large images.
However, large images slow down your web pages. Hence, I recommend that you crop and resize your images first before uploading to WordPress. This way, your image size is already reduced and ShortPixel just has to optimize these smaller images.
Pro #3: Compression Types (Lossy, Glossy & Lossless)
ShortPixel has 3 compression types available:
Lossy
Best option for most users
Smallest optimized images you can get
If website speed is important to you and you want the best balance between optimization and picture quality
Glossy
If you feel that a slight loss of page speed is an acceptable compromise for a top-notch image quality
Lossless
Pixel-by-pixel identical with the original images
Smaller size reduction compared to Lossy and Glossy processed files
If you want your images to remain untouched
You can regard lossy as the strongest while lossless as the weakest. Lossless would be suitable if you run a photography or stock images website.
I chose lossy compression because I prioritize speed over image quality. Plus, the images that I want to compromise are stock photos and screenshots for my blog as well as my book covers. So lossy is sufficient for me.
Pro #4: Automatic & Bulk Optimization
With ShortPixel, batch automation takes mere seconds.
The WordPress plugin processes all your old and new images quickly.
Automation will also help you save time so you can focus on other tasks that matter.
Pro #5: One-Click Backup & Restore
You don't have to worry about losing your original images.
If you have the Image Backup setting enabled, ShortPixel will save the original images in a backup folder.
You can then restore these original images with a click, either one by one or in bulk.
Note that these original images are needed if you want to restore images or if you want to convert images from lossy/glossy to lossless or vice versa. Therefore, I recommend that you enable 'Image Backup'.
Pro #6: Image Safety & Privacy
ShortPixel guarantees that your images are safe in their hands with absolute image safety and privacy for all processed files.
Pro #7: In-Depth Analytics
Under ShortPixel's settings, you'll be able to see statistics. This includes
Average compression of files
Disk space & bandwidth saved by ShortPixel
Credits (both monthly & one-time plan): How many consumed & how many remaining
If your original images are stored in a backup folder, you can see the backup folder's size and choose to empty it.
Pro #8: Easy Setup
As ShortPixel is a WordPress plugin that installs directly into the WordPress dashboard, you can easily manage the image reduction process within WordPress. With automatic and bulk optimization, you can choose to process all images (even compressing your past images) and thus, speed up your site.
Let me show you just how easy it is to set up ShortPixel~
Step 1. Sign Up For ShortPixel
First, you have to create an account at ShortPixel.
You can sign up for the free monthly plan first to get a taste of how ShortPixel works.
That's what I did too before I bought the one-time plan to optimize the numerous images on my website (stock photos and screenshots for my blog).
Step 2. Install ShortPixel WordPress Plugin
Under Plugins on the left menu, click on Add New and search for ShortPixel. Then, just install it in one click!
Step 3. Adjust Settings
Simply go to ShortPixel settings and adjust them.
Under the General tab,
API Key: This is important! You need to insert your API key to verify your account. ShortPixel can then pull in your plan, whether monthly or one-time.
Compression Type: This is where you choose your compression method (lossy, glossy or lossless).
Also Include Thumbnails: Choose whether to apply compression to thumbnails. WordPress automatically creates a few thumbnails for each image so they can be used throughout the site (eg. archive pages for category, tag, author).
Image Backup: I recommend that you enable this so you can save and keep a backup of your original images in a separate folder.
Under the Advanced tab,
Convert PNG images to JPEG
WebP Images: Create WebP versions for free.
Optimize PDFs: Again, I recommend that you enable this so that ShortPixel automatically optimizes for PDF.
Optimize Media On Upload: Enable this if you want ShortPixel to automatically optimize images when they're uploaded. I didn't enable this because there are times when I accidentally upload an image or upload a wrong image. If you uncheck this like me, do remember to manually optimize your images.
Also, remember to include your Cloudflare details in Cloudflare API. This way, both ShortPixel and Cloudflare can work together: any image optimized or restored by ShortPixel will be automatically updated on Cloudflare as well.
Step 4. Optimize Past Images
Click on Bulk ShortPixel under Media. This will optimize all existing images in the Media Library with one click. You can also choose whether to include thumbnails.
Another way is to manually choose which image to optimize. Just go to Media Library and click on the Optimize button for whichever image you want to compress.
I manually chose the images to be optimized because I wasn't in a hurry to optimize all my images. Plus, I wanted to tap into the monthly 100 free image credits. So what I do now is I optimize my images until all the 100 free monthly credits are used up. If they aren't enough, the extra credits will be taken from my one-time plan. I only choose to optimize images that are used in my blog posts. I don't optimize the images in the layouts from Elegant Themes Divi or the images in the child themes from Divi Lover because I don't use them on my website.
Pro #9: ShortPixel's Flexible Pricing
ShortPixel has flexible pricing plans:
Monthly Plans
One-Time Plans
Dedicated Servers
Each plan comes with a certain number of credits. 1 credit is taken from your plan for each image that optimizes more than 5%. If an image is optimized less than 5%, no credit will be charged (you can see them as bonus image compressions!).
However, note that WordPress automatically creates a few thumbnails for each image to be used throughout the site (eg. archive pages for category, tag, author). Each thumbnail requires a credit if ShortPixel optimizes more than 5%. Again, credits won't be consumed if the thumbnails are optimized less than 5%.
How To Choose The Most Suitable ShortPixel Plan For Your Website
So which plan should you choose?
You'll probably be deciding between monthly or one-time plan since dedicated servers are only for websites with many new image uploads every month.
Do consider how many new images you upload each month. Remember to include thumbnails too. You can go to the Media Library to see the average number of thumbnails WordPress creates for each image.
The cheapest monthly plan gives you 5,000 credits per month. So if you can't even reach 5,000 credits in a month, you can choose the one-time plan instead.
For me, I considered my situation. Obviously, I will want to optimize my book covers but I only release new books every few months. So this is definitely covered under the 100 free monthly credits. The problem now is my blog. I post a new blog article every 2 weeks, which sometimes includes new stock photos and screenshots while at other times, I just reuse whatever suitable image in my Media Library. Hence, I don't use so many credits per month. Even the cheapest monthly plan (5,000 credits/month) is too much for me. I'll be wasting 4,500+ extra credits every month.
So do consider your situation: Which images will you optimize? When and how often do you upload new images?
Pro #10: Value
Besides being an easy-to-use lightweight WordPress plugin, you can use the same ShortPixel account for multiple sites. In other words, you use one API key for multiple sites. Simply run the ShortPixel plugin on numerous sites with a single API key. Just note that since these multiple sites share the same API key, they also share the same number of credits and plan.
Also, your images will remain optimized even if you stopped using ShortPixel. Optimized images will remain optimized unless you choose to restore them.
Con #1: Unused Monthly Credits Won't Roll Over To The Next Month
Bear in mind that the monthly credits can't be carried over to the next month (free and paid). For example, you only get 100 free credits each month. Whether you totally consume the credits or not this month, you will only have 100 credits in the next month. The same applies to the paid monthly plans.
Hence, always try to consume all the free monthly credits.
As I mentioned, I bought the one-time plan. ShortPixel automatically uses the monthly free credits before using the one-time paid credits. I always fully exhaust the free credits first. If there aren't enough free credits to optimize the image, ShortPixel will then use my paid credits. Just look at how many free credits I consumed this month!
Now It's Your Turn
I'm satisfied with ShortPixel so far. I've optimized quite a lot of images, especially the stock photos for my blog articles.
Everything has been a breeze, except that I need to set a reminder every month to completely exhaust the free credits. This could be avoided. But I chose the manual way of choosing the images to be optimized and disabled the Optimize Media On Upload. I didn't want ShortPixel to auto-optimize every image on upload, in case I accidentally uploaded the wrong image or decided to rename the image and thus, have to re-upload again.
If you encounter any issues or have questions about the plugin, feel free to contact me. You can also check out ShortPixel's FAQ at the bottom of their pricing page.