Welcome kits, the gifts that you give to your new hires, can create a great first impression they have about your company. Check out the benefits of welcome kits and tips to create effective welcome kits~
But are you unsure what to gift to your new employees? Here are 10 ideas that you can consider including in your company's welcome kit~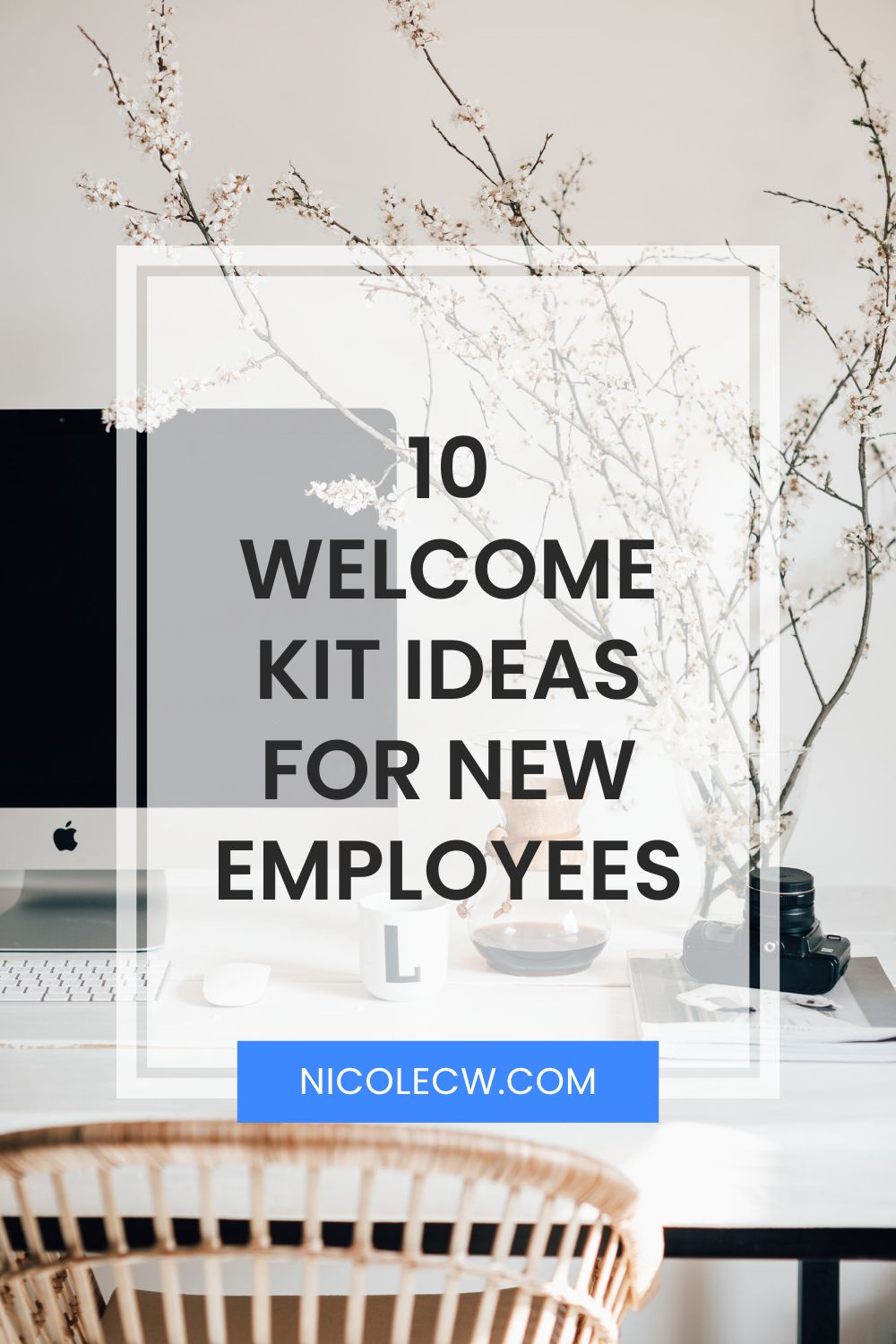 Disclosure: Some of the links below are affiliate links. I will earn a small commission, at no extra cost to you, if you purchase through these links. Your support encourages me to continue blogging and help with the costs of hosting this site. Thank you!
1. Company Swag
This should be the first thing you include in your welcome kit.
By including company swag, you're saying that the new employee is now part of the family. New hires will own company-branded products which create a sense of belonging.
These company-branded products can be personalized further by adding the employee's name. But do note that this personal touch comes at a cost. Do take into account the cost of creating individual products (as compared to possible bulk discounts when ordering company swag in large quantities).
Here are some company swag ideas:
Notebooks
Pens
T-shirts
Caps
Mugs
2. Office Supplies
Practical items to include in your welcome kit will be office supplies. With more people working in an office, it makes sense to include office supplies that your new employees will use in their day-to-day tasks. These are necessities that make the lives of your new hires easier and they won't need to find these items themselves.
Here are some office supplies ideas:
Pens
Notebooks
Post-Its
Business Cards
3. Technology Essentials
With more jobs being technology-driven, you'll need to include technology essentials in this new employee survival kit. New hires will need to get proper access to equipment and applications so they can work effectively. Do remember to set up any required permissions or programs onto their workstation in advance.
Here are some technology essentials:
Computer
Keyboard
Mouse
Headphones
Wi-Fi password
Obviously, you won't need to pack a computer into the welcome kit. Instead, all these tech essentials should be ready at the new employees' workstations when they arrive for work on their first day. You can, of course, pack the smaller items into the welcome kit like the headphones and Wi-Fi password.
4. Employee Handbook
An employee handbook outlines the dos, don'ts and policies of the organization. This is especially important for new hires who need to be well aware of the rules and regulations. In addition to the company's missions and expectations, you can also include employee benefits. This physical copy will allow them to have something to refer to.
But an employee handbook doesn't always have to be this formal and serious. You can make it fun by showcasing the company culture. What makes your company culture unique and exciting? Display that in your handbook!
Here are some ideas to create a fun employee handbook:
Witty bios & anecdotes of team members
Photos of team-building activities (check out some fun team-building activities~)
Hall of fame (eg. top performers)
Testimonials where employees share their experiences working here or what makes them proud to work for the company
This handbook will then give an insider's glimpse into the company. New hires will be able to familiarize themselves with the team and company as well as get excited about the company culture.
5. Personalized Note
What better way to welcome new employees than by writing a personalized note to them?
These personalized notes from the CEO and other executives can help new hires feel that they are part of the organization. The notes will also instill pride and belonging.
You can mention what the company stands for, its core values and expectations from the staff.
6. Gift Cards
Gift cards are another great addition to your welcome kit.
Since you probably don't know what your new hires like, gift cards give new employees the power to choose. They're a perfect way of letting new hires choose what they want or need.
This is also a great way to highlight your corporate values. Let's say you sell gym equipment, fitness is thus a core value for your company. You can then offer your company's gift card. Or perhaps, wellness is another core value. Gift cards from restaurants that sell healthy meals will also align with this corporate value.
Another benefit of gift cards is the shopping experience. Armed with a gift card, new hires can indulge in shopping which increases happiness. Gift cards are also versatile and easy to distribute.
7. Mugs
Whether you drink coffee, tea or just water, I'm sure you'll need some sort of beverage at work. And with most offices being air-conditioned, it goes without a doubt that more people will prefer hot beverages to cold ones while working.
Therefore, mugs are a great gift for new employees. In fact, you can customize the cup by adding the employee's name or initials.
Mugs show that you care for the well-being of your new hires. Gifting a mug means that you encourage them to take breaks and recharge when needed.
8. Snacks
How can you have a break without snacks? And who doesn't like to snack while working?
Snacks are an energy fix and help fight off hunger. You never know when hunger pangs will strike while you're working. Snacks can satiate your new employees and make them concentrate more so they can power through the day.
If healthy living is part of your company's core values, you can offer healthy snacks instead. This will ensure that employees get the benefits of snacking while not compromising their well-being.
9. Desk Plants
Desk plants brighten up the workplace and literally bring your office to life. They impart a positive vibe and add a personal touch to the otherwise cold empty desk. Plants can also help clean the air, reduce stress and increase productivity. And they make your new hires feel at home!
But of course, giving a plant to a beginner will only give them stress. Instead, you can gift succulents which are low-maintenance plants that require little time, attention and water.
10. Books
Whether it's a physical paperback or hardcover or a digital eBook, books allow you to learn new things and reduce stress. They can help you relax and are incredibly informative.
Books related to your industry or the new employees' job roles will offer tips and insights as well as how-to's that might be useful in their day-to-day tasks. Motivational books will inspire them when they're down. Self-help books can help your staff become better people through personal development and self-improvement.
By including books in your welcome kit, you're encouraging them to read and take this pathway to knowledge. It also emphasizes that your company values lifelong learning and continuous improvement.
Now It's Your Turn
Does your company offer welcome kits to new employees? What does the welcome kit include?