The pandemic has fundamentally shifted the way we work, from accelerating digital transformation to embracing remote work.
Today, many organizations allow their employees to work from home. One of the biggest perks of remote working is greater flexibility which increases employees' happiness and reduces their stress.
Does your company embrace remote work? If so, here are some work-from-home essentials to upgrade your home office and boost your productivity.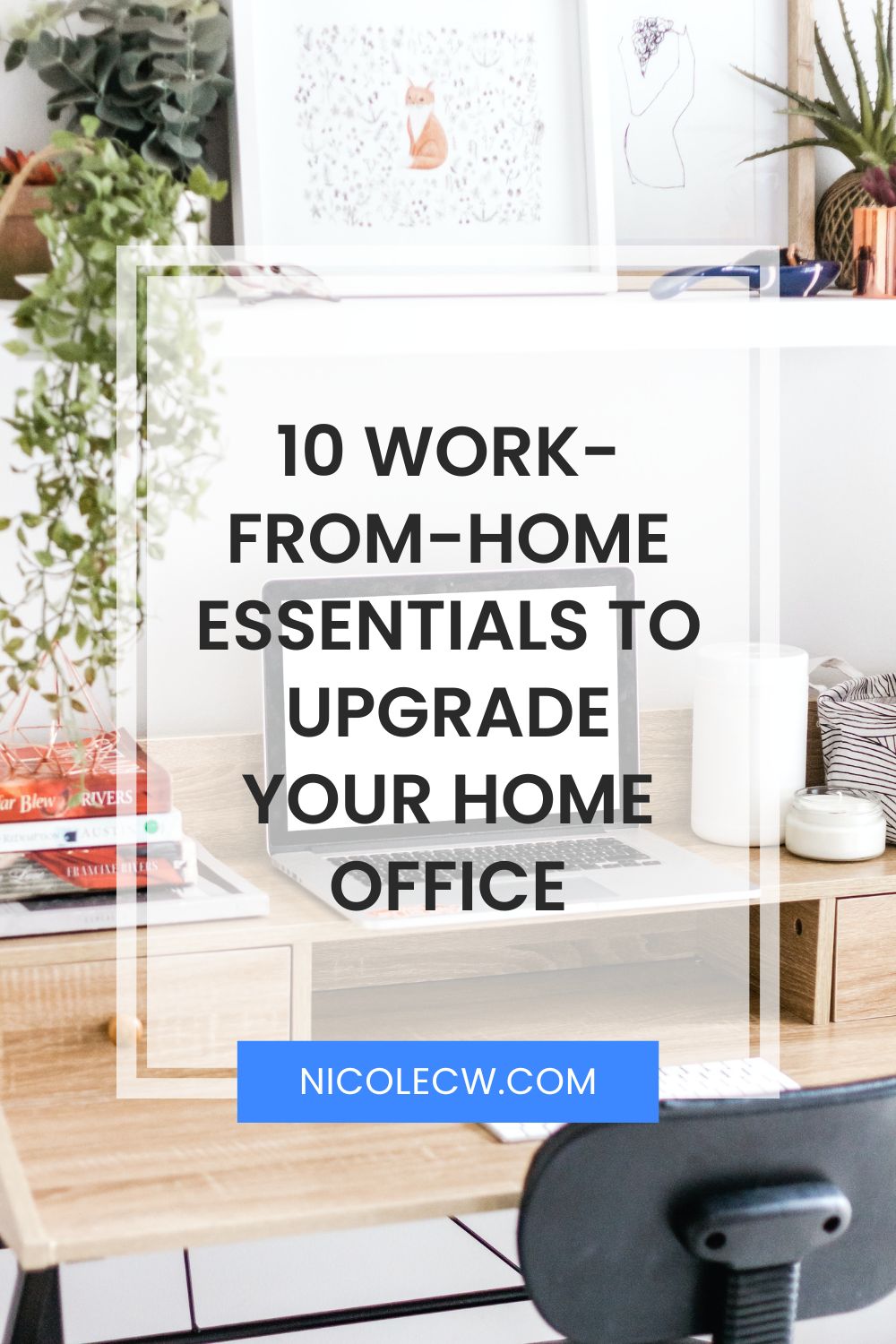 Disclosure: Some of the links below are affiliate links. I will earn a small commission, at no extra cost to you, if you purchase through these links. Your support encourages me to continue blogging and help with the costs of hosting this site. Thank you!
1. Keyboard
The first work-from-home essential is a keyboard like Logitech MX Keys, Logitech ERGO K860 or any keyboard that is suitable for you.
For instance, you might choose a wireless keyboard for a clean, clutter-free desk. Or a mechanical keyboard that has long longevity and high responsiveness and accuracy. Or you might choose an ergonomic keyboard with a split keyboard layout that is designed for better posture, less strain and more support. This greatly reduces fatigue and mitigates the effects of typing all day, every day.
Since you're spending hours typing away at your keyboard, it's best that you choose a keyboard that suits you and has all the features you need. I know that mine made a huge difference (allowing me to type even in the wee hours~). The keyboard that suits you will vary from person to person. Hence, I strongly recommend that you personally go to the store and experience how typing on the keyboard feels. After all, this is a big investment that is worth every cent.
Also, I suggest that you buy your keyboard together with a wrist rest. A wrist rest reduces the fatigue of hand muscles by providing support to relax the wrist muscles and hands. It's great at supporting your wrists and forearms while at rest in between typing.
Check out my article on mechanical vs membrane keyboards~ Although it's written for writers, the article is still relevant if you type a lot.
2. Mouse
Likewise, you can consider getting a mouse like Logitech MX Master, Logitech MX Anywhere or Logitech MX Vertical. It could be an ergonomic mouse, a wireless mouse or a mouse with many buttons (to map keyboard shortcuts that you always use). The key is to get a mouse that has the features you need.
Ergonomic mouse provides an extraordinary fit for the hand (vertical design like right-handed shape with a thumb rest). It feels like you're shaking hands with someone which is more natural. But you'll probably need some time to get used to the design (same for ergonomic keyboards with split layouts).
As mentioned earlier, this is a great investment that is worth every cent, especially since you'll be using the computer for many hours.
3. Headphones
I strongly recommend that you get a headphone with microphone. Or even better, a noise-canceling headphone with microphone.
Whatever job you have, you're likely to have meetings with your teammates, stakeholders or clients. Therefore, it's important that you have a headphone with microphone so your audience can hear you when you speak. The greatest benefit of a noise-canceling headphones is drowning out the world around you (reducing background noise and distractions) so you can focus on the meeting.
4. Chair
Since you'll be sitting at your desk almost the entire day, it's recommended that you invest in a comfortable chair.
This could be an ergonomic chair like Herman Miller's Aeron chair that is designed to fit and support your body, including lumbar support. Ergonomic chairs also relieve pressure on the spine and pelvis and prevent slouching. Or you might simply choose a chair with cushion for long and comfortable sitting.
Again, you should try sitting on the chairs at the store so you have firsthand experience of how it feels.
5. Standing Desk
I strongly recommend that you get a standing desk. This way, it forces you to take breaks and stand up every few hours. Rather than sitting all day, your body and legs get some exercise. It's also a great opportunity to stretch your legs.
You should avoid laying down after eating. Keeping yourself upright for 2 to 3 hours after meals will reduce gastrointestinal discomfort and aid digestion.
Do buy this together with a standing mat (also known as an anti-fatigue mat). These mats provide cushion, support and comfort. They also decrease foot fatigue.
6. Mug
Caffeine keeps you alert and helps you stay awake.
A mug is exactly what you need for this caffeine boost, especially when you're experiencing food coma after lunch.
On days when I work from home, I always have a coffee break. This coffee break is crucial so I get a boost of energy. In fact, I think it increased my concentration and productivity.
Of course, it doesn't have to be coffee if you don't drink it. It could be black tea or jasmine tea. Or any other drinks that you like. Water is good too. You've probably heard of the "eight glasses a day". The key is to ensure that you get enough fluid each day.
If you intend to drink hot beverages, do find a mug with a handle so you don't burn your hands. A mug with a lid is also great for retaining heat and aroma. Also, consider getting coasters to prevent scratches and stains and protect your table.
7. Plants
After facing your computer the entire day, I strongly recommend that you give your eyes a break. Let them rest. Look at the pot of plants on your desk or look out the window and gaze at the greenery.
Desk plants have numerous benefits too
Reduce stress
Purify air
Boost productivity
Create a relaxing & calm atmosphere
Improve your mood
Give your workspace a fresh aesthetic look
You don't need a green thumb or a lot of space for these indoor plants. Instead, you could search for low-maintenance small plants. For example, I bought mini succulents for my colleagues during my overseas vacation. My mini succulent (and another succulent that my best friend gave me during her wedding) are still alive today. One of them needs to be watered weekly while the other is watered biweekly. These babies are healthy and growing well (I love telling them how unique and strong they are)~
8. Door Sign
So this highly depends if you stay alone or if you stay with other people.
Take me for example. I live with my family and sometimes, they barge in when I'm having a meeting.
Having a "Do Not Disturb" door sign will let the other occupants know that you're busy and that they shouldn't disturb you.
Of course, you don't have to choose the classic "Do Not Disturb" door sign just like those at hotels. Instead, you can choose witty or humorous door signs like "Mom Is Working. Do Not Disturb Unless There's A Wine Truck Outside" or "Do Not Disturb Unless You're A Puppy". Or you can choose one that reflects your job like this door sign from Etsy.
9. Notebook
In my day job, there are many tasks that I need to complete every day. Some of them are more complex and thus, require more steps. I summarize the key tasks in my notebook and prioritize them. This is especially important for the daily standup meeting where we update our teammates on our current progress, activities for the day and any impediments we face (we're an agile team that practices Scrum framework).
Likewise, I have tasks as an author and blogger including writing, editing, plotting, publishing, creating graphics, sharing on social media, creating and sending newsletters.
If you're an entrepreneur like me, you can consider writing down your key tasks for the day and prioritizing them to maximize productivity.
If you're unsure how to prioritize your tasks, try using the Eisenhower Matrix which organizes tasks based on urgency and importance. You can even use this in your personal life too. Here are some examples:
Quadrant 1 Do: Finishing client project, picking up your sick child from school
Quadrant 2 Schedule: Strategic planning, professional development, exercise
Quadrant 3 Delegate: Uploading & scheduling blog posts, meal preparation
Quadrant 4 Delete: Watching television, eating junk food
10. Fitness Equipment
One of the perks of working from home is that you have slightly more time. Precisely because you don't have to travel to your workplace in the morning and travel back home after work, you're cutting down on this commute time and thus having more time on your hands.
Of course, you can use that extra time to sleep in. But you can also make the most of it.
Regular exercise is one of the most important things you can do to stay healthy. Being physically active can improve your brain health, help manage weight, reduce the risk of disease, strengthen bones and muscles and many more.
When remote working, you can choose to work out at your home gym or run on your treadmill before or after work. Or do a quick exercise during lunch. All this is possible if you have fitness equipment at home!
You can always start small with a compact treadmill or a set of small dumbbells. If you have more space, you can scale up and get those large home gym equipment.
The key is to make exercise a habit. Or even better, schedule it into your calendar!
Now It's Your Turn
What other items do you feel are crucial for remote work? How have these items helped you?