Writing a blog post is not simply writing a blog post.
There are many steps you need to do. And many tools you need to use to complete those steps.
Today, I'll show you the various tools I use while writing this blog post itself.
Disclosure: Some of the links below are affiliate links. I will earn a small commission, at no extra cost to you, if you purchase through these links. Your support encourages me to continue blogging and help with the costs of hosting this site. Thank you!
Before Writing
Before writing a blog post, you can always brainstorm some ideas or topics. Or pull one out from your bag of blog topic ideas (I write down random ideas and now my list of blog topics is quite long~). Or even expand on a comment that someone has left on your previous blog post.
This is a great way to start thinking about what to write for your next blog post. But more important than that is Search Engine Optimization (SEO).
a. Keyword Research
If you want your site to appear on the first page or the first position of Google Search results, you will need to do a thorough keyword research before spending time to write your blog post.
Keyword research allows you to discover
Keywords with high search volume
Keywords with low competition that you can rank for
Related-keywords
It's where you lay the foundation for a successful blog post.
1. Google AdWords' Keyword Planner
The Keyword Planner tool in Google AdWords is one free tool that you can use to conduct your keyword research.
It's actually meant for generating keyword ideas for Google Search campaigns.
After you log into AdWords, click on Tools then open Keyword Planner.
There are many options for you to choose from. But I usually choose the Search for new keywords using a phrase, website or category.
Simply insert some keywords and a list of related-keywords will appear.
Insert keywords related to the blog post that you're about to write
For example, I intend to write a post about blogging tools. So I insert 'blogging tools' into KeyWord Planner and I get the following keyword ideas:
You should focus on the keyword and the average monthly searches columns.
Keyword: If there are any relevant keywords, you can try incorporating them into your blog post
Avg. Monthly Searches: A high number means many people are searching this term while a low number means few people are searching this term.
You can also hover over the graph to see the trend for monthly searches.
The other columns are more for advertisers.
Competition: See how competitive this keyword is against all other advertisers
Suggested Bid: How much you have to pay for cost-per-click (CPC)
Therefore, Keyword Planner gives me a list of related-keywords that I can add to my blog post.
Insert keywords related to your blog's niche or topics
On the other hand, if I just insert 'marketing' into the tool, I get these keyword ideas:
This is useful if I run out of ideas and don't know what to write for my next blog post.
Based on the average monthly searches, I can find out topics that have high search volume. Meaning, there is a large pool of audience out there who are interested in finding out more about online marketing and content marketing.
And boom! There you have it. The central topic of your next blog post.
2. KWFinder
Yes, Keyword Planner is good at finding search volume.
But there was something missing: how difficult it is to rank for that keyword.
And that's where KWFinder comes in.
What I love about this tool is the KD metric!
This metric tells you the Keyword SEO difficulty. A low number means you can easily rank for that keyword. A high number means your chance of ranking for that keyword is very slim. Almost abysmal.
There are other metrics too like Trend, Search, CPC and PPC which are almost similar to the ones in Keyword Planner.
During Writing
After you're done with your keyword research, you can move on to actually writing your blog post.
a. Writing & Research
Before you write any blog post, make you do in-depth research about your blog topic. It could be data like statistics or infographics to support your claim or pointing to other articles for more information.
Only then can you begin writing your blog post.
3. Evernote
You can, of course, write your blog article in WordPress itself. However, I usually write my blog articles in Evernote.
One of the reasons is that Evernote has this Web Clipper extension that allows you to save website screenshots. It's very useful when I'm doing my research for the blog topics.
I also like how I can organize my notes. I have a notebook filled with blog post ideas and once I'm done writing the blog post, I shift it over to the Done notebook.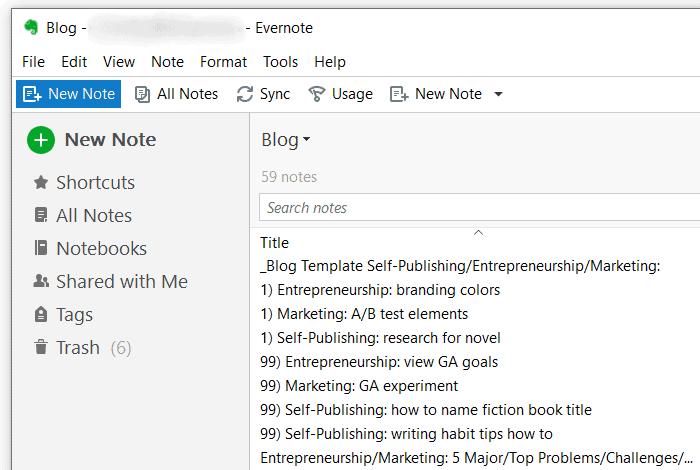 You can also check out my Evernote review and the beginner's guide to using Evernote~!
b. Writing Check
While you write, it's best to have some writing tools that help check your spelling, grammar and punctuation.
You don't want to be ridiculed as a blogger who can't write. You want to be seen as a professional blogger.
4. Grammarly
Proofread your writing with Grammarly.
The AI-powered writing tool identifies grammar, spelling and punctuation mistakes while you craft an email or write a blog post. You can also use the tool to check your style and tone and find the perfect words to express yourself.
Grammarly's Tone Detector allows you to check the tone of your message before you hit send.
You can download it as a Chrome extension, desktop app for Windows or Mac and more.
Get started for free and experience firsthand why Grammarly is trusted by millions of users.
5. ProWritingAid
ProWritingAid not only fixes your spelling and grammar mistakes. It also fixes style issues like
repetitiveness
sentence length variation
passive voice
over-dependence on adverbs
over-complicated sentence constructions
There are 25 in-depth reports (including plagiarism report). Or if you're lazy to read through every report (like me), simply look at the summary report. It includes all the important statistics and key actions.
Supporting both Mac and Windows, ProWritingAid can easily integrate with Microsoft Word, Google Docs and more.
The free version allows you to edit 500 words at a time and can only be used online.
c. Search Engine Optimization (SEO)
While you write, do ensure including those keywords that you found earlier. Sprinkle them at the beginning and end and throughout your blog post.
6. Yoast
If you want to improve your site's SEO, I recommend downloading the Yoast SEO plugin.
I fill up the title and meta description when I finish writing my blog post because by then, I'll know how to summarize the article. And this is how my post will look like in Google Search results.
You can also customize the title, description and image for Facebook and Twitter. Just ensure that you've enabled adding meta data for Facebook and Twitter under the Social Setting.
Also, do look through the readability analysis and SEO analysis. You don't really have to make all the bullet points green. Just try your best!
The SEO analysis appears only if you add a focus keyword.
If you're using the free version, you can only choose 1 focus keyword and it can't be too long either. Because obviously, I won't include the entire long-tail keyword like 'blogging useful tools' every time I mention blogging tools. That sounds forced and unnatural. And you don't want that.
The premium version, however, allows you to add up to 5 focus keywords. So you can add 'blogging tools' and 'useful tools'.
Remember, your blog post is written for readers. Not for some search engine like Google.
d. Social Media Graphics
To encourage readers to share your post, you can create some share-worthy graphics. Especially for image-focused social networks like Pinterest.
7. Canva
Canva is my favorite tool to create graphics. It's free, pretty and has templates for various social networks.
I usually create the graphics before publishing my post. So that I can insert those graphics into the body content and readers can share those posts immediately when I announce my latest blog post.
After Writing
Wait, hitting that 'Publish' button doesn't mean you're done. In fact, you're far from done.
a. Newsletter & Social Media Announcements
Every time you publish a new blog post, remember to announce it to your readers.
If possible, try to customize your message for each social network. For example, you might write a shorter message for Twitter due to its character limit.
8. MailerLite
I use MailerLite, an email marketing tool, to send emails to my readers. These loyal fans will be the first to know about my latest blog posts.
I also separate them into different lists: entrepreneurship, marketing and self-publishing. So only those interested in the topic will get notifications (and they don't feel bombarded with unwanted emails).
The free plan allows you to send unlimited emails up to 1,000 subscribers. Plus, you have access to all features including automation (where you can set up a sequence of welcome emails).
And you actually save more in the long term! Just compare their pricing with other email marketing tools. You pay much lesser for the same number of subscribers.
9. & 10. Buffer & Hootsuite
You can use these social media management tools. The free plan allows you to add 3 social networks. And you can do so much with these tools!
Schedule your messages
Track follower growth
Discover which content resonates with your audience
Bonus Tools
Beside all these tools that are needed for writing a blog post, here are some other tools that you should have.
Broken Links Chrome Extension: Broken Link Checker
There are times when you might have changed your blog post's URL or times when you referenced some other article and its URL was changed.
With Broken Link Checker, you can find broken links and quickly fix them.
By fixing these broken links, you avoid getting penalized by Google (where your site ranking might fall). Also, these broken links are like lost opportunities. Not only do you create a bad user experience for your customers, you might seem less credible and hence, lose these sales opportunities.
Project Management Tool: Asana
There are numerous project management tools like Trello and Wunderlist. But my favorite is Asana.
I use Asana for professional stuff like blogging and self-publishing. Where I include all the steps required when publishing a new blog post. The to-do lists in Asana are more comprehensive with links to KWFinder, screenshots of the keyword research and many subtasks. Do check out the beginner's guide to using Asana!
On the contrary, my own personal to-do lists are in Google Keep. It's not as wordy and I use labels like family, finance and food. If you're already using Google Workspace (formerly G Suite) for your business email, you might as well use its other Google apps!
So do explore and try out the various tools. Then, use the project management tool that fits your needs.
Now It's Your Turn
What other tools do you use when writing a blog post? Or do you have any blogging tips that you would like to share with fellow bloggers?
If you need more blogging tips, consider attending classes like Build A Successful Creative Blog and Blogging To Sell Your Products. Or just check out CreativeLive free online classes where you can watch streaming broadcasts! You can also join online courses at Fiverr Learn~