Which coverts better: long copy or short copy?
This debate has been going on for a long time.
Although there is no 100% correct answer, there are some must-knows of each copywriting technique as well as various factors that you need to take into account when deciding how long you should craft your copy.
Disclosure: Some of the links below are affiliate links. I will earn a small commission, at no extra cost to you, if you purchase through these links. Your support encourages me to continue blogging and help with the costs of hosting this site. Thank you!
Long Copy
Long copy, as the name suggests, is wordy and text-heavy. It provides context, information, facts, statistics, procedure, steps etc.
With these in-depth details, long copy offers readers a comprehensive explanation so you know exactly what the product or service is, how it works and what benefits you'll gain from purchasing it.
Long copy is commonly used for complex products and services where you need to elaborate in detail. Expensive products and services will also require long copy where more persuasion is needed. For these products and services, customers will think more and consider longer, especially since they're spending more.
Thus, you'll need to ensure that your long copy encourages readers to buy and at the same time, remove any doubt or worry they have. It should inspire confidence and assure them that your product or service will help them solve their problem or achieve their goal.
Tip 1: Think About Your Content Flow
Since long copy has tons of information that you want to convey to your audience, the key point is to think about your content flow.
Keeping your readers in mind, consider how you'll guide them to digest the content so that it's understandable and coherent.
Think about how you'll display and arrange the information on the page. You can also break the content into various sections with subheadings.
For instance, you might talk about what your product or service is and what it solves, followed by how it does this (include your product's features or the steps in your service), followed by testimonials and case studies to build credibility, followed by FAQ that addresses your prospects' burning questions and lastly, a lead capture form that collects customers' contact information.
Here's an example of a long-form sales page formula:
Bonus Tip: Implement Navigation Bar
If your content is super long, I suggest that you add a navigation bar.
This way, your visitors can conveniently jump to sections or content that they're interested in.
Your navigation bar will thus need to be sticky and fixed at the top of your web page. You can also choose dot navigation which appears at the side of the page. This is more subtle, compared to the top navigation bar.
With this sticky navigation bar, browsing your site becomes easy. The navigation is always available, no matter how much visitors scroll down your page.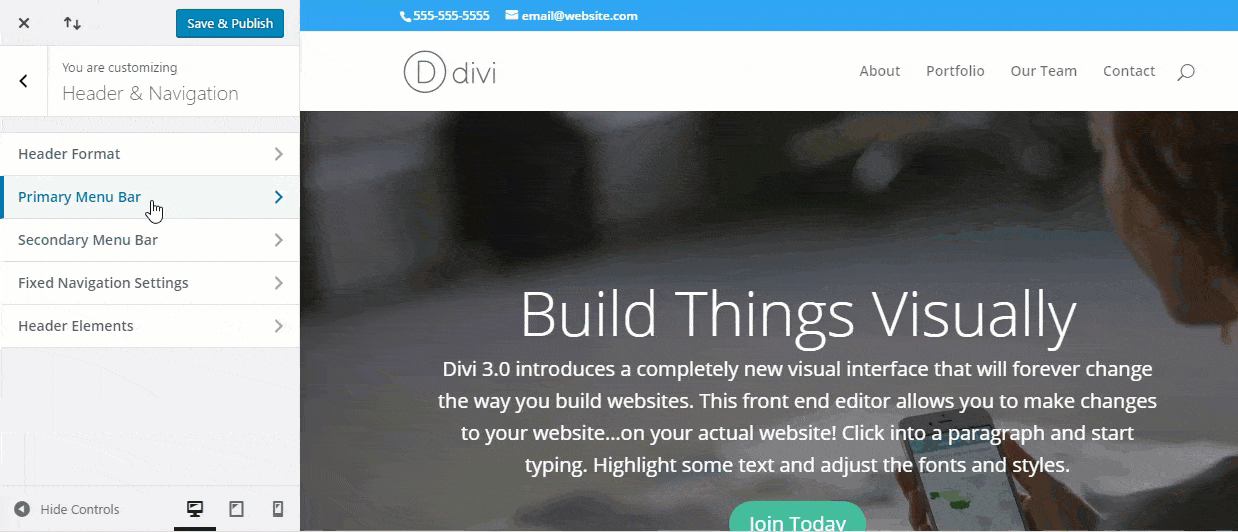 Tip 2: Utilize Whitespace, Formatting & Visuals
Long copy might appear daunting since it's very wordy and text-heavy with dense blocks of text.
Whitespace
Consider breaking up long chunks of text with whitespace to make it easier on the eyes.
Whitespace, also known as negative space, is the empty area between different elements on a web page.
Whitespace breaks up copy into smaller chunks and thus makes text easier to read. Readers can simply skim through the content without closely reading the entire article.
Whitespace also gives the eyes a break. Readers won't be overwhelmed by long block paragraphs and are less likely to leave your web page in frustration.
With whitespace, you can draw readers' attention to the most important points then slowly guide them to your call-to-action.
You could adjust line spacing, font size and font type. This is important for body copy which should be easy on the eyes. Your long body copy needs to be readable, even for older adults who have poor eyesight.
Formatting
And this brings us to the next point… Formatting.
Format your text such that the long copy becomes easier to digest.
Bold important information. Use bulleted or numbered lists when listing things.
Visuals
Also, use visuals to get your point across. Breaking up your long copy with compelling images will provide visual breaks and breathing space for your readers.
Visuals include everything from images, graphics, icons, videos, animations and infographics. These design elements will engage visitors and arrest their attention. You can also consider adding hover effects to your call-to-action buttons.
Short Copy
Short copy is brief, concise and straight to the point. It only includes the most important and essential information. Hence, you might need to link out to some document or point to another web page for more details.
Short copy is commonly used for simple products and services where you don't need to explain how it works. Cheap products and services will also require short copy where consumers don't consider too long or think too much. It's a simple decision for them where they either buy it or not. Such items don't require much persuasion to sell.
Tip 1: Mention The Most Important Information
If you're planning to craft a short copy, you should brainstorm all the facts and information about your brand, product and service.
Next, prioritize and choose the most important details that you want to highlight in your copy.
For the less important and non-essential information, you can put them under FAQ or product/service details web page where interested readers can click through to find out more.
Tip 2: Shorten Or Simplify Details
The key feature of short copy is its succinctness.
Delete any unnecessary details and redundant phrases. Use short, punchy sentences. You need to ensure that every word sells.
If your product description is a long paragraph or a few paragraphs long, try shortening it.
If the information is complicated, consider simplifying it in a way that visitors are able to understand in one glance. This could mean highlighting the key points or breaking down into easy-to-digest information.
So… Who Wins?
Various experiments have been carried out where both long and short copy have won.
Thus, I strongly recommend that you always test to figure out which copywriting technique drives more conversions for you. Whether short or long copy works for you depends on many factors, including your product or service, your industry, your target audience and more.
A copy matrix has even been created to help determine which length of copy is likely to be more effective for your product or service. There are 3 factors that affect the efficacy of body copy length on a landing page:
Nature of visitor motivation
Initial level of anxiety about product/company
Level of cost/commitment associated with conversion
Short copy performs better when there is low perceived risk, low cost and low commitment as well as when the customer has an emotional, impulsive and "want-oriented" motivation.
On the contrary, long copy performs better when there is a rational, analytical, need-oriented motivation.
Now It's Your Turn
Does long or short copy work for you? Do you have any tips when crafting long or short copy?
Always use a proofreading tool like Grammarly and ProWritingAid to double-check and correct your grammar, spelling and punctuation mistakes.
Do consider attending classes like Copywriting For Crafters or Write Copy That Compels And Sells. Besides CreativeLive where you can watch streaming broadcasts of free online classes, there are also copywriting courses at Fiverr Learn~