Email marketing is one of the most valuable marketing channels because it generates a high return on investment.
With email marketing, you can reach out to subscribers who have given you their personal contact details and consented to receive promotional and marketing news from your brand right in their inbox. Simply put, they're actively choosing to hear from you.
Your subscribers are thus warmer leads since they're open to sales and marketing content. On the contrary, running PPC ads (like Google, Facebook or LinkedIn ads) is an uphill battle. In this situation, you're aiming to establish a connection with a cold audience who might not know your brand.
Here are some tips on how you can leverage this one-to-one relationship and make the most of this powerful marketing channel.
Disclosure: Some of the links below are affiliate links. I will earn a small commission, at no extra cost to you, if you purchase through these links. Your support encourages me to continue blogging and help with the costs of hosting this site. Thank you!
Get More Subscribers With High-Converting Email Opt-In Forms
Ensure that your newsletter sign up forms are compelling and irresistible.
There are many email marketing software such as MailerLite and MailPoet as well as lead generation software like OptinMonster.
Most software will include beautiful email opt-in form templates which you can use. You simply have to adjust the design according to your brand colors, font and style. Another benefit of email marketing software is data analytics where you can track important metrics and evaluate the performance of your email marketing channel (eg. open rate, click-through rate).
Highlight Your Offer Upfront: What's In It For Email Subscribers?
What do your visitors get when they sign up for your newsletters?
State clearly and upfront the offer that you're providing to your visitors.
Here's the email opt-in copy I crafted that tells my visitors what to expect when they sign up for my newsletter. Rather than using my email software, I used my WordPress Theme, Elegant Themes Divi (together with the child theme from Divi Lover) to create this beautiful email opt-in form.
Trim Your Form: Minimize Fields & Ask For Necessary Information Only
In addition to a beautiful design that attracts visitors, you need to make sure that the sign-up process is hassle-free. And this begins with the form fields.
Instead of listing every field that you can think of, you should only add fields that are necessary. For example, the basic information that you'll probably require are name and email address.
Try to keep this form simple with as few fields as possible. With only a few fields, you'll encourage visitors to sign up for your newsletter. You need to highlight that they'll get a trove of valuable information in exchange for their name and email (minimal contact details where they benefit from the exchange).
Segment Your Email List & Send Hyper-Focused Messages
When your target audience provides their personal contact details, they're granting you access to connect with them one-to-one. You can take this a step further. Instead of sending a one-to-many email blast to all your subscribers, you can segment your subscribers and send a one-to-one personalized email.
By segmenting your list, you can tailor your messages such that they're unique and targeted to each group. This will also improve open and click-through rates since you're sending emails they're interested in.
There are many ways to segment your email subscribers
Preferences
Past Purchases
Country
Gender
Industry
The key is that your tailored messages should cater to your subscribers' wants and needs.
For example, I segment my email subscribers by the 3 topics that I blog about: Self-Publishing, Entrepreneurship and Marketing. This will ensure that they only receive relevant emails.
Nurture Your Leads With Automated Email Workflows
Whether you're using MailerLite or MailPoet, most email marketing software will have this feature where you can create a workflow and send automated emails. This will help engage and nurture your subscribers so they convert from leads to customers.
A workflow begins by selecting a trigger that initiates the workflow. This could be signing up for your newsletter, downloading your offer or buying your product. Next, you select the action. This could be sending an email, updating a custom field or moving to another step in the workflow.
Your workflow can be short or long, depending on your objective. Simply add in more triggers and actions when necessary like waiting 3 days before sending another email.
Check out the must-have email automation workflows to skyrocket your business~
Save Time & Effort With Email Templates
One of the best features of email marketing software like MailerLite or MailPoet is templates.
With templates, you can reuse email design and layout for future campaigns. You'll only need to make minor changes such as headline, copy and images. Templates are best for emails that you frequently send such as sales and updates. They come in handy, especially when you're crunched for time. For instance, you might have to blast an ad hoc email for an upcoming event. This email can be created quickly with templates.
I always use the same template when sending emails about my latest blog post. It's a simple and short email with a single column. I simply have to change the headline, copy and call-to-action link. Likewise, you should consider using templates for emails that you regularly send.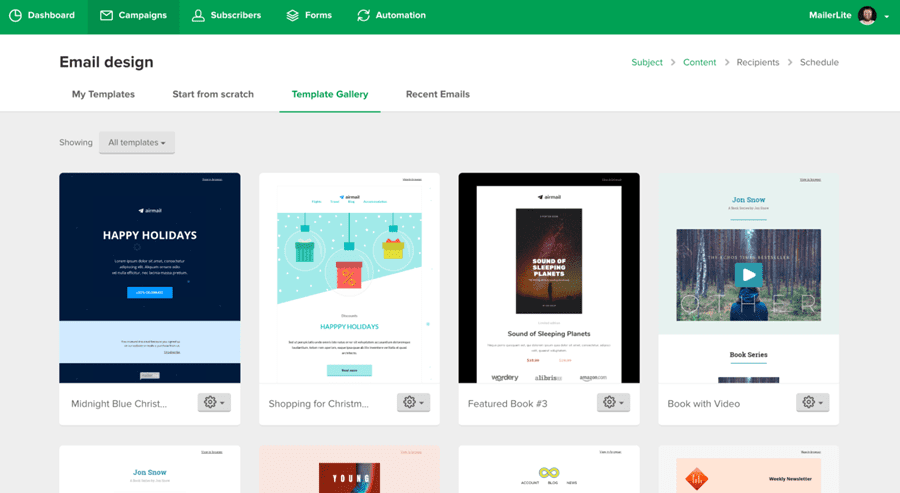 Make It Easy To Unsubscribe
Unsubscribe might seem like a bad thing. However, people who unsubscribe from your list are probably people who don't engage with your emails. They might be no longer interested in what you're sharing. Hence, it is better that these people unsubscribe from your list so that they don't drag down your email performance.
Furthermore, if they have difficulty trying to unsubscribe, they will get frustrated and might even flag your emails as spam.
To avoid such a scenario, ensure that you include an unsubscribe link in all your emails. This could be in the footer of your emails.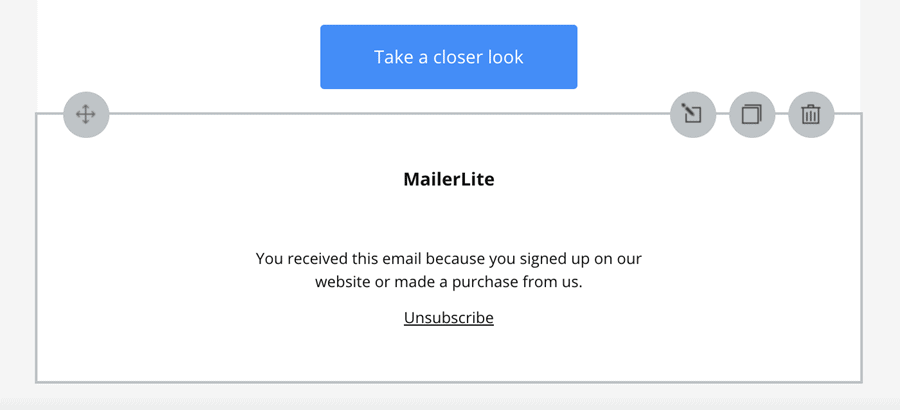 Some subscribers might not want to completely cut off communication with you. Instead, they want emails less frequently or emails about certain topics that they're interested in. Therefore, you can consider adding a subscription preference link where subscribers can choose their preferred email frequency and topics.
Also, don't be afraid to ask them why they unsubscribed. You can list a few reasons and let them answer the multiple-choice question. But make sure this question is optional. Collecting this data will help improve your email marketing efforts.
Optimize For Mobile Experience With Mobile-Friendly Emails
In today's digital era, marketers need to rethink their email marketing strategy and consider how people are engaging with emails. With the rise of iPhone and Android, businesses need to adopt a mobile-first approach and understand the importance of mobile-friendly emails. If businesses cling to the traditional view of optimizing for desktop only, they'll miss out on opens, clicks and conversions from mobile devices.
Besides using mobile-friendly email templates, do check the preview of how your email will look across desktop and mobile.
Since mobile screens are smaller, ensure that your images aren't wordy and that the email copy shouldn't be cluttered and text-heavy. The font should also be big such that the text is readable. Buttons, too, should be huge so your subscribers won't have to click on a tiny link in your email to convert. Also, ensure that the web page that you're sending subscribers to is optimized for mobile.
A/B Test Your Emails & Continuously Improve Performance
A/B test is key to improving results in any marketing campaign. And email marketing is no exception. You should always test your emails to constantly improve performance and figure out what works best.

There are many elements that you can test in an email:
Subject Line
Preheader (Preview Text)
Copy
Call-To-Action
Button
Color
Design
Layout
Rather than the usual 50-50 split, you could try sending Variant A and B to 15% of your subscribers each and the winning variant to the remaining 70% of your subscribers.
Send A Test Email & Double-Check Before You Hit "Send"
To avoid embarrassing mistakes like broken links and spelling errors, you should always send yourself a test email and double-check the following
Sender Name
Subject Line & Copy: Use proofreading tools like Grammarly & ProWritingAid to correct your grammar, spelling & punctuation mistakes
Images
Formatting
Layout: Check if your email looks okay across desktop & mobile
Links: Ensure that they're working & pointing to the right pages. Add UTM parameters to track performance.
Also, do check if you're sending to the right people. Make sure that you've selected the correct list, group or segment.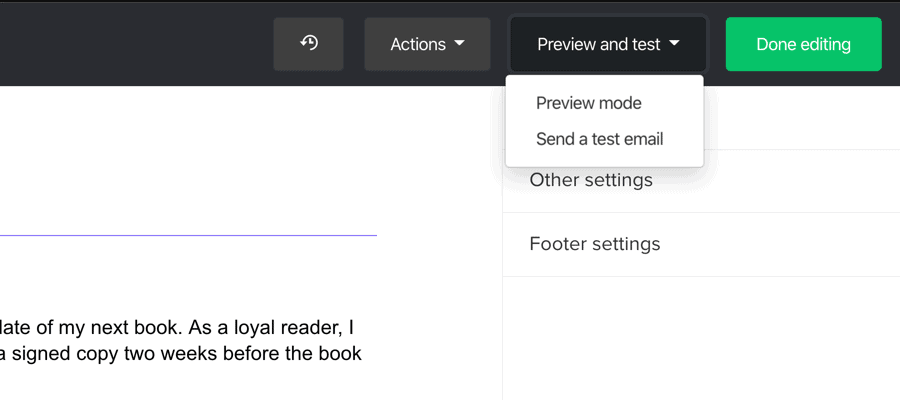 Send Emails At The Right Time To Boost Open Rates
Timing is everything, especially when you want your subscribers to open your emails.
But when exactly is the best time to send emails?
Ultimately, there is no correct answer. It really depends on your subscribers.
You could A/B test your send times to find the perfect time for your subscribers.
Most email software will have various options
Send Now
Schedule Later
Deliver based on your subscriber's timezone
Clean Your Subscriber List Frequently For Better ROI
Email hygiene is crucial in email marketing. This involves removing inactive, bounced, non-engaging and cold subscribers from your list and keeping your remaining list with warm subscribers. Such email scrubbing will ensure that you only send emails to people who want to hear from you. Therefore, you should be doing an email list clean up frequently.
The benefits of cleaning your list are endless: better open and click rates, fewer spam complaints, fewer bounces, reduced cost and more. As mentioned previously, since most email marketing software pricing is based on the number of subscribers, you can reduce marketing costs by removing subscribers who no longer want to hear from you. These cost savings can then be used for other purposes like developing a new product or service, enhancing your talent pool and more.
But when should you start cleaning your list? There are some warning signs for this
Low open rate
Low click-through rate
Many spam complaints
High bounce rate
High unsubscribe rate
Next, consider the groups of people to remove such as
Subscribers who haven't engaged with any of your emails in the last 90 days
Subscribers who actively unsubscribed from your list
Spammy email addresses: these should be easy to spot since they don't make sense (strange letter or number combination)
Duplicate email addresses
Also, correct misspellings and typos such as @gmial.com to @gmail.com. Or if your subscriber works at IBM and their email address is @imb.com.
Do check for soft and hard bounces too. A soft bounce indicates a temporary deliverability issue such as full mailbox, server timeout or message too large. When your email software attempts to send the email again, it will most likely go through. On the contrary, a hard bounce indicates a permanent deliverability failure. This could be caused by a wrong email address, a domain name that no longer exists or that the email server has blocked delivery.
Bonus Tip: Only Send Emails When You Have Something Valuable To Share
Subscribers signed up to receive emails from you because you promised them that you'll share valuable content with them. Therefore, you should send emails when you're adding value to your subscriber's life. This could be a new blog post or an irresistible offer.
As mentioned previously, always bear in mind "What's in it for your subscribers?"
Consistently sending valuable content will increase engagement rates and position you as an industry thought leader.
Now It's Your Turn
What other email marketing tips have you found to be helpful? Do share your recommendations and insights~