For many businesses across all industries, building an email list is an essential marketing strategy.
Why?
Because having your own email list means that you have a way to directly communicate with your fans and customers.
In addition to an irresistible lead magnet, the type and placement of your opt-in form are crucial too. Today, we'll explore the different types of email opt-in forms and the locations you can place them.
Disclosure: Some of the links below are affiliate links. I will earn a small commission, at no extra cost to you, if you purchase through these links. Your support encourages me to continue blogging and help with the costs of hosting this site. Thank you!
1. Pop-Up
As the name suggests, a pop-up opt-in form is a lightbox pop-up containing an opt-in form on a web page.
These pop-ups can be triggered in a variety of ways, such as timed delays, when a user reaches the bottom of a post or page or after they comment or purchase. This gives you additional control where you can decide to only let users see the pop-up if they meet certain behaviors.
Pop-ups are thus effective because you can tailor your message and offer based on these unique user interactions. In addition, you're also asking visitors to subscribe to your newsletter at the optimum moment.
Some people, however, will find pop-ups annoying. After all, it does distract you from whatever you are doing (whether it's scrolling down the page or commenting on a blog post). But a well-timed pop-up will be effective in generating and converting leads.
For example, I think it's good to set the trigger right before a user leaves your site (when they're about to close a window or tab). It's like a last-ditch effort to get visitors to subscribe before they exit.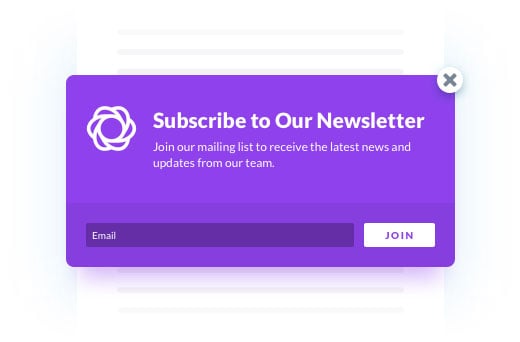 2. Fly-In
Similar to pop-up, fly-in is more subtle and smaller. It isn't a fullscreen lightbox pop-up that takes up the entire screen. Instead, the fly-in is a small opt-in form that slides up from the bottom corner of the page. This makes it effective without being aggressive or in-your-face.
Again, it can be triggered based on different user interactions, such as timed delays or at the end of a page. Fly-ins grab your visitors' attention and make them subscribe at the optimum moment.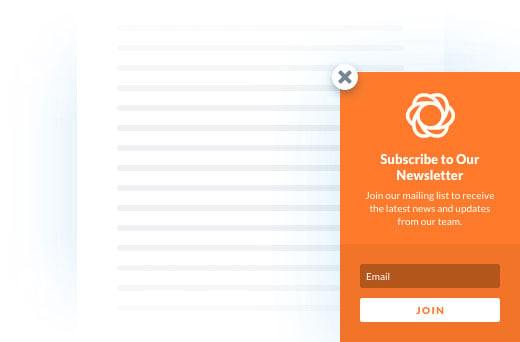 3. Below Content
This is a common location to add your opt-in form. It's also the simplest and most classic way to ask people to opt-in to your newsletter. This is perfect for content-heavy websites like blogs.
Below content is where you add an opt-in form at the bottom of your posts and pages. This means that when visitors finish reading your post, an opt-in form asking them to subscribe to your blog updates will appear. This is a great way to convert attentive readers since they must have enjoyed your content and thus, read the entire post. It captures the attention of your most engaged readers without disrupting the user experience.
You can place this on your entire site or target only specific posts.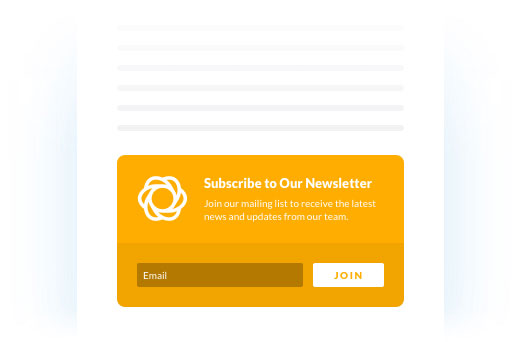 4. Inline
Inline opt-in is where you place the form inside your posts and pages. It could be a simple shortcode that you paste in the middle of your content in your WordPress post editor. And of course, you can place this inline opt-in anywhere on your website.
This is different from the other opt-in forms which are automatically displayed in certain locations sitewide. You have to manually paste the code in specific posts or pages. This location-specific approach works well if you have a content offer that is tailored for readers of certain posts (and can't be offered to all readers).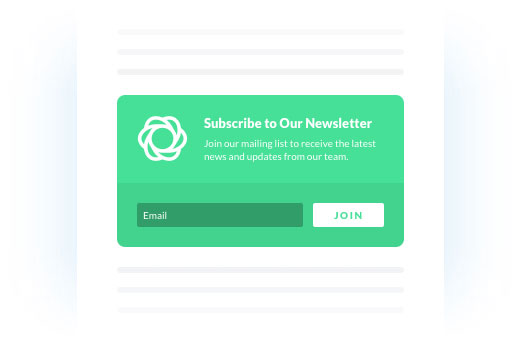 5. Locked Content
To get new subscribers and build your email list, you can offer premium content that is exclusive to subscribers. In other words, visitors need to subscribe to your newsletter to access this locked content on your website. Of course, this content will have to be free and valuable in order to entice visitors to subscribe. It could be a list of resources, how-to guide, checklist etc.
You can implement this by adding a shortcode into your post which will then wrap the content that you would like to lock. For example, you could lock the second half of your post so only your subscribers can continue reading. If visitors subscribe, they'll be granted access to the content hidden behind the opt-in form.
The opt-in form will become a pay-wall between your free content and your visitors and thus, help to turn traffic into loyal readers and increase your newsletter subscriber count.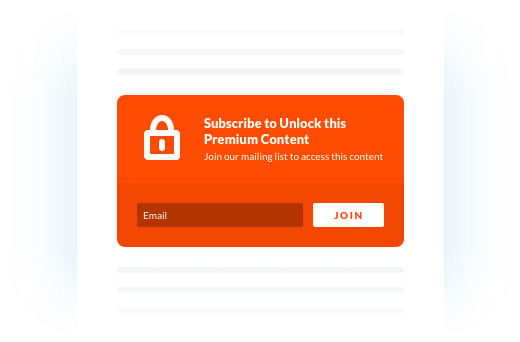 6. Navigation Bar, Footer, Sidebar
Navigation bars, footers and sidebars are great places to add your opt-in form. These sitewide locations appear on every page and post, ensuring that you never miss any chance to convert visitors to subscribers.
This could be a simple widget that you place in the sidebar and footer or a pop-up in your top navigation bar.
If your navigation bar or sidebar is fixed (meaning that it stays on the page even if you scroll down), the opt-in form will follow visitors as they read your content. This is effective because its omnipresence subtly encourages visitors to subscribe.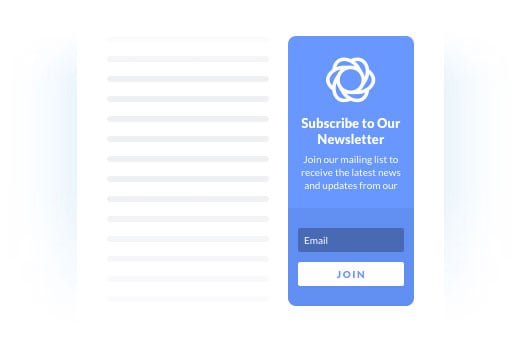 Case Study: How I Set Up Opt-In Forms On My Site
There are 4 places where I add opt-in forms on my website
The setup was simple. My WordPress theme is Elegant Themes Divi. Elegant Themes has this exclusive email opt-in plugin for their users, Bloom. So I just installed it and integrated my list from MailerLite. I have this "Everything" list that contains an automated welcome email workflow which will then segment subscribers into self-publishing blog tips, entrepreneurship blog tips, marketing blog tips and book news/updates.
For styling of the opt-in form, I relied on the Girly child theme from Divi Lover. It's much prettier than my DIY forms 😀 And that's it~!
If you're already using Elegant Themes, I strongly recommend that you install the Bloom plugin. It has many email marketing integrations, including MailPoet. You can then seamlessly integrate your subscriber lists and your website. Bloom also includes various triggers, premade templates, dashboard and settings. More importantly, the opt-in forms are all fully responsive (they look great on all devices, even the small mobile screen sizes).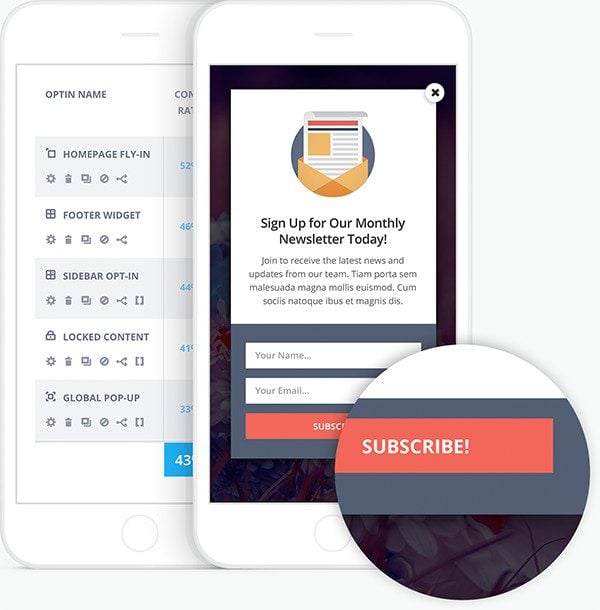 I also like using the Divi theme from Elegant Themes because of its visual drag and drop builder (so technical noobs like me can easily make changes to the site design). Check out my review of Elegant Themes as a lifetime customer!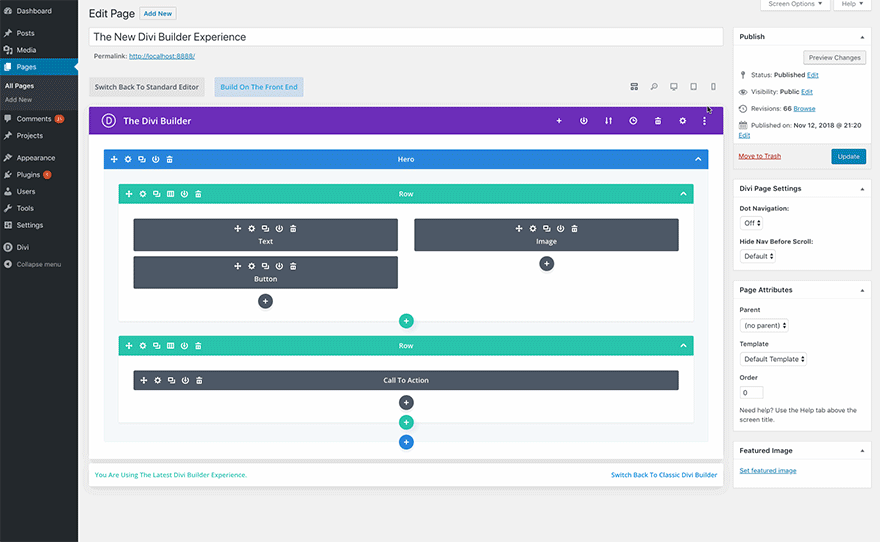 If you already have a website design, you can consider using OptinMonster instead. OptinMonster also has beautiful lead capture forms and specific targeting.
Now It's Your Turn
Where do you place your opt-in forms on your website? Which type of opt-in form has the highest conversion rate for you?