So you've run a few Facebook Ad campaigns and are thinking to take your skills to the next level?
Here are some advanced tips to power up your skills.
But first, bear in mind that Facebook has combined Power Editor and Ads Manager. The updated Ads Manager has both the powerful ad creation and editing features of Power Editor and the ease of use of Ads Manager. We'll explore some tips and tricks for this new all-in-one tool.
Disclosure: Some of the links below are affiliate links. I will earn a small commission, at no extra cost to you, if you purchase through these links. Your support encourages me to continue blogging and help with the costs of hosting this site. Thank you!
1. Review & Publish Drafts
This is the most crucial step.
Always, I repeat, always review and publish your drafts!
If you miss out this step, your changes won't be live. Or worse, your campaigns won't launch as scheduled.
The Review and Publish button at the top right-hand corner will indicate how many draft items you have to be published. Upon clicking it, you will be able to find out more details about your drafts. Whether you have campaign, ad set or ad drafts. Choose the drafts that you want to publish and you're done~
Also, Facebook will tell you if there are any errors that you need to fix before you can publish these drafts.
Note that you can also choose to Discard Drafts if you no longer want to publish these changes.
2. Switch from Guided Creation to Quick Creation
When you create a new Facebook campaign in Ads Manager, you can choose between Guided or Quick Creation.
Guided Creation, as the name implies, is where Facebook will guide you step by step on how to create a campaign.
On the contrary, Quick Creation is fast without any guidance from Facebook.
I highly recommend that you switch to Quick Creation since you're familiar with the platform and have experience setting up Facebook campaigns. This will allow you to quickly set up campaigns, especially if you're rushing to launch a campaign ASAP.
3. Duplicate Campaigns, Ad Sets & Ads
Duplicating campaigns, ad sets and ads are easy with the Duplicate button.
All you have to do is select the campaign, ad set or ad that you want to duplicate.
When you duplicate a campaign, you simply have to select the number of copies you want to create.
When you duplicate an ad set, you have to choose whether to create it under an original, existing or new campaign as well as the number of copies.
When you duplicate an ad, you have to choose whether to create it under an existing or new campaign, an existing or new ad set and the number of copies.
Duplicating is useful when you want to try a slightly different targeting. It saves you time since you're copying what you've already done and making only small changes.
Bear in mind that duplicating ad sets and ads allow you to create an A/B test to compare your new version to your original version.
4. Find and Replace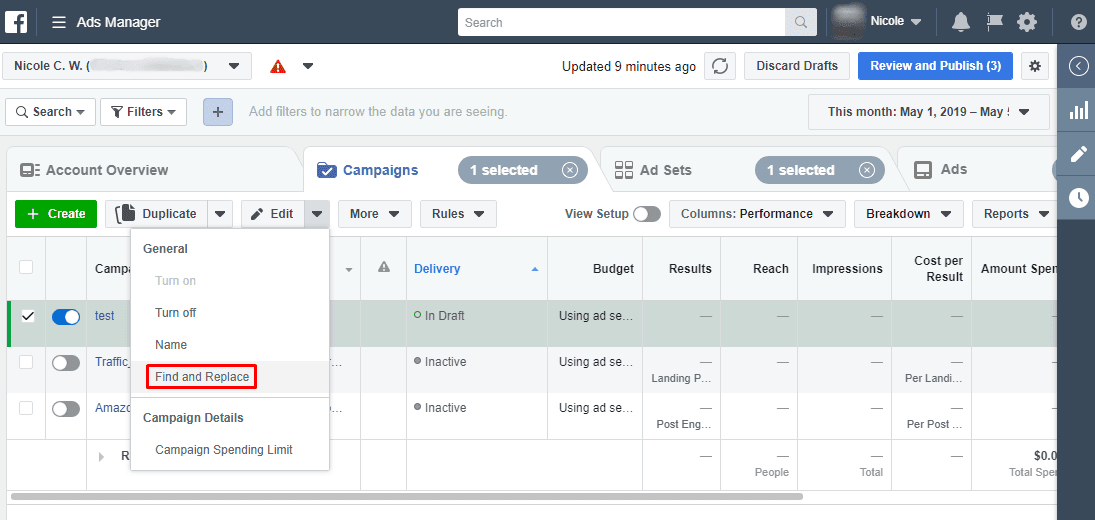 Another hidden feature, nested in the Edit button, is Find and Replace. Depending on what you choose, you can find and replace the following:
Campaign: campaign name
Ad Set: ad set name
Ad: ad name, link URL, headline, body description
Unlike campaign and ad set where you can only find and replace the name, ad gives you the most options. You can find and replace ad name, see more URL, headline and message.
This is useful if you're trying to change a word or phrase. For instance, your ad's headline is "20% Off Shipping From The USA". But you want to replace this to other countries instead. All you have to do is Find and Replace the ad headline. This is much easier than digging through your numerous ads and searching for the phrase to replace.
5. Bulk Editing
You can bulk edit by selecting the campaigns, ad sets or ads then clicking the Edit button.
If both campaigns, ad sets or ads share the same setting, targeting, text, etc., there will be no error and you will see the setting, targeting, text, etc. shared across them.
However, if both campaigns, ad sets or ads do not share the options, the error text "Mixed Values" or "Mixed State" will appear. This is where you have to decide whether to overwrite or to edit individually.
6. View Setup
Facebook has this View Setup toggle that I find very useful, especially when you're about to publish a draft.
You can see at a glance the campaign, ad set or ad details without really clicking and going into the campaign, ad set or ad itself.
Turn this on and see for yourself the setting details that are provided.
Campaign: budget, campaign spending limit, objective, buying type
Ad Set: custom audiences, location, bid strategy, budget, schedule
Ad: link, URL parameters, Facebook pixel, bid strategy, budget, objective
You can immediately see the big picture of settings that matter. Like objective, budget, bid strategy etc. And these settings might just be the one to make or break your campaign.
Now It's Your Turn
These are just some Facebook tips that I personally use when running campaigns. But of course, you can always attend classes like Creating Effective Paid Ads On Facebook and Facebook Marketing For Small Businesses to discover more tactics. I highly recommend that you check out CreativeLive free online classes where you can watch streaming broadcasts! Or join online courses at Fiverr Learn~
Have you tried implementing the tips? Are they useful?
Do you have any other tips to master Facebook Ads Manager?
Also, bear in mind that your ad creatives play a key role in arresting your target audience's attention. Do consider using tools like Canva to create stunning images for your Facebook and Instagram ads.
If you have marketing budget or prefer spending time on more important business matters, you can consider hiring a social media marketing expert from Fiverr instead. There are also top-rated professionals from Fiverr Pro who are hand-vetted for stellar quality and service.