Imagine that you've been running Google Ads for a while now. Whether it's a Search, Display, YouTube or Gmail campaign, you notice that there are only a few conversions.
If you've ever encountered this, here are some optimization tips to maximize conversions.
Disclosure: Some of the links below are affiliate links. I will earn a small commission, at no extra cost to you, if you purchase through these links. Your support encourages me to continue blogging and help with the costs of hosting this site. Thank you!
1. Conversion Tracking
There are many ways to set up conversion tracking.
You can do this by manually inserting the codes on the specific pages. But I don't recommend this. It's better to just use Google Tag Manager so you don't constantly bother your technical team.
Do check out the step-by-step guides on Google Tag Manager and Google Ads. You'll learn to add codes to your website via Google Tag Manager, link Google Analytics and AdWords and import Google Analytics goals into AdWords.
When you're importing your conversions, ensure that you don't choose the last click attribution model. Google recommends not choosing this default last click attribution model because it gives all credit to the last click. This ignores all previous touchpoints that might have contributed to the conversion. Instead, try time decay, position-based or data-driven attribution model.
Also, remember to turn on auto-tagging!
2. Bidding Strategy
Bidding strategy plays a crucial role because it tells Google which action is valuable to you and how you want the system to bid for this.
Google breaks this down for you, highlighting the benefits of each bidding strategy. The bidding strategy ultimately depends on your goal. For example, if your goal is conversions, you might choose Smart Bidding. If your goal is clicks, you might consider CPC bidding.
When you just launch a campaign, I recommend that you start with automated maximize clicks so Google can collect data. You can also choose to add a maximum CPC bid limit.
However, you should eventually switch to a conversion-focused bidding strategy such as automated maximize conversions, target CPA or target ROAS. Google uses machine learning to optimize for conversions or conversion value in these smart bidding strategies.
Bear in mind that you need 30 conversions in the past 30 days so Google will have enough conversion data and can optimize better.
Hence, do make a reminder to check back on your campaigns and switch bidding strategy when you have enough conversions.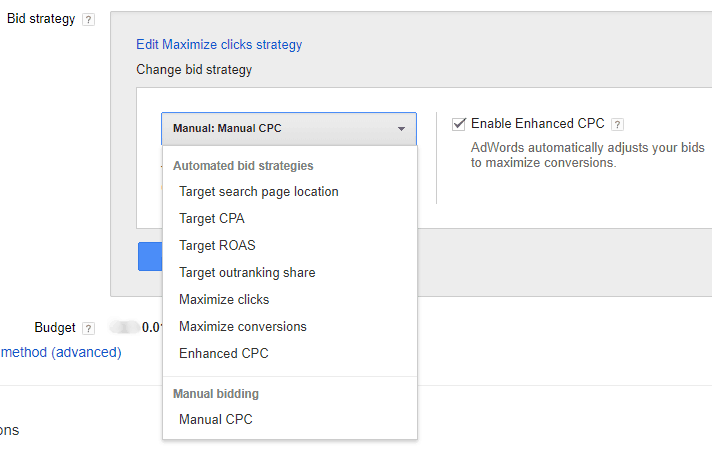 3. Shared Budget
If you're running a few campaigns but aren't sure how much to allocate to each campaign, you can consider using shared budget. Google will still get the most clicks within the budget you set.
You can always switch back to individual campaign budget and control how much you spend for each campaign.
I recommend that you use a shared budget only at the start. After running the campaigns for a while, you should be able to determine campaign performance. From there, you might choose to pause your poor performing campaigns or allocate more budget to your best performing campaign.
4. Frequency Capping
You can set frequency capping for Google Display and YouTube campaigns under additional settings.
Frequency capping limits the maximum number of times your ads appear to the same person.
I highly recommend that you set frequency capping because both Google Display and YouTube are upper funnel channels that help in brand awareness. As long as you get the word out about your product or service, your ad has served its purpose. Limit the number of impressions so people won't be annoyed by the repeated ad.
You can let Google Ads optimize how often your ads show. This is recommended by Google since they can tap into the data collected.
But you can choose to manually set a limit like only 3 impressions per day per campaign.
For YouTube campaigns, you can cap impression and view frequency.
You should set a higher number of impressions if your product or service is complicated or expensive. People might need to see your ads a few more times to understand or be persuaded to buy.
On the other hand, set a lower number of impressions if your product or service is easy-to-understand or affordable. Since your product or services is simple or affordable, people either buy or not buy. You don't have to keep haunting them until they buy.
5. Content Exclusions
Again, you can implement content exclusions for Google Display and YouTube campaigns under settings.
Content exclusions is where you restrict your ads from appearing alongside content that doesn't fit your brand.
For instance, you might choose to exclude sexually suggestive content and parked domains.
By implementing content exclusions, you prevent your ads from appearing on websites and apps that might tarnish your brand image.
6. Exclude Games
Here's a tip for Google Display and YouTube campaigns if you don't want your ads to appear on gaming websites or apps.
Simply exclude 'Games' topic. Or choose 'Games' under Content Exclusions (note that this is no longer supported).
I highly recommend that you exclude games. Games monetize with banner ads so there's a chance that your target audience accidentally click on the ad while playing games or is incentivized to click on the ad to get an in-game reward.
7. Exclude Mobile
You can choose to exclude mobile devices in Google Display campaign settings.
Another way to exclude mobile is by changing the bid adjustment of mobile to -100%. Besides bid adjustments for devices, there are also bid adjustments for locations and audiences.
I usually exclude mobile for Google Display campaigns to prevent accidental clicks due to mobile's small screen size. But you can always analyze your campaign performance and change the bid adjustment accordingly.
8. Targeting vs Observation
For both Google Search and Google Display campaigns, you can choose between 'Targeting' and 'Observation' under audiences, topics and placements setting.
Targeting
narrow reach by targeting a specific audience
Observation
reach isn't affected
allows you to monitor how certain audiences are performing
For example, if you want to run a remarketing campaign, you can add the remarketing audience and set it as 'Targeting'. However, if you're unsure whether remarketing will work, you can consider adding the remarketing audience as 'Observation' to your existing campaign. This way, your campaign will retain the targeting you've set but with additional data of this remarketing audience. Depending on the performance, you can decide whether to increase or decrease bid adjustment or even exclude this audience.
I prefer 'Targeting' for Google Display campaigns because it's an upper-funnel channel with massive reach. On the other hand, I have used both 'Targeting' and 'Observation' for Google Search campaigns because it's a lower-funnel channel where people have high purchase intent.
9. Audiences
If your campaign isn't getting enough conversions, consider adjusting your audience targeting.
Whether you're running Google Search, Google Display or YouTube campaign, there are many audiences to choose from:
Detailed demographics
Affinity
In-market and life events
Remarketing and similar audiences
Custom audiences
Try the different targeting and see which audience converts better. Note that some audiences are only available to certain channels.
10. Keywords, Demographics, Topics, Placements
You can add a variety of targeting, especially for Google Display and YouTube campaigns.
Let's say, you add a list of keywords, only target women aged 25 to 34 and add the topic of 'Beauty & Fitness'. This means that the campaign must meet all these targeting you've set.
Unlike the AND targeting above, targeting in the same category is considered OR targeting.
This means that if you add 2 audience targeting like website visitors and in-market audience of 'Beauty & Personal Care', your campaign will target people who either belong to your website visitors list or in-market audience.
11. Remarketing Campaigns
Make remarketing a priority!
It is so much cheaper to retain an existing customer than to acquire a new customer. Plus, existing customers are more likely to try your new products and spend more.
Do check out my step-by-step article on how to set up remarketing campaigns in Google AdWords Search and Display~
You never know until you try. Perhaps, your remarketing campaigns will result in more conversions, low cost per conversion and high conversion rate.
12. Ad Extensions
Try to add as many ad extensions as you can. Ad extensions make your ad more prominent by providing more details.
Sitelink Extension
Sitelink extension lets you add more links to your ad. This way, you bring people to specific pages on your site such as your product or service page.
If you're directing ads to a landing page, I suggest that you don't add any sitelink extension. This is because sitelink extension will distract your target audience and bring them to other pages on your website. Hence, it'll defeat the purpose of your landing page (where you're driving people to this specific offer).
Callout Extension
Provide more information about your business, products and services with callout extension.
I usually include information that I can't put in the other extensions or key information that are important.
Structured Snippet Extension
With structured snippet extension, you can highlight specific aspects of your products and services.
Note that there are certain categories like Courses, Service Catalog and Type. Hence, you might not be able to use this extension if you can't find a suitable category for your product or service.
Call Extension
With call extension, interested customers can call you directly. Call extension appears as a clickable call button for mobile devices. But for desktops and laptops, call extension simply displays your phone number.
When you implement call extension, I recommend that you schedule it to run only during operating hours. This way, there will always be at least one staff member present to answer incoming calls. If you've set up call forwarding or voicemail, you can run the call extension 24/7.
Lead Form Extension
Similar to Facebook lead ads, you can also add a lead form extension to your Search ads.
However, this extension is only available to accounts in non-sensitive verticals or sub-verticals. Meaning that if you sell alcohol or belong to the healthcare industry, this extension will not be available.
Location Extension
Display your business address and drive foot traffic to your stores with location extension.
Bear in mind that you need to link your Google Ads account to your Google My Business account to create location extension. From there, you'll be able to choose which locations to show for your campaigns.
I highly suggest that you create your Google My Business account yourself, rather than delegating it to your marketing agency or employees. This free business profile on Google allows you to add business information like address, opening hours, phone number, website and more. Thus, it's better for you, the CEO, to own your business profile.
Affiliate Location Extension
If your product is sold in retail chains, you can utilize affiliate location extension. This helps people find nearby stores that sell your products.
Price Extension
As the name suggests, price extensions showcase your offerings in detail. Besides the price, you can include a short description and a link to your product or service page.
I recommend highlighting 3 key products and services (not too few choices such that customers feel restricted nor too many choices such that customers are overwhelmed). Preferably, these offerings should cover a range of prices or types.
App Extension
If you've created an app for your business, you can implement app extension. This will help drive app installs.
Promotion Extension
Promotion extension is useful, especially if you have an ongoing sale or offer. You can include additional information like the monetary or percent discount, promotion dates and promo code. This way, your promotion will stand out and generate new sales for your business.
Automated Extension
Lastly, automated extension is where Google automatically creates extensions that are predicted to improve your ad's performance.
Do take note of the Advanced options. You can choose to turn off specific automated extensions here. As mentioned earlier, you might choose to turn off Dynamic Sitelinks if you want to drive traffic to your landing page only.
13. Countdown Ads
Have an upcoming sale?
Create countdown ads using countdown customizers!
By counting down to your event's end time, these countdown ads help to create a sense of urgency and thus, encourage people to quickly buy your products or services before the promotion is over.
For instance, if your Christmas Day sale ends at 11pm on 25 Dec, you can craft a headline like "Xmas Sale Ends In [countdown formula]". The formula will automatically update to 5 days, 3 hours or 30 minutes etc.
This works best if you have a fixed end time. In other words, the event must end on a specific date at a specific time.
14. Single Keyword Ad Group
After running your campaign for a few weeks, you'll probably notice that some keywords perform very well with many conversions, high conversion rate and low cost per conversion.
You should thus consider creating a new campaign for these top performing keywords. Under this campaign, you can put each of these winning keywords in an ad group. In other words, you should only have one keyword for each ad group. Do name the ad group by keyword for easier organization.
In this single keyword ad group (SKAG) campaign, the keyword doesn't have to be a one-word keyword. It could be +chocolate +cookies or "dark chocolate cookies". The point is that each ad group only has a single keyword by itself. Therefore, you could create an ad group with +chocolate +cookies and another ad group with "dark chocolate cookies".
You can also include the various keyword match types if they perform well. Ad group 1 could be +chocolate +cookies, "chocolate cookies" and [chocolate cookies] while ad group 2 could be +dark +chocolate +cookies, "dark chocolate cookies" and [dark chocolate cookies].
For each ad group, ensure that the ad copy also includes the single keyword. Better yet, include the keyword in the headlines (but not in headline 3 because it may not always appear). This way, the keyword in your headline will appear bold when people search for them. The bold keyword will then capture users' attention and encourage them to click on your ad.
15. Experiments
If you feel that changing the ad copy, targeting or bidding strategy will improve performance, feel free to run an experiment and prove your hypothesis. Here's the step-by-step guide on how to set up campaign experiments.
You simply have to create a draft under Drafts & experiments. Then, select the campaign that you want your draft to mirror and name your draft.
When you're done making the changes to your draft, select the draft and run the experiment. You can adjust experiment settings like start and end dates, traffic percentage. Your draft will become the experiment variant while the campaign that it's based on will become the original.
After launching the experiment, you can click the experiment campaign to view its performance. There will be a scorecard at the top, comparing your experiment and original.
If your experiment doesn't perform as well as your original, you can stop your experiment before the end date by clicking End Now at the top-right corner. Also, consider running another experiment to test a new hypothesis.
If your experiment performs better than your original, you can select the experiment campaign and click on Apply at the top-right corner. There are 2 options: either update your original campaign (where you apply your experiment to the original campaign) or convert to a new campaign (where you convert your experiment into a new campaign).
I recommend that you run experiments regularly for continuous improvement. These experiments will allow you to figure out your best ad copy, targeting and bidding strategy and hence, create a true winning campaign.
Bonus Tip: Google Recommendations
Check out Google's recommendations!
Every now and then, Google will update its recommendations based on your campaign performance and settings. Google also introduces you to new relevant features like adding responsive search ads (if you haven't jumped on the bandwagon).
Just click on Recommendations in the left menu. There will be an optimization score as well as customized suggestions.
I tend to look out for the recommendation to switch bidding strategy. As mentioned previously, you need at least 30 conversions in the past 30 days to change to a conversion-focused bidding strategy. However, there are times when Google recommends switching before this requirement is met. I assume they have sufficient conversion data. So why not listen to their recommendation and switch the bidding strategy now?
Now It's Your Turn
How do you optimize your Google campaigns to get more conversions?
Did you implement any of the above tips? How is the performance?
If you have marketing budget or prefer spending time on more important business matters, you can consider hiring a search engine marketing or display advertising expert from Fiverr instead. There are also top-rated professionals from Fiverr Pro who are hand-vetted for stellar quality and service.
For more business growth and marketing tips, join online business classes and marketing and sales classes. Or watch streaming broadcasts of free online classes at CreativeLive! You can also join online courses at Fiverr Learn~