Stop! Don't press that Run Campaign button! At least not until you have completed these 11 steps.
Let me backtrack for a moment.
Facebook and Instagram are the preferred advertising channels if you intend to target young people. But you can always target older people (even my mom uses Facebook more frequently than me!).
With more than 1 billion daily active users and their in-depth targeting options (demographics, interests etc.), you are sure to connect with potential customers.
Plus, Facebook offers a variety of ad formats (lead ad, carousel ad, canvas ad etc.). The Facebook Pixel also helps to track conversions, create lookalike audience and more.
This is how awesome Facebook and Instagram are!
But before you dive in and run your Facebook or Instagram campaign, ensure that you have the following settings set up correctly.
Disclosure: Some of the links below are affiliate links. I will earn a small commission, at no extra cost to you, if you purchase through these links. Your support encourages me to continue blogging and help with the costs of hosting this site. Thank you!
1. Create Facebook Page
First, you must have a Facebook Page to even run Facebook ads.
You can easily create this from logging into your personal Facebook account.
And you just follow the instructions. Facebook will ask you for some basic information like…
Type of Facebook Page: local business, brand/product, artist/band/public figure etc.
Page Name
Information about your business
Website link
2. Create Instagram Account (optional)
You can create Instagram ads through Facebook's platform.
But you won't need an Instagram account. You can run Instagram ads simply with your Facebook Page.
Meaning that if you run Instagram ads, your Facebook Page name will be shown.
However, I highly recommend that you create an Instagram account if you intend to run Instagram ads. This way, you can also gain some followers while advertising on Instagram.
3. Choose Between Facebook Ads Manager or Facebook Business Manager
Bear in mind that to run Facebook or Instagram ads, you can either use Facebook Ads Manager or Facebook Business Manager.
If you only have one business, you can create a Facebook ad account.
However, if you have quite a few businesses, I suggest you create a Facebook Business Manager account instead.
For instance, if you own a blog and an Etsy store, you might have 2 pages and 2 ad accounts since they're 2 different businesses. Or if your business is so successful that you have various branches, you might have a page for each of your branches (at different cities or countries).
Facebook Business Manager lets you organize and manage all your various Pages and ad accounts.
You can always start off with Facebook Ads Manager. Then, when your business grow, you can create a Facebook Business Manager account and link all your various pages and accounts.
So Facebook Business Manager is like an umbrella of Facebook Pages and ad accounts. You will still be creating and editing your ads through Facebook Ads Manager. But you will have an overview of all your Pages and ad accounts.
4. Create Ad Account, Link Facebook Page & Instagram Account
4a. Facebook Ads Manager
Simply create a new campaign in Facebook Ads Manager and you'll be able to choose the Facebook Page when creating your ad. Ensure that you have access to the Facebook Page.
You can then choose to use your Facebook Page or Instagram Account when running Instagram ads.
4b. Facebook Business Manager
When you log into Facebook Business Manager, you'll see a list of your various ad accounts.
Click on the menu at the top-left corner and click on Business Settings under the Settings column. Or you can simply click on Business Settings at the top-right corner.
Under the People and Assets tab, People is where you can add your team members.
Adding Facebook Pages
You can go to Pages on the left menu to add a Facebook Page. There will be 3 options:
Add a Page
Choose this if you own the Facebook Page that you're about to add
Request Access to a Page
Choose this if you're not the owner but need access to the Facebook Page (usually advertising agencies will select this where they're advertising on their client's behalf)
Create a New Page
Choose this if you're creating a new page
Remember to add yourself after you added the page. Click on the Add People button and select the Page Role. The Page Roles available to you will depend on the access you have to the page.
For example, if I chose Request Access to a Page and selected Page moderator role, I can only assign people with Page moderator, Page advertiser or Page analyst role. But not Page admin or Page editor role.
Adding Facebook Accounts
Next, click on Ad Accounts on the left menu. Again, you have 3 options:
Add an Ad Account
Choose this if you own the Facebook Ad Account that you're about to add
Request Access to an Ad Account
Choose this if you're not the owner but need access to the Facebook Ad Account (usually advertising agencies will select this where they're advertising on their client's behalf)
Create a New Ad Account
Choose this if you're creating a new ad account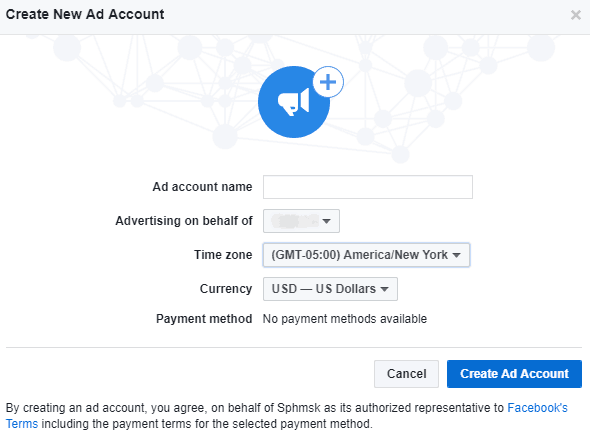 When you create a new account, you'll be asked to provide
Ad account name
Who you're advertising on behalf of
Time zone
Currency
Payment method
Again, remember to add yourself after you added the ad account. Click on the Add People button and select the Account Role. Similar to the Page Roles, the Ad Account Roles available to you will depend on the access you have to the ad account.
Adding Instagram Accounts
Lastly, click on Instagram Accounts on the left menu and add your Instagram accounts.
You can then Assign Ad Accounts for each Instagram account.
5. Check & Edit Billing Settings
If you're using Facebook Business Manager, go back to Ad Accounts, select one of the ad account then click on View Ad Account in Ads Manager.
Once you're in Ads Manager, click on the menu at the top-left corner and click Billing under the Settings column. Or you can click on Billing under the Frequently Used column.
5a. Check Payment Settings
Next, click on Payment Settings and check that your payment method is correct.
5b. Edit Billing Threshold
Click on Manage at the top-right corner to edit the threshold amount.
5c. Set Account Spending Limit
I highly recommend that you set an account spending limit. This way you will never exceed your budget and you'll spend an amount that you're comfortable with.
Change
You can change the account spending limit any time. However, you can't set a limit less than what you've already spent.
Remove
You can also remove the limit if you don't want your spending to be restricted to a certain amount.
Reset
If your campaign just ended and you want to run a new campaign, you can reset the limit so that the amount spent becomes $0 again. Then maybe adjust the limit to your new budget amount.
6. Create Facebook Pixel
As I've mentioned previously, Facebook Pixel allows you to measure the effectiveness of your Facebook and Instagram ads.
Therefore, it is recommended that you install this on your website.
To set it up, first return to the menu and click Pixels under the Measure & Report column.
You'll be asked to Create a Pixel and Facebook will name the pixel after your account name by default.
They will also give you step-by-step instructions on how to install the Facebook Pixel code.
Or you can simply check out my article on how to add Facebook Pixel, AdWords Remarketing code and more on your website using Google Tag Manager!
7. Create Standard Events or Custom Conversions
Now that you've installed Facebook Pixel, it's time to create conversions so Facebook knows which actions matter to your business.
Check out how to maximize conversions with Facebook and Instagram optimization tips!
7a. Create Standard Events
After installing the Facebook Pixel Base Code, you can also choose to add some standard events like add to cart, generate lead and complete registration.
This is done by adding the event code snippet to the pages or buttons that are valuable to you.
If your conversion is a specific page like thank you page, I prefer custom conversions because you don't need to implement an additional code and custom conversions are much easier to set up. However, if your conversion is button clicks, standard events might be more suitable.
7b. Create Custom Conversions
After opening the menu, click on Custom Conversions under the Measure & Report column then click on Create Custom Conversion.
You can then set up conversions like whether people visited URL containing /page. Also fill up
Name of the conversion
Description of the conversion
Category
Value
Note that you can only create up to 100 custom conversions.
But what if I want to track clicks on certain buttons or links and not visits to thank you page?
You can set this up easily with Facebook Event Setup Tool. Another way would be using Google Tag Manager and Google Analytics.
8. Create Audiences
You might also want to set up some basic audiences so you can target them when you create a new campaign.
Click on Audiences under the Assets column and you can create 3 types of audiences.
Create Custom Audience
Custom audience are people who have a relationship with your business. Whether they're your existing customers or have stumbled across your content.
Customer File
If you already have personal details of your customers (like email addresses), you can upload it here. And Facebook will match them to existing Facebook users. This will be useful if you want to remarket to these customers again.
Website Traffic
You can create a list of website visitors here, whether they've visited certain pages or if they've spent a long time on your website. This data will be taken from your pixel.
App Activity
If you have an app, you can create audiences who opened the app, are active users and more.
Offline Activity
As the name suggests, this is where you create audiences who have interacted with your business offline. However, you will need to set up some things which seem kind of complicated (unlike the other custom audiences).
Engagement
You can also create a list of audience who have already interacted with your content. Such as people who have watched your videos, opened or completed a form in your lead ad and interacted with your Facebook page or Instagram account.
Create Lookalike Audience
Lookalike audience are new people who are similar to people you care about. This could be your existing customers or potential customers.
And this means that you would need a source to create lookalike audience. The source could be people who like your page or a custom audience you've created above.
You will need to select
Source
Location
Audience Size
Create Saved Audience
Saved audience are a group of people based on your commonly used targeting options (demographics, interests and behaviors). You save the targeting in advance so that you can reuse this audience in future ads.
Targeting options include
Location: Remember to choose

people living in this location

so you only target people who reside here
Age
Gender
Language
Interests
Behaviors
9. Create Automated Rules
Click on Automated Rules under the Create & Manage Column then click on the Create Rule button.
Here you can tell Facebook to automatically update and notify you of changes to your campaigns, ad sets or ads.
For instance, you could tell Facebook to turn off ad sets, adjust budget or adjust manual bid.
You can also choose to receive an email notification when the rules are implemented.
10. Run Image Text Check
To run a Facebook or Instagram campaign, you will definitely need a banner.
There are many tools you can use to create social media graphics like Canva.
After you're done creating your Facebook and Instagram banners, remember to use this tool to check whether you've met Facebook's 20% text policy.
Click on Creative Hub under the Plan column and select the Image Text Check tab. Just upload your banner and you'll get an image text rating.
You can also hop over to the Manage Mockups tab to create ad mockups that you can share with others.
I wouldn't recommend this though because the Creative Hub isn't always updated to the latest ad formats (and we know how fast and frequently Facebook and Instagram ads change). I would rather create the ad itself in Power Editor and screenshot them if it needs to be shared with others.
11. Add UTM Parameters
And this is the most important step of all!
Always, I repeat and emphasize, always add UTM parameters to your Facebook and Instagram ads.
Only by doing this will you be able to track the results of your ads.
UTM parameters are additional information attached to a URL. They define what appears in your Google Analytics report.
Unlike AdWords (Google ads) where these parameters will automatically be added when you link AdWords and Google Analytics (also known as the auto-tagging feature), Facebook will require manual adding of parameters.
You can use the Campaign URL Builder by Google to add these parameters. And these parameters will then appear in your Google Analytics reports.
Website URL
Insert the URL of the page where you'll be directing the ads to.
Campaign Source
You can simply name it as the advertising network like facebook or instagram.
Campaign Medium
I would recommend that you put cpc here. CPC stands for cost per click which usually means paid traffic. Also, AdWords's auto-tagging will automatically set the medium as cpc. Hence, it would be easier if all paid traffic uses the same medium of cpc and you can simply choose to filter this in or out of reports.
Campaign Name
Name it such that you know what campaign this is. You can include the product/service, advertising channel, country and date. For example, a broad one like MarketingBook2018 or a specific one like MarketingBook_Facebook-WebClicks_XmasPromo_US_Jan2018.
Campaign Content & Campaign Term
Whatever you write as Campaign Term will appear under Keyword in Google Analytics. I usually use these two to differentiate my ads and targeting. And since not all advertising networks use keywords, I name Campaign Term as the ad variant and Campaign Content as the ad set. For instance, Campaign Content could be 25-35F_US_desktop-feed_bookworms while Campaign Term could be carousel-img_free-ebook.
You don't just insert website.com/page. You should insert the entire URL with parameters as destination URL: http://website.com/page?utm_source=facebook&utm_medium=cpc&utm_campaign=MarketingBook2018&utm_term=carousel-img_free-ebook&utm_content=25-35F_US_desktop-feed_bookworms.
Now It's Your Turn
What other steps have you done before running any Facebook or Instagram campaigns? Let me know by leaving a quick comment below right now.
If you have marketing budget or prefer spending time on more important business matters, you can consider hiring a social media marketing expert from Fiverr instead. There are also top-rated professionals from Fiverr Pro who are hand-vetted for stellar quality and service.
Do consider attending classes like Creating Effective Paid Ads On Facebook and Hype Your Brand On Instagram to get a better understanding of how to market on Facebook and Instagram. Or simply check out CreativeLive free online classes and watch streaming broadcasts! You can also join online courses at Fiverr Learn~