Remember when I told you that I would get a new author logo when I changed my tagline (as mentioned in my first author branding journey)?
Well, that day is today 😆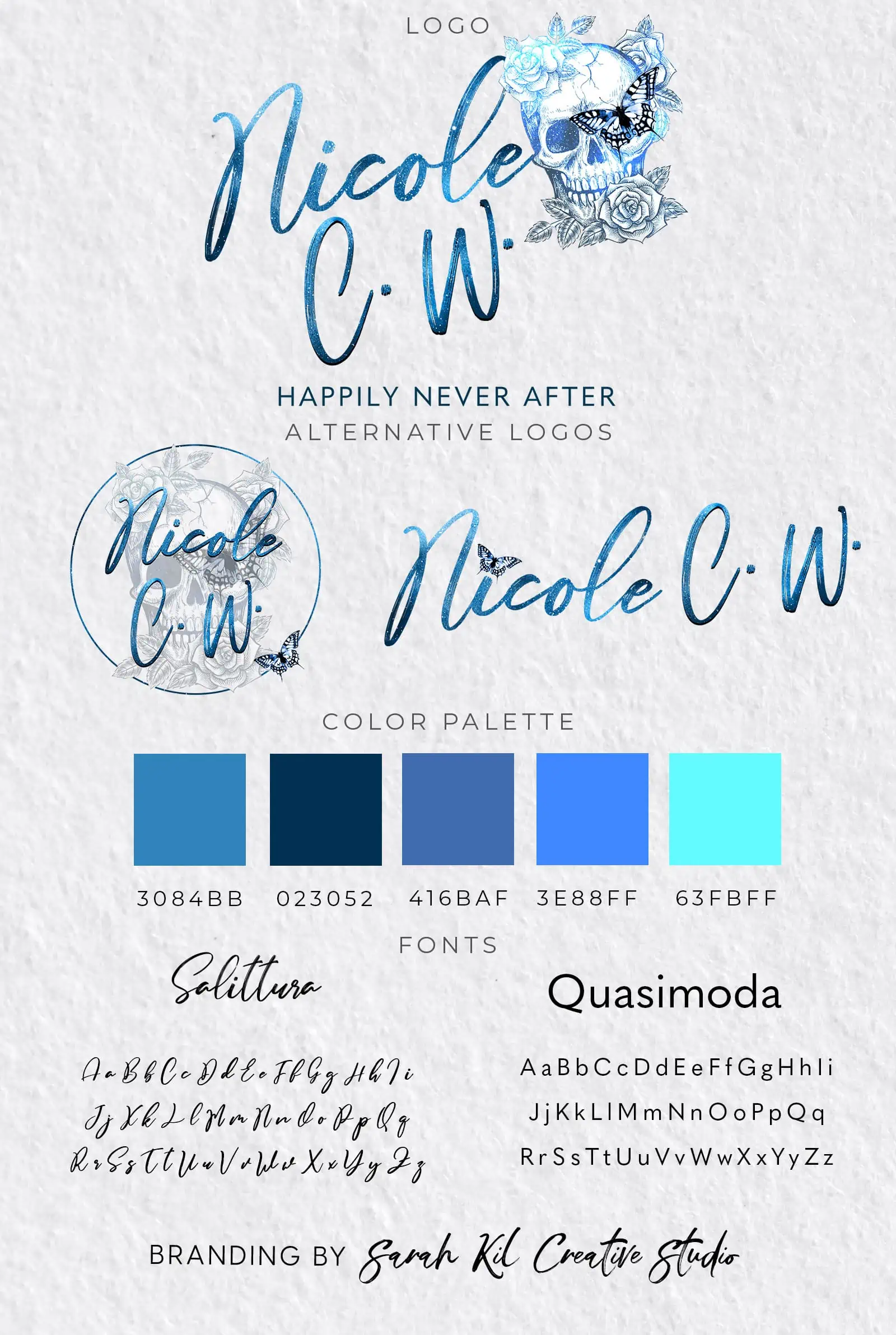 Disclosure: Some of the links below are affiliate links. I will earn a small commission, at no extra cost to you, if you purchase through these links. Your support encourages me to continue blogging and help with the costs of hosting this site. Thank you!
Why Am I Rebranding?
Let's start from the beginning: Why did I need a new logo in the first place?
For me, it's because my latest story (which will be published next year) isn't a paranormal love story. Thus, I decided to not mention genre in my tagline. By stating the genres in my tagline, it'll limit the genres I write. And I didn't really like that. There are so many different stories I want to write and I don't want to limit my creativity.
I know most authors would recommend creating a new pen name for each genre. But I find it tedious to manage so many pen names. So I kept my current pen name~
If you're a fellow author who is rebranding yourself, do examine your reasons for needing a new brand logo.
Are you writing in a different genre like me?
Is your writing or target readers different now?
Do you have a different key message or theme that you want to focus on?
Whatever your reason is, always keep this reason in mind. It'll help guide you in your branding process.
Logo Design Process
Searching For Author Logo Designers
Because this is a rebranding and I intend to make this a permanent author logo (I don't foresee changing the logo anymore), I searched for professional logo designers. Also, my story that will be published next year will finally have a paperback version! And this author logo will appear on the "About The Author" page. So I really want it to capture the brand essence and be memorable.
There are many branding agencies in the market. But their logos seem catered to other businesses. The portfolios I saw were mostly symbol logos (pictorial and abstract marks). I didn't really like it. As you know from my first branding experience, I prefer feminine logos. Therefore, I became more specific in my search and only searched for logo designers who designed logos for authors. I did find a few but after comparing their styles, I decided to engage Sarah Kil Creative Studio for my rebranding~
Thus, I strongly recommend that you shortlist a few logo designers and critically examine their portfolios. The key is to determine if you like their style.
Questionnaire
The first thing I needed to do was to fill up a branding questionnaire. This is a common thing if you hire professional logo designers. This questionnaire will help them know what you're looking for and how you envision your new logo. They will also have a better understanding of your brand and business.
You probably already thought about this beforehand: the icons or elements you want to include as well as the tagline, style or feeling of your new logo. Now, you just have to put it into words and communicate this to your logo designer.
For me, I suggested some things but I did tell her that I'm open to anything as long as the logo communicates my genres of fantasy and paranormal love stories with tragic endings. Yeah, I know I didn't include the genres in my tagline because I didn't want to be bound by it. However, I do tend to write stories in fantasy and paranormal genres. Basically, stories with a supernatural being, world or element (which I also told the logo designer). So I think it's okay to include in the logo image (just not in the tagline which outrightly states the genres).
Also, this is your chance to communicate your requirements. For example, I wanted the main logo to be rectangular or landscape and include the tagline, alternative logo 1 to be rectangular or landscape without the tagline and alternative logo 2 to be square or circle (equal sides) without the tagline.
Feel free to let your designer know more information that could help with the logo design. For instance, I told her that my books feature vampires, ghosts, vampire hunters and the gist of my future books as well as the common elements of blood, fighting, death and time.
Revision
So the first mock-up didn't really meet my expectations. I was kind of disappointed. The designer did communicate her thoughts so I became more understanding of the reasons behind her design.
However, we had a discussion and I clarified my thoughts so the feedback was more specific. I think it really worked out! The revised logo was totally amazing~
From here, I learned that collaboration is key for branding. You need to work closely with your designer to create the branding that you want for your business. Don't be afraid to voice your opinions and "spar" with your designer. I believe that great ideas are born out of intense discussion 😉
The Rebranding Journey
Here's the amazing rebranding 😍 Just look at my fabulous new author logo~!
I'm pretty sure the differences are obvious (and precisely why I'm spending more on this new logo).
In addition to the different tagline, the vibe and style are really different from my previous logo. My previous logo was more princessly where I tried to cater to readers. I didn't want to scare them off with the non-HEA (not happily ever after) ending. But the newest logo was more my style. I wanted to be upfront and let my readers know that my books don't have HEA endings. So if they want HEA romance, they should look elsewhere.
Here are 3 things I want to highlight about my new logo.
Contrast Between Romance & Non-HEA
Firstly, the conflict between romance and non-HEA is evident from the contrast between the various icons and graphical elements. The beautiful flowers and butterfly are in stark contrast to the scary-looking skull. The butterfly has many meanings and it gives a magical feel. I really love the detail of the cracked skull and the thorn between the leaves!
Flowers (specifically, roses): romance, love
Skull: death
Butterfly: freedom/lightness, change/transformation, death/rebirth, soul/spirit, joy, beauty/elegance, love/romance, dreams/inspiration
Fantasy & Paranormal Love Story Genres
Secondly, the fantasy and paranormal love story genres are reflected as accurately as possible.
As I mentioned, the key thing I want to highlight is that my stories aren't realistic. There's always something magical or supernatural in them. It could be a person or creature, the world or just an element.
The contrast between the images reflects this. Like something isn't right.
Also, you might have noticed that the script font of my name has a glitter effect that reveals the fantasy and paranormal genres.
Not Your Typical Romance
Lastly, I understand that my new author logo isn't the typical romance logo. But as you already know, my tagline doesn't really shout romance. If anything, it's the opposite. Although it might deter readers from reading my stories, I still think it's better to be upfront. By letting them know beforehand, they won't feel as disappointed when they read the ending ><;;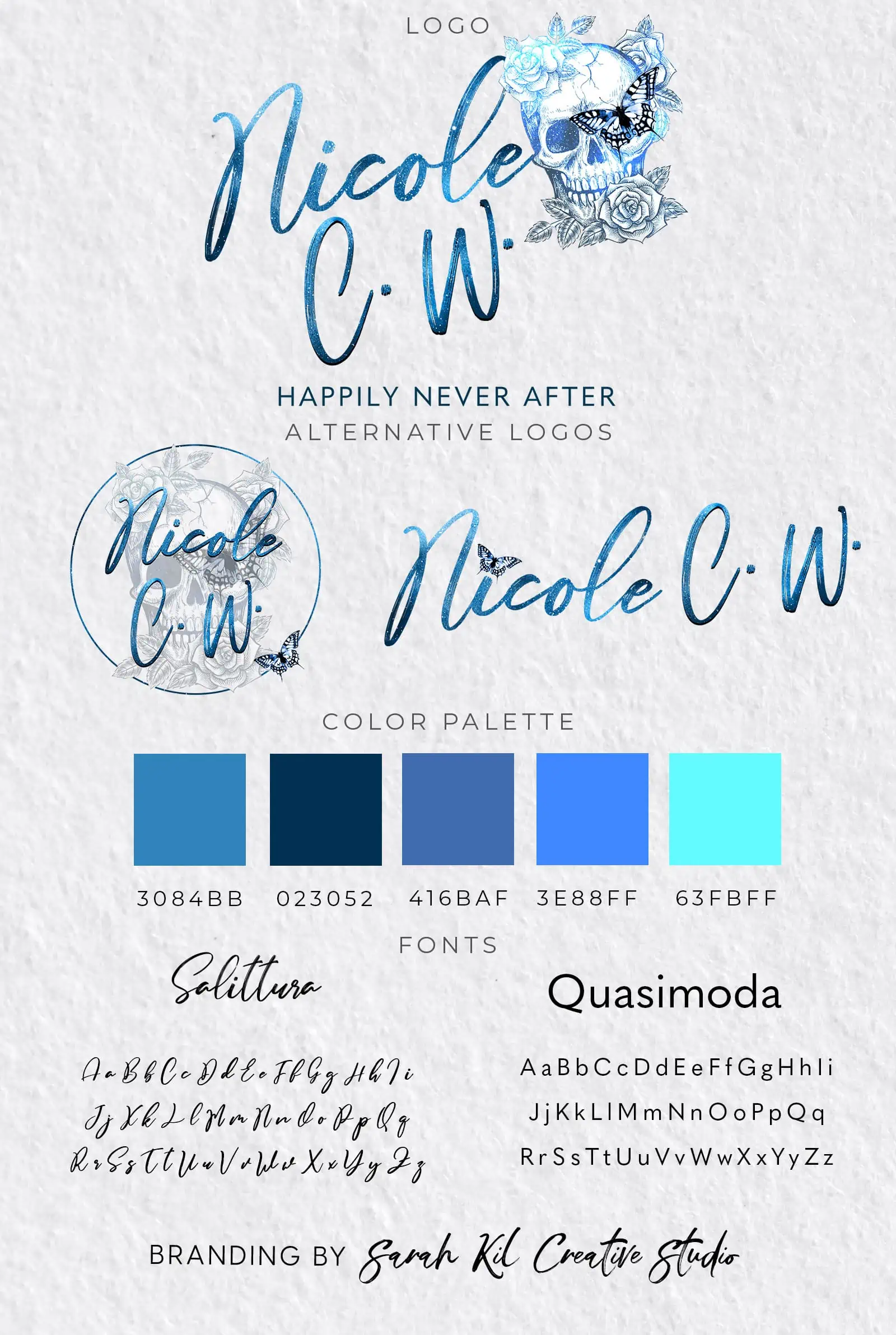 Hopefully, my experience is helpful for anyone who is thinking of rebranding or getting a new logo~
And off I go~ There are a lot of featured images that I need to update for the numerous blog posts 😅
P.S. If you're just getting started, do consider hiring a logo designer on Fiverr or use Fiverr's logo maker. This way, you can allocate more budget to your products and services or marketing promotions.