A book isn't only about the story or how-to topic you've just written. You need to have these 18 pages either before or after your fiction story or non-fiction content.
And we call these pages, Front Matter and Back Matter.
Front Matter: Pages before the main text of a book
Back Matter: Pages after the main text of a book
These pages not only make your book look professional but also provide readers with relevant information.
Now, let's delve into the anatomy of your soon-to-be-published book!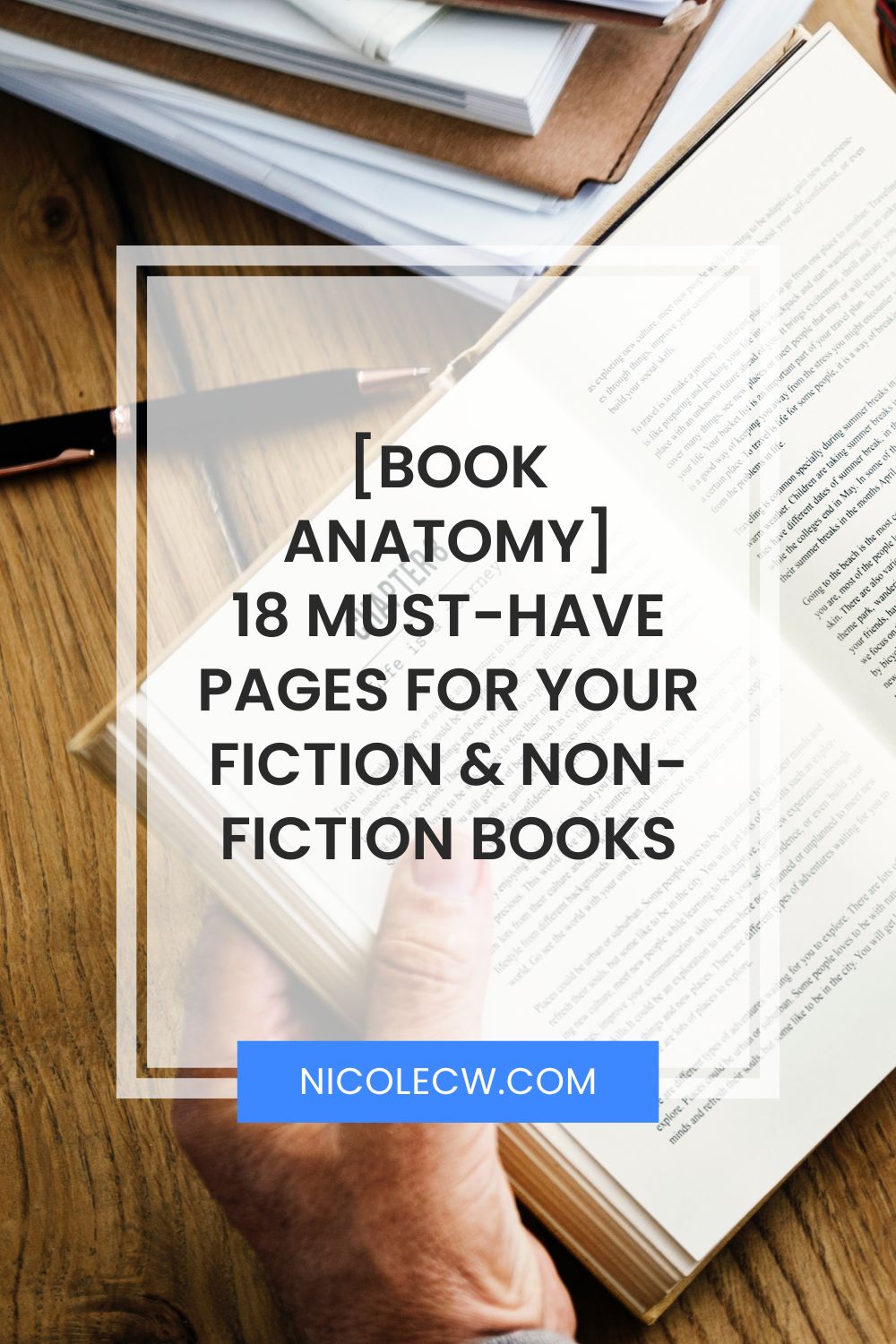 Disclosure: Some of the links below are affiliate links. I will earn a small commission, at no extra cost to you, if you purchase through these links. Your support encourages me to continue blogging and help with the costs of hosting this site. Thank you!
Front Matter
Title Page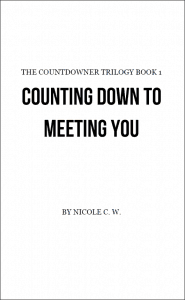 Just as the name suggests, this page is where you announce the title of your book. You can also include the subtitle if any. For my fiction books, I include my series title and volume number.
Next, you need to include your name obviously. As well as any other authors (if you're co-writing this book with someone else) and translators (if this book was translated from another language).
You can also credit your editors and illustrators here. But this is up to you. For example, if your book doesn't have many illustrations except for one or two, you might choose to credit your illustrator on some other page or on the illustration page itself.
Lastly, include your publishing company and its logo. I left this out currently but I might include my own author logo as soon as I have it.
Title & Subtitle: Can also include series title, volume/edition number
Authors & Translators
Editors & Illustrators (optional)
Publishing Company & Its Logo
Copyright Page
This page is a super important page where you list all the legal stuff tied to your book.
First, you'll need a Copyright Notice. It can be short or long, depending on what you think is required and whether your book is fiction or non-fiction. You can see my copyright notice in the image above which somewhat covers everything for a fiction book.
Together with the Copyright Notice, you must include the Name Of The Copyright Owner, Year Of Publication and Country Of Printing or Publisher's Address. If this is a translated work, you can include some Information Of the Original Work.
Next, we need to include more book-related data: ISBN, ISSN, Cataloging-In-Publication Record.
If you choose not to include your editors or illustrators on the Title Page, you can credit them here instead.
Copyright Notice
Name Of Copyright Owner
Year Of Publication
Country Of Printing or Publisher's Address
Original Language Information
ISBN, ISSN: International Standard Book Number, International Standard Serial Number
Cataloging-In-Publication Record
Credits: Cover Designer, Editors, Illustrators
You can look at how other authors copyright their books. Or refer to these copyright page templates and examples~
Dedication
Here is where you dedicate the book to someone. It can be just one person or a few people. To your loved ones or to your readers. A one-liner or a paragraph. Written in a serious or silly way. It's at your discretion.
Epigraph
You can place a quotation or saying as well as the source (author's name and title of work) if it's relevant to your book.
Table Of Contents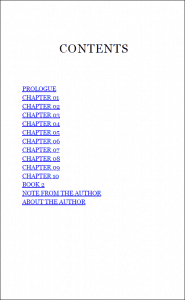 As the name suggests, this is where you list each chapter as well as its corresponding page number. This page is for your readers' benefit where they can easily navigate your book.
This is necessary for all non-fiction books, whether eBooks or printed copies.
On the contrary, this may not be so for fiction books.
I highly recommend that you include this for fiction eBooks so your readers can easily jump to certain chapters. Remember, don't include page numbers. Because eBooks use real-time flowable text. Meaning that the pages will differ according to each reader's preferred font and text size. Instead, use hyperlinks to relevant chapters.
For printed books (whether paperbacks or hardcovers), you may choose not to include Table Of Contents.
I choose not to.
Simply because I feel fiction books need some secrecy and suspense. And this table seems to give away the What's Going To Happen Next (though I suspect chapter titles play a part in this too). Besides, we have pretty bookmarks to mark the page we've stopped at~
Foreword
Note the correct spelling of this page. It is neither "forward" or "foreward".
Foreword is an introduction by someone other than the author. It's usually an endorsement by a well-known figure. He or she could be an expert or an industry thought leader.
This page often appears in non-fiction books.
Preface
This page is written by the author. You can talk about why you wrote this book, your research methods, your qualifications and expertise.
As you can guess, this page often appears in non-fiction books.
Back Matter
Acknowledgments
Here is where you show your appreciation and thank people who have helped in the creation of this book. It could be your editor or supportive friends and family. Whether they helped you during the writing process or your writing career.
You can place this in the front or back matter. For new authors, you might consider placing this at the back so your readers can jump straight into the story.
I recommend putting this in the back matter.
Because as a reader myself, I will breeze through this page if it's placed at the front since I'm in a hurry to dive into the content. But I might linger slightly longer if I'm done reading the story and am curious about the author.
To Be Continued
This is a must for fiction books in a series!
Here is where you tease readers with glimpses of the next book in the series. Make them interested to continue reading the series.
You will need to offer a quick easy way to grab a copy of this next book. Whether it's a link to Amazon or a link to your site which lists all the various retailers.
You can also state whether the book is available now or up for pre-order.
If it's not available yet, you can let readers sign up for your newsletter. This way, they'll be notified when the book is available. I highly recommend this because your email list is one of the most valuable marketing assets.
But if you don't have an email marketing tool, you can tell readers to connect with you on social media.
Also By Author
Showcase your other books here. Even better if you showcase related books. Whether they're about the same topic or genre.
You can even promote them with a short blurb or one-liner. Or maybe highlight a single book that is highly relevant.
Some authors choose to put this page at the front matter while others choose to place this at the back matter.
I prefer back matter because if readers enjoyed my book that they read until the end, they would be more open to giving my other books a chance. Putting this page at the front is like trying to sell to them before they even know you and your writing.
Author's Note
This is where you include additional information that needs to be communicated to readers. If they don't fall into any of the other pages, you can list them here.
For me, I use this page to encourage readers to leave a review and share this book with their friends and family.
Appendix
Usually appearing in non-fiction books, this is where you list any data that supplement or clarify your content. It could be a list of recommended books, articles or websites. You can also include tables, charts or reports. And any other resource that you think is useful.
Chronology
This page is essentially a chronological list of events which usually appears in some books (like history or memoir). It can be listed in the appendix. You can also choose to place this in the front matter rather than the back matter if this page is critical to your readers' understanding of the book.
Endnotes
Placed between appendix and bibliography, you can add endnotes here. This is usually divided by chapter for easier navigation.
Glossary
If you use unusual, uncommon or specialized words in your book, you can list them here. They are arranged alphabetically with explanations of their meanings.
Bibliography
Just like the appendix, this is where you list the source materials (articles, books etc.) you've used or cited in your book.
Index
This page is helpful to readers who are seeking specific information in the book. Usually appearing in non-fiction books, Index is the alphabetical listing of significant terms (topics, concepts, people, places, events etc.) along with their page number.
Author Biography
Also known as the About page. This is where you briefly describe yourself. Who you are, why you're qualified to write this topic, your key accomplishments, fun facts about you etc.
Now It's Your Turn
Yes, all books are different. And your book will be uniquely yours.
You can always re-arrange these pages accordingly or exclude some pages.
What I've mentioned is just a guide (plus my own opinions). For example, you can add a chronology or glossary to your fiction book if the book's events span the course of several years or you use many invented words.
So always adjust them to suit your book. And I hope this article clarifies the anatomy of a book!
PS. Let me know if I've missed out any pages.
Note that formatting varies for each book (fiction, non-fiction, eBook, paperback). You can check out Fiverr if you require a professional to format your books. Or even choose to hire a Fiverr Pro.
If you have any questions about publishing a book, I recommend that you take up classes like How To Write And Publish An eBook and Sell Your First 1000 Books. Or watch streaming broadcasts of free online classes at CreativeLive! You can also join online courses at Fiverr Learn~