Reviews establish trust and build credibility. They also influence customers' purchasing decisions.
Whether it's a positive or negative review, they're still beneficial in their own way. In fact, customers will get suspicious when there are only good reviews and zero negative reviews.
This also applies to books. As a reader, I like to read 5-star reviews (what's good about the book), 1-star reviews (what's bad about the book) and 3-star reviews. Of course, I take the reviews with a pinch of salt. For example, some readers might rate a book badly due to the alpha heroine (I'm totally okay with kick-ass heroines~).
Today, I'll like to share how I got numerous reviews for my latest book with BookSirens. This includes readers I invited (free) and readers that BookSirens found (paid). Note that you aren't paying readers to review. Instead, you're paying BookSirens to promote your book to potential readers who are interested in your book's genre and enjoy writing book reviews.
Here's a step-by-step guide on how you can generate more book reviews with BookSirens. Read more about my review of BookSirens, including the pros and cons and a case study of how my ARC performed.
Check out how you can simplify your book review process with StoryOrigin~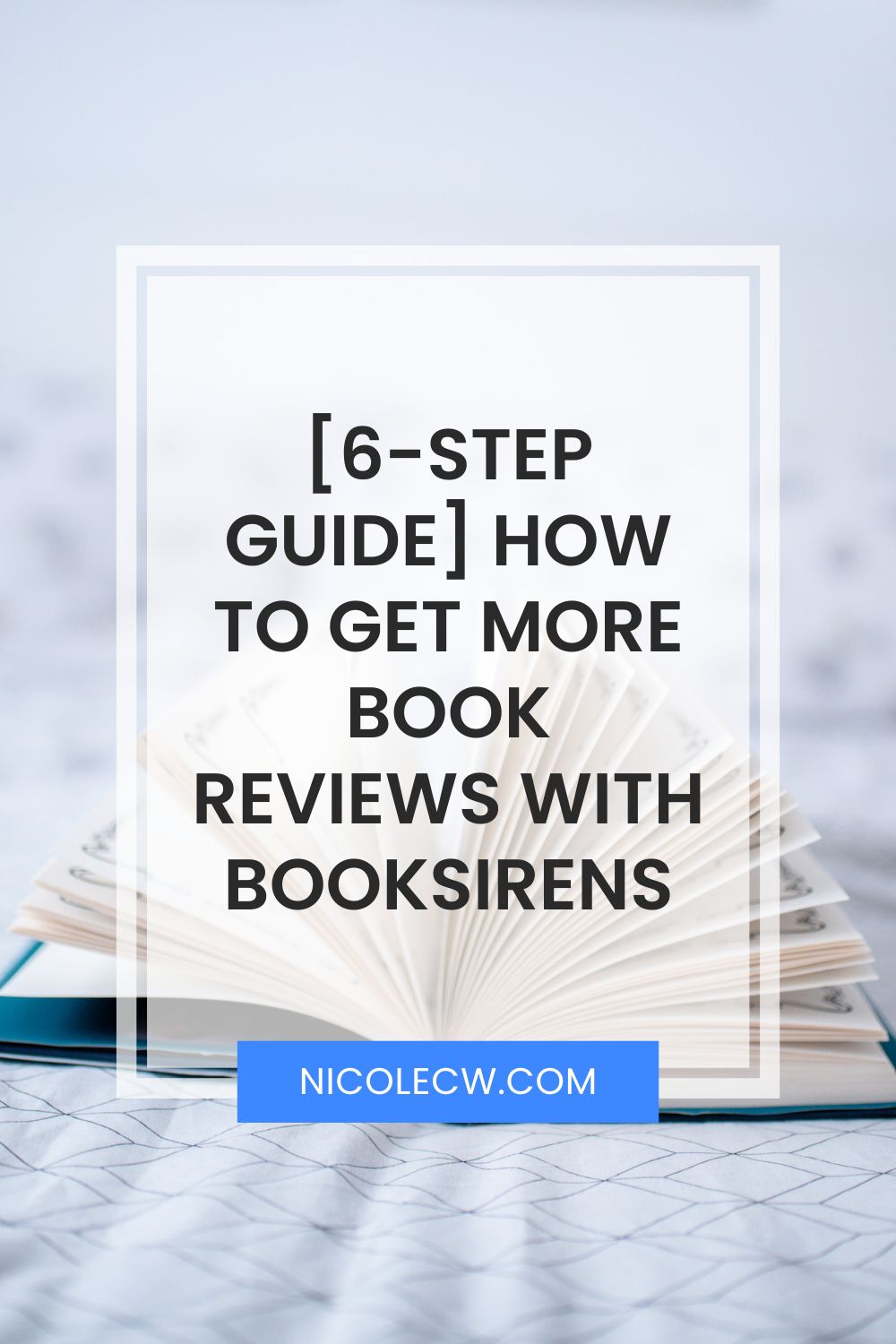 Disclosure: Some of the links below are affiliate links. I will earn a small commission, at no extra cost to you, if you purchase through these links. Your support encourages me to continue blogging and help with the costs of hosting this site. Thank you!
1. Submit A Book
After signing up for an account at BookSirens and filling up your author details, you can proceed to submit your book.
When selecting Outreach Strategy, you can choose between promoting your book to BookSirens review community (paid service) or finding and inviting potential reviewers on your own (free). I chose both! These are the Promote and DIY plans. Note that there's another Author plan where you can promote unlimited ARCs.
Next, you just have to fill up the details.
Review Destination
Reader Spots
Book Type
Book Title
Book Cover
Amazon URL
Goodreads URL
BookBub URL
Barnes & Noble URL
Kobo URL
Google Play URL
Apple Books URL
For Review Destination, you can choose the destinations that you want. Either a few destinations like Amazon only or all destinations. Choosing multiple destinations means that readers have the luxury of choosing the site they want to post their review on. It does not mean that readers will post to all selected sites. However, if you want to optimize for Amazon reviews, it's recommended to choose Amazon only.
Cause I'm on the Promote plan, I decided to limit the number of Reader Spots so that it's within budget. For instance, this paid plan includes $10 one-time listing fee + $2/reader. So 20 reader spots will be $10 + ($2 x 20 readers) = $50.
2. Wait For BookSirens To Accept Or Decline Your Book For Promotion
If you use the Promote plan like me or the Author plan, you'll have to wait for BookSirens to process the submission. You'll get an email a few days later on whether your application is accepted or declined. Bear in mind that this is only the first round where BookSirens gauge whether readers would be interested in your book.
To maximize the chances of your book getting accepted, do ensure that you have the following:
Professional book cover
Irresistible blurb
Well-formatted and edited manuscript that's free of typos and grammatical issues
Standalone book, not in the middle of a series where readers have to read prior books
Published in the last 30 days or has a future publication date
Due to the high volume of submissions, BookSirens can't accept every book. Here are some reasons why your book might be declined:
Genre is too saturated: too many books in your genre relative to the number of readers who read those genres
You're submitting 2nd or 3rd book in the series and BookSirens wants to see how their readers respond to your 1st book
BookSirens prioritize books that are published in the last 30 days or will be published in the future
Formatting and/or editing issues in your manuscript
3. Upload Your Book Files
If you're accepted for promotion, the email will include instructions to upload your book files.
Do ensure that the files are well formatted and edited.
In my case, I uploaded an ePub file and Sample PDF. Check out my blog post on how to convert Microsoft Word Doc to ePub~
BookSirens will have another round of editorial check to see if your manuscript meets their quality standards.
4. Wait For BookSirens' Editorial Check
This will take some days as BookSirens checks that your files look great and render without any issues.
If there are issues, you'll get an email describing the issue(s). Do rectify them as soon as possible.
Need help with formatting? If you want a gorgeous book interior layout, check out book formatting and layout services on Fiverr. In addition, you can hire top-rated professionals from Fiverr Pro who are hand-vetted for stellar quality and service. There are also book cover design gigs, book blurb gigs and editing gigs on Fiverr.
5. Add Your Payment Details
Next, you need to add a valid payment method. There are 2 choices:
Then, you simply fill up your payment details.
If you're on the Promote plan, you'll be charged the one-time listing fee of $10. BookSirens will then bill you subsequently at $2 per reader. As mentioned earlier, you can control your budget by setting a limit on the number of readers.
Do check out the pricing page to determine which plan suits you best~
6. Let BookSirens Do The Rest
Lastly, simply wait for BookSirens to promote your ARC with their pool of book reviewers.
In the meantime, BookSirens will take care of all reader support, deliver your ARCs securely, send review reminders, keep track of whether your readers leave a review and more.
Bonus Tip: Invite Your Readers
While waiting for BookSirens to promote your book, you can also do your part.
Email your street team and newsletter subscribers or announce on your social media that you're offering an ARC of your latest book in exchange for a review.
For me, I like to join ARC and book review groups on Goodreads and post a topic asking for book reviews.
BookSirens has this invite link. Do copy and paste it and ensure that it's correct!
Bonus Tip: Encourage Readers To Follow You On BookSirens
Readers who follow you on BookSirens will receive an email notification every time you add a new ARC on BookSirens.
This ensures that you don't miss out on informing them about ARCs in the future, especially if they're people who aren't on your mailing list.
Therefore, you can share your author page and encourage readers (especially your street team) to follow you on BookSirens so they'll be the first to get their hands on your latest book.
Now It's Your Turn
Uploading your book and distributing your ARCs via BookSirens should be quite straightforward. You can also click on the hyperlinks on the various form fields (eg. Cover do's and don'ts), look through the FAQ or simply email the BookSirens team. They're really helpful 😀
Have you used BookSirens to get book reviews? How was your experience?