One challenge that new authors face is the lack of reviews.
Reviews help to build credibility and influence customers' purchasing decisions.
Sometimes, announcing on social media and reaching out to your readers and subscribers are just not enough to garner sufficient reviews. In such cases, it may be wise to consider using a paid service instead.
Here's my honest review of BookSirens, including the pros and cons and a case study of how my ARC performed. Also, do check out my step-by-step guide on how to get more book reviews with BookSirens.
Alternatively, read more about my honest review of StoryOrigin (an all-in-one tool for authors)~
Disclosure: Some of the links below are affiliate links. I will earn a small commission, at no extra cost to you, if you purchase through these links. Your support encourages me to continue blogging and help with the costs of hosting this site. Thank you!
Pro #1: Designed To Launch Your Books With More Reviews
With BookSirens, you can gain traction on your book's launch day.
By promoting to their community of 30,000+ book reviewers and influencers, you'll be able to get reviews on Amazon, Goodreads, BookBub and more.
Readers here already know what is expected of them—to leave a review in exchange for a free copy of the book.
So why not tap into this?
Pro #2: Get Honest & Unbiased Reviews
Bear in mind that readers use BookSirens to discover free books in exchange for their honest and voluntary reviews. This means that you should expect unbiased feedback where readers provide both praise and constructive criticism.
This is important to me. As a writer, I'm always looking to improve my craft. Honest, unbiased feedback and constructive criticism are welcomed and appreciated. In fact, I jot down all the learnings from reviews in Google Sheets~
Here are the disclaimers that BookSirens states on their website
We CANNOT guarantee readers will download your book
We CANNOT guarantee that every reader who downloads your book will leave a review
We CANNOT guarantee that every review will be positive
We CAN guarantee that you will save time compared to if you had to find willing reviewers on your own
We fully adhere to Amazon's review guidelines
It might look a lot at one glance but if you read carefully, they're all reasonable. The first disclaimer, for instance, will depend on your book cover, blurb etc. BookSirens can't possibly force readers to read your book. They can only promote your book to readers who are interested in your book's genre. Check out my blog post on how to write a fiction book blurb that sells~
Or you could hire a professional on Fiverr like book blurb gigs (for example, I saw this gig while browsing and the taglines from his portfolio are just amazing) or book cover design gigs. Some of the Redditors at selfpublish subreddit recommend this book cover designer who offers both photo manipulated and illustrated book cover design services. If you're looking for top-rated professionals, you can consider Fiverr Pro which consists of exceptional talent who are hand-vetted for stellar quality and service.
Pro #3: Stay In Control
BookSirens gives you more control over who downloads your books.
When adding your book, there's a setting where you can choose to manually approve readers before they can read your book. You can then vet your readers' profiles on Amazon, Goodreads etc. before accepting their requests to read your book.
There are other settings too like limiting the number of readers who can download your book (this helps you to stay within your budget). You can also make joining your mailing list a requirement. So readers need to opt into your mailing list before they can read your book. For read time, you can choose the number of days readers have to read your book or the date by which readers must read your book.
If you notice that some readers are freeloaders who download many of your books but have never left a review, you can block these readers from your future ARCs.
Note that you can change the status of your book too: live, paused or stopped.
Pro #4: Empower You With Data Analytics
BookSirens provide you with data on how your readers interact with your books.
Here are some metrics that are available:
Impressions
Clicks
Readers
Reviews
Do Not Finish (DNF)
Avg. Rating
Amazon Reviews
Goodreads Reviews
BookBub Reviews
B&N Reviews
Kobo Reviews
Google Play Reviews
Apple Books Reviews
Bear in mind that BookSirens only count people who downloaded your books as readers.
All the metrics are obviously important. But here are some that I think you should take note.
Click-Through Rate (clicks ÷ impressions): If you have low CTR, it probably means that your book cover isn't eye-catching.
Clicks, Readers: If there are many clicks but very few requests, you may need to work on your blurb so that it's irresistible.
Readers, Reviews, DNF: If there are many DNF or readers who download but didn't leave a review, your book might not be compelling enough for readers to finish reading.
Pro #5: Simplify Your Book Review Process
Whenever we buy something, it's because we want the product or service to solve a problem. In this case, BookSirens help me to get more book reviews hassle-free. In fact, they simplified the book review process such that I can focus my time on writing.
BookSirens will simplify your life
Take care of all reader support by providing a great reader experience
Deliver your ARCs securely
Send automatic review reminders
Keep track of whether your readers leave a review
and much more!
Pro #6: Affordable Pricing
BookSirens has 3 plans: DIY free plan, Promote plan and Author plan.
If you don't have much budget, you can start with the DIY free plan. But if you have some budget, you can consider the Promote or Author plan. Author plan is suitable if you have many ARCs (but do check in with the BookSirens team on whether your books are eligible; they need to pass the editorial check too!).
Bear in mind that you're not paying readers. You're paying BookSirens to promote your books to potential readers who enjoy writing book reviews.
DIY Plan
Even with this free plan, you can create an ARC landing page. Simply share the URL link with your newsletter subscribers and social media fans. They can then get an ARC copy.
Promote Plan
BookSirens will promote your book to its community of readers who are most likely to read and review via their site and emails for the next 3 months. You can also invite readers by sharing the URL link. Note that BookSirens don't bill you for readers who download your book via your invitation. You can also cancel at any time.
Author Plan
Designed for authors who publish often, you can submit as many books as you wish under 2 pen names (provided they meet the acceptance criteria) under this plan. Again, your books will be promoted for 3 months and you can invite readers.
Con #1: Not As Popular & Accepting As Hidden Gems
You've probably heard of Hidden Gems (another site that helps you get book reviews).
Honestly, I haven't used it yet so I'm not really sure (I'm planning to do so for my next book!). But I think that Hidden Gems probably accepts all books which explains its long waitlist. You need to book months to a year in advance!
Hidden Gems has been running ARCs since 2015 while BookSirens was founded in 2018. Therefore, BookSirens might not have as many reviewers as Hidden Gems.
Even so, BookSirens is more affordable than Hidden Gems. Hidden Gems requires a minimum order of 50 readers. On the other hand, there's no minimum number of readers for BookSirens (at least, I didn't find it in the FAQ).
Also, if your book gets accepted by BookSirens, it probably means that your book cover and blurb are great (since BookSirens doesn't accept all books)~
Case Study: My Experience & Results
Previously, I submitted another book but it was declined for promotion. Probably because it was a book that was released long ago. BookSirens prioritize promoting books that have been published in the last 30 days or will be published in the future.
When I was launching my latest trilogy, I decided to submit the first book to BookSirens. I've already tried out the free plan for my other books and the experience was good. I did get some reviews from readers I invited. But this time, I wanted to see what the paid plans are like. Thus, I applied my book under the Promote plan.
Honestly, I didn't have much expectations. You can imagine how over the moon I was when I received the email that my book was accepted for promotion. After uploading the files, passing the editorial check and making payment, my book page was finally live on BookSirens!
Over the next few days, requests to read my book came trickling in. Both from readers I invited as well as readers BookSirens found. For the former, I posted topics on Goodreads (how I'm offering free ARCs in exchange for a review). For the latter, BookSirens promoted my book on their website, personalized newsletter and social media.
My initial plan was 20 readers only. Since the Promote plan was 3 months of promotion and one-time setup listing fee, I decided to accommodate all requests.
Here's a detailed breakdown of my results from BookSirens promotion:
9 Readers I Invited (0 DNF): 4 Goodreads reviews, 1 Amazon review, 1 blog review
20 Readers BookSirens Found (1 DNF): 11 Goodreads reviews, 5 Amazon reviews, 1 Kobo review, 5 Bookbub reviews
Total Readers: 29
As you can see, there are more readers from BookSirens than readers I invited myself. This saves me a lot of time finding reviewers. In fact, this book has more reviews than my other books (where I have to find readers myself and keep bumping the Goodreads discussion threads).
In addition, 5 readers followed me on BookSirens. Meaning that when I list a new ARC, BookSirens will alert these followers via email.
When the promotion ended, BookSirens sent an email about next steps. You can choose between keeping the listing active or taking it down. I chose the former and got 3 requests so far. Hoping they'll finish reading soon and leave a review!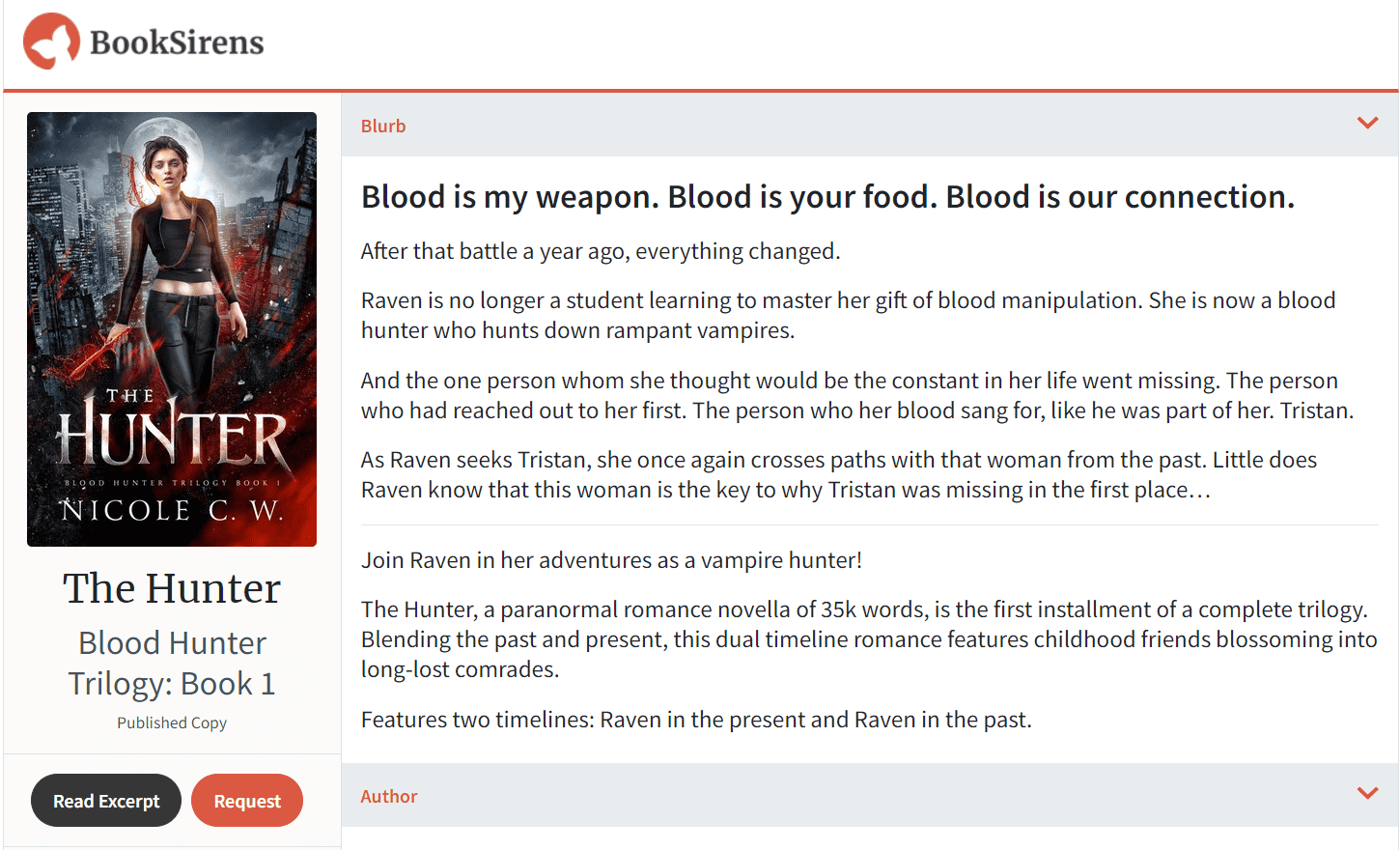 Now It's Your Turn
Have you used BookSirens to get reviews for your ARCs? How was your experience? Feel free to share your book's performance~