So I recently went to a café to write my manuscript. It was a fruitful session where I wrote without rest for more than an hour. This is quite a big deal for me because my writing is always interrupted by other tasks.
Therefore, I encourage you, my fellow writer, to consider writing at a café.
Here are some pros and cons of writing in a café, factors when choosing a café and checklist of items to bring to a café.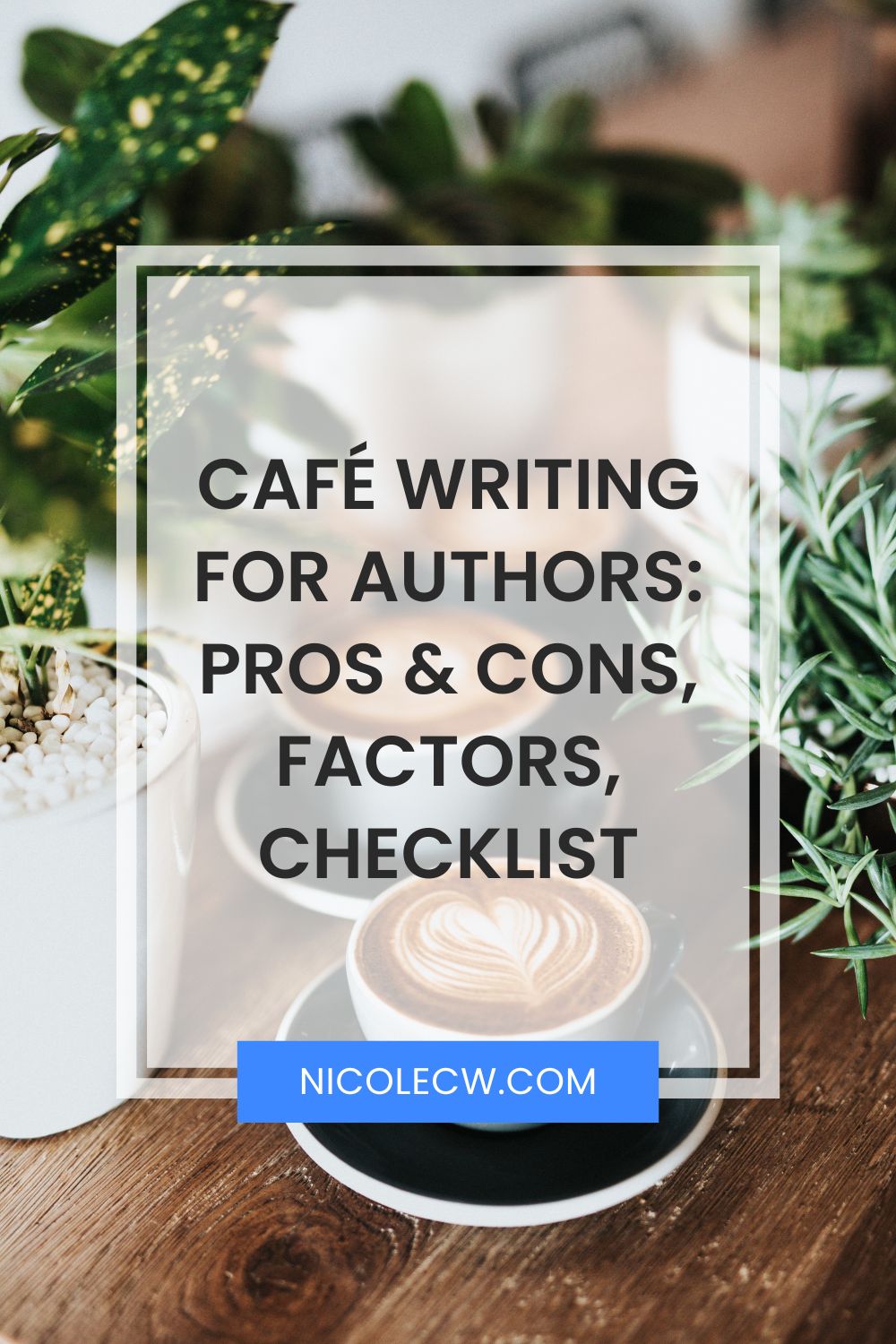 Disclosure: Some of the links below are affiliate links. I will earn a small commission, at no extra cost to you, if you purchase through these links. Your support encourages me to continue blogging and help with the costs of hosting this site. Thank you!
Pro #1: Distraction-Free Writing
Writing at a café works for me.
When I'm using my desktop at home, I have many administrative tasks to tend to. This includes settling the utility/phone/television bills, helping my parents search some things cause they're not web-savvy, planning my next trip's itinerary and more.
Leaving my house and going to a café means I can focus solely on writing my manuscript. You will also be free of distractions (television, children etc.).
Pro #2: Boost Productivity & Creativity
Studies show that café sounds actually help to boost productivity and creativity. The ambient noise of a bustling café, which is about 70 decibels, enhanced performance (compared to the relative quiet of 50 decibels). Also, large open rooms with high ceilings promote creative thinking.
Moreover, when you're surrounded by people who are busily typing away on their laptops, this creates pressure on you to work hard too.
Thus, you can view a café as a creative workspace that makes you efficient and inspires you.
Con #1: Expensive
If you go to a café, you will need to at least buy a drink. It doesn't seem nice to stay in a café for 3 hours without ordering something.
Let's say you only go once a week, the money you spent is somewhat decent. But if you go every day, well, that's a different story. It might be so costly that your published books can't earn back that coffee money.
Hence, do think about how much you're willing to spend and how often you will go to cafés.
Factor #1: Wi-Fi
Do check whether Wi-Fi is available in the café.
This is important if you research while writing. For instance, you might research about historical eras, cultures, magical creatures etc.
When I write, I frequently refer to my US vs UK notes in Evernote (which requires the internet to access and sync notes). Even with these notes that I compiled, I tend to research on the internet and double-check that I'm using the correct term. Not just the spelling differences (-ize vs -ise), but also the vocabulary differences (cart vs trolley).
Another reason you might need Wi-Fi is if you plot and write in a software that requires internet access.
I write my manuscript in Microsoft Word when I'm using my desktop at home. However, I write in Google Docs when I'm using my laptop outside. I don't want to create too many copies of my manuscript such that I might accidentally overwrite the latest version. Hence, I rather keep one version in my desktop and transfer everything I've written when I reach home.
In addition, plotting is also done in Evernote and Google Docs. Where I list down plot ideas for future chapters, both at home and on the go (when I'm hit by inspiration).
Factor #2: Opening/Closing/Peak Hours
Note down the operating hours of the café and decide whether they fit your schedule.
If you're a morning person who usually wakes up early, you might prefer a café that opens early. On the other hand, if you're a night owl who is more productive at night, you might prefer a café that closes late at night so you can write into the wee hours.
During peak hours, it becomes difficult to get seats. Hence, try to find this out so you can avoid the crowd. This might be hard to figure out if you've never been to the café before.
Bonus Tip: Tap Into Google's Popular Times Graph
When you search a café, Google shows you the location, photos, reviews and more. Sometimes, if there is enough data, Google will display a Popular Times graph. Use this to figure out the peak hours.
Factor #3: Location
For me, this is one key factor.
Depending on the location of the café, the commute time will differ too. Also, you need to consider whether the café is conveniently located.
Take me for example. I just want to write outside the comforts of my home. But I don't want the café to be so far that I waste time commuting. Hence, I chose a café that is 10-15 minutes away from my house (depending on how fast I walk).
You might choose a café that is near your workplace (if you have a full-time job like me). This way, you can just go to the café to write after work or during lunch.
Factor #4: Power Sockets
If you intend to write for many hours or the entire afternoon, you might want to find a café that has many power sockets. This way, there will at least be one power socket available for you when you need it. You can then keep your laptop charging while writing. And you won't have to worry about your laptop running our of battery.
If the café only has a few power sockets, make sure that you charge your laptop the night before.
Besides the number of power sockets, another key point is the location of these power sockets. Check that the power sockets are near the seating areas. This way, you can charge your laptop even if you have a short charging cable.
Factor #5: Food, Drinks… Coffee!
No matter how long or short you stay at the café, you'll definitely have to order something. It could be a sandwich or a cup of coffee.
Check out the menu before you go to the café. See if there's at least something you like and that you can order when you arrive there.
You can even read reviews of what customers are saying about the café. Whether they enjoyed their meal there or if the customer service is lacking.
Factor #6: Ambience
The ambience of the café might make or break your writing. A good atmosphere might make you more productive while a bad atmosphere might hinder your writing progress.
Lighting is important to me. I like cafés with bright interiors where sunlight streams in from large windows. I don't like writing in the dark or under dim light. It's bad for the eyes, especially when I'm getting older (even my default font size is larger than it was years ago).
You might also want to consider the noise level. Whether the café is too noisy or quiet.
There's another café I quite like because of its view of the river. But the café is in the downtown area. To get there, I need to take a 30-minute bus ride. Hence, I'm thinking of going there on a free day when I can write for many hours (so the long commute is worth it).
I believe that a nice environment will make you feel better such that writing becomes easy.
Factor #7: Restroom
You'll also want to make sure that the café you're going to has a restroom or at least a restroom nearby.
Cleanliness is a big issue for me so I rather go to a café at a shopping mall or a café with a decent restroom.
So do take this into consideration when choosing a café.
If you're going to the restroom, make sure that you get a friend to look after your laptop and bag. Or bring them with you. This way, you won't lose your valuables or everything you've written in the past few hours.
Checklist: Café Essentials
And one last thing, ensure that you bring these along to the café:
Laptop
Power Plug
Charging Cable
Headphones/Earphones (if you listen to music while writing)
Loyalty Card (if the café has a loyalty program)
Of course, don't forget the usual stuff in your bag: wallet, cash, credit cards, keys, umbrella etc.
Now It's Your Turn
Everything boils down to discipline.
No matter where you are, if you aren't disciplined to write in the café, you could idle the day away by surfing the internet. Hence, make sure that you focus on writing when you're in the café.
Also, try scheduling this café writing into your weekly routine. This will help you become accustomed to these periodic café writing sessions. You might also form a habit of writing whenever you're inside a café.
How is your experience writing in a café? What factors do you take into consideration when choosing a café? Do you have any tips for fellow writers who are thinking to write at a café?
Join classes like How To Write And Publish An eBook and Sell Your First 1000 Books for more book publishing and marketing tips. Or watch streaming broadcasts of free online classes at CreativeLive! You can also join online courses at Fiverr Learn~