If you're planning to publish eBooks on Amazon, Kobo or Apple, you've probably heard of EPUB.
EPUB is the eBook file format that is widely accepted by many eBook publishing platforms and supported by many eBook readers including Kindle and Kobo eReader.
You can, of course, upload your Microsoft Word manuscript to Amazon KDP, Kobo Writing Life and Apple Books. But I wouldn't recommend you to do so.
Personally, I feel that EPUB gives you more control over the layout and formatting. Thus, I'll start by providing an overview of Calibre (the software I use to convert DOC and DOCX to EPUB), why you should convert to EPUB and how to use Calibre.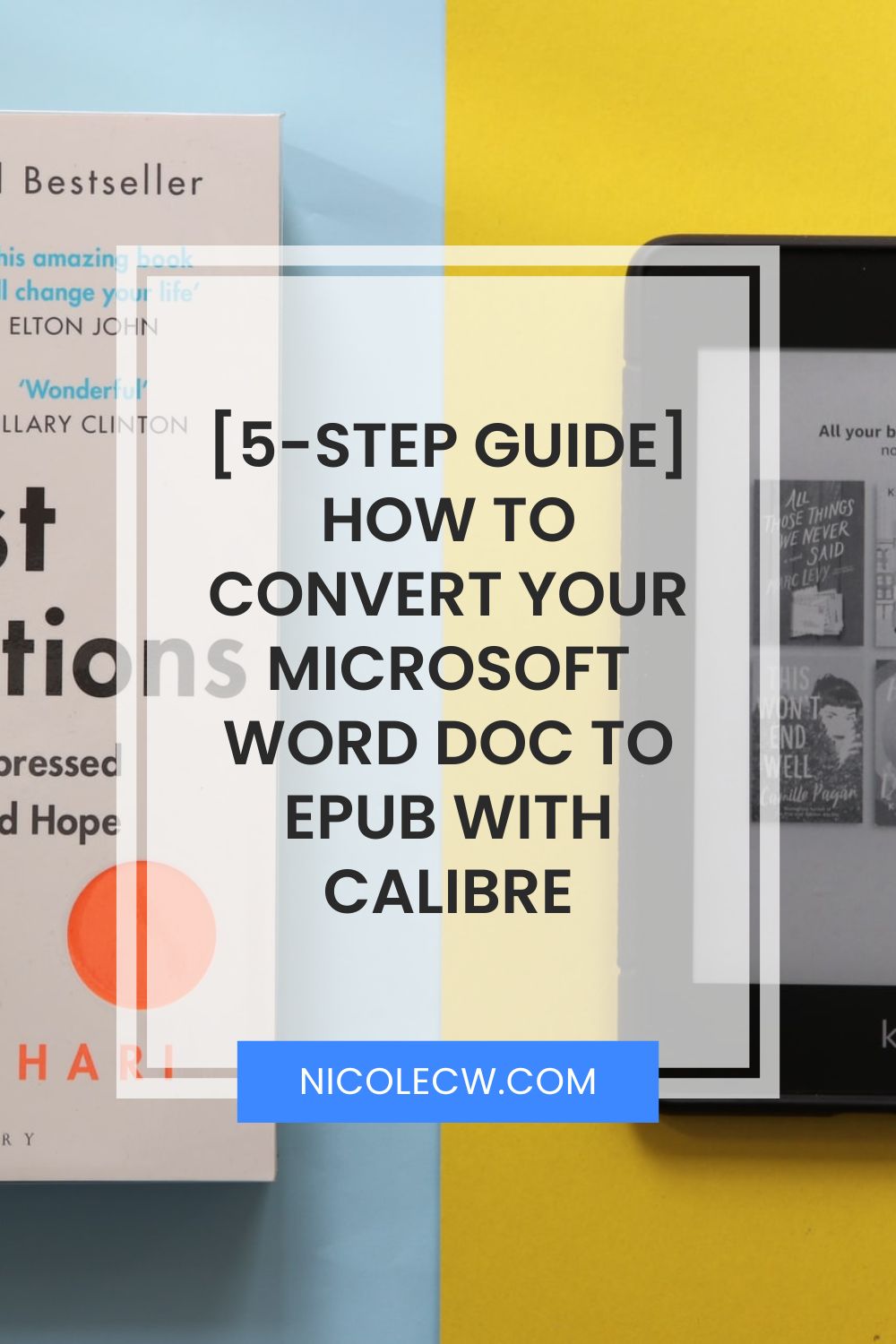 Disclosure: Some of the links below are affiliate links. I will earn a small commission, at no extra cost to you, if you purchase through these links. Your support encourages me to continue blogging and help with the costs of hosting this site. Thank you!
Calibre: One-Stop Solution To All Your eBook Needs
Calibre is a free and easy-to-use software where you can
manage and organize your eBook collection & library
read, edit & convert eBooks
Whether you're a reader or author, you will definitely benefit from this eBook software which allows you to do nearly everything.
Calibre has this grand tour video that provides an overview of the major features as well as video tutorials. You can also check out the comprehensive user manual. Or solve common issues with the FAQ.
Note that you don't need to create an account. You can simply download the software and start using Calibre.
Why Should You Convert Microsoft Word Docs To EPUB?
Aside from Apple Books that requires an EPUB file, you can simply upload your Microsoft Word Docs to Amazon KDP and Kobo Writing Life directly. So, why is there a need to convert to EPUB?
Okay, honestly, you can do so. And I would suggest that you at least try and upload your manuscript. Of course, you'll need to check the eBook preview and see if there are any errors. If it works, you'll save some time and effort converting to EPUB.
In fact, I tried it too. But the formatting screwed up. Again, it might just be my document (not sure which part caused the formatting error ><). Hence, I decided to convert to EPUB which can at least, retain the formatting.
If your Microsoft Word documents didn't upload correctly (just like me), you can try converting to EPUB. Here are the steps you can take:
1. Update Your Microsoft Word Properties
This is an optional step. You can edit the metadata in Calibre later. But I find it easier to update the Microsoft Word properties and save some time editing the metadata.
First, open your Microsoft Word document. Under File > Info, you should see Properties. Click on Advanced Properties or Show All Properties and edit the fields. It's recommended to update Title and Author.
After updating the properties, you should see the same book title and author name in Calibre metadata.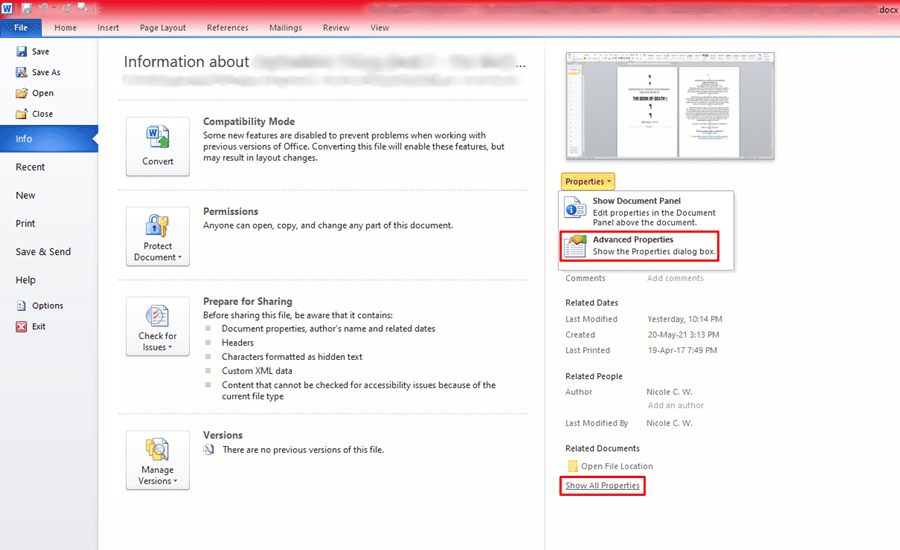 2. Add Book To Calibre
Next, you simply Add Books by uploading your Microsoft Word document in Calibre.
3. Edit Metadata
Select the book you uploaded then click on Edit Metadata.
As mentioned earlier, the book title and author name should already be filled based on your Microsoft Word properties in Step 1.
You can then add more details
Series Name & Number
Published Date
Publisher
Language
Remember to update your book cover under Change Cover > Browse.
If you notice the top right corner, DOCX is the only format available now. After you convert to EPUB, you'll see both DOCX and EPUB. This shows all the formats that Calibre has for this specific book. I'll show you later the specific steps on how you can open the folder to download all these available formats.
Finally, click on OK to save the metadata changes.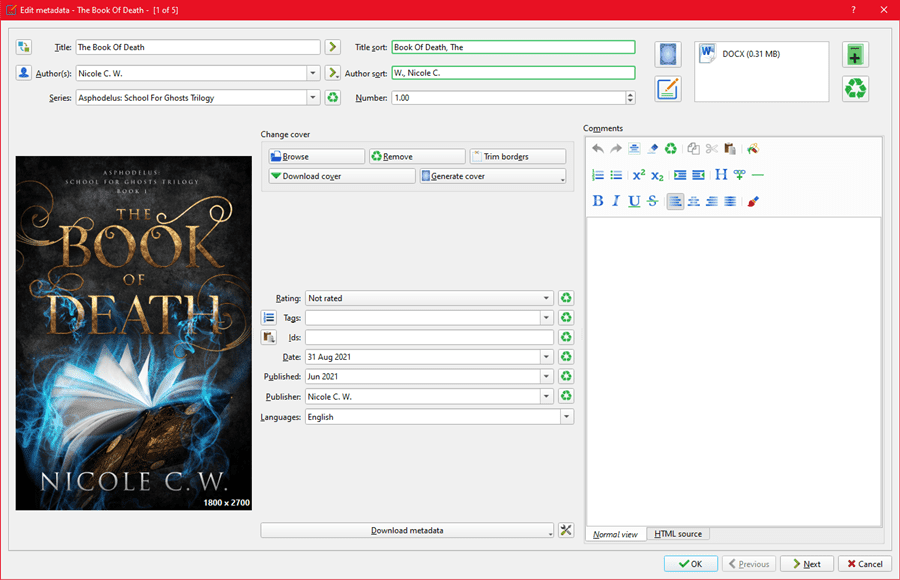 4. Convert Book To EPUB
Again, choose the book that you want to convert then click on Convert Books.
At the top left corner, your input format should be DOC or DOCX.
Next, you just have to ensure that the output format (top right corner) is EPUB.
Do check all the details, including the book title, author name, book cover etc.
Note that you can also select MOBI as the output format. By downloading the MOBI version of your book, you can then upload it to your Kindle and check for layout and formatting issues.
5. Check Your EPUB
Next, select the book and click on Path. The folder window should then appear.
I use Adobe Digital Editions as well as Kindle Previewer to check my books. I recommend that you use these 2 applications too. This way, you can see how your EPUB looks on Kindle, eBook readers, tablets and other devices.
Do check your eBook's layout and formatting and ensure that they're consistent, such as chapter headings (eg. center and all caps).
Here are some other things that I feel are important to check
Table Of Contents: ensure that it works (readers should be able to jump directly to the right chapter)
Page Breaks: the industry standard is that each chapter starts on a new page so just ensure that you have this
If you're happy with your EPUB, you can upload it to various retailers like Amazon, Kobo, Apple, Draft2Digital etc.
Bonus Tip: Check For Errors With Draft2Digital EPUB Validator
I strongly recommend that you upload your EPUB in Draft2Digital EPUB Validator and check for errors.
For example, I got 13 errors when I uploaded my EPUB.
You should fix these errors by clicking on Edit Book in Calibre.
Let's take a look at the first error. Go to "index_split 004.html". You simply have to double-click it to open HTML. Next, check row 12. I know a bit of HTML (just the basics). Hence, I can tell immediately that row 12 is actually list formatting. I then simply open my Microsoft Word document and remove the list formatting. Again, I repeated this for the other errors. Turns out I've accidentally applied list formatting to quite a few chapters =.=;; When I'm done fixing all these errors, I converted the revised Word document to EPUB and uploaded it into the Validator again. And all the errors are fixed~! 😀
Therefore, Draft2Digital EPUB Validator is a good way to identify areas of your eBook that have errors.
PS. You can learn basic HTML from W3Schools.
Now It's Your Turn
So how was your experience when converting to EPUB with Calibre? It's quite straightforward and easy, right?
If you need help formatting your eBook, you can check out Fiverr or even choose to hire from Fiverr Pro which consists of exceptional talent who are hand-vetted for stellar quality and service. There are also book cover design gigs, book blurb gigs and editing gigs on Fiverr.