Whether you're an aspiring author or budding writer, you will need a writing software to pen down your story, thoughts and ideas. And this isn't limited to fiction writers only. You could be a non-fiction writer, blogger, journalist etc.
As long as you write, you will need a writing software.
Today, we'll talk about choosing the best writing software for you. Here are the steps you can take.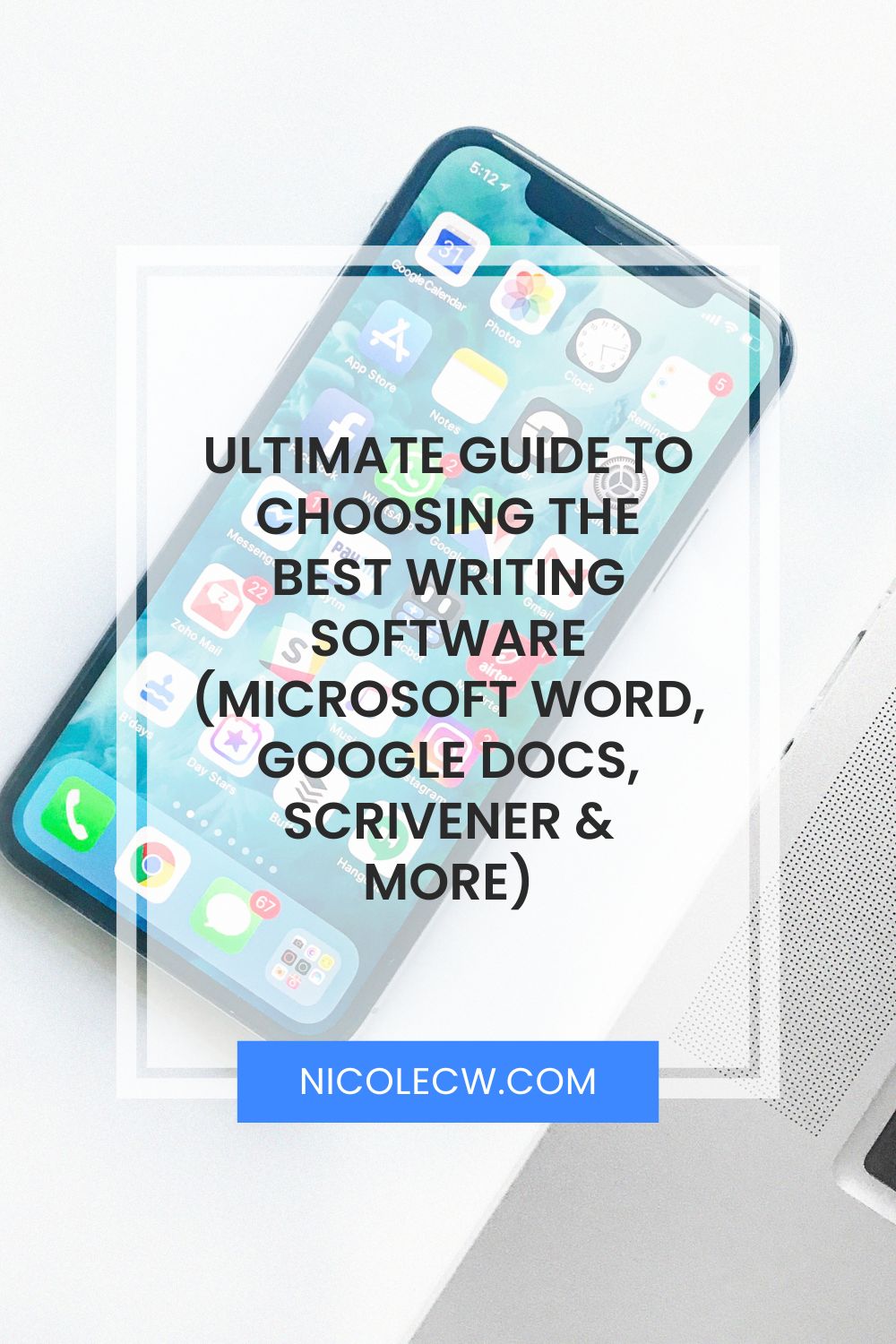 Disclosure: Some of the links below are affiliate links. I will earn a small commission, at no extra cost to you, if you purchase through these links. Your support encourages me to continue blogging and help with the costs of hosting this site. Thank you!
1. Think About Your Goals & Needs
First, ask yourself what are you going to write. Is it a story, blog post or news article?
Besides writing itself, what other functions do you need? Or hope that the writing software will fulfill?
You might want a software that allows you to organize your research notes, plotting notes, character notes, worldbuilding notes etc. Or maybe a software where your editors and beta readers can easily comment with their feedback.
2. List Down Factors Important To You Then Rate Them For Each Software
Cost
Do consider your budget. How much are you willing to spend on this writing software? Do you prefer free software with basic functions or paid software with robust features?
Bear in mind that you get what you pay for. An expensive software will probably have more robust features than a cheap software.
However, this doesn't mean you should splurge on the most expensive software. Instead, you should get a writing software that meets your needs and is within your budget.
Familiarity & Learning Curve
Next, you should look at familiarity and the learning curve.
Is this software totally new to you? Or have you used it before?
Software like OpenOffice and LibreOffice are similar to Microsoft Word. So if you've used Microsoft Word before, it might only take a short while to be familiar with OpenOffice and LibreOffice.
On the other hand, Scrivener is very different from Microsoft Word. It has more features designed specifically for writers. Like corkboard, outliner and templates (character/location sheets, MLA/APA etc.). The learning curve will thus be steeper here.
Depending on the familiarity and learning curve, you'll probably have to take into account the time you will need to master the software.
Functionality
Some writing software might have unique functions that are not found in other software. But here are some essential functions that you might want in your writing software:
Formatting & Styling
When it comes to writing, formatting and styling your draft is crucial. Be it a manuscript for your fiction story or a blog article.
Your writing software must obviously include
Text Color
Bold
Italic
Underline
Strikethrough
Bulleted List
Numbered List
Note down any other complex functions you need and ensure that the writing software you choose has them.
Table Of Contents
Page Numbers
Styles: Title, Heading, Paragraph
Footnotes/Endnotes
Charts
Organization
Organization can refer to the way you organize your drafts. For instance, you might have one document for your entire fiction book or you might choose to break it down into separate documents for each chapter.
Be aware of or at least research how each software performs in such cases.
Speaking from experience, I know that Microsoft Word becomes laggy when the document is very long (it takes a while for me to load my manuscript). So the question is whether I mind the slow loading time, whether I can accept this.
On the contrary, Scrivener allows you to break your text into manageable sections of any size. With Scrivenings mode, you can then put these pieces together and edit them as though they were all part of a single document.
Organization can also refer to the way you organize your research.
When I write a blog post, I only need a bulleted list of key points and maybe some articles to substantiate my points. However, I need more than just bulleted lists when writing a novel. Right now I'm using Evernote so I have a note for plotting, a note for characters, a note for worldbuilding etc.
In this situation, you might consider getting Scrivener since it has features designed specifically for writers. With Scrivener, you can open different documents in the same project window at once. You can then write your draft while looking at your research at the same time.
But of course, this depends on whether you're a plotter or pantser. If you're a pantser who writes as you go, you may not plan as much and hence, don't require much organization features.
Commenting
This is an important feature if you intend to have another pair of eyes look at your draft. This could be editors, beta readers or another writer (if you own a multi-author blog).
If you self-edit, you can edit the draft directly. However, if you're collaborating with another person, commenting would make things easier. They can provide their feedback directly on the draft as they read it.
With commenting, you can
See the comments from each person
Attach comments to specific parts of the document so you know exactly which sentence to rewrite
Have a discussion by replying to the comments
Track Changes, Version History, Compare Versions
Microsoft Word has this Track Changes feature where it makes changes easy to spot. The changes become suggestions that you can review and choose to approve or reject.
However, it doesn't necessarily have to be similar to this Track Changes feature in Microsoft Word. You could have a Version History or Compare Versions feature where you can revert to the previous version and where the software highlights the parts that were edited or deleted.
Scrivener, for example, has this Snapshots feature. You can take a snapshot of your draft before a major revision and you'll be able to return to the earlier version whenever you want. The Compare feature will also show you what you've changed. This way, you'll never have to be afraid of rewrites. In addition, Scrivener automatically saves your draft while you write. The writing software will automatically back up your project so there's always a recent backup stashed safely away. You will never have to worry about when you last hit 'Save'.
Local vs Cloud
Microsoft has 2 types: CD and Office 365. The Microsoft Office software that you install on your computer through a CD is local-based. Meaning that your drafts are saved locally on your computer. Office 365, however, is cloud-based software where you can access your drafts through a web browser.
I use both. I write my manuscript in Microsoft Word that is stored locally on my desktop. The reason for this is that I don't want to create conflicted copies. This will be my main and only copy of my work (though I frequently upload my manuscript in Google Drive so I have backup copies for each month). I also write my blog posts in Evernote which is saved in the cloud so I can continue writing during my lunch breaks in the office.
Do consider the pros and cons before deciding whether to buy local-based or cloud-based software.
Software Updates
Lastly, check for software updates.
Some software doesn't have updates. You'll have to buy the latest version. One such example is the one-time purchase (non-subscription) version of Microsoft Office. The one I bought as a software CD, Microsoft Office 2010. Hence, I don't really have the latest features.
However, if I switch to Office 365 subscription, the software will always be updated with the latest features.
Software updates usually come with a price. So think whether cost or software updates is more important to you.
Productivity & Convenience
Let's be honest. The main purpose of getting a writing software is so that writing becomes easier for you. In other words, this software should make life easier for you.
One of the biggest problems I encounter as an indie author is formatting my manuscript. For eBooks, I need to insert a Table Of Contents so readers can navigate the book easily and jump to specific chapter. Page breaks are also essential to mark the end of a page and start a new page. For print books, on top of those already mentioned, I need to insert page numbers and adjust the margins. I admit, I'm not very skilled in using Microsoft Word. In the end, I had to download a book template.
Some software, however, takes away this headache. Scrivener, for instance, has formatting tailored to submission guidelines. You can create Kindle eBooks and ePub to sell on Amazon or iBooks. Or save screenplays to Final Draft format with script notes intact.
Also, I currently have numerous applications open at the same time when writing my manuscript: Microsoft Word manuscript, Evernote plot notes, dictionary and the occasional browser window for research. This is quite inconvenient, especially on a laptop with small screen. Again, some software can resolve this issue like Scrivener's ability to open different documents in the same project window (so you can look at your research while you write).
3. Research On Various Writing Software
Next, find out what's in the market. Which writing software is popular among fiction/non-fiction writers, bloggers, journalists etc.?
You've probably heard of
Scrivener is a software I found while browsing a forum where indie authors usually hang out.
Therefore, you might want to ask other writers about the software they use. Or check out software demo videos or review articles.
4. Weigh The Pros & Cons Of Each Software
List down the pros and cons of each software. You can use the abovementioned factors as a guide then rate each software.
Rather than choosing based on the highest number of advantages and lowest number of disadvantages, it's better to see which software meets your needs the best.
Some cons might be totally unacceptable for you while other cons might be somewhat acceptable (though reluctantly).
For example, I can accept not getting software updates for Microsoft Word 2010. I don't mind missing out on the latest features since this allows me to pay lesser. I will, however, not accept any software that doesn't have the basic formatting like italics. Italics are crucial, especially when I want to emphasize a word or phrase.
5. Narrow Down The Candidates
Cut Out Those That Fail Your Criteria
If a writing software has many cons that you can't accept or doesn't even meet your needs, just strike it off.
If a writing software doesn't fit within your budget, strike it off too.
Try Out The Writing Software
You can also sign up for a trial version of the software to try the features and see whether it helps you in your writing. If you know someone who has the writing software, ask for their permission to try the software for a while.
Your firsthand experience is more important than reviews from other users. You might see a demo video or read a review article that says the software is easy-to-use but you experience difficulties when trying the software yourself. So what is easy for other people may not be easy for you. Likewise, a software that others find good may not be suitable for you.
Compare Prices
Last but not least, compare the prices.
I don't mean comparing the prices of different software. You should have already done your research which is why the software is included in this list of candidates.
What I mean is comparing the prices of the same software. Microsoft Office, for instance, has a one-time purchase (non-subscription) version and a monthly/annual subscription version. So do research about the various plans for the writing software then choose the most suitable plan based on your needs and budget.
Bonus Tip: You Can Own More Than One Software
Well, you don't have to cut down your list of candidates to only one writing software.
You can always own more than one writing software.
Take me for example. My main writing software is Microsoft Word on my desktop where I write my manuscript. But when I write in the café on my laptop, I use Google Docs. Then, I transfer what I've written on Google Docs to Microsoft Word. One reason is that my laptop doesn't have Microsoft Word installed. I've only installed it on my desktop years ago. Also, Microsoft Word has better styling features (remember that book template I downloaded?).
Likewise, you might use different writing software according to your situation, location, needs etc.
Now It's Your Turn
What writing software do you use? How did you decide which software to use for writing? How is the various software helping you in your writing journey?