As a self-published author, one of the greatest investments besides hiring an editor is hiring a book cover designer.
Book covers play an important role in arresting readers' attention.
Attractive book covers will make your books stand out from the crowd, set genre expectations and convey the overall theme and tone.
And since I've recently hired a book cover designer to redesign my novella trilogy, I'll like to share how I came up with a list of book cover designers and some factors that narrowed down this list to my chosen book cover designer.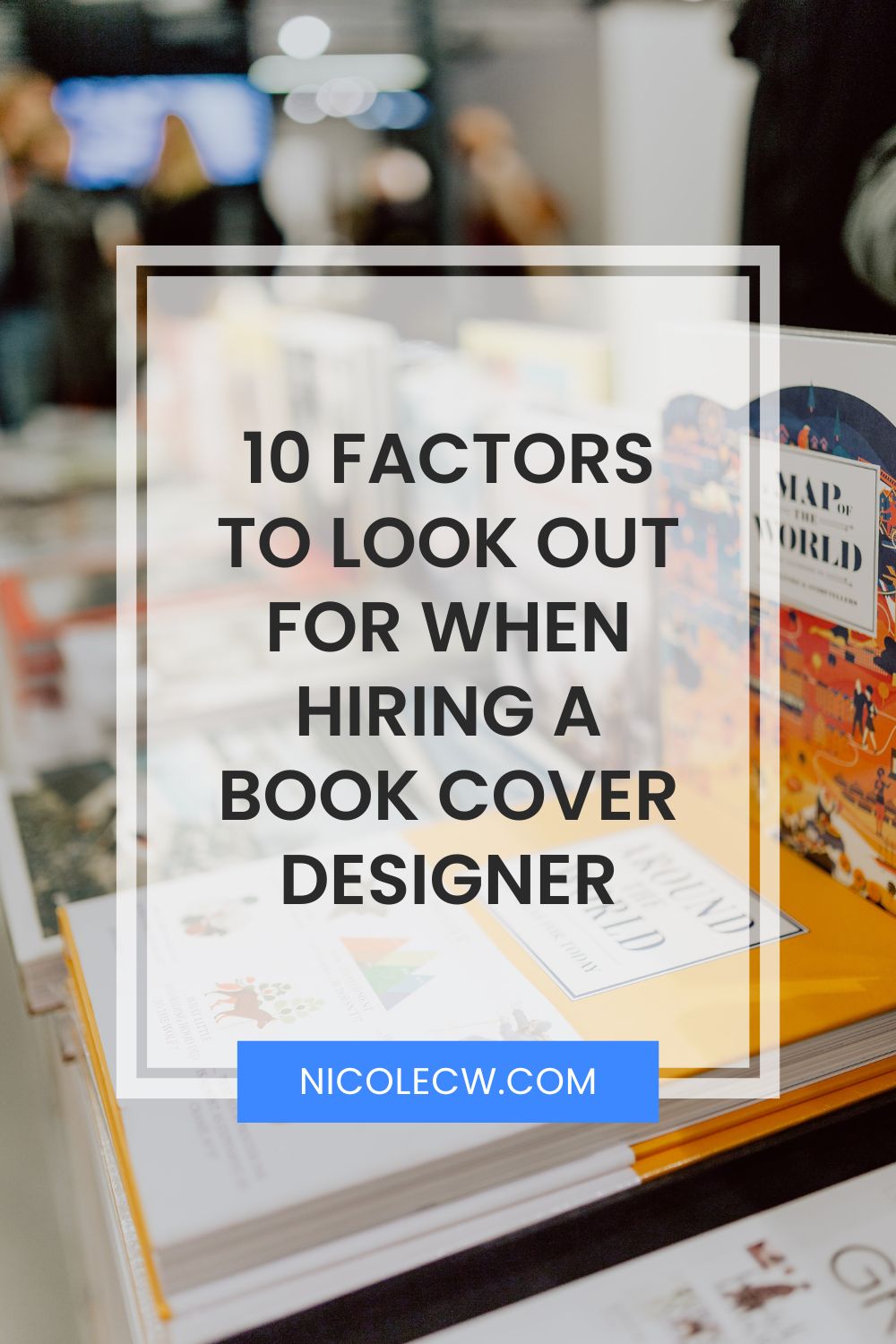 Disclosure: Some of the links below are affiliate links. I will earn a small commission, at no extra cost to you, if you purchase through these links. Your support encourages me to continue blogging and help with the costs of hosting this site. Thank you!
Where To Find Professional Book Cover Designers
First, you definitely need to do your research.
You can get recommendations from fellow author friends in writers forums like KBoards.
Joanna Penn also recommends a few book cover designers that she likes.
There are talented artists at DeviantArt too if you're planning to get illustrated covers. But do check if they do book covers.
You can also check out the book cover design gigs on Fiverr. Some of the Redditors at selfpublish subreddit recommend this book cover designer who offers both photo manipulated and illustrated book cover design services. If you're looking for top-rated professionals, you can consider Fiverr Pro which consists of exceptional talent who are hand-vetted for stellar quality and service.
Shortlist Your Favorite Book Cover Designers
After checking out the various book cover designer's portfolio, shortlist a few designers that you like.
You can simply create a doc in your Google Drive or in your note-taking app. For instance, I have a Book Covers note in my Evernote with details about each designer.
Website URL
Price Range
My opinions & thoughts of his/her designs
In fact, I even ranked them. Like which designer is my favorite for character-focused or paranormal romance book covers etc.
This curated list will come in handy when you need a different designer for your new books. So do keep it someplace safe. Even if your computer breaks down, you can still access this list. Basically the cloud (avid supporter here).
Do keep in mind the book that you're getting book cover for.
Which genre does the book fall under?
Is it a novella or novel?
Is this the 1st book of a series?
Also, list down your requirements and needs if you have any.
A specific style
Within a specific price range
Now, you can scrutinize them and narrow down to one designer based on the following factors. This designer will also need to meet your requirements and needs.
10 Factors To Determine The Book Cover Designer Most Suitable For Your Book
1. Style
Everyone is a unique individual who has their own taste. And your perception of a beautiful book cover is no exception.
You might prefer minimalist book covers while another author might like colorful book covers.
For example, you could create a private Pinterest board filled with beautiful book covers that you like. This way, you can identify similarities among these book covers and figure out the book cover style you like.
And since every designer has their own style, do shortlist a few designers that have a similar style to yours.
2. Typography & Font
Typography seems to be neglected most of the time. Where authors seem to put more emphasis on the image or art but not the text.
However, I feel that typography is actually quite important.
When you browse Amazon, most of the books are displayed in small thumbnails. Your book cover should allow readers to easily see the book title and your name. Meaning that even if the book cover is resized into a small thumbnail, you should able to get 2 important information:
The image or art is important. But so is the text on your book cover. It's equally important.
If you're a new author, this is crucial in building brand awareness. Make your readers become familiar with your book or at least know that your book exists. Expose your name to the world. Let them know they have another option outside of familiar authors and books.
You want the text on your book cover to be legible.
not-too-fanciful font
decent font size
font color that stands out (but also not too bright that it becomes unreadable)
spaced out so it doesn't feel too cluttered
Check out my article on how to choose the perfect font from a typographic angle~
Your designer will probably choose the font unless you specifically tell him or her the font you want.
I prefer letting the designer make the decision because they can choose the most suitable font that complements the cover. If I find the font unsuitable, I will let them know. For example, the font size is too small or the font is too thin that I find it hard to read.
3. Photo Manipulated or Illustrated Book Cover
There are 2 types of book covers
Photo Manipulated: designers edit stock photos to create book covers
Illustrated: designers edit stock illustrations or create an original illustration from scratch
According to Reedsy, photo manipulated covers seem to be slightly cheaper than illustrated covers. This may be due to illustrations requiring more effort where designers might need to draw.
Also, books that have illustrated covers seem to target young readers. Take Harry Potter for instance where its covers are illustrated and its target audience are teenagers.
For photo manipulated covers, you can also buy original photos. But bear in mind that original photography costs a lot. It's not just hiring a photographer. You need to include licensing fees, models and their hair/makeup.
I prefer photo manipulated covers because they're more real and my target audience is young adults. (And they're cheaper too!) But at the same time, I'm also aware that other books might use the same stock photos…
4. Premade or Custom Book Cover
Another factor you need to consider is whether you want a premade or custom book cover.
Some designers have a gallery of premade book covers that you can purchase. They're usually simple designs. After you buy such covers, they can help include your book title and author name on the cover. They can also be a unique premade cover where once sold, there won't be another similar book cover available for sale.
On the contrary, custom book covers are where you provide the designer with details of your book so they can create a unique book cover designed specifically for you. Custom book covers will cost more because the design is tailored to your book. Moreover, the designer will also revise the cover based on your feedback.
5. Price
Do check out the pricing page or ask the designer for their book cover prices. They may have tiered pricing like basic covers and premium covers. Or different pricing for eBook covers and print book covers.
Here's an infographic to get an idea of book cover prices. Book covers can be as low as $0 (where you DIY and create a book cover yourself using tools like Canva) or up to $800 and more.
The key is to set a specific budget. Decide on the maximum amount that you're willing to invest for this book cover.
Like I mentioned, you can create your own book cover using tools like Canva (which I did for my first few books). But I highly recommend you only do this if you have some artistic background. Or you might end up regretting like me (I hired a professional book cover designer to redesign those DIY covers in the end).
Book cover is one of the essential investments as an indie author. If your readers don't even give your book a glance due to its ugly book cover, they won't know how good your story is or how well you write. Thus, your book cover needs to be attractive enough that readers will at least read the first page.
If you're just starting out, you might want to consider getting a cheaper premade cover. Or if you're a risk taker, you can immediately just buy a custom book cover.
You can also choose to buy cheaper covers for your novellas and slightly more expensive covers for your best-selling novels.
6. Experience In Creating Book Covers Of Your Book's Genre
When you shortlist designers, do take note of the various genres they have done book covers for. Because every genre has certain design trends.
Thus, there will be expectations for book covers of each genre. For instance, paranormal romance book covers tend to be darker with a focus on masculine men. On the other hand, sci-fi book covers highlight spacecraft, machines and anything robotic. Non-fiction too has its own expectations. I'm not really sure about non-fiction covers since I don't write non-fiction but they tend to have minimalist covers (do correct me if I'm wrong).
Your book cover designer will therefore need to know these design trends and genre expectations as well as have the experience and expertise in creating these book covers. They will probably be up-to-date with these design trends too.
Remember, your book cover needs to convey the book's genre immediately from the first glance. This way, you'll attract readers of the genre. And people who love this genre will probably be more interested to buy your book. The key is to arrest the attention of your target audience.
7. Series Branding
Okay, this is super important if your books are a series. Whether they're a duology, trilogy, tetralogy, pentalogy, hexalogy or heptalogy.
You should always stick to the same designer for the entire series if possible. When you switch designer midway, your book covers might not be consistent. There might be differences in style, tone, mood etc. The typography might be different too with both designers using different fonts.
Hence, the first book in your series is important. You need to get the book cover right for the first book. Ensure that it captures the essence of your book and provides a glimpse of what your book is about. This book cover will then set the theme, tone and mood for the entire series where the designer will use it as reference when creating the other books in the series.
The key things to look out for are
Consistency or Harmony
Diversity or Uniqueness
Meaning that each book in your series needs to have some consistent element throughout. Whether it's the colors, typography, design effects etc. But at the same time, each book needs to be unique. They need to be different from other books in the series with an exclusive element that only appears for this particular book in the series.
One common example would be a series with a different object on each book cover but uses the same typography. Or you could have a book series that uses the same model but with different poses for each cover.
8. Turnaround Time
It took me a few months before I received the mockup of my book cover. And another week of tweaking and back-and-forth communication before I received the final version.
Each book cover designer has their own waitlist and schedule. Some of them might have a short waitlist but they take a long time to create a book cover. Or some might have long waitlist but produce book covers really fast.
You can always ask how long they'll take or by which date you can expect to receive the first mockup.
The point is to plan ahead. If you have a book release date or pre-order date in mind, do remember to start looking for a book cover designer and hire him or her a few months before. Let your book cover designer know the date too so they know that they need to complete the cover before that day. You can also choose to hire a book cover designer when your book is in the editing stage.
If for some reason you can't wait and are in a rush to publish, you might need to ask the book cover designer whether it's okay for them to start on your book cover first. Bear in mind that this will probably incur some rush fee.
9. Revisions
Before hiring a book cover designer, you should clarify their revision policy.
How many revisions do you get?
What type of revision is included?
What constitutes a minor revision? List examples (eg. changing font, rearranging text layout).
What constitutes a major revision? List examples (eg. changing design style, redoing the design effects)
Try to get specific answers or at least get more details about the revisions.
This will minimize conflicts when you're in the revision stage.
10. Add-Ons/Extras
In addition to the eBook and print book covers, do find out if your designer also offers additional services like
audiobook covers
bookmarks
banners
3D box set
You might require these additional services in the future.
For example, you might want to create an audiobook with the same book cover but your designer doesn't offer this service. As a result, you might need to hire another designer to create a different audiobook cover or redesign your book cover so that both eBook and audiobook have matching covers.
Thus, you can think ahead and list down additional services that you require for this particular book.
Take my novellas for instance. I know that I won't need print book covers because they're really short and will only result in thin paperbacks. But I might consider hiring the designer to create banners for marketing promotions.
Now It's Your Turn
What other factors do you look out for when hiring a book cover designer?
Which factor do you think is the most or least important? Why?
For more book marketing tips, you can check out CreativeLive classes like Sell Your First 1000 Books or watch streaming broadcasts of free online classes! You can also join online courses at Fiverr Learn~