If you love Apple (whether you own an iPhone, iPad or MacBook), you should certainly publish your books on Apple to reach more readers.
Publishing your books on Apple is essential if you're planning to go wide.
Here is the step-by-step guide on how to create an eBook on Apple.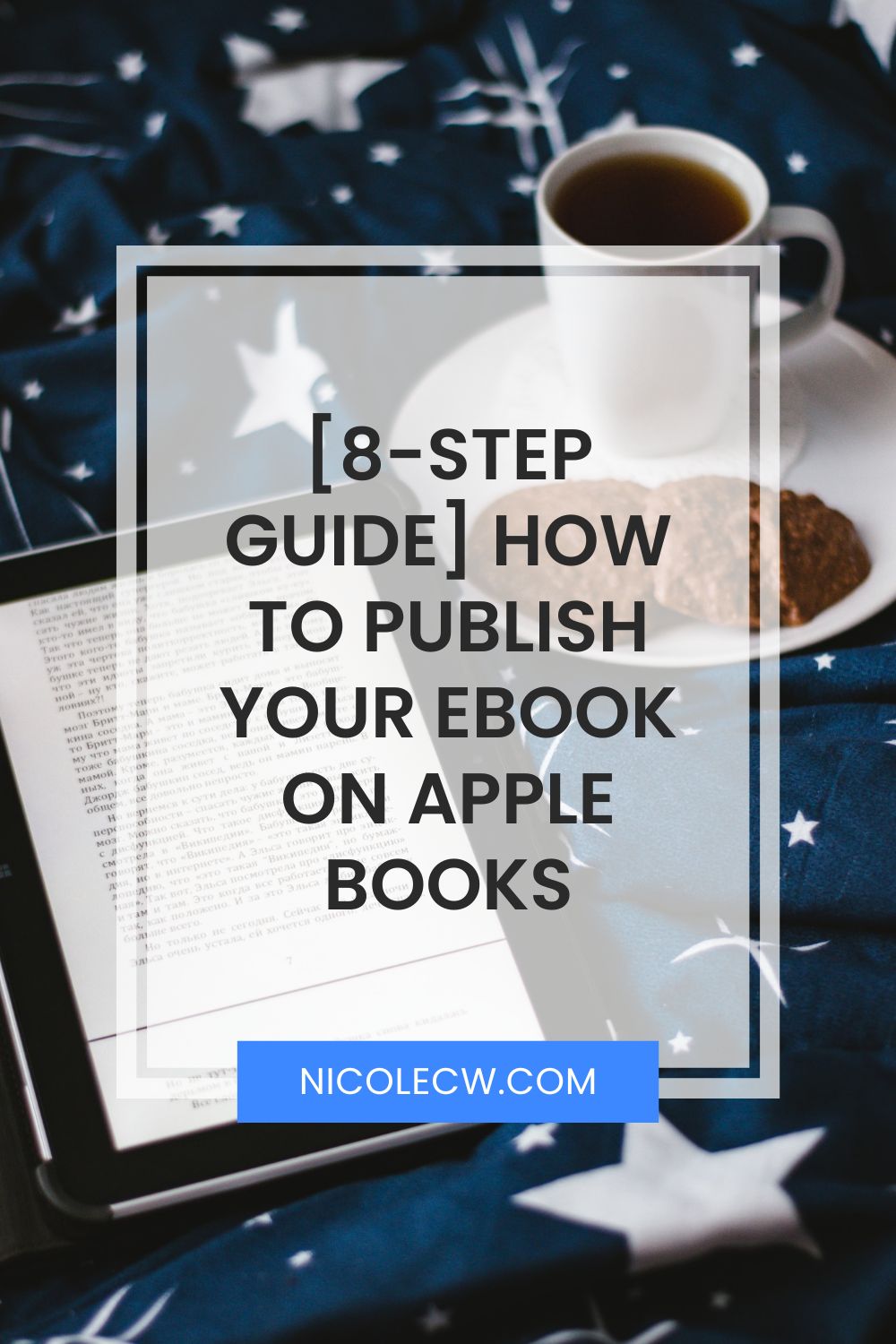 Disclosure: Some of the links below are affiliate links. I will earn a small commission, at no extra cost to you, if you purchase through these links. Your support encourages me to continue blogging and help with the costs of hosting this site. Thank you!
1. Sign Up For Apple
According to Apple Books for Authors, you'll need to create an iTunes Connect Account to publish with Apple directly. This requires an Apple ID which you should have if you own an Apple product.
Apple mentions that it has some benefits over Amazon Kindle Direct Publishing, such as
70% royalties on every book, regardless of price
No file delivery fees
No price matching
Similar to Amazon and Kobo, you'll receive royalties in your bank account. But unlike Amazon and Kobo which have limited currencies, Apple offers more currencies. This is the reason I love Apple: I can receive royalties in my local bank account!
One of the biggest pet peeves I have about Apple Books is the interface. I feel that the interface isn't as user-friendly as Amazon or KDP. Plus, I always have errors when publishing my book (will explain more later).
There are many ways to publish your book on Apple Books. This ultimately depends on your book format and the method that you're comfortable with.
Pages
iTunes Producer (Mac)
Publishing Portal (PC)
Partners like Draft2Digital
Even though I have a MacBook Air, I rarely use it. Plus, I prefer writing my manuscripts in Microsoft Word. Hence, I publish my books via the Publishing Portal (PC). Here are the steps that I take.
2. Submit A New Book or Set Up A Pre-Order
After signing in to your account at the Publishing Portal, you'll be offered 3 choices:
Submit A New Book
Update A Previously Submitted Book
Set Up A Pre-Order
You can choose the 1st or 3rd option, depending on whether you want to publish the book immediately or in the future.
3. Upload Your Book
Next, you upload your EPUB book file and sample file (optional). Check out my step-by-step guide on converting Microsoft Word Doc to EPUB with Calibre~
A book file is not required if you're setting up a pre-order.
Also, do upload your cover image here.
4. Add Title & Description
This is where you fill up your book details.
Title
Subtitle
Series Name & Series Number
Author Name
Description
Note that you can use HTML to format your book description. Here are some basic formatting
PS. You can learn basic HTML from W3Schools.
5. Set Category, Language & Other Information
There are more book details to fill up here
Subject Categories
Book Language
Explicit Content (eg. adult content, extreme violence): Yes or No
It's recommended to choose all 3 categories. This way, your book will appear in more genres and relevant searches.
6. Enter Publishing Details
Lastly, fill in the publisher name, ISBN and publication date.
ISBN is optional but I strongly recommend that you get one. ISBN is a unique international identifier that allows bookstores and libraries worldwide to easily track and order books.
Do research on how to get ISBNs in your country. For example, Bowker is the only official source of ISBNs in the United States. It costs about $125 for a single ISBN and gets cheaper if you purchase more than one at a time ($295 for 10 ISBNs, $575 for 100 ISBNs). In my country, ISBNs are free. We just need to apply and wait for a few days.
When your book is successfully uploaded, you'll see this notification.
And this is where I usually face an error (after doing all the steps too =.=). Apple will mention there's some error so the book isn't uploaded. I've checked with Apple Support before but they mentioned that it's probably a caching problem and I just have to clear my cache. Hence, I always have to redo all the steps in different browsers (Chrome, Firefox, Safari as well as Incognito). If it still doesn't work, you just have to wait a few hours.
7. Go To iTunes Connect
Now, you simply head over to iTunes Connect. Click on My Books and select the book you just uploaded.
8. Edit Rights & Pricing
Next, click on Rights and Pricing.
Then, click on Add New Countries/Regions.
Set all the rights and pricing for your book
Whether to apply DRM
Pre-Order Start Date
Release Date
Base Currency
Release Type: Digital Only, New Release, Other
Physical List Price
Suggested Apple Books Price
DRM refers to Digital Rights Management. Applying DRM will protect your book from illegal copying. This works differently depending on your book's file type:
EPUB files (.epub): DRM applies to images and book content. The book directory, file structure, audio, and video content are not included.
Multi-Touch Book files (.ibooks): DRM applies to all media and book content, but it's not applied to the book structure, small thumbnails, and media content within an HTML widget.
I usually don't enable DRM because pirates will always be able to go past this. Hence, it's better to not frustrate real readers. Regardless, the decision to apply DRM is still up to you.
Also note that there are 3 choices for Release Type: Digital Only, New Release, Other. New Release and Other will require a physical list price.
After you're done, remember to select the countries and regions in which you would like to make your book available.
And that's it! You're done publishing your book on Apple Books~! 😀
PS. You can check your book status by looking at the light under your book in iTunes Connect (please see Step 7 where my books are available on 51 stores)
Green light: Your book is available
Yellow light: Your book is ready & will be available on the scheduled release date
Red light: Your book is not available (click "See Details" for additional information)
Now It's Your Turn
So how was your experience when publishing an eBook on Apple Books?
For more valuable resources, visit Apple Books for Authors.
If you need help formatting your eBook, you can check out Fiverr or even choose to hire from Fiverr Pro which consists of exceptional talent who are hand-vetted for stellar quality and service. There are also book cover design gigs, book blurb gigs and editing gigs on Fiverr.