Kobo is a leading company in Canada that sells eBooks, audiobooks and eReaders.
If you're planning to go wide, I strongly recommend that you publish your books on Kobo to reach Canadian readers.
Here is the step-by-step guide on how to create an eBook on Kobo.
Disclosure: Some of the links below are affiliate links. I will earn a small commission, at no extra cost to you, if you purchase through these links. Your support encourages me to continue blogging and help with the costs of hosting this site. Thank you!
1. Sign Up For Kobo Writing Life
If you're planning to dip your toes into the global market and reach readers worldwide, this is the first step you should take.
Kobo Writing Life (KWL) is the free self-publishing portal that lets authors and publishers create, edit and upload eBooks on Kobo.
Leveraging Kobo's strategic partnerships with leading bookstores, you'll be able to reach millions of readers around the world. Kobo also allows you to promote your books to readers by setting promotional pricing, pre-orders, and more.
With the easy-to-use dashboard, you can get detailed analytics and track your sales by country or date.
Also, royalty is sent directly to your bank account. But take note that only a few currencies are supported. If your local currency is not supported, you will be paid in USD. You'll need to have a bank account in one of these supported currencies to receive royalties.
My local currency isn't supported and I don't have a bank account in the supported currencies. Thus, I'm using the US bank account from Wise (formerly known as TransferWise). I strongly recommend that you use this. It's working well for me~
Here are 2 more benefits that I love about Kobo
Kobo Plus: similar to Amazon's Kindle Unlimited but without the exclusivity
OverDrive: make your eBooks available to libraries worldwide
Creating a KWL account is quick and easy. You should be able to do this in minutes. After you're done setting up your account, you can create a new eBook which will be added to the Kobo catalog within 24 to 72 hours.
2. Describe Your eBook
When creating a new eBook, you'll need to fill up some basic information about your book
Book Cover: up to 5MB, JPG or PNG
eBook Title
eBook Sub-Title
Series Name
Author(s)
Publisher Name
Imprint
Is this the first time you're publishing your book? Yes/No
eISBN
Primary Print ISBN
eBook Language
Is this content part of the public domain? Yes/No
Categories
Synopsis
Most of them are straightforward and easy to fill up. I just want to highlight 2 things.
First, you can only select up to 3 categories. So choose the most relevant categories for your eBook.
Second, eISBN and Primary Print ISBN are optional. You can still publish your book on Kobo without an ISBN (Kobo will issue their own identifier number). However, your book may not be accepted for distribution through their partner sites (Indigo, FNAC, etc.). Having a valid ISBN is the industry standard and lends your book a sense of credibility. Thus, I strongly recommend you to get ISBNs for your books.
Do research on how to get ISBNs in your country. For example, Bowker is the only official source of ISBNs in the United States. It costs about $125 for a single ISBN and gets cheaper if you purchase more than one at a time ($295 for 10 ISBNs, $575 for 100 ISBNs). In my country, ISBNs are free. We just need to apply and wait for a few days.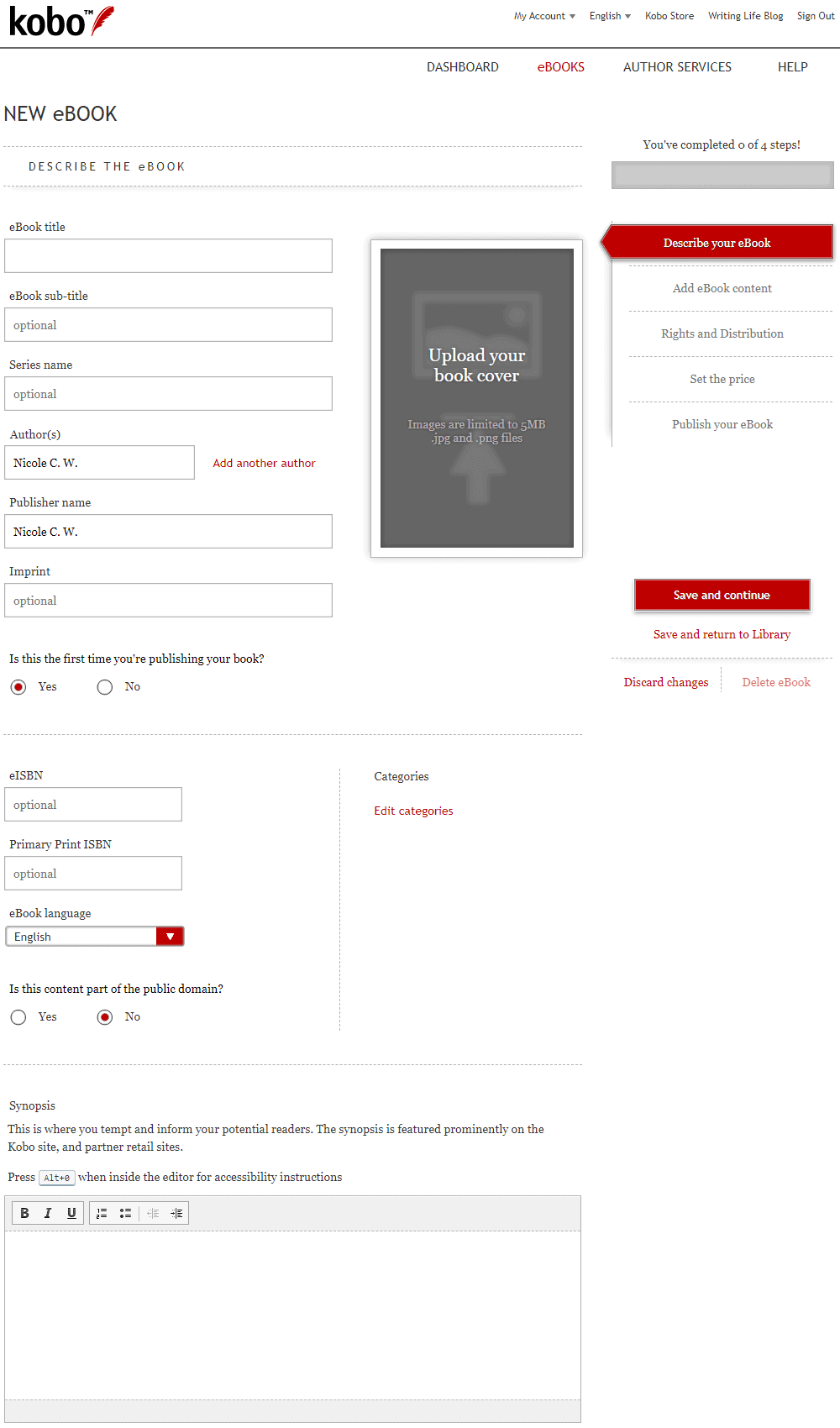 3. Add eBook Content
Next, you'll have to upload your manuscript.
Kobo accepts numerous file types, including EPUB, DOC, DOCX, MOBI and ODT.
I tried uploading Microsoft Word docs but the formatting became weird. So I usually just download the MOBI file from Amazon KDP then upload it here.
NOTE: Amazon KDP no longer supports files in MOBI format since 1 August 2021 when publishing new eBooks or updating the content for previously published eBooks.
As a result, I'm using Calibre now to convert Microsoft Word docs to EPUB. You can then simply upload the EPUB file to Kobo. Check out my step-by-step guide on converting Microsoft Word Doc to EPUB with Calibre~ Another alternative is Draft2Digital where you can convert your Microsoft Word doc into a beautifully designed MOBI and EPUB.
After you upload your manuscript, Kobo will provide validation results that list all the issues with your file. You can then fix these errors and upload your manuscript again.
Bear in mind that you should always download and preview your eBook to ensure that the formatting is okay.
4. Rights and Distribution
Under Rights and Distribution, you have to decide whether to Apply Digital Rights Management (DRM). Enabling DRM will prevent readers from copying, printing or sharing your eBooks. I usually don't enable DRM because pirates will always be able to go past this. Hence, it's better to not frustrate real readers. Regardless, the decision to apply DRM is still up to you.
Next, you'll have to select your geographic distribution rights. Whether you own the rights in all territories.
As mentioned earlier, Kobo has 2 benefits that I love.
Kobo Plus
You can choose to maximize your sales by making your eBook available for Kobo Plus Subscription.
Kobo Plus is Kobo's subscription service that allows subscribers access to books on an all-you-can-read basis. When you opt in to Kobo Plus, you can choose all territories or specific countries. This is similar to Amazon's Kindle Unlimited but without the 90-day exclusivity. Check out my blog post where I elaborate on the pros and cons of enrolling in KDP Select to make your eBooks available on Kindle Unlimited.
Since no exclusivity is required, I strongly recommend that you take advantage of this opportunity. You can enable this for the first book of your series or just a few books to get a taste and see whether Kobo Plus is right for you. The key benefit is discoverability so you get more eyeballs on your books. This is especially important if you're a new author or an author with a small fanbase.
OverDrive
Another way to maximize your sales is by making your eBook available for libraries in OverDrive. Again, I strongly recommend that you enable this to reach more readers. Readers who love your book may even buy a copy just to own it on their digital bookshelf!
Note that you'll have to set a unique USD library price for each title (that can and should be different from your USD retail price). The minimum library price is $0.99 and you'll be paid 50% of the USD library price for every sale to an OverDrive library—the highest rate you will find anywhere. These OverDrive sales are not displayed in your KWL dashboard. Instead, you'll have to download the monthly sales spreadsheets under My Account > Payment Information. These reports will indicate the library branch name and State/Province and County. (It's okay to search your eBooks in these OverDrive libraries' catalog. I did too because I was so excited!)
I've gotten a few sales from enabling this. In fact, a library bought my book on the launch day itself! But I think it's also because I set a very low library price. Right now, discoverability is my priority. So if you have the same concern as me, I think it's better to price below $10~ Note that you should be setting a slightly higher price for libraries.
5. Set The Price
Setting your list price is the next important step.
You should set a suitable price based on the length of your book and the effort you invested. But there are some common price points and pricing strategies that you should consider.
Again, similar to Amazon KDP, you'll need to set at least $2.99 to earn 70% royalties.
After you set the list price, Kobo will automatically convert it based on the exchange rates. You can of course choose to set custom prices for each territory.
6. Publish Your eBook
We're finally at the last step: publishing your eBook.
This is where you choose the release date.
If you choose a date after today, you'll have the option to allow customers to pre-order your book.
Simply click on the "Publish eBook" when you're done! 😀
Now It's Your Turn
So how was your experience when publishing an eBook on Kobo Writing Life?
The process is quite straightforward but it takes 24 to 72 hours for your book to be added to the Kobo catalog. You'll just have to be patient 🙂
If you need help formatting your eBook, you can check out Fiverr or even choose to hire from Fiverr Pro which consists of exceptional talent who are hand-vetted for stellar quality and service. There are also book cover design gigs, book blurb gigs and editing gigs on Fiverr.