Amazon is the number 1 online bookseller with the largest share of the eBook market.
If you intend to be an author, the first thing you should do is getting your book published on Amazon.
And we should start with the easiest eBook which requires lesser and simpler formatting than a print book (margin, header, footer, page number etc.).
Here is the step-by-step guide on how to create an eBook on Amazon.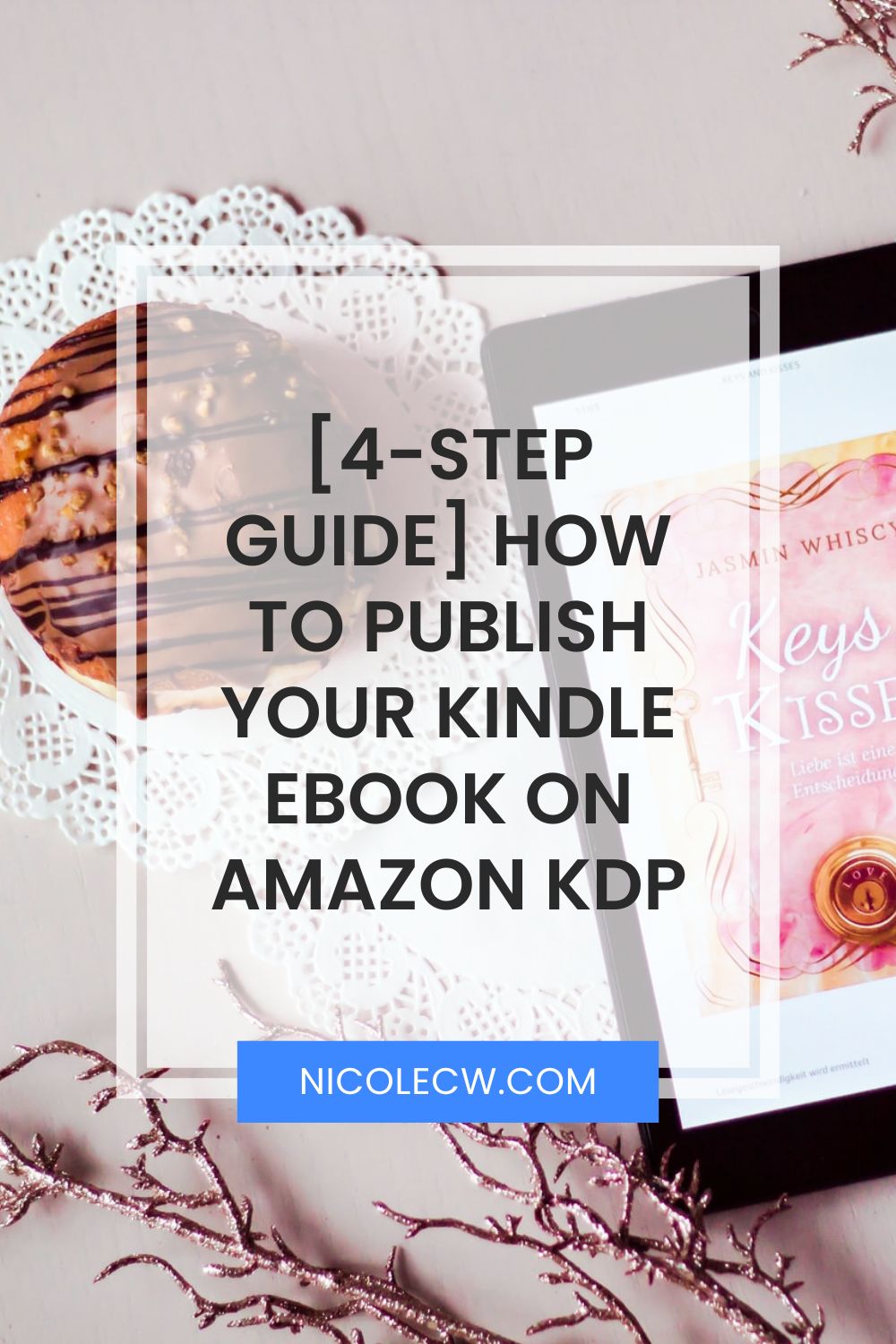 Disclosure: Some of the links below are affiliate links. I will earn a small commission, at no extra cost to you, if you purchase through these links. Your support encourages me to continue blogging and help with the costs of hosting this site. Thank you!
1. Sign Up For Amazon KDP
With Kindle Direct Publishing, you can self-publish eBooks and paperbacks for free and reach millions of readers on Amazon.
Therefore, the first step that you need to take is to sign up for an account at Amazon KDP.
You can simply use an existing Amazon account or create a new account. In addition to the usual name and email address, you'll need to fill up tax forms. This is mandatory because Amazon issues payments that are regarded as income and thus, they need to validate your tax identity information. Ensure that you provide valid taxpayer identification in order to comply with U.S. tax reporting regulations.
Also, do check your payment method. KDP will pay your royalties when you meet the minimum payment threshold. But the payment method will vary according to your location.
Direct Deposit
Wire Transfer
Check
Check out the available payment methods based on your bank location. Check is the only available payment method for my country which I didn't really like due to the high minimum payment threshold, handling fee and long delivery time.
I'm using Wise (formerly known as TransferWise) to receive my royalty. You can hold, receive, send and spend money using a Wise multi-currency account. I opened a USD balance and Wise helped me to create a US bank account. You can then use this to receive your Amazon royalty. Honestly, I love Wise's interface (its UX is great!).
After you're done setting up your account, you can create a Kindle eBook under Bookshelf. Note that Bookshelf is the hub of your Amazon KDP account. This is where you can create a new book or series, know your book's status as well as update existing book details like the description, cover image and list price.
2. Fill Up Kindle eBook Details
You'll start off by entering some details about your book. This includes basic information like the book title, series title and author name.
Language
Book Title & Subtitle
Series Title & Book Number
Edition Number
Author
Contributors
Description: Ensure that your book blurb is compelling. Check out my blog post~
Publishing Rights: Choose whether you own the copyright & publishing rights or if it's a public domain work
Keywords: Up to 7 keywords only
Categories: Up to 2 categories
Age and Grade Range
Pre-order
Bear in mind that your eBook can get into sub-categories if you include certain keywords or phrases. Hence, I recommend that you spend some time thinking about relevant keywords for your book. These keywords or short phrases should describe your book and are relevant to its content. Check out some best practices from Amazon~
3. Upload Kindle eBook Content
Now that you're done filling up the details, you will need to upload your manuscript.
The first choice is choosing whether to Enable Digital Rights Management (DRM). DRM inhibits unauthorized access to or copying of digital content files. When you enable DRM, customers will still be able to lend the book to another user for a short period and can also purchase the book as a gift for another user from the Kindle store.
Some authors, who want to encourage readers to share their work, choose not to have DRM applied to their book. From my research, it seems that most indie authors don't enable DRM. This is because pirates will always be able to go past this. Hence, it's better to not frustrate real readers.
Bear in mind that once you publish your book, you cannot change its DRM setting.
Next, you'll need to upload your eBook manuscript file. If you're creating a pre-order, do ensure that you submit the final version before the deadline. Add a reminder to your calendar if you have to! If you don't upload your manuscript file on time or if you cancel the release of your pre-order book, you won't be able to set up a pre-order for any eBook for one year.
Next, you'll need to upload your Kindle eBook Cover. Do check whether it's the right format, size and dimension. Here are the Kindle eBook cover specifications.
You can use the Kindle eBook Preview to check for formatting errors. There are 3 options:
Online Previewer
Preview on your computer
Preview on your Kindle device
I highly recommend that you do this. I've caught quite a few formatting errors with this ><;; I prefer the 3rd option because I can transfer the mobi file to my Kindle with a USB cable. I will then test if the Table of Contents is working correctly and check the formatting like chapter titles and back matter.
Lastly, you can include your Kindle eBook ISBN and Publisher. Note that these fields are optional. You should not use an ISBN from a print version of your book. eBook ISBNs must be unique to eBook versions. Also, Amazon will still assign a 10-digit ASIN (Amazon Standard Identification Number), which is unique to the eBook and is an identification number for the Kindle eBook on Amazon.
NOTE: Amazon KDP no longer supports files in MOBI format since 1 August 2021 when publishing new eBooks or updating the content for previously published eBooks.
As a result, I'm using Calibre now to convert Microsoft Word docs to EPUB (check out my step-by-step guide on converting Microsoft Word Doc to EPUB with Calibre~). You can also upload your Microsoft Word doc to Draft2Digital which will then convert into a beautifully designed MOBI and EPUB.
4. Set Kindle eBook Pricing
We're now at the last step: setting your Kindle eBook pricing.
The first thing you need to do is choosing whether to Enroll your book in KDP Select. If you're unsure about KDP Select Enrollment, you can check out my blog article where I share more details about KDP Select. Hopefully, this can help you make an informed choice~
Next, you'll need to select the territories for which you hold distribution rights. Essentially, it just means whether you have distribution rights worldwide or only for individual territories.
You can then decide on royalty and pricing. You can choose between 35% or 70% royalty plan. The list price must be between $2.99 to $9.99 to be eligible for 70% royalty plan. The 70% royalty plan also includes delivery costs which vary by file size. I strongly suggest that you try out a few list prices then look at the royalty table. Amazon will tell you the exact amount you'll get under each royalty plan. You can then make a better choice. After deciding the list price and royalty plan, you can choose to manually edit the list price for all marketplaces or just base it on the USD price.
Next, you can choose whether to enable Book Lending. Kindle Book Lending allows customers to lend your Kindle eBook after purchasing it to their friends and family for 14 days. All eBooks are enrolled in lending by default. For titles in the 35% royalty option, you may choose to opt out of lending. However, you cannot choose to opt out if your eBook falls under the 70% royalty option.
You can also read through KDP Terms and Conditions.
Finally, you can publish your Kindle eBook~! 😀
Now It's Your Turn
So how was your experience when publishing a Kindle eBook on Amazon KDP?
The process is quite straightforward but it takes up to 72 hours for your book to be available for purchase on Amazon. You'll just have to be patient 🙂
If you need help formatting your eBook, you can check out Fiverr or even choose to hire from Fiverr Pro which consists of exceptional talent who are hand-vetted for stellar quality and service. There are also book cover design gigs, book blurb gigs and editing gigs on Fiverr.