Everyone can be a writer. But not everyone can be an indie author.
And you will need to have certain characteristics to be an indie author.
Discover what they are and you might be an indie author in the making!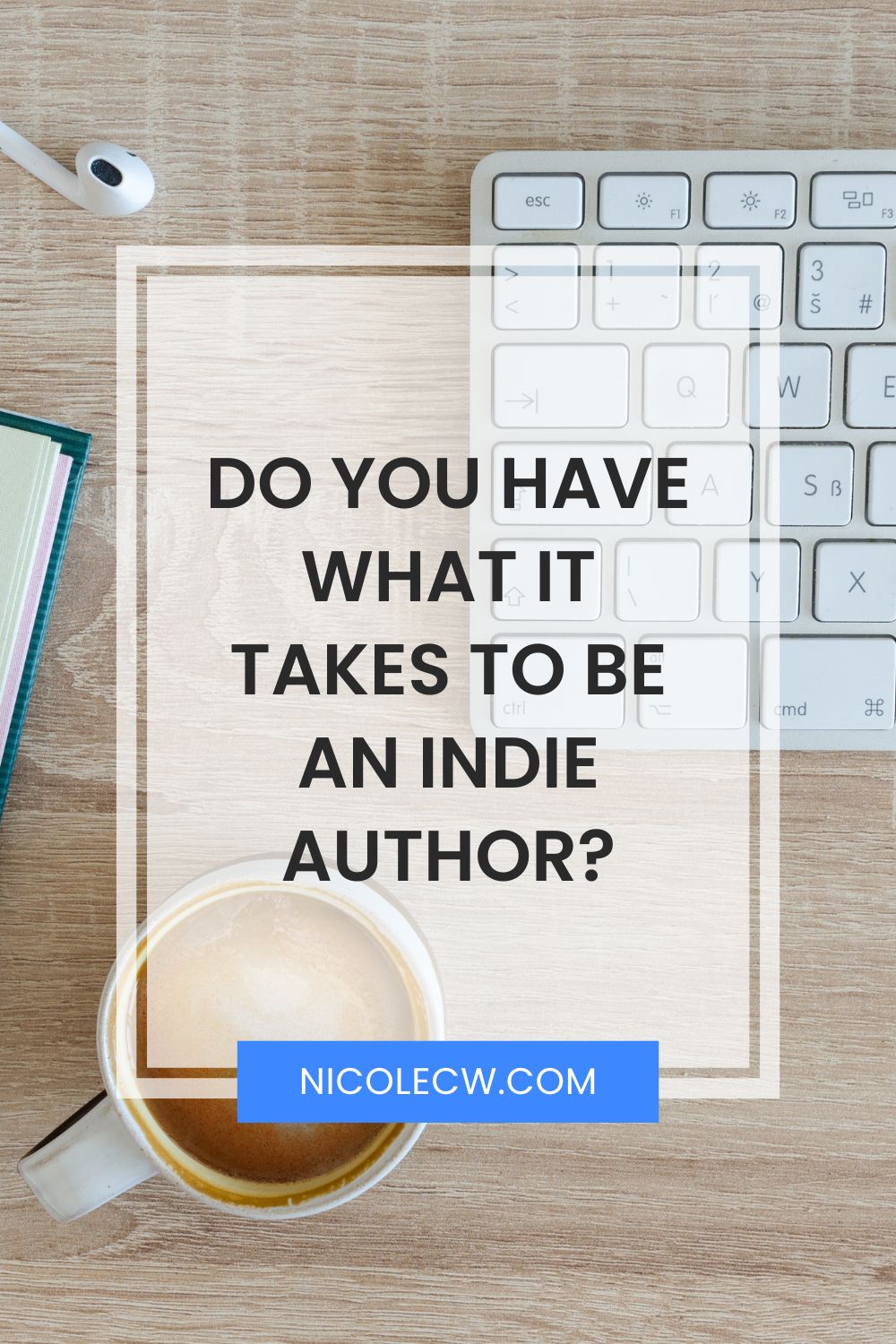 Disclosure: Some of the links below are affiliate links. I will earn a small commission, at no extra cost to you, if you purchase through these links. Your support encourages me to continue blogging and help with the costs of hosting this site. Thank you!
Understand That This Is Not A Get Rich Quick Career
You might have heard about Amada Hocking or Hugh Howey, authors that self-published their books and made it big (from selling a million copies to selling film rights).
But not every indie author will become them.
Only a small percentage will achieve their level of success. And if they did, there are years of hard work behind their success.
If you want to get rich quickly, look elsewhere. Self-publishing is not the way to fast money.
Until you write that popular book, you'll always be in the red.
Just look at the Top 25 Ebook Authors by Dollar Sales (Q2-Q4 2017). Notice how most of the authors on the list have at least 40+ books?
Remember, any writer can be a self-published author. But not every writer can be a successful self-published author who makes a profit.
Writing Skills
To be an author, you will obviously need decent writing skills.
And I don't mean spelling or grammar. I mean the two mentioned plus
Fiction Writers: plotting, dialogue, characterization, worldbuilding etc.
Non-Fiction Writers: researching facts & articles, writing concisely & coherently etc.
If English is not your native language, you can…
Publish books in your own native language
Do research the market demand for books in your native language first.
Brush up your English language then publish books
There are many online courses or blogs that teach English language as well as writing skills.
Hire an editor or ask someone to help edit your manuscript
Get advice and another perspective from someone else. This can be a professional editor or a friend who is fluent in the English language.
Fiverr or Fiverr Pro: You can either browse the editing gigs or post a request. Carefully look at the description of the service, delivery time and cost. Always check the freelancer's reviews first! If possible, try contacting the seller and ask for editing samples. Or you can create a small project about editing only the first few pages or first chapter then rehire the freelancer if he or she did a great job. I recommend that you browse Fiverr gigs if you're just starting out. Fiverr Pro's services are more expensive because it offers services by top-rated professionals who are hand-vetted for stellar quality and service.
Fiction Authors: Creativity
If you intend to write fiction, you will need creativity.
It's no use even if you have strong writing skills, impeccable grammar or rich vocabulary.
What matters is that your book needs to resonate with readers. Make them go "Wow!" and continue turning the pages. To the extent that they can't put your book down.
For instance, I love certain books because of the
Plot: unique setting, interesting storyline, internal & external conflicts etc.
Characters: dynamics between characters, how the protagonist changed etc.
Most of the time, I don't really notice the writing unless there are unusual words.
So if you're an imaginative person who enjoys creating new worlds or creatures, why not consider being a fiction author?
Non-Fiction Authors: Expertise
If you're an author of non-fiction books, you will be regarded as an authority figure in that industry or field.
And your most valuable asset?
Your expertise. Your skills and knowledge in that specific topic or area.
But of course, you will need to substantiate your statements and claims with facts and figures.
In-depth research has to be done for readers to take your words seriously.
If you've received some awards and certificates or have years of experience under your belt, do highlight them.
For non-fiction books, the selling point is you! The expert behind this amazing book of tips.
Long-Term Commitment: Time & Effort
Unless you're a genius or really really lucky, you will probably be like me. And the countless indie authors out there.
Where our first published book is not a best seller.
Take me for example. I took a year, from 2015 to 2016, to write and publish my novella trilogy. And since then, I've been working on my next trilogy. It's 2018 now. But I'm still writing the first draft of book 2. Going by this pace, it might take months to a year before I finish editing and publishing these books.
Yes, you might say that I'm a slow writer.
But even if you're a fast writer, you will also take a while before you write that best seller book or your book goes viral.
Until then, you will have to commit time and effort. And it might take years before your hard work is paid off and you see results. (Or in some cases, your efforts might not pay off at all…)
So don't step into self-publishing industry thinking that you can make a profit with your first book.
Success will probably require
Months to years of writing before you discover your own writing style & voice
A treasure trove of frontlist & backlist (with at least 1 highly raved book)
Testing of book cover design until you get one that greatly boosts sales
In-depth research of your target readers' interests
Market research of the trending genres & topics
Numerous attempts at various marketing strategies (until you find the tactic that has the highest ROI for you)
Upfront Investment: Money
If you take the traditional route, your publishing company will pay for all book production costs and also help you promote your book. On top of that, you get paid an advance!
But if you're a self-published indie author, you don't get paid anything. No one will pay for
Editing
Book formatting
Book cover design
Printing cost
Marketing promotions
And more!
You have to invest up front. From your own pocket.
In the beginning (and probably for years), you will be the only person working on the book.
You write the book & blurb
You edit the book, hire an editor or ask a friend to help edit
You format the book
You design the book cover yourself or hire a professional to do it
You publish the book on Amazon, Kobo etc.
You promote your book
You try to get people to review your book
Almost everything is DIY. Done by you.
When you make a profit, you can outsource some tasks like the book cover design.
Or, you can immediately outsource before you make any money if you take this indie author business seriously.
Remember, starting a business is a risk in itself. And self-publishing is no exception.
You will need to invest some capital into this business. But how much you invest is entirely up to you.
You can choose to self-edit rather than get an editor
You can learn to format your book yourself rather than buying a professional book layout or hiring someone to do the book interior formatting
You can go for a premade book cover rather than a customized book cover
Accepting Loneliness
Writing is a solitary activity. And embarking on this indie author career might be a lonely journey.
Yes, you might have friends and family that stand by you and support your dreams.
Unlike me. I didn't tell my family because they're practical and will frown upon this idea of spending money before earning anything. And they don't really understand how much I enjoy writing.
But luckily, my sister and best friend who know about this are very supportive. Yet, I still feel lonely because they're not interested in self-publishing and hence, we're not on the same wavelength. There are things I can't discuss like getting ISBN, marketing books, how to get more reviews etc.
At times like this, writing forums like KBoards or AbsoluteWrite would be better. This is where you can learn from other authors' experience and listen to their advice.
If you join a writing group (whether online or offline), it becomes less lonely. But you are still writing individually unless you're writing a collaborative manuscript together.
Therefore, it's important that you are able to accept this loneliness that comes with self-publishing.
Try to strike a balance between this alone time and social time. Where both extreme ends will harm your mental health.
For instance, I set aside some time for having dinner and watching shows with my family and some time for writing before I sleep.
Passion & Patience
My sister once asked me, "If I can't break even, will I continue writing?"
And my answer to that was "Yes."
I can't imagine what I'll be doing if I don't write. I already spent countless hours playing MMORPG games. Now, I want to spend my free time doing something I enjoy. Something meaningful. Pursuing my dreams.
I understand that this is a risk. But we only live once. And when I look back at my life, I want to proudly say that "I tried and I have no regrets."
This is just my perspective though. Nevertheless, you will need passion and patience for this indie author career.
Most of us will probably start off shaky. Being self-critical. Doubting our writing and whether anyone is even willing to pay for our book. We will also have zero readers in the beginning.
But if we persevere, we might one day become the next Hugh Howey or Amada Hocking!
Until then, we will have to hold on to that passion burning our hearts.
And along the way, your first book sale, your first social media fan, your first newsletter subscriber, your first review, your first fan mail and all other small milestones will encourage and spur you on. Like a ray of light in this bleak situation.
You just have to believe. Believe in yourself. Believe that you can do it.
Bonus Tip: Create A Business Plan
You can always create a plan that lists the various goals and milestones.
They need to be specific and realistic. With deadlines too.
Sell 5 books by this week
Get 10 reviews by this month
Publish a book by Dec 2018
You can also state how many years or how much money you are willing to invest.
Do return to this plan frequently and add new goals. For example, I reflect on what I've done and create new goals every year. Much like a New Year's resolution.
Now It's Your Turn
Being an indie author is much like being an entrepreneur where you start your own business. You will have to sacrifice time and money.
But whether you can overcome these challenges boils down ultimately to yourself.
Whether you have the passion. Whether you have the ability. Whether you will go all the way until you succeed.