So I thought this was a good topic for my first blog post.
As a fiction author, I've been asking myself the same question over and over again: What will I blog about when I have my own website?
I plowed through dozens of articles and read other fiction authors' blogs, hoping to get an answer to this.
And guess what? There is no right answer.
What you, a fiction author, will blog about ultimately boils down to your…
Purpose
Target Audience
Passion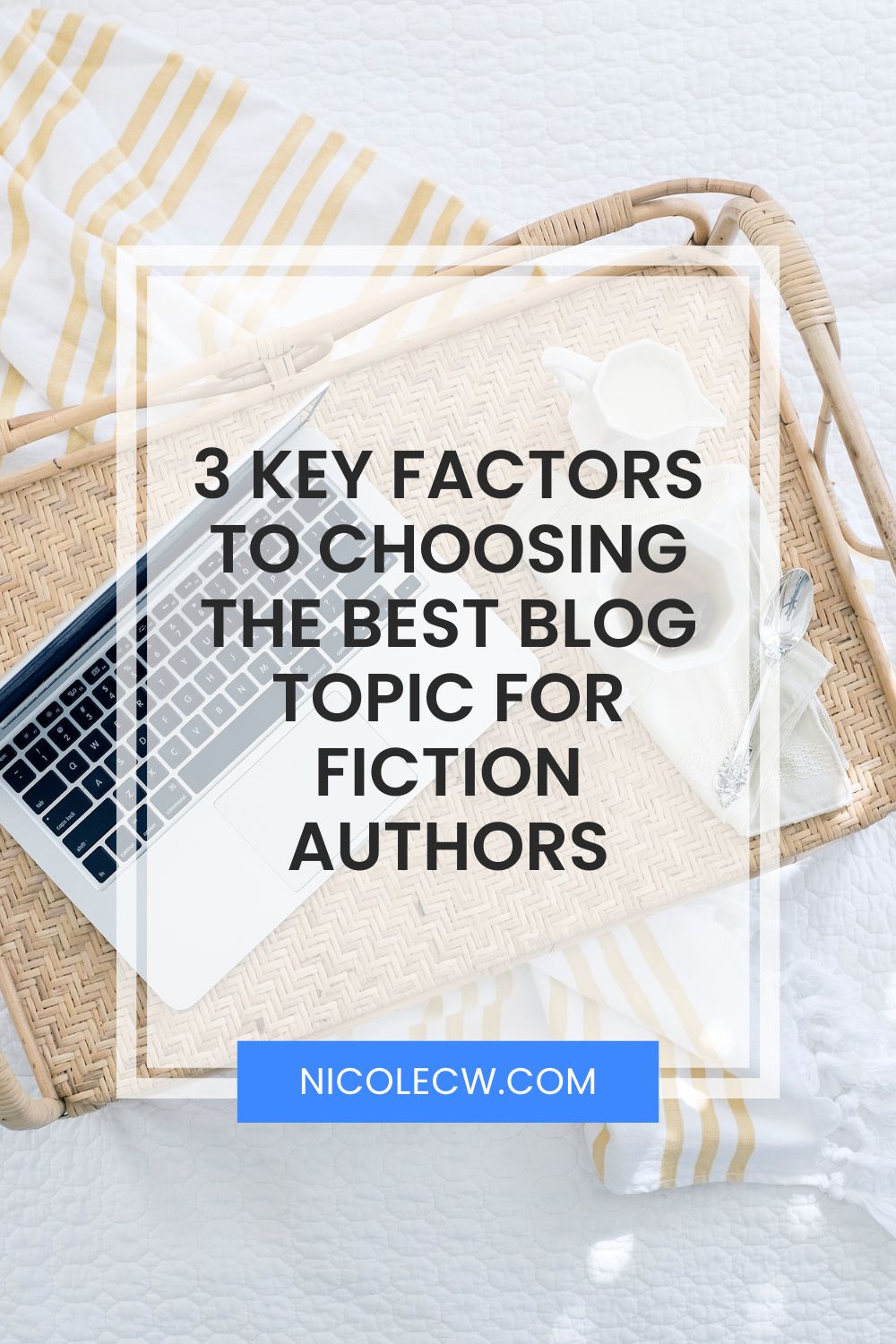 Disclosure: Some of the links below are affiliate links. I will earn a small commission, at no extra cost to you, if you purchase through these links. Your support encourages me to continue blogging and help with the costs of hosting this site. Thank you!
1. Purpose Of Blogging
a. To Entertain
Have something funny to share? Or something witty? Well, anything that's interesting to you might also fascinate your readers.
As long as it entertains them.
Some ideas at the top of my head:
How you're like, things you love, activities you enjoy
Fans of your books would love to know more about you, the author behind that amazing story they had just read
Interesting encounters or events in your life
Whether setbacks or accomplishments, these personal stories are bound to win your readers' hearts
Your writing process
The inspiration behind each book, your thought process when you included certain scenes, music you listen to while writing etc.
Interesting facts you discovered while researching for your novel
Something about your novel's setting (era, culture etc.) or other elements like mythical creatures, witchcraft etc.
Quizzes, memes, surveys etc. about your books or characters
This interactive content that engages your readers might even go viral!
Interview with your characters or your characters talking to each other
A blog post of you interviewing your characters or them talking to each other (And due to their personality differences, a funny or witty conversation might happen!)
b. To Inform
If you're always up-to-date on certain topics or industries, you can consider creating a blog that informs like-minded readers of this latest news or trends.
For example, you could blog about
Book industry
The rise of eBooks and audiobooks, more diverse books that touch on ethnicity etc.
Publishing trends
More authors self-publishing rather than querying a publisher, the growth of Kindle Unlimited readership etc.
Author news
In-depth story of how Hugh Howey or Amanda Hocking became self-publishing superstars, breaking news of how Andy Weir's novel was adapted into a movie etc.
In fact, you can create a blog that informs your fans and customers about your brand, business, products or services.
Awards and prizes
How your book attained a literary award
Upcoming events
Where and when your next book signing event or interview will be
Latest books
Cover reveal, sneak peek of the first chapter
Discounts and sales
10% off certain books during Christmas
Work in progress
c. To Educate
Do you have knowledge or expertise in something?
Now's the time to let yourself shine.
By sharing your wealth of knowledge and educating others, you also position yourself as an authority in your industry.
As a fiction author, these topics will probably come to mind.
English language: grammar, vocabulary etc.
Fiction writing: story structure, worldbuilding, POV, dialogue etc.
Self-publishing: Amazon KDP, Draft2Digital etc.
Your blog posts will probably fall into one of these types:
d. To Inspire
One of the most overlooked purposes of blogging is to inspire.
This type of content tends to connect with the audience on a deeper level emotionally. It moves them and perhaps, even motivate them.
There are many ways to create this inspirational blog post:
Motivational quotes
Could be from a book you read recently, a drama you watched, or even from your own book
Personal stories
You could talk about some major event that happened in your life which changed you
Opinion articles
Your opinions on certain topics or issues. It could even result in more comments if it's controversial!
Poetry
Short creative writing like haiku could succinctly summarize your thoughts and opinions in a few words
So Which Purpose Of Blogging Should You Choose?
Remember, these 4 purposes of blogging are not mutually exclusive.
Your blog can both entertain and inspire. In fact, having a mix would make your blog post more compelling, engaging and shareable.
Also, the purpose of blogging seems somewhat related to your personality.
If you're a natural humorist, the entertaining blog post is just perfect for you. If you're an extreme introvert who is not comfortable sharing about yourself, the inspirational blog post might not be suitable.
2. Target Audience
Who do you intend to connect with through your blog?
Do you want to build a stronger bond with your current readers? Or do you want to reach out to potential readers?
Here are different groups of audience you can connect with through your blog:
a. Existing Readers
Your blog is a great way to create an emotional bond with your current readers.
In fact, retaining them is much better than acquiring new readers. Just look at these infographics about Customer Acquisition vs Retention Costs and Cost of New Customers vs Value of Loyal Customers.
Your loyal fans will only crave 2 types of content:
Things about you
Things about your books
Content About You
The first type of content, as I mentioned earlier, could range from interesting events in your life to your writing process. Or even interviews you've done.
But honestly, how many times do you search an author's website to find out more about him or her?
Rarely.
Perhaps, you might read their short author biography on Amazon or just check out their Q&A and Ask The Author at Goodreads.
But that's all. You probably won't ask more unless you're a HUGE fan (who is also part of his or her street team).
This doesn't mean you shouldn't talk about yourself on your blog. You should! Just sprinkle bits in between your main content.
Content About Your Books
How did your readers first know you?
Through your books!
They won't search you (unless you're an influencer with a strong social media following). They will search your books first then realize what's the name of the author.
Hence, for these readers who love your books so much that they visited your website, it's best to quench their thirst for more through your blog.
Give them what they want: special stuff about your books!
Deleted scenes
Alternate endings
Yes, these were deleted for a reason (whether it didn't fit the flow of the narrative or that it wasn't written well enough). But what seems terrible to you might turn out to be precious in your readers' eyes. They might be curious about what was cut from your novel or how differently the story might have ended.
Upcoming books
Works in progress
Cover reveal
You can also blog about your soon-to-be-published books. How is it going? What's the status? What is it about? These updates are a great way to build buzz and excitement before your book launch. Maybe even get some interested ARC readers.
Your existing readers probably already read a few of your books. But not all of them. Therefore, announcing book giveaways or special discounts would be great news for them. Plus, it gives them a reason to check out your other books.
b. Other Authors & Writers
The easiest way to connect with other authors and writers is blogging about the interests that you all have in common. Which is basically just 2 interests: the craft of writing and the craft of publishing.
Craft Of Writing
Your writing skills are probably decent (or perhaps, even the best in your class) in order for you to be a fiction author. Why not share your writing tips with fellow peers?
Grammar
Verb tenses, clauses, punctuation etc.
Vocabulary
Synonyms, idioms, similes, metaphors etc.
Fiction writing
Story structure, worldbuilding, POV, dialogue etc.
Craft Of Publishing
Whether you took the traditional route or the self-publishing route, you're an author nevertheless. And that means you definitely have something to share!
It could be about your journey or obstacles you faced before you became an author. This would be valuable to aspiring authors.
Or you could share about how you established your author brand. Or your marketing tips that helped expose your books to more readers.
Here are a few topics
Traditional
How to write a stellar query letter, how to deal with rejection from literary agents and publishers etc.
Self-publishing
Amazon KDP, Draft2Digital etc.
Marketing your books
How to set up giveaways and book signing events, how to encourage readers to review your books etc.
c. Potential Readers
Let me emphasize that it is potential readers, not new readers.
I can imagine your confused face. Well, let me explain the difference between them.
You might not agree with me but this is how I differentiate between the two of them.
Potential readers
People who are already interested in and are avid readers of the genres you write about
New readers
People who might not be exposed to and are less interested in the genres you write about
Hence, for these potential readers, it's best that you blog about topics closely related to your…
Genres
Themes
Worlds
Eras
Cultures
Characters
Creatures
For example, I'm a paranormal romance author. I could blog about
Relationship advice or tips on love, dating or marriage
Paranormal creatures (vampires, werewolves, ghosts etc.)
History of witchcraft
Readers who love a certain genre or theme might do an in-depth research.
Therefore, if your blog showcases your knowledge in this area, these readers are likely to feel that your books will paint an accurate picture of that world or era. And that it'll definitely meet their genre expectations (eg. how love stories must have a happily ever after).
But before you jump right in and start blogging about these topics, you need to understand that these blog topics might not always attract potential readers.
I love paranormal romance fiction (which is also the reason why I write them) but I won't search for paranormal or romance stuff. I'll just browse through the bookstore and search for a paranormal romance book with a compelling blurb. Or maybe get some book recommendations from my friends.
In other words, a blog about a certain genre might not be as effective as a new fiction book.
Which brings us to my next point: a better way to attract these potential readers is to post reviews of related books.
For instance, you could rate and review a similar book that falls under the same genres.
If readers search about book reviews, it means that they are already warm to buy books of this sort. And you'll have a greater chance to reach out to them to consider your fiction books.
You can also consider publishing fiction directly on your blog. Such as excerpts from your books or flash fiction and short stories that tie to your books. These posts will intrigue your visitors and encourage them to grab a copy of your book.
d. Everyone Else (also New Readers)
Acquiring new readers is usually done through the various retailers like Amazon and maybe Goodreads.
But getting them through a blog is much harder.
Blogging for non-fiction authors can be a great boost in sales. Especially if they blog about topics that are included in their non-fiction books.
Art
Business and economics
Family and relationships
Music
Philosophy
Psychology
Self-improvement
Technology
Travel
For readers who are already researching about such topics, when they stumble upon your blog, they will see you as an expert or authority figure on this topic. They will also be more inclined to buy your non-fiction books (especially those how-to books).
So how about fiction authors?
Sure, they can also blog about such topics. But they won't have a non-fiction book that touches on these topics to sell to these readers that they've connected with through their blog.
However, this doesn't mean fiction authors can't blog about such topics. You still can.
Now, compare the above list to all the other lists before this. Can you guess which list has a broader audience?
Well, that's right. The above list has the largest pool of audience.
And by creating a blog that has a broad audience, hopefully some of them might consider giving your fiction books a chance.
3. Passion
Whatever you choose to blog about, you need to have the passion for it.
This doesn't count news about your new books, upcoming book signing events etc. Obviously, this news isn't about passion. It's an author's duty where you're obligated to inform your readers of any updates.
So aside from this news, if you have other things or topics that you want to blog about. You need to have the passion for them.
It needs to be something you can imagine yourself writing about 5 years down the road. Something you won't be tired of. Something that you still enjoy writing about.
My Own Personal Story: How I Chose My Blog Topics
Firstly, I narrowed down my purpose of blogging to 1) inform and 2) educate. I want to share my knowledge and experience. And also because I'm not a witty or humorous person. Or someone who can say those motivational quotes.
Secondly, I want to connect with my fans. But I also want to share things I've learned while self-publishing my books. On the other hand, I don't have much passion or interest in talking about my books' genres. I mean, I love paranormal romance. But I'd rather write a new paranormal romance book (create my own world and all) than blog about it.
And lastly, my interests.
As you know, I'm a fiction author myself where I've been writing fanfiction since young. But at the same time, I'm also a digital marketing consultant.
I get Google alerts every week about marketing and copywriting. I also read marketing blogs like Neil Patel, Jeff Bullas and Social Media Examiner which inform and educate.
And that's how I decided what to blog about.
If you look at my navigation bar above, I have a news page and a blog page.
News is where I provide updates about my books while Blog is where I provide tips about entrepreneurship, marketing and self-publishing. These 3 topics are things I have experience and knowledge about.
Plus, I feel that blogging about these topics gives me a break from the exhausting fiction writing (my creativity gets drained after hours of non-stop fiction writing). And I also get to hone my writing skills while still writing about something I enjoy.
Most importantly, I hope that these blog articles can help other aspiring authors and aspiring entrepreneurs.
Now It's Your Turn
Writing is a solitary journey. And if you're a slow writer (like me), your readers will probably be tired of waiting for your next book.
Thus, your blog can show that well, you're still around. And that you're working really hard for your next book.
Bear in mind that you need to show your readers value in following your blog.
So over to you, what will you be blogging about?
Let me know by leaving a quick comment below right now.