As you know, I'm an avid plotter myself.
And plotters love planning in advance. This includes outlining the novel and creating the fictional world.
Since plotters need to map out everything, they always have numerous notes before they even start writing the first sentence of their novel.
I'm no exception. In fact, I'm currently plotting my next trilogy (mind you, not one book but all three books) while still writing my current WIP. I like planning way in advance~
Here are some notes I usually create when plotting a novel.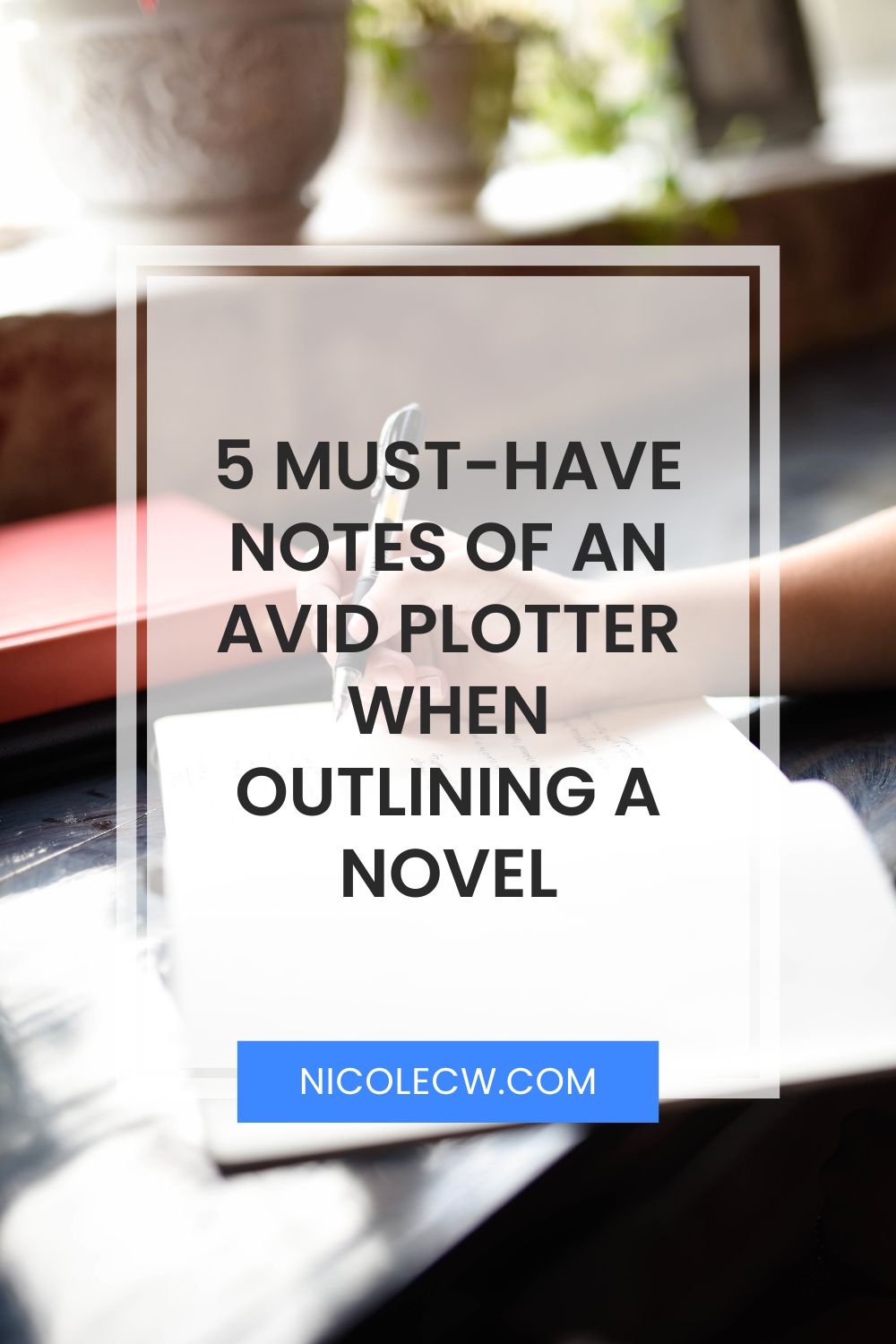 Disclosure: Some of the links below are affiliate links. I will earn a small commission, at no extra cost to you, if you purchase through these links. Your support encourages me to continue blogging and help with the costs of hosting this site. Thank you!
Overall Book
First and foremost, you have to create a note that gives an overview of your book.
This note should include
Book Title
Series Title
Genre
Tagline
Blurb
I admit, some of the above are not related to outlining my novel. In fact, they touch upon the marketing aspect. Like creating a tagline and blurb that sell the book. But you will still have to craft them one day so might as well note them down here. (PS. I only start crafting my blurb after I've finished writing my novel. Do check out my tips on how to craft a fiction book blurb!)
Sometimes, I digress even more and add more marketing notes like
Ideas for book covers
Keywords
It's really up to you what you want to include in this overall note.
Characterization
An important element of your novel would be the characters. You should have detailed information for all the characters.
Protagonist: hero of your story
Antagonist: villain who is at odds with your protagonist
Major Characters: central characters that move the plot forward (eg. your protagonist's romantic interest or best friends)
Minor Characters: characters who appear briefly and infrequently and thus, don't contribute much to the plot (eg. your protagonist's parents who are mentioned throughout the story but never appear because they died when your protagonist was seven years old)
I even note down characters that appear only in one scene because I wanted to record all the names I've used (and ensure that I don't use the same name for another character).
It's not just names that you should note down. You also need to include details like
Demographics: age, gender
Appearance: height and weight, hair and eye color, skin tone, body build
Personality: strengths and weaknesses
Biography: hometown, traumatic event, family background (adopted, have siblings etc.)
Talents/Skills/Abilities
Fears
Hobbies
Goals & Motivations
Of course, you can add any other special notes about your characters. For instance, if my character has some special power, I will record it here too. You can also include images of clothes to get a visual idea of your characters' fashion style. I've added such pictures when researching armors and weapons to get a sense of how each character is dressed when fighting.
You can start off with the Character Profile template in Evernote. Evernote also has other Creative Writing templates which are quite useful.
Plot
You will also need plot notes to record all your plot ideas including events, conflicts and scenes. Everything that will happen in your story.
I tend to write my plot notes chronologically in a linear timeline so that it's easier to see the flow of events. But you can always write them as scenes on post-it notes which you can then easily rearrange.
Scrivener (available on both Windows and Mac), for instance, has this corkboard feature where you can reshuffle index cards that contain synopses. When you move them, you're rearranging your manuscript at the same time.
As mentioned, my plot notes are arranged chronologically by chapter. Do consider breaking them into scenes so you know how many scenes there are in each chapter. You can then estimate how long a chapter will be.
Besides listing them as Chapter 1, Chapter 2 etc., I also include details like
Chapter Titles
Story Beats
If you get inspired and know exactly how you'll name the chapter, write it down immediately. This way, you'll have a list of chapter titles at your disposal. For my Countdowner Trilogy, I even created a reminder to name all chapters related to time. Hence, all the chapter titles have some time-related word or phrase.
I also include the purpose of each chapter. Whether it's a conflict scene, worldbuilding scene or action scene. By noting down these story beats, it will help ensure that your book is interesting. For example, your novel should be interspersed with action scenes rather than going on and on describing the fictional world you created. You can also consider using a beat sheet or plot graph to visually see the progression of your story and the narrative arc.
For my next book (I'm already planning a new story while writing my current manuscript), the story switches between past and present. Thus, I added a note to each chapter to indicate that it's about the past or present. Do create additional notes to your chapters as you deem fit.
On top of these plot ideas that will happen in your story, consider creating these lists too.
Future plot ideas
Discarded plot ideas
Future plot ideas are ideas that you find interesting but are still unsure where to insert in your story. Just note them down and refer to them again when planning your story. You might get inspired and find a good place to slot in this idea. Or you can even use them to overcome writer's block!
Discarded plot ideas, on the other hand, are ideas that you've decided not to include in your story. I even wrote down reasons why I eliminated them (eg. not interesting enough, not plausible, out of character). I think it's good to keep them just so to remind myself that I've already thought of this idea and it didn't work.
Again, you can try using the Novel Plotting: 3-Act Structure template in Evernote. But feel free to customize the templates based on your needs and what works for you.
Worldbuilding
Worldbuilding is an important aspect of your writing. Whether your story occurs in the modern world, medieval times or a fictional world you created, you need to include notes about the setting.
Worldbuilding isn't only about the names of the various locations. You need to include details like
Geography
Language
Currency
Races
Religions
Culture
Politics
History
Technology
Basically, you need to include everything about how the world works, especially if it's a new fictional world that you've made up.
Do consider creating a folder of images and photographs of locations that are similar to how you imagine the place to be. For instance, mansions that look similar to how you imagine your protagonist's home to be. This way, you'll have a rough idea and picture of how the locations will look like. They can also be sources of inspiration to help spark that creativity so you can write a more picturesque landscape.
Other Notes
This is where you write miscellaneous and special notes that don't fall under any of the categories above. I highly recommend that you write them down as long as they're important. This way, it can act as a reminder when you're writing your book.
For example, I have a note about the point of view (POV) to remind me that this book is written in third person limited.
Bonus Tip: Use A Note-Taking Tool That Fits Your Needs Perfectly
And of course, you'll need a great tool that can store all these notes. There are a few options for this:
G Workspace (Formerly G Suite)
Google Workspace, which includes a range of Google apps like Google Drive, Docs, Sheets, Slides and many more, is one such tool.
You can store all your notes in Google Drive, whether it's a word document or spreadsheet. And since Google Drive is in the cloud, you can access your notes anytime anywhere from any device.
Evernote
Personally, I use Evernote because I started out with Evernote first. I only signed up for Google Workspace (formerly G Suite) one year later so all my documents are already in Evernote and I'm too lazy to transfer them ><;; Right now, Evernote stores all my plotting, character and worldbuilding notes while Google Workspace stores all my manuscripts including drafts and final versions.
Evernote makes it easy to organize my notes. For instance, I have an overarching notebook stack for each series, followed by various notebooks for each book in the series. I also have a notebook that contains notes on plot ideas, characters and locations.
With Evernote, you can
easily search for what you need quickly
attach images and documents
set reminders
and many more
Again, the notes are accessible anywhere and synced across devices.
Scrivener
So, the only disadvantage of the above 2 tools is that you have to keep switching between them and your manuscript. Simply put, you have to open your Google Doc or Evernote and your word document at the same time and place them side by side when writing.
On the other hand, you can have both your notes and your manuscript in one place with Scrivener.
Scrivener is the go-to app for writers of all kinds. This all-in-one software will be valuable whether you're a novelist, screenwriter, student, journalist or translator. Here are some of its features:
Write and rearrange your manuscript
Open your research right next to your work
Compile everything into a novel or screenplay
Set word or character targets and track your progress
Save the current version before rewriting (and use 'compare' to find out what you changed)
Automatically backs up your projects
Therefore, if you prefer just using one tool for both your manuscript and notes, Scrivener is your answer.
Bonus Tip: Get A Writer's Notebook
There are many novel planning worksheets and even writer's journals on Etsy.
The greatest benefit of such printables is that you only need to buy once and you can print as many times as you need. They're also quite comprehensive.
Word Count Trackers
Novel Outlines
Character Profiles
Worldbuilding Basics
These worksheets provide a framework and help you to plan, outline and develop your story. This way, you can focus on the more important task—writing.
Now It's Your Turn
Are you a plotter too? What notes do you create when outlining your novel?
Consider checking out writing classes at CreativeLive and Fiverr Learn! Or just watch streaming broadcasts of free online classes.
P.S. Check out my step-by-step guide on how you can organize ideas and plot your novel~