Writing is a marathon, not a sprint. A novel will probably take you months or even years to finish. Only some authors who write really fast can finish a novel in weeks.
To finish your writing project, you'll need a lot of time. You'll have to find and make time to write.
Besides finding pockets of time to slip writing in, you'll need to make an effort in creating the time to write.
You could add an event to your calendar where you go down to a café just to write. Or you could join a Shut Up & Write! meetup.
Here are some tips on how to find and make time to write.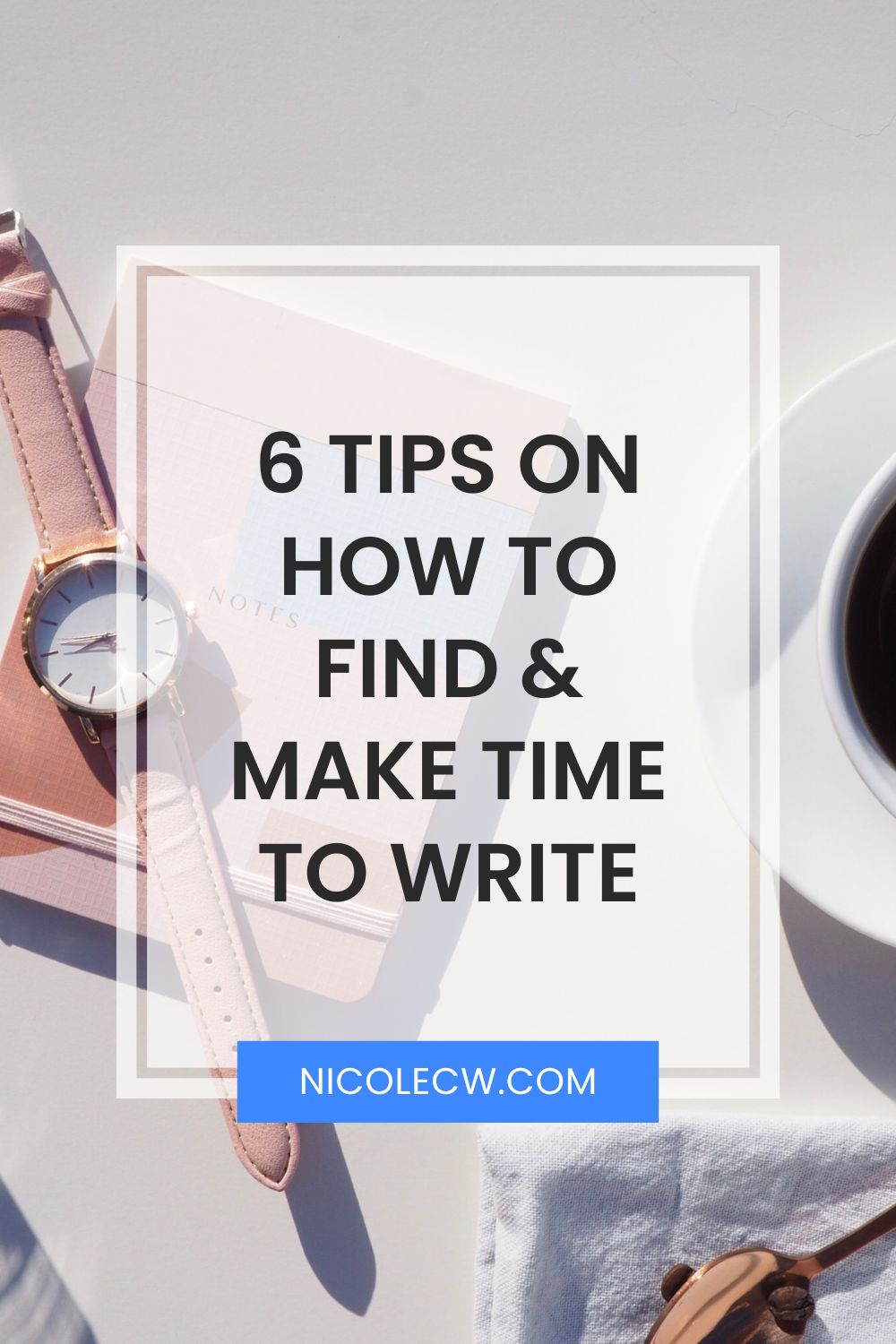 Disclosure: Some of the links below are affiliate links. I will earn a small commission, at no extra cost to you, if you purchase through these links. Your support encourages me to continue blogging and help with the costs of hosting this site. Thank you!
Discover When & Where You're Most Productive
Before you start making time to write, you'll need to thoroughly understand yourself to achieve peak productivity.
After every writing session, note down the following.
How many words have you written?
When did you start and end writing? How long did you write?
Where did you write? What's the environment like?
This way, you can figure out your optimal time for writing. Are you more creative in the morning when you just woke up? Or are you more productive at night, right before you sleep?
By noting down your writing space, you'll be able to discover which place works best for you. This could be your home, a café or a library. Be specific. For example, you could note down your bedroom or living room (instead of your home).
You can also elaborate on your writing environment. Did you write in total silence? Or was there background music or noise? What kind of music was playing? Was the place cozy? Did the place have a scenic view?
Analyze what you've written and you should be able to find out when and where you're most productive. You'll also know what things hinder your productivity and creativity, what things disrupt your writing flow. For instance, I can't write while listening to music. The song lyrics disrupt my thoughts so I can't concentrate ><;;
Slot Writing Into Your Schedule
Now that you know when and where you're most productive, you can slot writing sessions into your schedule. Preferably during the times when you are most productive.
For example, if you're more creative in the morning like me, you might consider having writing sessions in the day. This morning routine can also help you start off the day on the right foot.
The first step you need to take is to look at how you spend your time now. You can create a table or chart. But I highly recommend that you use a calendar instead.
Next, block out the times that are already taken or times that are impossible to write. Let's say you have a full-time job from 9am to 6pm. Block this time out as time you can't write.
Finally, block out the times for writing. Look at your schedule and see where you can slot writing in. This could be in the morning, right before you leave for work. Or it could be at night, right after your dinner.
When you schedule writing sessions, you are making an appointment with yourself. Stick to it and treat it like a promise with the most important person in your life.
Maximize Your Pockets Of Time
Writing isn't solely about putting words on paper.
Before you write your first draft, you definitely need to conduct in-depth research. This includes research about certain eras, cultures and mythical creatures for fiction or certain topics and subtopics for non-fiction. You will also need to do some plotting, even if it's a rough outline. After your first draft is done, you will need time for editing.
You might also want to consider learning from other writers and authors. Besides reading other authors' blogs and visiting forums, I've also signed up for writing and self-publishing classes. Do check out my top resources for writing~
I highly recommend that you do these writing-related tasks during pockets of time. You could plot, research and plan your novel when you're traveling to work, doing your dishes or showering. You can allocate the tasks based on location and accessibility to your computer.
While commuting to work, I usually plot the next few chapters, check the forums or watch videos of the writing courses. These are minor tasks to me which don't require a computer. I simply take notes and watch videos on my phone.
On the other hand, when I'm at home and I only have 10 minutes before my TV show starts, I'll use that time for my blog. Blogging requires me to take screenshots and download stock images, format the blog post in WordPress, add links to relevant articles etc. All these tasks require a computer. Hence, I prefer to do blogging-related tasks at home.
By maximizing your pockets of time, you will make writing easier. Since you've already created your outline and researched everything you need, you can solely focus on writing during your writing time.
Prioritize Writing Over Other Tasks
Bear in mind that you should prioritize writing.
In my opinion, writing is more exhausting than editing.
Writing is where you start off on a blank page then put words on it. Editing, on the contrary, is where you already have words on the page.
Thus, I always prioritize writing. I'll write in the morning and reach my target word count then switch to editing in the afternoon.
Your schedule should therefore include more writing sessions or long writing times compared to other tasks.
When you prioritize writing, you're actually making a conscious choice to write over something else (eg. watching movies, shopping).
So the question boils down to… how much do you want to write? How much do you want to achieve this dream of writing for a living?
Sacrifice For Your Passion Project
To be a successful entrepreneur, you need passion and commitment. You will also need to make sacrifices for your passion project.
Writing is no exception. You'll need to sacrifice to make time to write.
As we all know, there are only 24 hours in a day. Two-thirds of that time is probably taken up by sleeping and your full-time job. Then, the rest of the time will be for eating, meeting with friends, family time and household chores. So you're actually left with very little time.
The key is making the most of this remaining time.
This is the reason why I strongly recommend that you schedule a writing session or block out certain hours just to write. If you don't, you'll find this time being eaten away by TV shows, online shopping and other miscellaneous tasks.
In other words, you will need to sacrifice or at least cut down on the time you spend shopping, watching TV shows or movies etc. By deciding not to watch a TV show, you're saving 1 hour which you can use for something else. Hopefully, you spend this time writing. By cutting down the time you spend on other tasks, you will create more time for writing.
Join A Writing Community
Writing is a solitary journey. When you write alone, it can be hard to remain motivated, especially since you have no one to be accountable to.
But writing doesn't have to be a one-person project. You can write together with a community of like-minded individuals.
Consider joining a writing community. Whether it's a local or online writing community, you'll be connected to a pool of writers. This community will then be a source of support and encouragement for you in your writing journey. You'll also have someone to be accountable to.
For instance, you could join a Shut Up & Write! meetup. You could also meet with writers or friends at a nearby café. Your writing peers can write their own drafts in the café with you or you could write while your friends complete their own tasks. The point is that you have an accountability buddy. An accountability buddy checks in on you to see if you are keeping your promise. In this case, the promise to turn up at this café at 9am to write.
There are also many online writing communities. KBoards, for example, has this one thousand words a day thread. It's quite motivating to see the number of words that other authors have written in a day. I don't think I can reach their high output of 3k+. But 1,000 words in a day is definitely achievable if you put in the hours.
Now It's Your Turn
By committing to these scheduled writing sessions on a regular basis, you'll build a strong writing habit. If you stick to it and don't break the chain, you could make this habit permanent!
How do you make time to write? Did you implement any of the tactics? How was the experience?
Do consider joining productivity and writing classes at Fiverr Learn and CreativeLive. I learned to build a strong writing habit from many of these online courses.