As a planner, I have a habit of writing down notes. My notes aren't the short concise to-do list but more detailed with links to articles, images, bullet lists and more.
Hence, I'm really glad to have found Evernote. This free note-taking app is always open, no matter what I'm doing.
Writing manuscript: plot/character/worldbuilding notes, grammar/vocabulary/fiction writing tips
Writing blog article: blog ideas, completed blog articles (In fact, I'm writing this post in my Evernote now which I'll transfer to WordPress to publish later)
Of course, I also add any interesting articles or resources I come across. For example, I have quite a few notes about finance because I was deciding which bank account and credit card was more suitable for me.
I would like to share some tips on how to use Evernote (from my experience of using it for a few years). Hopefully, they'll be useful to you~! Also, check out my Evernote review where I share the pros and cons of this note-taking app.
Evernote: Free Note-Taking App
If you're looking for a free note-taking app, why not consider Evernote?
Whether you need it for work or personal use, Evernote can help you capture everything (notes, ideas, pictures) and stay organized. You will never lose track of your tasks and deadlines.
I highly recommend Evernote (which I'm currently using now).
Free
Amazing notes: tables, attachments, to-do list with checkboxes
Organized: search, tags
Share notes with others & set permissions (view, edit)
Accessible from every device (Windows, Mac, iPhone, Android etc.) but Free plan can only sync up to 2 devices
60MB monthly upload limit for Free plan: This should be sufficient if your notes are mostly text
Download Evernote App
As a free subscriber on the Basic plan, you can use Evernote on 2 devices only.
Therefore, I downloaded Evernote for Windows on my personal desktop and access Evernote Web on my work laptop.
So do think carefully which are the 2 devices that you'll use frequently. You can always revoke access from a device and free up that slot for another device. Just log into your account settings at Evernote Web and click Revoke Access under Applications.
You can sync across unlimited devices if you upgrade your plan.
Adjust Evernote Settings
No matter which Evernote App you download (Windows, Mac, iOS, Android), the first thing you need to do is adjust the settings.
I'm only using the Evernote for Windows app currently so all my screenshots will be from this app. You can check out Evernote FAQ for step-by-step instructions for other devices.
Here are some important settings that I suggest you adjust first. Simply click on Tools then Options to adjust Evernote settings.
General
User Interface: light or dark
Set default notebook
Synchronization
Synchronize every 5, 10, 15 or 30 minutes, every hour, every day or automatically
Note
Language
Reminders
Receive reminder emails
Show upcoming reminders
Show recently completed reminders
Monitor Your Account Information
View your Account Info under Tools.
You can see your Evernote plan here. For example, I'm on Evernote Basic which is the free plan.
Note the number of linked devices. I already have 2 linked devices which is the maximum as a free subscriber.
The most important information is this monthly upload allowance used. Here you can see how much you've consumed and how many days until this monthly upload limit resets itself. Do keep track of your monthly upload. You don't want to encounter the situation where you can't add or edit notes (It happened to me a few times and I have to wait patiently until the limit resets).
Enable Views You Need
Click on View at the top menu bar and enable the views that you need.
Here are some views I've enabled:
Left Panel:

Hierarchy of notes

Note List & Note Panel:

Various notes with more details

Search Information:

Refine search queries (match all or any words). Also includes suggestions of notebooks where the search query is found.

Editing Toolbar:

Necessary so I can format my notes easily

Status Bar:

Show word count, character count and note size. I need it to see how long my blog posts are (especially when I'm aiming to have at least 1,500+ words for each blog post). Another reason is that as a free subscriber, my maximum note size 25MB. I need the status bar to ensure that I don't exceed the limit.
Therefore, adjust according to your needs. Enable views that would make your work easier.
Change View Options
Go through the various View Options and choose the one you prefer most.
I'm using the Snippet View now so that I only see a glimpse of my notes.
Sort Notes
If you have Note List view enabled, you can sort your notes by
Title
Created
Updated
Reverse Sort Order
Customize Toolbar
Right-click on the toolbar to customize it.
Drag the shortcuts you need by dragging them to the toolbar. Similarly, drag the buttons off to remove them from your toolbar.
Here are some shortcuts that you can consider:
Sync:

manually sync your notes

New Note:

create a new note quickly

Print:

if you print notes often

Delete:

delete a note easily

Usage:

account info

Separator:

organize your toolbar & separate some buttons from others
I like to keep things minimal so I only added the shortcuts that I use frequently. New Note is important to me since I'm always adding new notes. I also like to sync my notes often. I want my notes to be updated with the latest changes as soon as possible. I don't want to risk any data loss. (It's really frustrating if you lose everything you've written, right fellow writers?) Sync would allow me to manually sync my notes whenever I want. Although there are alerts when I'm reaching the monthly upload limit, I still prefer checking out Usage just to see how much space I have left for the month.
Thus, customize your toolbar to only add shortcuts that you need or use frequently.
Word and Resource Counts
View Word and Resource Counts under Note. Or just right-click a note to view Word and Resource Counts.
This is useful if you feel that the status bar is not sufficient and you need more information like paragraphs, lines, images, PDF documents, audio etc.
Plan Your Hierarchy: Note, Notebook, Notebook Stack
Finally, we can dive into the notes. But before we do that, you need to plan out your hierarchy. This will help organize your notes such that finding a specific note will only take mere seconds.
There are 3 layers in Evernote:
Note
Notebook
Notebook Stack
Try to group them based on a similar theme or topic. Think about how you'll organize your layers or at least identify a few categories then break them down.
Here's how I organize my Evernote. Bold is the notebook stack, underlined are the notebooks and notes are the ones without any formatting.
Writing

Character

Anti-Hero
Character Development
Personality Types

Grammar

Vocabulary
Organize By Tags
If the 3-layer hierarchy isn't enough to organize your notes, you can also use tags.
Tags allow you to add keywords to notes so that they're easier to find.
Simply add tags to your notes by clicking on the Add tag…
Create Note
Creating a note is very simple.
Just click on that green plus New Note button on the left panel or the New Note shortcut if you added it into your toolbar.
Bonus Tip: Use Numbers Or Punctuation When Naming Your Notes
If you have an important note, you can add numbers or punctuation to the note title. This way, the note will appear at the top of the list.
Note that this only works if you sort your notes by title.
I use this when naming my blog idea notes. This way, my blog template note will always appear at the top of the list, followed by the blog ideas that I'm currently interested to write about.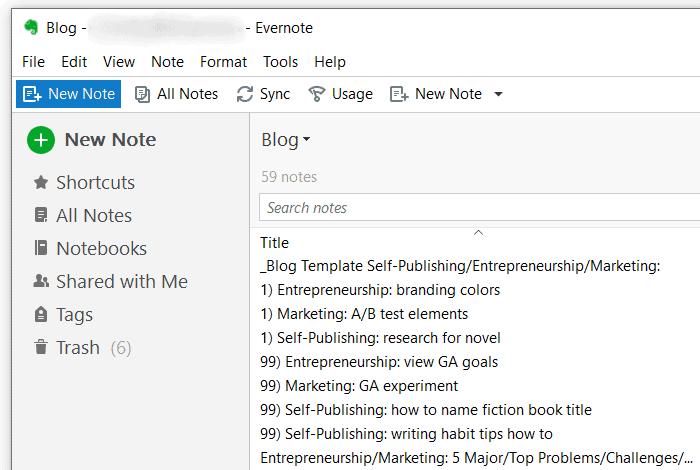 Bonus Tip: Zoom In & Out
Even though I've set a suitable font size that is readable, there are times when I want the text to be bigger or smaller just for a while. For example, I might want a larger font when I'm sleepy.
Right-click a note or select Zoom under Format. I prefer using keyboard shortcuts because they're easier.
Actual Size: Ctrl & 0
Zoom In: Ctrl & +
Zoom Out: Ctrl & –
Bear in mind that zooming is only a temporary solution. After you've zoomed in or out, the note will return to its actual size if you click on another note.
If you want to permanently change the font size, you should adjust the font size setting as mentioned above.
Format Your Notes
Evernote's formatting options are endless. It's very comprehensive where you can format almost everything:
Text Color
Bold
Italics
Underline
Strikethrough
Highlight
Bullet or Number list
Checkbox
Align
Indent
Table
When you add a URL in your notes, it automatically becomes a hyperlink and you'll be able to open the link in a new browser window.
Attach Files & Documents
You can attach files, documents, PDFs and more just by clicking on the paperclip button in the formatting bar.
Likewise, you can copy and paste images and screenshots directly into a note.
Create Ink Note
Ink notes are like handwritten notes where you create sketches instead of typing text. They're great on phones or tablets where you use your finger or stylus to draw on the touch screen devices.
Under File, click on New Note then create a New Ink Note. Or click on Ink Note in the toolbar (if you customized the toolbar and added the shortcut).
Ink notes have many options too:
Snap-to-Shape
Pencil
Pen
Cutter
Selector
Stroke Width
Stroke Color
Paper Color
Create Audio Note
This is useful if you need to record an important business meeting or lecture.
Evernote allows you to record and store an audio recording directly into a note.
Just go to File, click on New Note then create a New Audio Note. Or click on Audio in the toolbar (if you customized the toolbar and added the shortcut). You can also click on the microphone button in the formatting bar.
Bonus Tip: Add New Note▾In Your Toolbar
If you frequently create other notes like ink and audio notes, do add this New Note▾ shortcut into your toolbar. This way, you can immediately choose which type of note to create in a click.
I added the New Note shortcut only because I create normal text notes often. I rarely create ink or audio notes.
Set Reminders
You can also set reminders for your notes by clicking on the alarm clock button.
Reminders will be pinned at the top of your Note List where they're sorted and marked as complete. You can check off a reminder if you've completed it. Note that marking a reminder as done won't delete the original note.
This will be useful for notes that contain time-sensitive information or notes that contain urgent tasks.
If you use reminders often, remember to adjust the Reminders settings:
Tools > Options > Reminders
Gear icon near Reminders at the Note List
Copy, Move Or Duplicate Note
Just right click on any note or choose the appropriate command under Note.
I have a notebook for blog ideas and another notebook for blog articles that are done. Every time I finish a blog article, I'll move it from the former notebook to the latter notebook.
Print Your Notes Or Save As PDF
Click on the print button or customize your toolbar to include the print shortcut.
You can save as PDF by selecting Print to PDF under File.
Import & Export Notes
Note that only paid Evernote subscribers can roll back to previously saved versions of notes.
Therefore, you need to back up your notes.
Copy your notes to another software
Copy your notes from one Evernote account to another account
You can export your notes as Evernote XML (.enex) files which save all note contents, including attachments and tags. Right-click a note or notebook then choose to Export as a file in ENEX format (.enex).
To import notes into your default notebook, select File then Import at the top menu bar. Choose Evernote Export Files.
Note that stacks and note links cannot be backed up or restored.
Move Note To Trash
Again, right-click on any note or click on Note at the top menu bar to Move Note To Trash.
Bear in mind that deleted notes remain in the Trash until they are manually discarded.
Restore Note
To restore a note, select the note you want to restore in the Trash then click the Restore button.
Permanently Delete Notes
If you're certain that you want to permanently delete a note, click on the Erase button.
You can also Empty Trash by right-clicking on the Trash.
Note that once notes are emptied from your trash, the content will no longer be recoverable. So be careful and only delete notes that you're absolutely sure you won't ever need again.
Bonus Tip: Use Note Links To Connect Between Notes
Note links allow you to link from one note to another note. They're just like hyperlinks where you can click on it and land on the associated note. You can also right-click on the note link to open the note in a new window. Remember, note links are only valid when you're browsing within Evernote.
To create a note link, right-click the note then select Copy Internal Link. You can then paste this note link into another note.
This is useful if you want to provide information that is available in another note. Or if you share numerous notes with other people but they don't know the order of these notes, you can create a table of contents with note links so they know how the notes are related.
Create Notebook
Now that you've created a few notes, you might want to organize them under appropriate notebooks.
Create a new notebook by clicking on the plus button next to Notebooks at the left panel. You can also create a New Notebook or New Local Notebook under File.
Bear in the mind the differences between a notebook and local notebook:
Local Notebook
Not synced to Evernote
Only exist on the computer where it's created
Notebook
By default, new notebooks created will be synced to your Evernote account (appear on all your connected devices and Evernote Web)
Hence, you should only create local notebooks to store notes that you do not want to be synced to your Evernote account. But I highly recommend that you create the normal notebook which syncs across all devices. This way, you can view and edit the notes, no matter where you are and what device you use.
Also, note that you can't change the notebook type. If you want to sync notes from a local notebook, you will need to transfer them to a non-local notebook.
Create Notebook Stack
Group similar notebooks together with notebook stacks.
At the left panel, drag and drop one notebook to another notebook. This will create a new notebook stack containing both notebooks. You can then right-click the newly created stack and rename it. Drag and drop any other notebooks you want to include or exclude.
Delete Notebook Stack
You can unstack a notebook simply by right-clicking the notebook stack then clicking Delete.
Or you can remove all notebooks from the stack. When there are no notebooks in a stack, the stack disappears.
Remember, when you delete a stack, the notes and notebooks won't be deleted.
Share Notes & Notebooks
Click on the Share button to share a note. To share a notebook, just right-click the notebook.
You won't be able to share notebook stacks. Notebook stacks are only visible to you. The notes and notebooks within a stack can be shared, but the stack itself cannot be shared.
Search Notes & Notebooks
If you're certain that your note is in a specific notebook, open the notebook and type your search query in the Search notes field at the top of the Note List.
If you're not sure which notebook the note belongs to, you can search all notes instead. Simply click on All Notes at the left panel then use the Search notes field.
Likewise, if you're searching for a notebook, click on Notebooks at the left panel and use the Find a notebook field.
Evernote's search function is quite powerful: you can choose to match all or any of the search terms and see suggestions of notebooks where the search query is found.
Bonus Tip: Access Frequently Used Or Important Content Via Shortcuts
Shortcuts help you to quickly access your most frequently used or important content.
Right-click on a note, notebook, notebook stack or tag and select Add to Shortcuts.
Under View, you can choose where you want your shortcuts to be displayed.
For example, my shortcuts are shown at the top of the left panel so I can easily access them.
Bonus Tip: Save Everything Into Evernote With Web Clipper
With Evernote Web Clipper, you can save any interesting thing you find online into your Evernote account.
You can capture full-page articles, images, selected text, important emails and any web page that inspires you. Besides saving the entire page, you can clip certain parts (without the clutter of ads) to Evernote.
In addition, you can highlight the key points. After taking a screenshot of the page, you can add text, callouts or annotations to highlight important information.
All you need to do is install the Web Clipper extension. It's available on most web browsers.
Paid Feature: Present Your Notes With Presentation Mode
Whether you have a meeting with your client or fellow team member, you can use Evernote's presentation mode to present your notes.
Click on the present button or click on Present or Present on Another Screen under Note.
Evernote will automatically expand your note to the dimensions of your monitor. By default, your note will be presented as one long, scrollable note on the screen. But you can adjust this with the presentation layout editor.
Paid Feature: Save Time With Templates
You can turn an existing note into a template that will be used over and over again.
Simply click on the Save as Template button.
When you create a new note, just click on Template and the new note will be based on the template.
If you want to edit your saved template, apply the template to a new note, make the changes and save it as a new template. Then, delete the old template.
You need to be a paid subscriber to create your own templates from existing notes. If you're a free subscriber, you can only select the free pre-designed templates.
Paid Feature: View & Restore Older Versions With Note History
Notes in your account are automatically backed up periodically. Note history allows you to view and restore these older versions.
When you open a note, click on the note info button and View history. Or select Note History under Note at the top menu bar. Click on the date to preview the note version.
To restore a previously saved version of the note, click Import next to the note title. The restored version will appear in the Imported Notes notebook. Import does not overwrite or change the current version of the note.
Now It's Your Turn
Evernote plays a huge role in my life. I use it at work. I use it at home. I use it when writing. I use it when blogging.
I highly recommend that you use Evernote only if you write detailed notes with URL links, images, files and documents.
Otherwise, you can try other note-taking apps for short concise notes and see which works best for you.
You can try the note-taking app for a week and figure out
Whether the note-taking app helped to make your life easier
Whether you're comfortable using this app