As an entrepreneur, a website is essential for all businesses.
But buying a website is a huge investment. You want to ensure that everything is perfect.
A domain name that you'll use for life. A beautiful web design that attracts visitors and keeps them engaged on your site longer. And of course, web hosting that is best of the best to ensure that your site is always up and running.
Web hosting companies provide the technologies and services needed for the site to be viewed on the internet. Hence, good web hosting will ensure that your site loads fast and that you have sufficient storage space to store files like images and website scripts.
After a year of in-depth research, I finally decided on SiteGround as my web hosting provider. Here are some of SiteGround's pros and cons.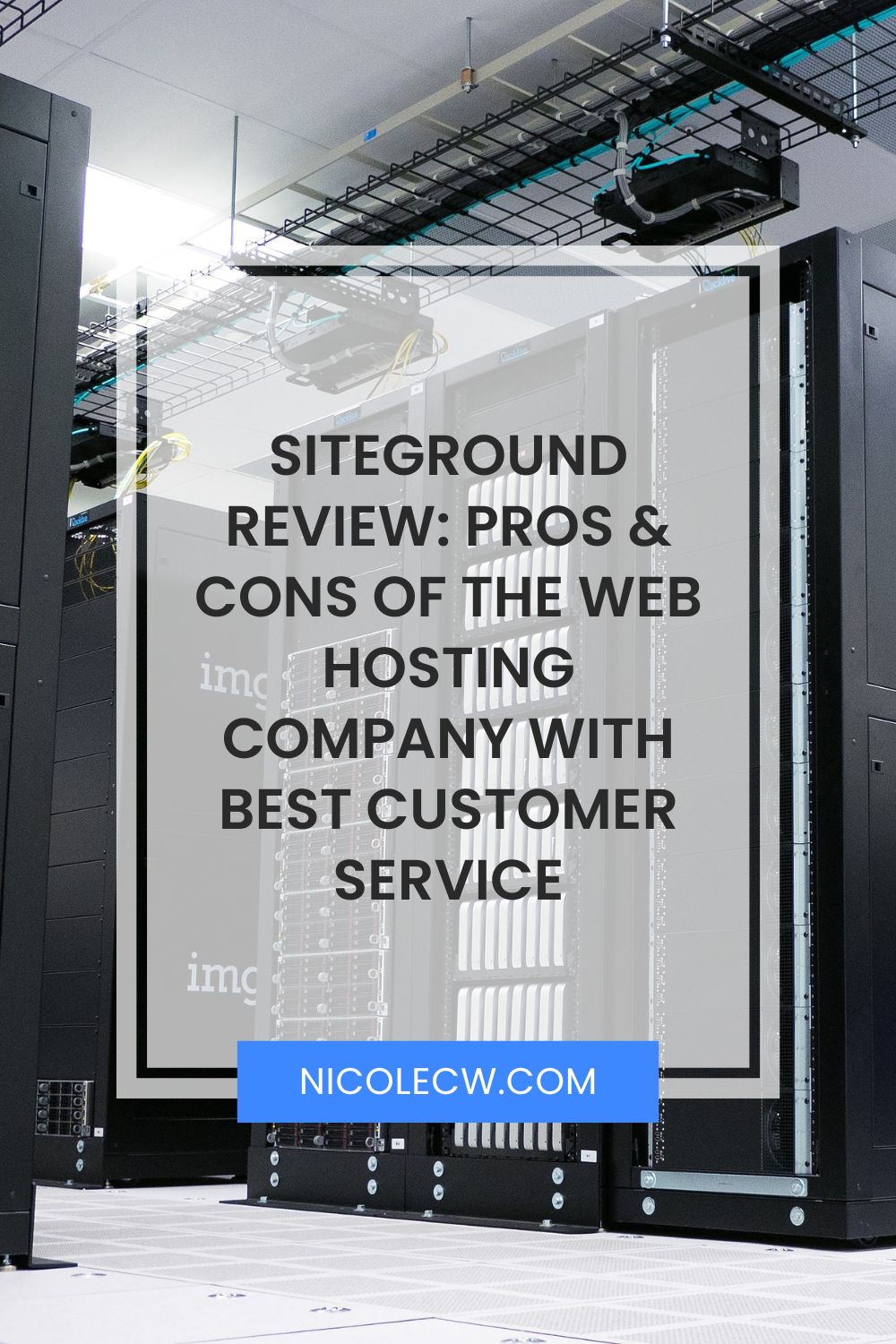 Disclosure: Some of the links below are affiliate links. I will earn a small commission, at no extra cost to you, if you purchase through these links. Your support encourages me to continue blogging and help with the costs of hosting this site. Thank you!
Pro #1: Amazing Customer Service (24/7 Support In Less Than 5 Minutes)
This is the number 1 reason why I chose SiteGround.
SiteGround provides 24/7 support and answers you in less than 5 minutes. This is especially important if you're in an emergency situation and require a solution as soon as possible. And it's precisely due to their prompt replies and quick response time that I was sold.
Bear in mind that I'm not a technical person so I'm not that IT-savvy about websites. Hence, one of my greatest needs is being able to talk to the knowledgeable support team and solve issues ASAP should anything happen.
Note the 'knowledgeable' part. I've spoken with numerous support teams for various software. Some of them just regurgitate the answers in the FAQ (which of course, I've already read and gone through countless times). What I need is a more in-depth technical answer, you know what I mean?
Just see for yourself how SiteGround answered my question~!
Pro #2: Speed & Uptime
Speed is an important aspect of a website.
Nothing is more frustrating than a slow loading and lagging website. Tell me, honestly, how many times have you left a page because it took too long to load?
Today, our attention spans are decreasing. In fact, it could be as short as a few seconds only! In other words, if a page takes more than a few seconds to load, we won't have the patience to slowly wait but may close the window and open another site that is more interesting. And you don't want potential customers to leave your site before they even view your products or services, right?
Just look at how speed affects your website in the infographic below!
SiteGround understands how site speed plays a critical role in user experience and thus, they are always among the first to implement new speed technologies, hardware and software solutions.
SSD Drives on all plans: Cutting-edge Solid State Drive Technology that provides 1000x faster hardware
NGINX: Fastest web server technology
PHP7: Faster PHP executions
Uptime is the time that a website is available to the users over a given period. It measures how good a web hosting company is at keeping their systems up and running.
A high uptime percentage means that servers are up and running most of the time. Hence, any site that you host with them should also stay up and running most of the time too.
SiteGround also has an amazing 99.99% uptime.
Pro-Active Server Monitoring: Detects current issues & fixes them immediately
Cutting Edge Linux Containers (LXC): Provides great stability even during unexpected traffic spikes
Anti-Bot AI: Prevents brute-force attacks (between 500,000 and 2 million per hour across all servers)
Bonus Tip: Tap Into SiteGround's SuperCacher
Developed exclusively for SiteGround's customers, the SuperCacher boosts the website loading speed by increasing the number of hits a site can handle.
There are 3 different caching options
Static Cache: Loads your static content faster (eg. images, CSS, JavaScript)
Dynamic Cache: Effective solution for dynamic websites powered by WordPress, Joomla & Drupal
Memcached: Used by database-powered sites like Wikipedia, Facebook & YouTube
I highly recommend that you use the SuperCacher to optimize your website speed. You simply have to activate it in the cPanel.
Pro #3: Free SSL (To Convert Your Website From http To https)
Did I mention that SiteGround offers a free Let's Encrypt SSL certificate?
This free SSL is available for all plans. So whether you sign up for the basic or advanced plan, you will still get this certificate.
Note that this Let's Encrypt SSL certificate is crucial in converting your site from http to https.
Hyper Text Transfer Protocol Secure (HTTPS) is the secure version of HTTP. If you have SSL certificate installed on your site, it encrypts communication and establishes a secure connection between the web server and the browser.
And Google loves secure websites! Google is even giving https sites a ranking boost. Thus, you'll really want to have an SSL certificate if you want to boost your SEO ranking.
Learn how to set up this free SSL in my step-by-step guide here~
Pro #4: Free Cloudflare CDN (So Your Site Loads Faster From Anywhere In The World)
Signing up with SiteGround also means that you'll get a free Cloudflare CDN.
CDN, which stands for Content Delivery Network, helps to make your site load faster in any part of the world by caching its content and distributing it over multiple data centers. When foreign visitors access your website, CDN delivers the content much faster from the data center closest to them.
Check out the other benefits of implementing Cloudflare CDN (which has a network of 100+ servers worldwide)!
Pro #5: Easy Setup
Getting your site up and running is terrifically simple with SiteGround!
You can install WordPress or Joomla in just 1 click.
See how I managed to set up this WordPress site with SiteGround~ All I need to do is click on the WordPress Installer at SiteGround's cPanel, fill up a form and… I'm done!
Pro #6: SiteGround's Pricing
So… how much does SiteGround cost?
Hosting plans start as low as $3.95/month.
Depending on your needs, you can choose to upgrade your plan, especially if your site has high traffic. In other words, SiteGround's plans are highly scalable according to your website needs.
Just bear in mind the differences between the various plans.
StartUp: Choose this if you're just starting your business & only intend to have 1 website
GrowBig: This plan is suitable if you intend to have more than 1 website
GoGeek: If you're creating an eCommerce website or expect huge traffic, choose this plan.
Bonus Tip: Choose Your Data Center Carefully
When you sign up for SiteGround, you get to choose the location of the data center (where servers are located).
If most of your customers are in the United States, I highly recommend that you choose a data center in the US. By choosing the data center that is closest to where your customers are, your site will load faster for your customers.
Bonus Tip: Get The Most Value By Signing Up For 3 Years Straight
Whichever plan you choose, I highly recommend that you sign up for 3 years (which is the 36 months plan).
This is because after the subscription years you signed up for, the plan will change back to the usual price (before the discount).
Hence, you should fully utilize this new customer discount.
PS. There's another discount when you renew your plan 🙂 Again, the discount depends on how many years you intend to renew.
Con #1: Limited Resources
Most web hosting providers offer unlimited resources for shared hosting (unlike SiteGround which has limited resources for each hosting plan).
But ultimately, shared hosting just means that numerous people are sharing the same resources. And the biggest website will consume the most resources.
And since I just started my business, my website is really small. Which also means that there is a chance that other bigger websites might use my untapped resources.
The good news is that SiteGround places a limitation on its resources, based on the plan you sign up for.
StartUp: 10GB Web Space, 300,000/month CPU Executions, 500MB Database
GrowBig: 20GB Web Space, 600,000/month CPU Executions, 750MB Database
GoGeek: 30GB Web Space, 800,000/month CPU Executions, 1,000MB Database
This limitation helps protect the resource for my website.
Since I signed up for the GrowBig plan, I can't exceed the given web space, CPU usage and database size. And so do other websites.
I feel that this is quite a fair deal (I use the amount of resources I'm given based on the price I paid and so do others).
Con #2: Slightly More Expensive Rates
You can check the market and I'm sure you can find cheaper hosting plans. I, myself, am guilty of this. Of course, I did research on cheaper plans. But in the end, I still chose SiteGround.
As the saying goes, you pay for what you get.
SiteGround's higher price is due to the value and numerous high-quality features packed into their hosting plans. Trusted by the owners of 2,000,000 domains worldwide, SiteGround is credible and reliable.
So if you value quality, go with SiteGround.
Now It's Your Turn
Overall, I'm really satisfied with SiteGround. In fact, I've already set up a reminder to renew my hosting plan once the 3 years are up.
I've heard awful stories of how a bad web hosting provider can ruin a business. So do your research and think carefully which web hosting company to sign up with.
If you want to know more about my experience with SiteGround, feel free to shoot me questions~