ChatGPT, an artificial intelligence chatbot developed by OpenAI, has taken the world by storm. Whether you're a marketer, copywriter or business owner, you've probably heard of this mind-blowing AI wonder machine.
Here are some ways that you can use ChatGPT to power up your content marketing, Search Engine Optimization (SEO) and copywriting.
Check out how you can use ChatGPT for your business~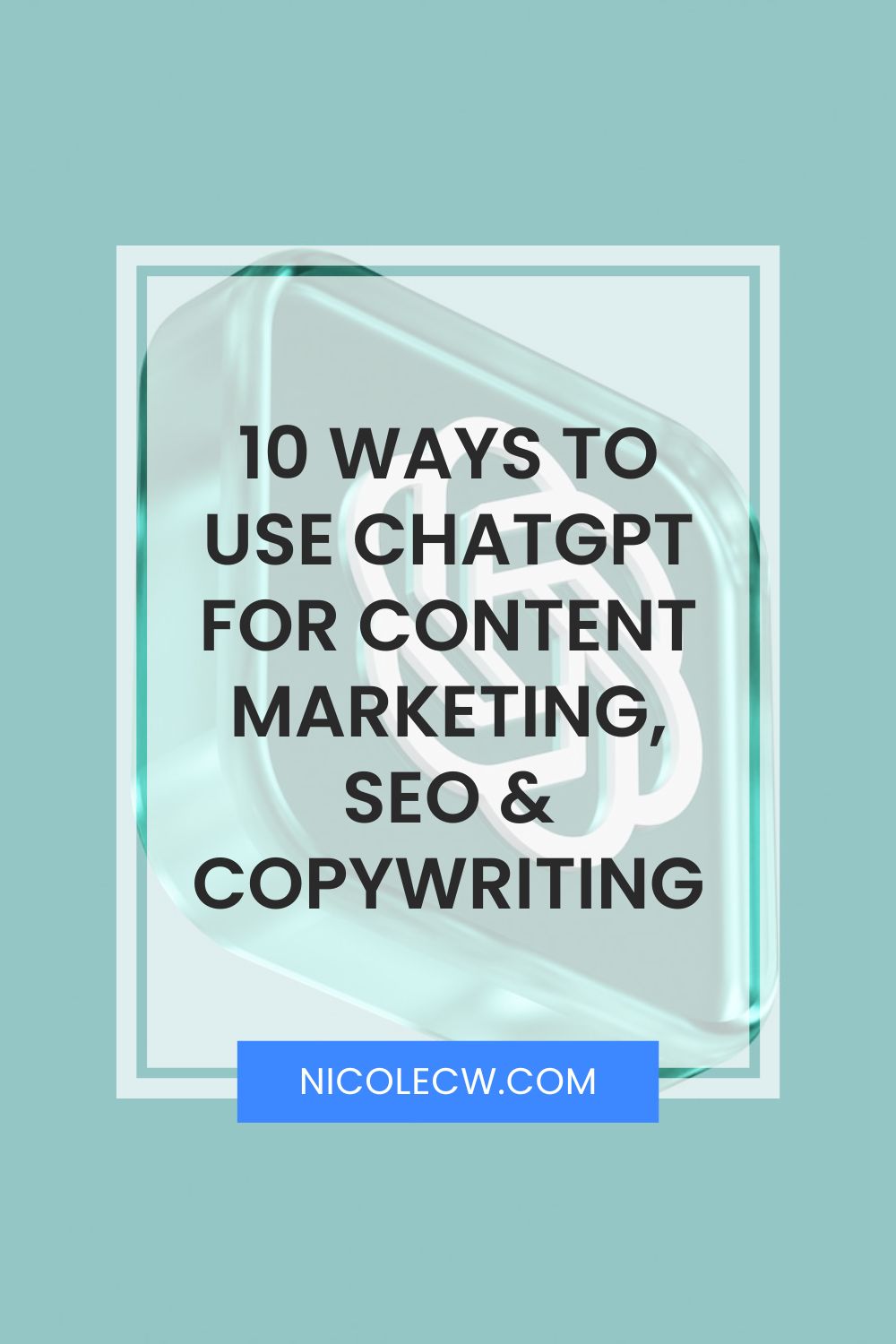 Disclosure: Some of the links below are affiliate links. I will earn a small commission, at no extra cost to you, if you purchase through these links. Your support encourages me to continue blogging and help with the costs of hosting this site. Thank you!
1. Get Topic Ideas For Your Content Strategy
Having trouble planning your content calendar? Or can't think of any topics to write about for your blog?
Now's your chance to tap into ChatGPT!
With ChatGPT, you can save time with topic creation. In fact, ChatGPT is like an additional teammate to help you with brainstorming content ideas.
I strongly recommend that you start from your industry, products or services. For example, you could use a prompt like this: "Suggest 10 topic ideas on digital marketing."
This is a great way to kickstart your brainstorming session! At least, you won't have a blank page staring at you.
2. Get Keyword Ideas For SEO & Paid Marketing
Unsure what keywords to rank for your blog? Or which keywords to target for your paid search campaigns?
Consider asking ChatGPT for a list of keywords.
Let's say you're a fashion boutique owner and you want to build brand awareness and drive sales. You can insert a prompt like "List 10 keywords related to fashion in Milan" into ChatGPT. You might get some interesting keywords that make you rethink your business. For example, "Milan Fashion Week", "Runway Shows" and "Fashion Trends" could be potential blog posts while "Designer Clothing", "Luxury Fashion" and "Haute Couture" could be potential product categories for your website and store.
3. Generate Article Titles Based On Keywords
Based on the keyword list from ChatGPT, there might be certain keywords that you're interested to rank for in search engine results.
ChatGPT will be able to help you if you need some blog post ideas about these keywords.
Try using a prompt like this: "Suggest 10 article titles based on the keywords below" then list down the keywords that you want to rank for.
From this, you're killing two birds with one stone. One, you'll get great article titles and two, you'll get content ideas to blog about.
4. Suggest Subheadings To Better Structure Your Blog Posts & Articles
Unsure how to craft the subheadings for your blog post or article? Or unsure how to even organize the content?
You can ask ChatGPT to help you with a prompt like "Suggest H2 subheadings to the content below without modifying the text" and then paste your content.
5. Optimize For SEO: Discover Questions For Featured Snippets & People Also Ask
Featured Snippets are quick short answers to a user's query at the top of Google's search results page. You can also click on the link to read the page itself.
People Also Ask (PAA) displays additional questions related to the original search query. Clicking on any of these related questions will allow users to expand the box to reveal a short answer or summary. Users can also click through these web pages for more information.
If your website is chosen for Featured Snippets or People Also Ask, you'll be able to get a few extra clicks and thus, drive traffic to your site.
Try inserting a prompt into ChatGPT to discover related questions: "List 5 related questions about camping in New Zealand."
You can then optimize your content to answer these relevant questions. Or even use these questions as subheadings in your article!
6. Create Meta Descriptions For SEO
Meta description is a short relevant summary of what a particular page is about. This brief and concise description summarizes a web page's content and appears to users as the text below your web page in search results and social media.
Note that meta descriptions are important for SEO. An enticing meta description will make users want to click the link to your web page.
You can copy and paste the entire text into ChatGPT and use a prompt like "Create a concise and compelling meta description of up to 160 characters from the provided text."
But of course, try to humanize the meta description that ChatGPT provides. You can always edit it to reflect your brand's tone and voice and include the specific keywords that you want to target.
7. Craft A Social Media Post
Whether you need to craft a social media post to promote your blog article or encourage event registrations, ChatGPT can help you with this time-consuming task.
With ChatGPT, you can create a compelling well-crafted copy in one minute. Just simply use a prompt like
Write an Instagram post about self-publishing
Write a Tweet encouraging people to register for free Digital Marketing webinar on 28 May 2023
Write a Facebook post that summarizes the following text and encourages people to click through to this article
8. Create Email Outline & Copy: Newsletter, Lead Nurturing Email Sequence etc.
Have a sale and want to send a newsletter to promote this? Or need to create a welcome email sequence?
You can use ChatGPT to create an outline as well as copy for your email campaign.
Here are some prompts:
Craft an email newsletter copy to promote Black Friday Sales which offers 20% discount for all laptops. Include a catchy call-to-action button at the end of the email.
Create an outline for 3 emails in a welcome series of a fashion store.
9. Write Ad Copy
Do you run pay-per-click (PPC) ads like Google, YouTube, Facebook, Instagram or LinkedIn?
If so, you probably spent quite some time crafting ad copy. With ChatGPT, you can get the heavy lifting done for you!
For instance, here's a prompt you can use: "Write a Google Search ad copy with 3 headlines of up to 30 characters each and 2 descriptions of up to 90 characters each for a fashion store in Milan."
Or you could paste your landing page copy and use a prompt like this: "Write a Facebook ad copy with a headline of up to 27 characters and a description of up to 125 characters from the text below."
And of course, you should edit it accordingly to your brand personality. If your brand is friendly and helpful, you can add emojis to make copy more engaging. Or you can break up long chunks of text with bullet points or paragraphs.
10. Craft Outreach Emails For Backlink Opportunities
Link building is critical in Search Engine Optimization. It's where you get other websites to link to pages on your website. This will boost the authority of your pages, improve search engine visibility and increase your ranking.
In link building outreach, you'll write an outreach email to reputable or authoritative websites and politely ask them to add a hyperlink (also known as "backlink") to a page on your site. Of course, you need to show how your article adds value to these websites. If you can return the favor by sharing their blog post on your social media channels or adding a backlink in your article to their site, that's even better!
Here's a prompt you can use: "Write an outreach email to a reputable fashion website and politely request for a backlink to my fashion blog. Show how my article "5 Ways To Mix & Match Clothes Like A Fashionista" will add value."
Ensure that this email is personalized. Here are a few methods:
Address the person by name
Reference something specific from their blog, website or social media posts so they know you've written this email for them only
Genuinely compliment them like "your articles have helped me"
Bonus Tip: Tell ChatGPT To Ask You Follow-Up Questions
Consider including this together with the prompts above: "Ask follow-up questions until you have all the information to create this."
This way, ChatGPT can get more details from you to craft a better version. The more specific your answers are, the more tailored and personalized the copy will be.
It also forces you to think about your goal and purpose: Why are you creating this email or ad? Who are you writing for?
Now It's Your Turn
Let me emphasize once more: You shouldn't just copy and paste the copy that ChatGPT provides. You need to edit it and ensure that it's relevant.
Also, there are talks about ChatGPT replacing humans and making many jobs obsolete.
However, I feel that ChatGPT will help to make life easier for certain professions. For example, you can use ChatGPT to generate ideas which is helpful as a marketer. Or ChatGPT can help with writing that first draft which is helpful for a copywriter.
Do use proofreading tools like Grammarly and ProWritingAid which help double-check and correct your grammar, spelling and punctuation mistakes.