In today's world, a business must have a digital home to be successful. And this home is none other than an online website.
The first step to creating this online website will be buying a domain. This domain name, which represents your brand, will follow you for life. Hence, do ensure that you choose your domain name carefully.
After you're done thinking of some possible domain names (do have a few so you have backup alternatives should your favorite domain name is taken), you simply have to register this name at a trustworthy domain registrar.
I decided on Namecheap after a year of research. In fact, this current website is registered through Namecheap.
Here are some pros and cons of Namecheap (and why I trust them so much).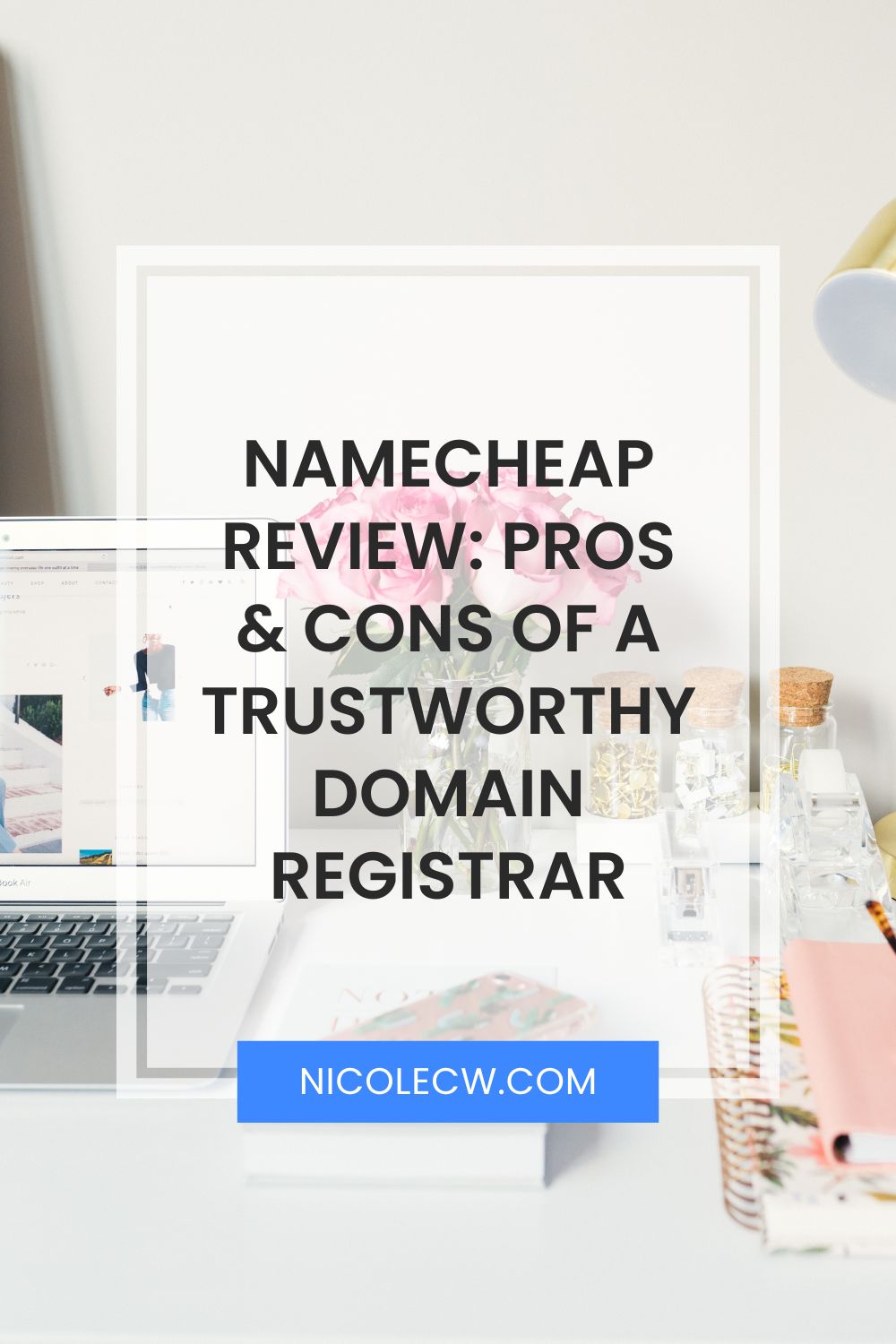 Disclosure: Some of the links below are affiliate links. I will earn a small commission, at no extra cost to you, if you purchase through these links. Your support encourages me to continue blogging and help with the costs of hosting this site. Thank you!
Pro #1: ICANN Accredited Registrar Since 2001
ICANN is an organization responsible for several online databases related to namespaces, ensuring the network's stable and secure operation. Much of its work concerns the Domain Name System (DNS).
Thus, you should register your domain name at a domain registrar that is accredited by ICANN.
Namecheap is an ICANN accredited registrar since 2001. Managing 10 million domains, it's trusted by customers worldwide.
Pro #2: Many Top-Level Domain Choices
When you buy a domain at Namecheap, you can choose from a variety of top-level domains.
.com
.net
.org
.co.uk
.academy
.business
.reviews
.shopping
& more
This is helpful, especially if your top-level domain is already taken. For example, if .com is taken, you can choose another top-level domain like .net or .biz that aligns with your industry. You can also choose a country code top-level domain like .us or .uk to highlight your local business.
Pro #3: Free-For-Life WhoisGuard Privacy Protection
WhoisGuard is a privacy protection service that hides your contact details. It helps to prevent people from finding your address, phone number etc. This is especially important if you want to remain anonymous and keep your sensitive data safe.
When you register a domain, ICANN requires registrars to provide them with the domain owner's contact details. These details are then added to the Whois database, which is accessible by anyone in the world.
I've enabled WhoisGuard for my domain so no one will be able to see my contact details when they do a domain name lookup on my site. Instead, Namecheap camouflages these details with a generic email address, phone number etc. Emails will then be forwarded to my real email address and from there, I can decide whether to get in touch with these senders.
Another reason why I've enabled WhoisGuard is to protect myself from telemarketers, unsolicited phone calls, junk mail and identity theft.
But of course, you can disable WhoisGuard anytime. And I recommend that you do so when you have an office address, an office phone number and office email. This way, your business will seem more credible due to its legitimate contact details.
Pro #4: Easy Setup
The setup is very easy with Namecheap.
All you have to do is decide on a domain name, buy that domain and you're done.
Remember to double-check the spelling of your domain name! And also check through the number of years and any add-ons that you want.
You can check out the step-by-step guide on how to create your website or self-hosted blog. Or if you're unsure of what your domain name should be, you can check out this article on how to choose the perfect domain name and 5 solutions if it's taken.
Pro #5: Secure Two-Factor Authentication (2FA)
I'm sure all of us are aware of how important our domain is.
If you lose ownership of your domain, your business will be at risk. Firstly, your entire website is built on this domain name. Plus, your domain name is tied to your brand. This name is used on all of your products and services. In other words, it represents your brand.
Therefore, it's of paramount importance that you ensure your domain name is secure. You need to set up a strong password. I also highly recommend that you enable two-factor authentication, where Namecheap will verify that you're the domain owner during logins either by sending an SMS to your phone or using an authenticator app like Google Authenticator.
Pro #6: Namecheap's Transparent & Affordable Pricing
You can buy a .COM domain at Namecheap from as low as $0.88 per year! This was the price I paid when I bought this domain.
Of course, this depends on the availability of your desired domain name, whether there are any promotional discounts and offers and which top-level domain you choose. Some top-level domains are more expensive than others.
Namecheap will list all possible top-level domain variations as well as the prices for each of them so you can make an informed choice.
Namecheap also lists down the breakdown of expenses so you know exactly how much you're paying for each item. For example, ICANN fee and PremiumDNS.
Con #1: Cheaper Alternatives To Namecheap
Okay, let's be honest. I'm sure we all did our research on the various domain registrars. And of course, there are other domain registrars that sell domains at a cheaper price.
However, do think twice before you purchase a domain. Ensure that you've done thorough research about the domain registrar, including reading reviews from customers.
Some domain registrars provide cheap rates for the first year. But these prices will then increase tremendously from the second year onward. Hence, the initial cheap prices are like a marketing bait designed to lure you into signing up with them.
Bonus Tip: Add Years or Renew Early
Don't wait until your domain is less than 30 days from expiration!
When your domain expires, it will cost you a lot of money to buy back the domain. Hence, try to prevent this situation by adding more years or renewing before the expiry date.
Which choice you make will depend on your situation.
For instance, you can choose to add more years if you're certain that you will run this business for a very long time. You could sign up for 7 years immediately. Or if you're unsure like me, you can choose to buy fewer number of years. I only registered the domain for 3 years. When I'm approaching this three-year mark in the future, I can review and evaluate how my business is doing then decide how many years I want to renew.
Bear in mind that 10 years is the maximum amount of years that a domain can be registered.
Let's say you register your domain for 1 year, you can only add up to 9 more years.
Add Years
You can choose to add years at any time. So if your business performs well in the second year, you can immediately choose to add 3 more years.
Simply go to Namecheap dashboard and choose the domain to add more years. When you click on the Manage button for your domain, you will see the duration of your domain and WhoisGuard. Simply click on Add Years and choose the number of years you want to add.
Renew Early
If your domain name is expiring within the next 30 days or less, the Add Years button will be changed to Renew.
You just have to click on the Renew button and select how many years you want to renew.
If you're afraid that you might forget, you can enable auto-renewal. Simply turn on the toggle to auto-renew. Namecheap will then attempt to renew your domain 30 days prior to its expiration.
Now It's Your Turn
Overall, I'm quite satisfied with Namecheap. Buying a domain has never been this easy and hassle-free.
I highly encourage you to buy a domain with a trustworthy domain registrar.
Let me know if you encounter any issues or if you have any questions. I'm more than willing to share my experience of buying a domain name at Namecheap~