Team building is a key management strategy to improve the efficiency and performance of your employees.
It also improves the company's overall health by entertaining and educating your employees.
Here are some team-building activities that you can implement to strengthen the bonds of your teammates.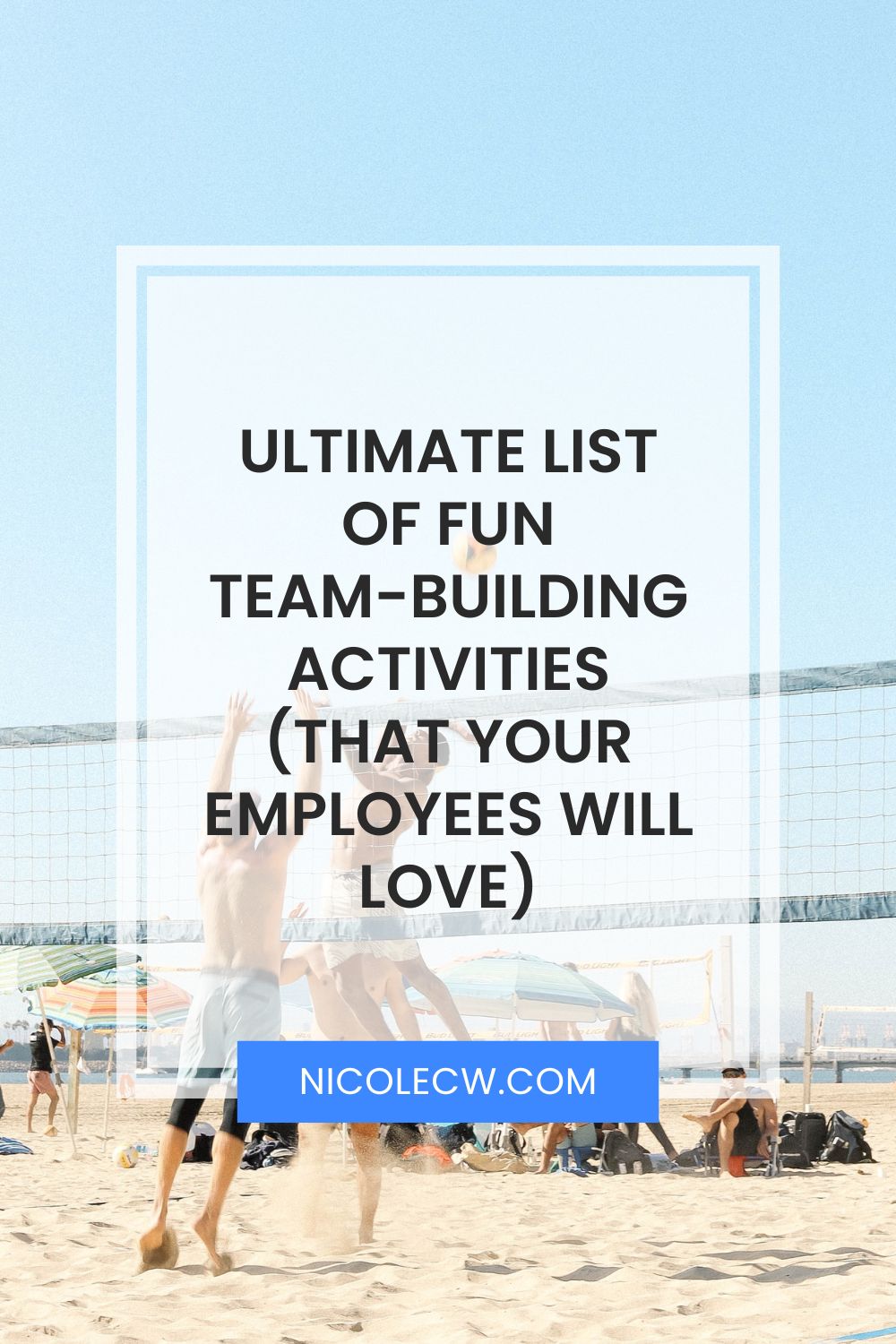 Disclosure: Some of the links below are affiliate links. I will earn a small commission, at no extra cost to you, if you purchase through these links. Your support encourages me to continue blogging and help with the costs of hosting this site. Thank you!
Benefits Of Team-Building Activities
Before we jump into the various team-building activities, here are some benefits that you need to keep in mind
Boost morale
Improve communication & collaboration
Resolve tension & conflicts
Build trust
Strengthen bonds (especially useful before large projects where you create a productive group mindset): spark new relationships, create lasting partnerships
Set the tone for future success
Improve productivity
You can consider running a team-building activity on special occasions, such as celebrating a company's milestone (eg. product launch).
A team is made up of people from different backgrounds with different personalities. By engaging the right team-building activity, you can bring these different people together and build a bonded, trusting team.
This is also a great chance to identify potential leaders. When your employees are divided into teams (hopefully, a different mix than the usual structure), employees can display their skills and abilities while working together to solve challenges. Managers may discover leaders within the workforce during these activities where they're able to lead their team effectively.
1. Icebreaker
Icebreakers can be short and sweet. You can just set aside a few minutes every week or before a meeting for a quick icebreaker. This builds camaraderie and warms people up to communicate and exchange ideas, making meetings more productive.
There are online icebreaker quizzes or questions to inspire you. Icebreakers help bring remote teams closer as they learn more about each other while having fun at the same time.
Skills Developed: Creative Thinking, Communication
Why Choose This: Help your team bond over thought-provoking questions & easy execution
2. Two Truths and One Lie
This classic fun activity is an excellent icebreaker to integrate colleagues who don't really know each other.
You simply have the team sit in a circle. Then, each person introduces themselves by providing their name as well as three things about themselves. Only two will be true while the other one is a lie. The rest of the team can then guess which statement is the lie.
Skills Developed: Creative Thinking, Communication
Why Choose This: Simple to implement without being stressed on how to introduce yourself during the first day of work
3. Team Trivia
By designing quizzes about your teammates, you combine the delight of trivia with the get-to-know-you during onboarding. This is a great way to help your new hires feel comfortable and know more about their teammates.
The structured question format allows everyone to have fun while learning more than they would have about each other during an open-ended conversation.
Skills Developed: Problem Solving, Critical Thinking, Decision Making
Why Choose This: Entertaining & bond-building. New employees love being in on team secrets while existing teammates may learn new things that surprise them or crack them up
4. Secret Santa
Best held during Christmas, this holiday classic activity ensures everyone experiences the joys of giving and receiving gifts without being pressured to buy expensive or many gifts.
For this activity, each person brings a gift for another. The gift giver's identity remains a secret until all presents are opened and then, everyone will try to guess who their secret Santa is.
Remember to set a gift budget that everyone agrees on. Also, encourage your teammates to speak their minds when discussing the budget. You don't want to set a high budget that makes everyone uncomfortable and thus, lose the joy of giving.
Secret Santa isn't limited to your department. You can choose to expand the gifting pool to other departments. This will bring everyone closer, even people whom you don't have much interaction with.
Skills Developed: Creative Thinking, Communication
Why Choose This: Works well during a gift-giving holiday where everyone feels included & shares equally in the joy
5. Werewolf
Werewolf is about survival. It's also about strategy. Whether you can bluff your way to the end or deduce who the werewolf is. It's definitely not as simple as it sounds.
The team is split into 2 smaller groups: werewolves and townspeople. The villagers win when they lynch all werewolves while the werewolves win when their number is equal to the villagers left (meaning they get to eat everyone).
Skills Developed: Critical Thinking, Creative Thinking, Problem Solving, Trust
Why Choose This: Involves thinking, strategy & deception. Plus, you'll learn who can't control their giggles & who is a terrible liar.
6. After-Work Jog
Jogging after work builds bonds and shows that the company values a healthy lifestyle. This low-pressure activity leads to conversation and makes new employees feel like they're part of your team.
The route doesn't have to be perfect too. You could plan a route around the office and show employees good food nearby. This could be affordable meals that don't burn a hole in their pocket, especially for new hires who just started working.
Skills Developed: Teamwork, Trust, Communication
Why Choose This: Helps employees break a sweat while alleviating the anxiety of new hires (they might feel stressed about a welcome lunch that is held specifically in their honor)
7. Group Cycling Bike Tour
When you step out of the office and hop on your bicycle together with your teammates, they're no longer colleagues. Instead, they become fellow adventurers where you explore the city together.
You could have a spontaneous trip and just go wherever you want. Or you could plan the trip beforehand and rediscover the city.
This would be a great activity for colleagues who are not familiar with the area (whether they're from another city or country). Locals can then guide them around and even introduce local cuisine and attractions.
Skills Developed: Teamwork, Trust, Communication, Leadership, Collaboration
Why Choose This: Thrilling sense of novelty & exploration
8. Museum Trip
Visiting a local museum (whether art, history, nature, science etc.) is a good team-building activity. Seeing and discussing the various exhibits will let your teammates learn about the local culture.
Skills Developed: Creative Thinking, Communication
Why Choose This: Museums provide a shared learning experience as well as inspire & educate visitors
9. Explore A New Place
Whether it's a new museum, restaurant or local attraction, you can consider organizing a trip there. This will allow everyone to take a breather from work and make them look forward to the team outing.
The new place will also be a great conversation starter among your employees.
Skills Developed: Communication, Teamwork, Trust
Why Choose This: The freshness of a new place will make everyone excited. In fact, you're almost like a hero embarking on an epic adventure into the unknown!
10. Camping
Get away from the hustle and bustle of work and city life by heading out to a camping site.
You'll be able to bond with your colleagues over camp stories, marshmallows and campfires. Working together to pitch a tent will also make you feel like you achieved something as a team. Or you could walk into the woods with your colleagues and come out as friends!
Skills Developed: Communication, Listening, Trust, Teamwork
Why Choose This: Forget the fatigue & stress at work. Enjoy the spectacular view of Mother Nature!
11. Laser Tag
A laser tag game is another great way to get your adrenaline pumping.
This game is actually very versatile and suitable for all ages. You can play Capture The Flag (steal the opponents' flag & take it back to your own base), Protect The VIP (one team protects the VIP while the opposing team tries to eliminate the VIP) or even base-centric matches (defend your base while simultaneously attacking the opponent's base).
Skills Developed: Leadership, Teamwork, Critical Thinking, Problem Solving
Why Choose This: Demolish barriers through fun & friendly combat where you & your team strategize together towards a common goal
12. Nerf Battle
A Nerf gun battle is similar to a classic tag game. But instead of hitting members of the opponent team with your hands, you shoot them with Nerf guns.
This allows you to turn your office into a battleground where strategy, collaboration and out-of-the-box thinking mean the difference between life and (virtual) death.
You might start out developing a strategy to take down the opponent team and chasing each other around. However, you'll probably end up rolling on the ground laughing together like BFFs. And this is the power of playing a Nerf battle.
Skills Developed: Communication, Leadership, Decision Making
Why Choose This: Pure childlike joy
13. Scavenger Hunt
Scavenger hunts offer the sweet irresistible thrill of chase where you and your team need to track down clues and find hidden items. The friendly competition, urgency and mystery of a scavenger hunt also motivate people to cooperate in record time. In addition to bonding, the challenges in a scavenger hunt stretch your limits as well as your imagination.
You could also create a scavenger hunt in the office itself! Do remember to take photos (even silly ones) and share them with the team. This helps everyone capture that fun moment. Plus, you can also share it on your company's social media channels to provide a glimpse of your company culture (and a sneak peek into the workplace where the magic happens~).
Skills Developed: Collaboration, Critical Thinking, Decision Making
Why Choose This: It's thrilling & exciting. Suitable for anyone who is up for an adventure. Also, an unforgettable opportunity to create a sense of accomplishment in your team.
14. Escape Room
Escape room is a popular team-building activity worldwide.
As its name suggests, a group of people is locked in a room. The goal is to get the key and escape in a limited amount of time. They'll have to find hidden objects, discover clues, solve puzzles and accomplish tasks.
You can reserve an escape room. But do check the minimum number of players required. Or even better, hire a service to transform your office where your team works every day into an escape room. This will definitely invoke great memories!
This team-building activity challenges you to make an escape using your collective wits with your team. Together, you'll have to put your heads together to analyze clues, agree on next steps and move as one.
During that epic moment of escape, you'll gain an unforgettable sense of shared victory.
Skills Developed: Problem Solving, Critical Thinking, Teamwork, Leadership, Collaboration
Why Choose This: Navigate exciting scenarios (eg. hunt treasures, explore ancient ruins, break out of prison) but more importantly, being united as a team. Plus, figure out which team member has leadership potential in this high-pressure, timed & naturally challenging environment!
15. Go-Kart Racing
Whether you're racing alone or competing in teams, the thrilling experience of kart racing will definitely be memorable.
This adrenaline-pumping activity will let your employees interact with one another in a fun way and also help bond the group together. However, speed isn't the only thing that counts in this race. You'll need to hone your skill of steering the kart in such a way that will lead you to victory.
In addition, remember to ensure that everyone pays attention during the safety lecture.
Skills Developed: Critical Thinking, Decision Making, Creative Thinking, Teamwork
Why Choose This: Speed, excitement, adrenaline. Anyone can be a racer (no driving license required)
16. Field Day
Field days can be held in person or virtually. But of course, going outdoors when the weather is nice allows you to do more fun activities like kickball and three-legged race. It can be as simple as going to a local park when there's lovely sunshine. By breaking the usual routine and getting fresh air, you'll boost your team's creativity.
The greatest benefit of such an activity is that you see a new side of your teammates (not their usual polished and professional side). They'll express themselves naturally and communicate without overthinking. Almost like elementary school kids who play with innocent joy. This team-building activity will also help rekindle a spark of joy for both life and work.
It's also a great way to show that your company values "Work Hard, Play Hard".
Skills Developed: Teamwork, Leadership, Collaboration
Why Choose This: Rediscover fun, keep your teammates engaged & enthusiastic
17. Field Trip
Similar to field days where you escape the office, you can also plan a field trip. Field trip is an off-site event where everyone gathers together at a movie theater, park, museum—anywhere but the office.
By providing a little break from the ordinary and helping your teammates step out of their day-to-day environment, you're opening them to new experiences, new connections and new friendships. In fact, the activity and location don't matter. What matters is your team being in a new environment and enjoying all it has to offer.
Skills Developed: Creative Thinking, Teamwork, Communication
Why Choose This: New environments fuel new connections. People will naturally talk to each other (even those they pass by in the hallway) & ask questions they wouldn't ask in the office pantry.
18. Outdoor Activity
Drop your usual suit and office wear. And get sun-drenched skin instead.
The world is your oyster. In fact, the whole wide world is like one big adventure. You just have to seize it.
There are many outdoor activities that you can do with your team. For example, glamping, scuba diving and hiking. The possibilities are endless.
If your teammates have never done such activities before, it'll be a great learning experience. For instance, swimming will equip them with basic survival skills~
The key is to find an experience that speaks to your team's collective adventurous spirit.
Skills Developed: Problem Solving, Teamwork, Trust
Why Choose This: It's a great chance to embark on an epic adventure (not those in movies or books where the protagonist isn't you)
19. Adrenaline-Rush Activities For Thrill Seekers
If your team consists of adventurous individuals, you can consider organizing activities like bungee jumping, paragliding and skydiving.
Taking this literal leap of faith will also lead your employees to support each other and strengthen their bonds. It's also highly recommended to take videos so you capture the impressive moments of your brave employees.
This will be a memorable experience and they're sure to brag about it to their families and friends.
Skills Developed: Teamwork, Trust, Collaboration
Why Choose This: Build stronger bonds through exhilarating activities
20. Creative Contest
Creative contests give your employees a chance to tap into their creativity and show off their creative talents. Unlike other team-building activities that focus on cooperation, this activity is about sharing individual creations.
Everyone can independently create their "artwork". For example, stories, poems, songs and sketches. Simply put, it could be anything creative.
Bonding happens when everyone sees their teammate's creative side. You might not know that your IT colleague has a knack for brush calligraphy. This can help spark conversation and you might even consider learning brush calligraphy from him!
When everyone's masterpieces are gathered together, this collection will capture your team's personality. In fact, you might even consider prominently displaying these artworks in your office.
Another alternative is getting your team to create an artwork together.
Skills Developed: Creativity, Collaboration, Empathy
Why Choose This: Unleash your inner artist & create a fun memorable experience together
21. Painting
Painting is a relaxing activity where you can unwind and express your creativity.
There are many ways to carry out this activity: painting alone or in a team, taking a painting class together or even, art jamming.
The key is to tap into your creativity and have fun together!
Skills Developed: Creativity, Collaboration
Why Choose This: Fun & rewarding experience that anyone can enjoy (no artistic talent required)
22. Craft Workshop
Get your creative juices flowing by letting your employees join a craft workshop. This could be anything from leather crafting, sewing, jewelry making, paper crafts to woodworking.
In addition to learning new skills, your employees will go home with their own handmade unique memento that will remind them of the fun and fulfilling experience they shared.
Skills Developed: Creativity, Collaboration, Communication, Listening
Why Choose This: Ignite a spark of imagination & acquire crafty new skills. Plus, it's just therapeutic to sit and make something!
23. Movie Night
Movie nights help make a team feel bonded. This shared cinematic experience can be easily achieved via Zoom. Plus, the muting of all participants means that you won't have to hear anyone slurping soda or crunching popcorn. The in-meeting chat feature also allows your teammates to still chat while watching the movie.
Skills Developed: Communication, Listening, Empathy
Why Choose This: Easy setup & crowd-pleaser
24. Karaoke Night
Another way to make your employees break out of their shells is to have them sing karaoke.
In fact, you might discover the next Taylor Swift among your team members! You can also create a contest for the best group karaoke performance.
Skills Developed: Creative Thinking, Communication
Why Choose This: Good way to chill after work. Plus, your teammates can relieve stress by screaming the song lyrics, especially if they face frustrations from clients.
25. Team Meal
By turning a meal into a team-building activity (whether lunch or dinner), you create an invaluable get-to-know each other moment.
Also, choosing where and what to eat is a skill too. You need to ensure that the food suits everyone's taste. In fact, you can make this activity more fun by having everyone order something for someone else.
Or even better, make this an all-expenses-paid celebration!
Skills Developed: Creative Thinking, Communication
Why Choose This: Novelty of picking a new place to eat provides a great conversation starter. Even if you have nothing else in common, the "trying this restaurant for the first time together" is enough to get conversations started.
26. Surprise Treat
Surprise your employees with a treat like ice cream for those with a sweet tooth or coffee for caffeine addicts. This impromptu treat in the middle of the workday when they least expected it is sure to bring a smile to your employees. These organized yet spontaneous moments will also give employees a chance to take a break, stretch their legs and enjoy some sweets with their colleagues.
Skills Developed: Communication, Listening
Why Choose This: Unexpected tasty treats will foster satisfaction among employees & are especially welcomed if your employees have been working hard because of a looming deadline
27. Cooking
How about something more culinary?
You can organize a cooking class where a professional chef will teach your employees to cook a meal. This could be quick and easy meals for the busy professionals, healthy meals for fitness buffs or kid-friendly meals for family-oriented parents. Or even how to make chocolates and roast their own coffee!
Such activity will show that you care for employees beyond work and that you understand there are other important aspects in their life too.
Your team will also have time to strike up conversations and enjoy the delicious aromas between each dish.
Skills Developed: Teamwork, Collaboration, Creativity, Communication
Why Choose This: Encourage deeper bonding among employees over delicious food
28. Volunteering
Volunteer work is a great way to show employees your company's core values. Supporting a good cause is also good for the soul and an excellent way for your team members to bond.
It can be as simple as delivering gifts to orphans during the holidays or having fun with the elderly by playing games. Skill-based volunteering is a terrific way to stretch your employees' expertise too. This is where your team volunteers their time and professional skills—anything from marketing to writing—to help a nonprofit.
Skills Developed: Teamwork, Communication, Listening, Empathy
Why Choose This: Unlike other team-building activities, volunteering makes you grow as a group & on a personal level. You'll make the world a better place & make a difference in the lives of people, animals & organizations in need.
Now It's Your Turn
With so many team-building activities to choose from, there is bound to be one that suits your team.
Rather than doing all the activities in one day (which might tire your team out), you can instead plan it out over a few months so your employees have something to look forward to every month. Do try to mix and match the various activities. So maybe something sporty followed by something relaxing.
What other team-building activities do you enjoy? Feel free to share suggestions or your experience of organizing such an activity~
For more entrepreneurship tips, you can check out online courses at Fiverr Learn and CreativeLive. Or watch streaming broadcasts of free online classes at CreativeLive!